Suunto has just announced their newest watch, the Suunto Race. This watch essentially takes the existing Suunto Vertical endurance-sports focused watch that was released this past spring, and gives it an AMOLED display. Alongside that, it gets an updated user interface and a number of new software features (which will also be ported back to a number of other existing Suunto watches). Oh – and for arguably the first time in recent memory, Suunto has absolutely slaughtered the competition on price here. The base unit is priced at just $ 449, including a sapphire crystal display and stainless steel case.
As expected, this year is really going to mark the peak transition of almost all sport watches to AMOLED displays. With battery life continuing to climb in these models, and consumer demand stronger than ever for the more brilliant displays, it was only a matter of time before Suunto started making that transition as well. Albeit, this isn't their first AMOLED watch. You may remember the WearOS-based Suunto 7, which has an AMOLED display too. Albeit, in watch years, at 3 years old, that watch is far less capable than this one from a display, battery performance, and especially accuracy standpoint.
Now for this post, I'm keeping it as a 'hands-on' post, versus an in-depth review. It was honestly a close-call for me as to which way to go, but there were a few use cases I wanted to explore (including some more super-long activities). I had one very long hike back in early September in the Alps, but want to do a few more over the next week into the jungles of Hawaii. Additionally, there's a few recently enabled features on the watch that I want a bit more time testing. Thus, expect a full in-depth review shortly, but just not today.
Oh…wait, one more thing: Suunto has released a new pair of headphones, called the Suunto Wing. I'm not kidding. These sport-focused headphones are designed by Suunto and include LED's on the side for visibility, as well as what Suunto is explicitly noting as "shower resistance" levels of waterproofing. Obviously, that's something I've tested.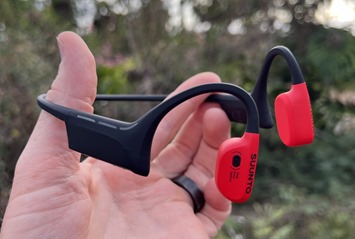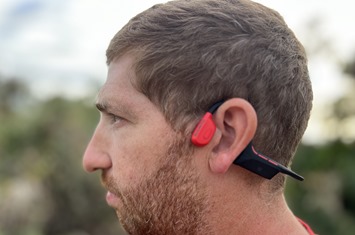 More on that in a separate post.
What's New: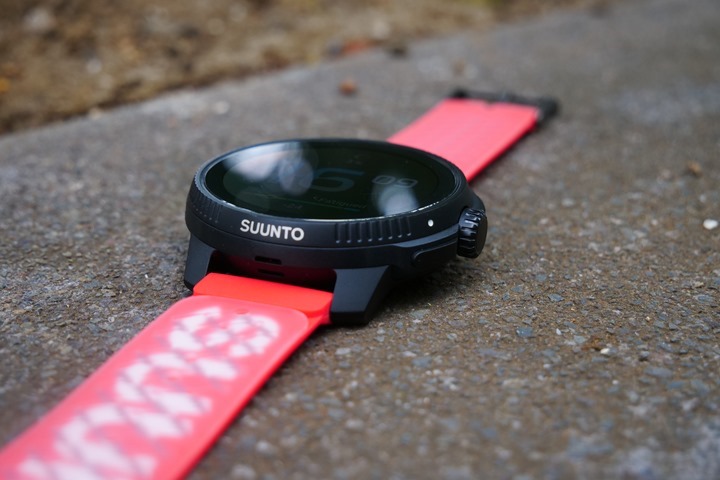 Now, let's take a look at a blend of what's new on this watch, as well as general specs. As I noted above, this watch is essentially the companion to the MIP-based display Suunto Vertical. It's effectively a mirror in the same way that Garmin has the Fenix (MIP screen) and Epix (AMOLED screen). Just like that arrangement, Suunto is expecting to keep these two virtually identical from a software standpoint. Instead, the main differences will of course be the display and battery life as a result of that. As one might expect, there will also be very minor user interface differences with colors/clarity of course, due to the higher resolution of the AMOLED display – but nothing impacting functionality.
So, here's what's on the Suunto Race:
– New 1.43" AMOLED touch screen, 466x466px at 1,000 nits
– GPS battery life time starting at 40hrs in multiband/dual-frequency (and up to 120 hours in 'Tour' mode).
– Standby/smartwatch battery life of 12 days in gesture-based display mode, or 7 days in always-on display mode
– Adds digital crown
– Adds new nightly HRV tracking, as well as HRV trending features
– Adds Suunto Coach integration with aforementioned HRV tracking (will give guidance inclusive of HRV changes)
– Adds workout planner to the watch itself (plus mobile app and TrainingPeaks)
– Adds Training widget/watch face with TSB/CTLHRV
– Adds new daily companion, new daily widgets, new mini widgets
– Adds sleep stages shown on-watch
– Adds ability to do multiple alarms (e.g. wake-up alarms)
– Adds 'Find my Phone' functionality
– Adds 'Stand-up' reminder
– Adds 'Progress' running race estimates & HR run threshold
– Adds new sport mode…umm…Rope Skipping
– Adds customization of the widgets
– Adds do-not-disturb mode
– Improved music control touch controls (for controlling phone music
– First Suunto watch using fully in-house algorithms, transitioned away from FirstBeat algorithms
– Retains existing snorkeling depth gauge features, with existing 100m
– 22mm industry standard strap (silicon strap included in the box)
– Retains/has military durability specifications
– Two model options: Titanium ($ 449/EUR) or Stainless steel ($ 549/EUR)
– Sapphire crystal display on both models
– Weight comes in at a claimed 69g for titanium, and 84g for stainless steel
Now, in addition to all the above built-in features, there's also the juts released Suunto-developed slate of a dozen+ app functions. While most other companies have built these features into the watch natively, Suunto still has these technically as apps that run optionally on the watch. Thus normally for other companies I'd probably include them in this list, and it'd be a heck of a lot longer list. But alas, since they aren't part of the native watch firmware (yet), I'll refer you to that dedicated post from a couple weeks ago. But this does include components like nutrition reminders, race companion apps, waypoint apps, altitude profile apps, race elevation apps, and more.
Switching topics, since I'm not doing an official in-depth review today, I'll give you a small sneak at the box. Simply because it's a new box design for Suunto: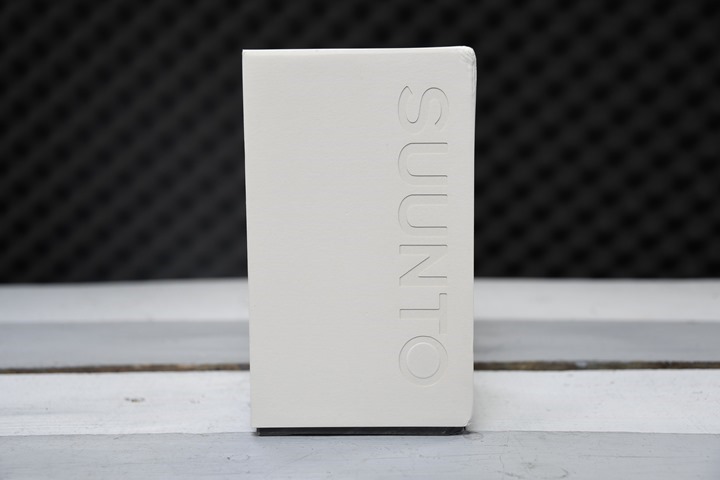 Note that said box is admittedly a bit overkill on size/space. Suunto has actually been one of the leaders from an environmental standpoint in terms of their claims around watch sustainability. They've got entire documents outlining how the watches are made from a materials and manufacturing (electricity) standpoint, as well as the fact that they carbon offset the entire lifespan of the watch too (meaning, all your potential/future charges). So while I'll give them all the design points in the world, more than half this beautiful new box is literally just empty space/air. Slice off the bottom of the box, and nobody will notice. It'll still look pretty, and they can pack twice as many of these watches in the same container or pallet.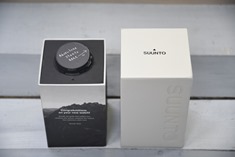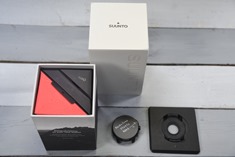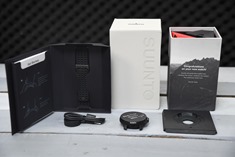 And for fun, here's how the Suunto Race looks side-by-side with the also-new Polar Vantage V3 and Garmin Epix Pro. Normally I'd really compare this against the Garmin Forerunner 965 (as that's priced more similarly at $ 599), but somehow I forgot that on my desk, so I don't have it on this trip. Fear not, the in-depth review will cover that.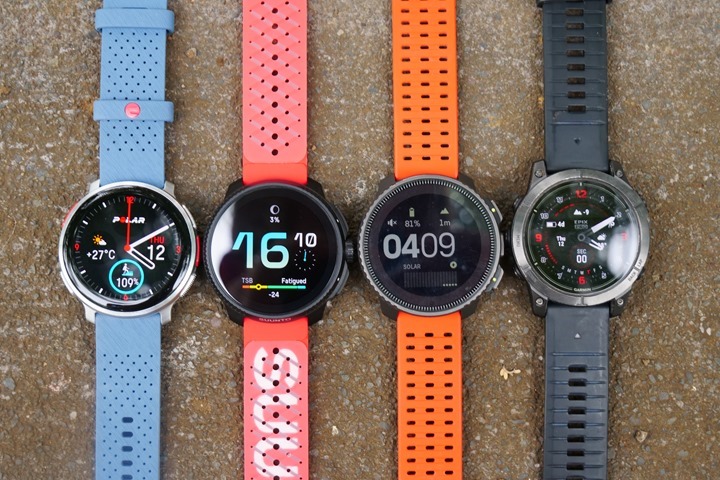 And a shot from down low: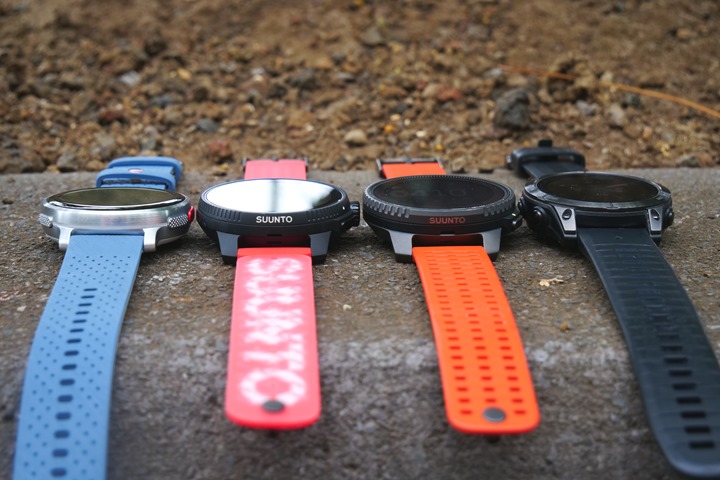 With all that unboxed, let's dive into the usage.
AMOLED Display & New User Interface: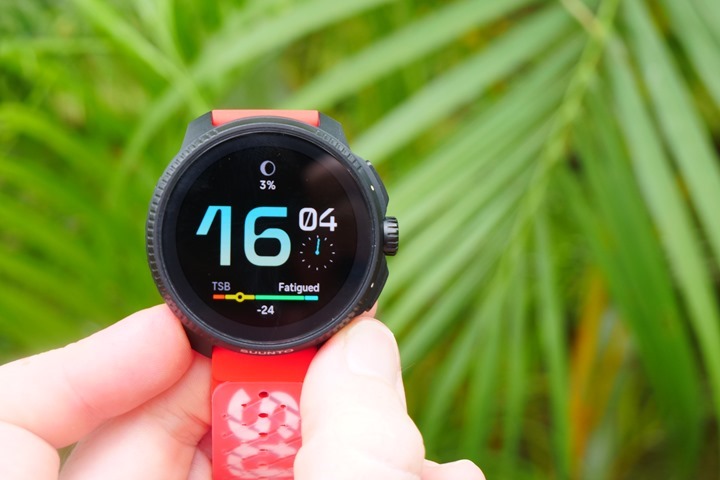 First up is the new display with correspondingly new user interface. The display itself is 1,000 nits, or essentially the same display brightness as other endurance-focused watches by Garmin & Polar. As I've said in those posts, the current-gen AMOLED displays are more than bright enough for even bright sunny conditions. That wasn't always true just a few years ago, but these days the technology and improved enough that visibility simply isn't a concern in active use.
For fun, here's a photo take in bright sunny conditions yesterday in Hawaii. Thus, very bright mid-afternoon sun in the middle of a lava field. Very visible.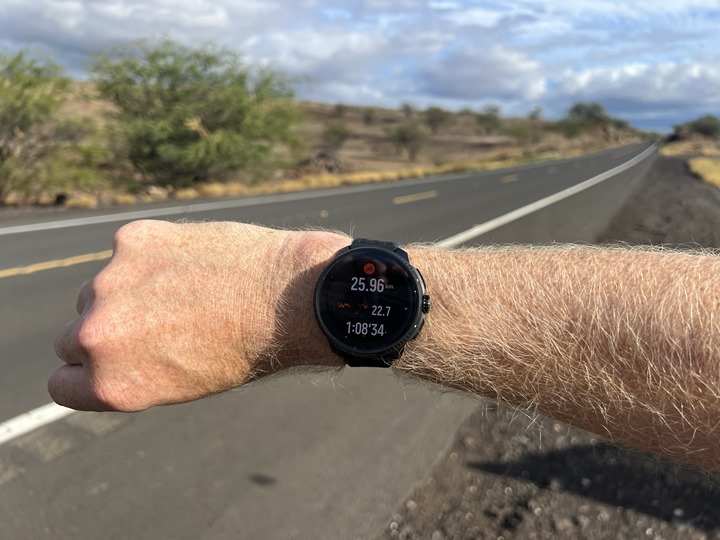 Like other AMOLED watches, you've basically got two core modes: Always-on and gesture-based. The default is gesture-based, meaning the display turns off when you put your wrist down. The watch is still recording of course, just not showing anything. Then, once you raise your wrist, it turns on. Whereas always-on (what I've been using), the watch goes to a dimmed state when you put your wrist down, and then upon wrist-raise it turns on. Generally speaking this is reasonably quick, though, I'd like to see it a bit faster on the Suunto Race.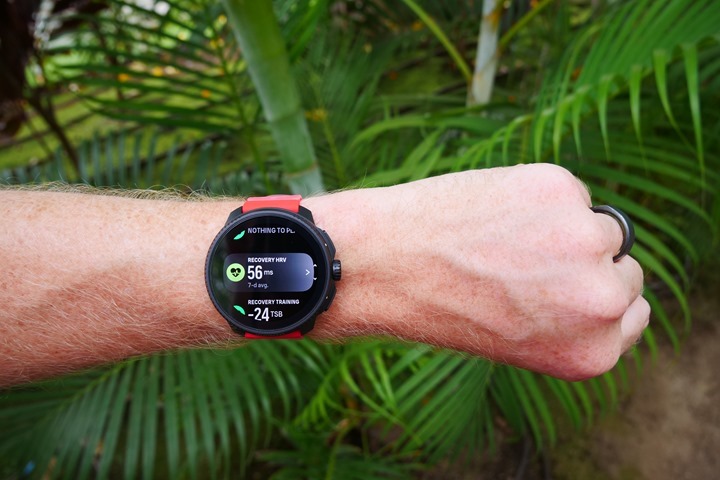 As you scroll through the new user interface you'll see you've got so-called 'Mini-Widgets', which are the tidbits of information you see each time you scroll, and then you can tap into them to get full-sized widget information, which have more data pages.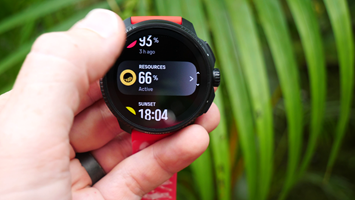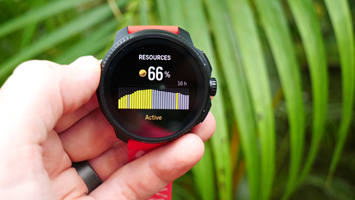 One of those widgets is the new HRV tracking widget. Like other companies, this has basically two levels to unlock. Actually technically, in Suunto's case it's more like three levels. The first thing you'll unlock is last night's HRV value, once you sleep with the watch. Then, after three nights, you'll get the last 7-days averaging value (obviously, it'll account for the full seven days, but the average starts to appear after 3 nights).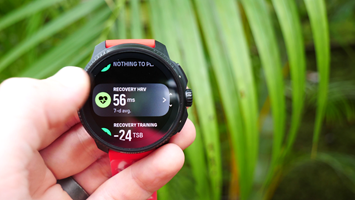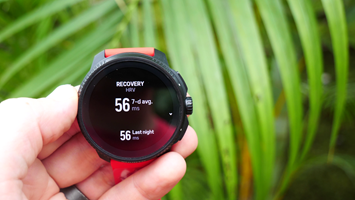 Then, the holy grail is getting your HRV status, which shows how you trend relative to your baseline. You'll get that after 14 nights worth of data. Right now given all the new watches I've had on my wrist each night, I've somewhat run out of nightly wrist space to unlock that quite yet, one of the reasons I'm holding the review. I should finally clear that in the next few days. But here's what it looks like: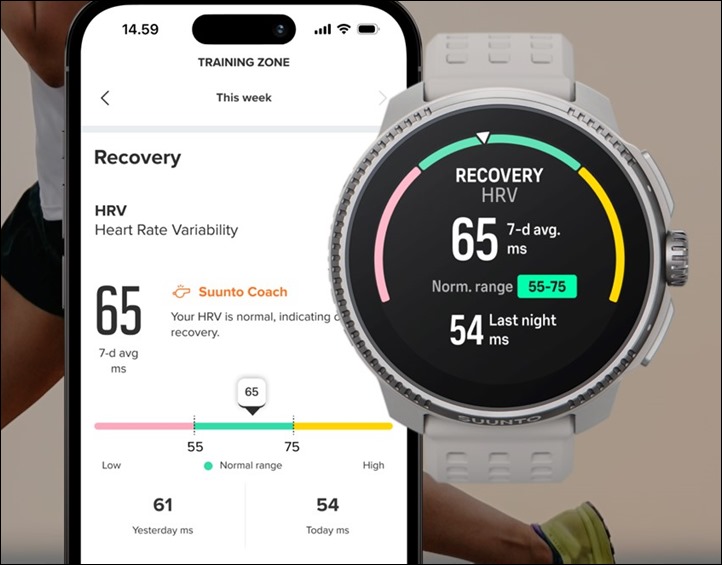 What's notable here is that the Suunto Coach feature, which gives training and recovery guidance, will now account for HRV values. Thus, if it sees your HRV values tank, without a corresponding reason for it (e.g. higher training load), it'll give you a heads up that maybe you'll want to consider changing your plans a bit.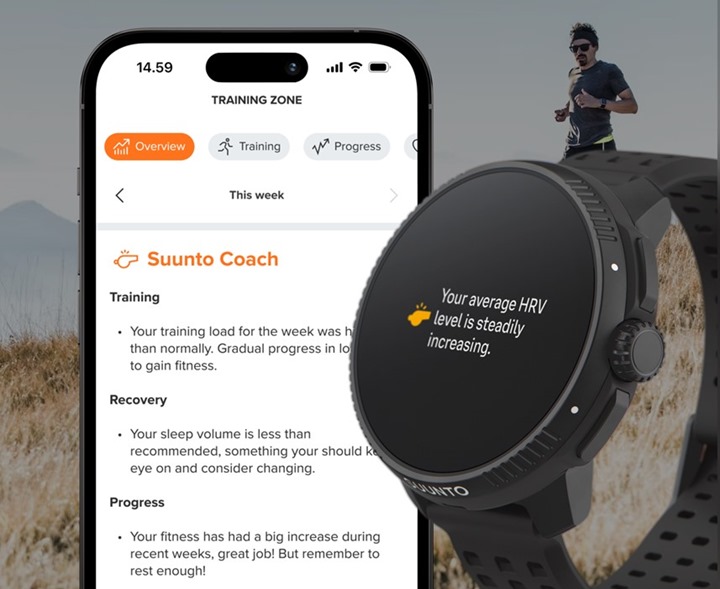 Meanwhile, back on the watch face, you can display these new metrics, including HRV status as well as TrainingPeaks metrics CTL (Chronic Training Load) & TSB (Training Stress Balance):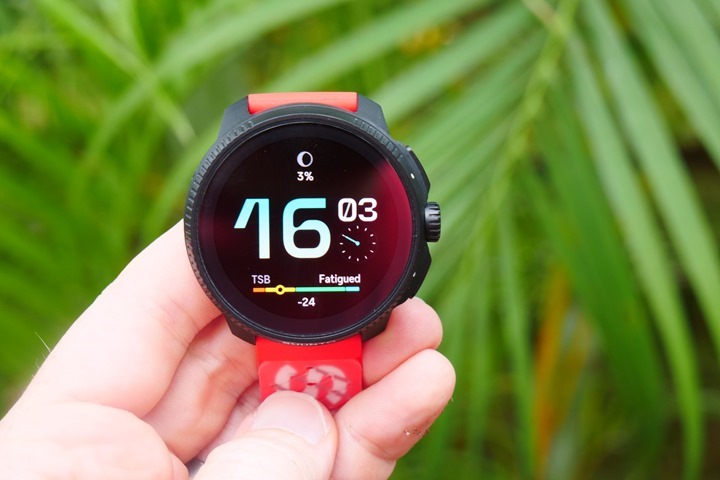 As far as user interface speed – it's definitely improved, though I'd argue it still lags a bit in areas where you've just initiated/opened that area. For example, if I swipe down from the watch time, the very first time I do that since raising my wrist, there's a bit of lag. Whereas subsequent movements in that area/region are fine. Same goes for other menu areas.
Lastly, looking at the optical sensor package, it's the same as on the Suunto Vertical, as is the charging port: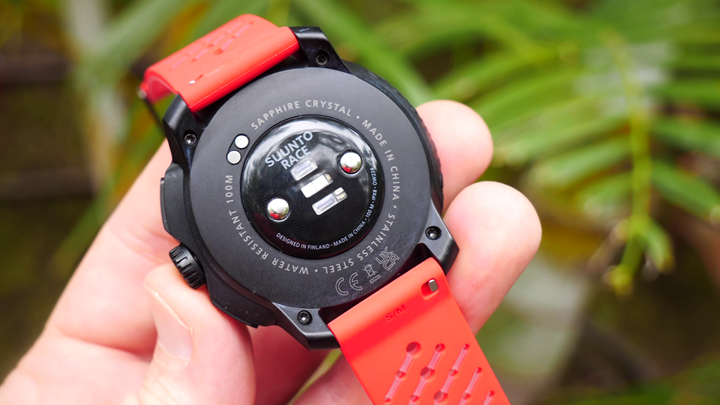 Additionally, the straps are standard 22mm bands, so you can swap those out as you see fit.
Feature Upgrade Chart:
Now, there are a lot of new features on the Suunto Race that I briefly touched on above – and the good news is almost all of those are coming to existing watches. Here's a chart showing what's coming to which watches, and this is just for the 'Fall' update this year. It sounds like more things are slated beyond that: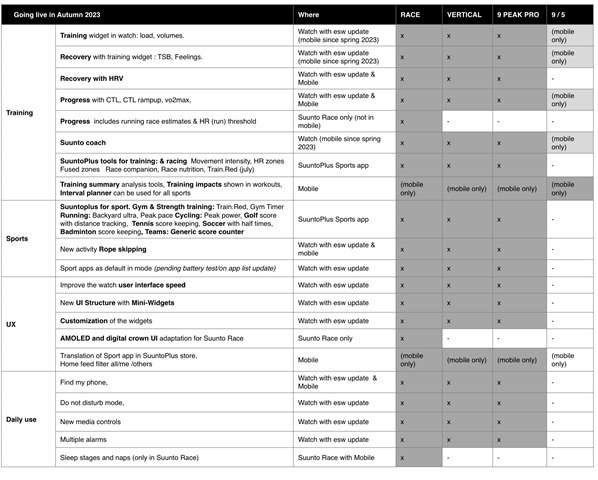 As always, it's great to see companies pushing firmware updates back to older watches, and doing so quickly after release.
Wrap-Up: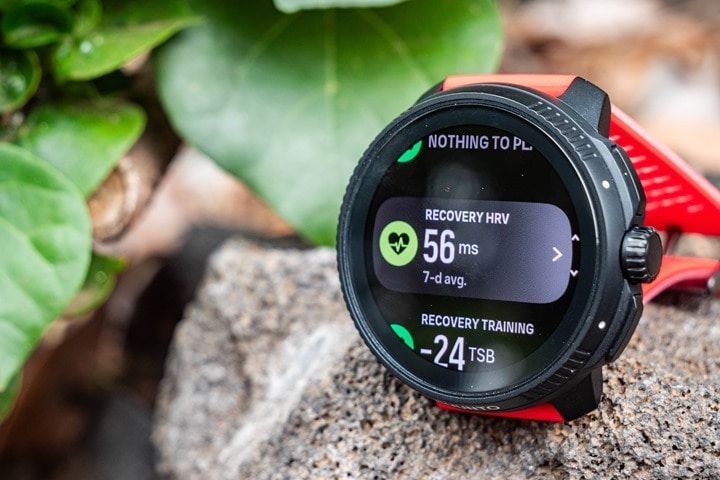 There's no two ways about it: Suunto's pricing here is the big story. Which is funny, because the watch itself is a big leap up for the company, even a moderate leap up from the Suunto Vertical. But with pricing at $ 449, Suunto is aiming to undercut everyone. Sure, there's the most obvious two: Polar's just-released Polar Vantage V3 at $ 599 and Garmin's Forerunner 965 at $ 599. But frankly, Suunto is also kicking the legs out of COROS and their Vertix 2, and even their APEX 2 Pro at $ 500. Garmin is of course in the strongest relative position here, merely because it has a broader set of features to make up for it. But compared to the others, Suunto is delivering in a lot of other areas.
The AMOLED display is on-par with all of the others in this realm, and the GPS accuracy thus far in my testing appears to be consistent with the Suunto Vertical – which was largely in the market leading group. Accuracy of the heart rate is an area I'm still digging into all my sets on, though it wasn't quite as strong on the Suunto Vertical as some of their competitors.
From a user interface standpoint, the new UI is much cleaner. A big step up from the previous units. The widget flow is cleaner now, as is the coloring and just visibility. I've had no issues with the AMOLED display in either crazy bright conditions or dark conditions. About my only nitpick as I noted in the video is that I see a bit of lag when opening up certain menus. I wish that were a bit faster.
Still, this is a huge step forward for Suunto, and I think really sets their course in the right direction. I'd love to see them build upon the features here, such as including some form of a ClimbPro type competitor. I think that's really one of the bigger missing pieces for any watch that's designed for the mountain scenarios. Suunto has some look-ahead features that give you a glance at things, as well as waypoint functionality, but having automatic climb categorization/details would be a big improvement.
Again, stay tuned for the full in-depth review – it likely won't be long. I just have a few more areas I want to dig in more deeply, namely really long activities as well as some of the HRV status bits. With that, thanks for reading!