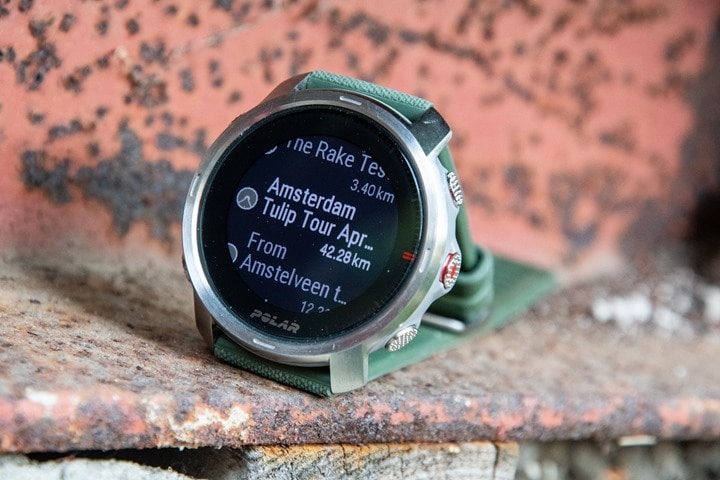 Polar has just launched their new Grit X multisport GPS watch, aimed primarily at the outdoor enthusiast crowd that skews slightly more towards ultra runners and hikers than it does other groups. Still, the watch has the vast majority of the guts and features of a Polar Vantage series watch (don't worry, we'll get into the nuances in a minute). But it's not viewed as the successor to the Vantage series. Instead, it's an adjacent product category.
The watch has some new features including Hill Splitter which automatically counts your hill repeats, as well as new nutritional guidance bits mid-workout and post-activity. Plus, it's got turn by turn routing instructions when paired with Komoot. Plus a handful of other minor tweaks like improved waterproofing specs and added weather information. Oh, and the new 100-hour GPS battery life.
I've been using the Polar Grit X now for a bit, gathering boatloads of data, throwing the biggest hills and most interesting routes at it that I can. I've got plenty of data on accuracy, functionality, and lots more in this review. What works well, and what might need a bit more love.
Now – if you want the consolidated view of that into a single fast-paced video, then click no further than the play button below:
Finally, note that Polar sent over a media loaner unit to try out. Once I'm done I'll get it back to them and go out and grab my own from normal retail channels. If you found this review useful simply hit up the links at the end to support the site.
What's New: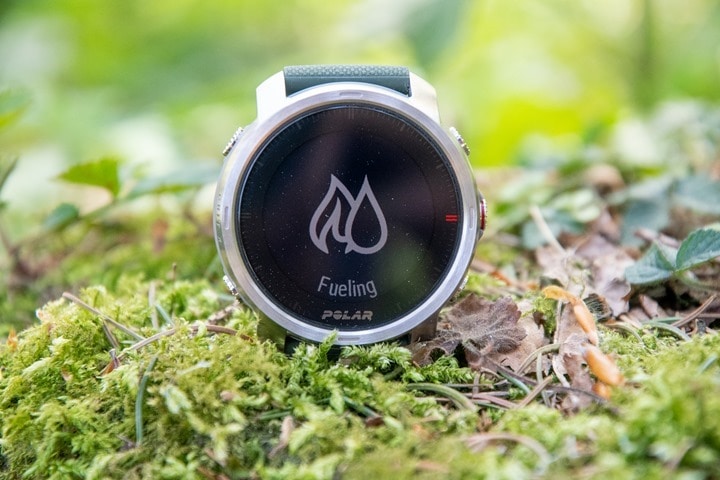 As noted, the Polar Grit X is designed to be a more rugged and mountain-focused variant of the Vantage Series. Think back to the days of the Garmin Fenix line compared to the Garmin Forerunner lineup. These days that line is far blurrier, but if you go old-school it used to be more clear. The base of the Grit X is simply a Polar Vantage V with some added features. However, two features aren't present on the Grit X that were on the Vantage V (Recovery Pro & Orthostatic Test). Inversely, one could argue it's an upscaled Vantage M instead. Either way.
Here's what's new compared to the Vantage series in whole:
– Added Hill Splitter: Counts your hill ascents/descents automatically mid-workout and in app afterwards
– Added FuelWise: Gives nutrition alerts mid-workout for carbs and hydration (separately)
– Added Energy Sources: Shows breakdown of carbs/fats/protein usage post-workout on watch/app
– Added Weather: This is a widget of sorts that shows current weather on the watch
– Added 100-hour GPS tracking mode: This power-saving mode reduces track points to increase activity length (as well as via a new 'Screensaver' feature)
– Added Komoot route integration: Officially 'turn by turn' navigation, though the definition of that is a bit loose
– Switched to metal grippy buttons: These are nice, way better than Vantage buttons
– Changed the optical HR sensor: Notably changing the colored LED types it uses
– Uses standard 22m wrist strap: The Vantage V was custom, but the Vantage M used a 22m standard strap
– Increased waterproofing spec: This is increased from 30/50m to 100m
– Removed Recovery Pro: This feature was in the Polar Vantage V line, it's not in the Grit X
– Removed Orthostatic Test: This feature was in the Polar Vantage V/M lines, it's not in the Grit X
Phew, got all that? Good. Let's get this thing unwrapped.
Unboxing: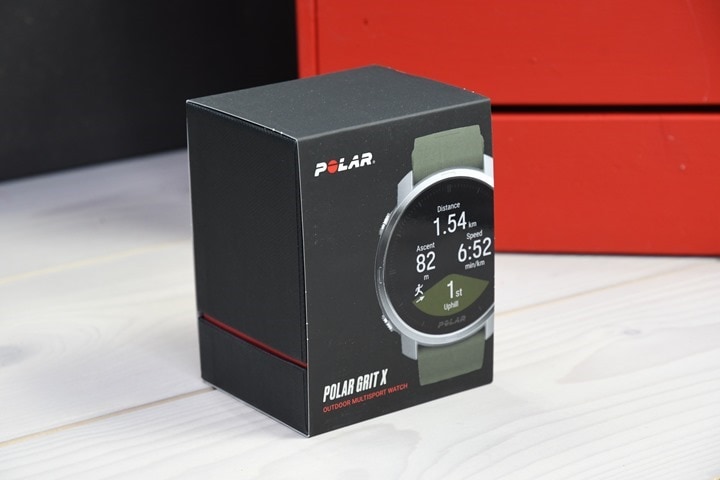 The box is pretty much like any other recent Polar watch. You'll slide off the exterior paper shell to find the box splits in two, revealing the Grit X: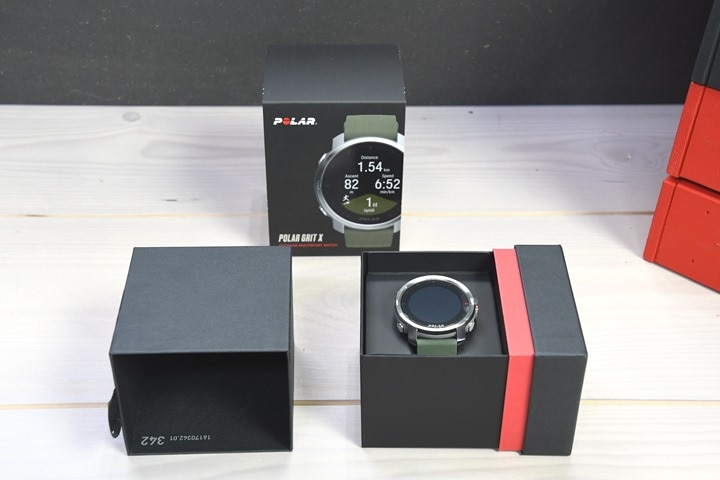 Inside that there's a charger, some paper stuffs, and the watch of course.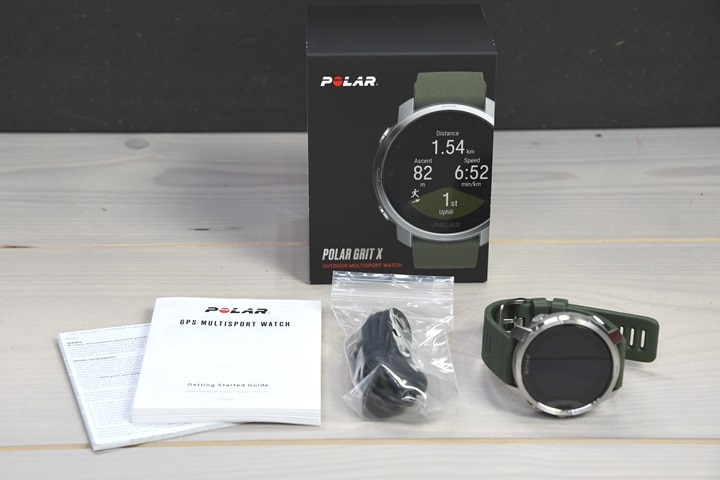 The paper bits include the manual and some warranty type information: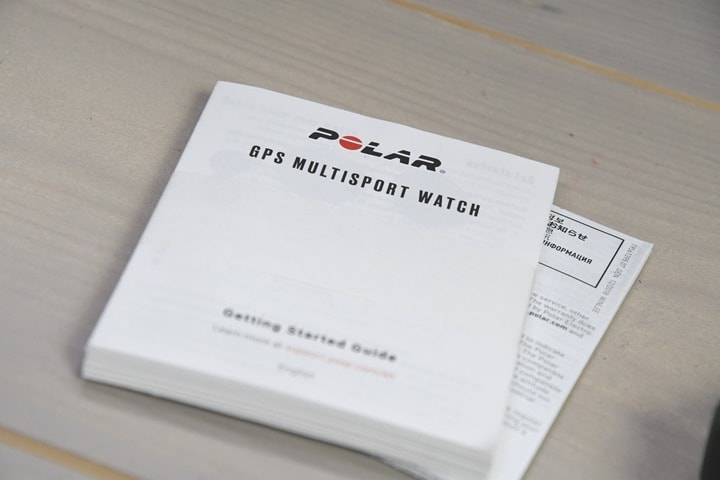 Meanwhile, the charger is the same charger as the Vantage series watches, making it easy to swap between them. I like this pattern of companies managing to keep the same charger for a number of years now. It makes it easier to borrow a charger from a friend if the field is larger. Here's to hoping it continues!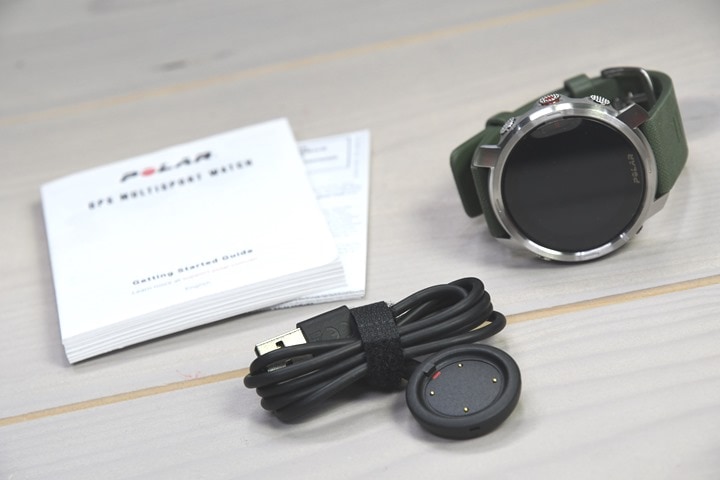 Oh, and then the watch itself. Don't worry, you're gonna see a lot of shots of it over the course of this review!
From a weight and size standpoint, at 66g it's almost identical to the Polar Vantage V series watch (64g), but is slightly heavier than the Polar Vantage M units (45g).
With that, let's dive into the details.
The Basics: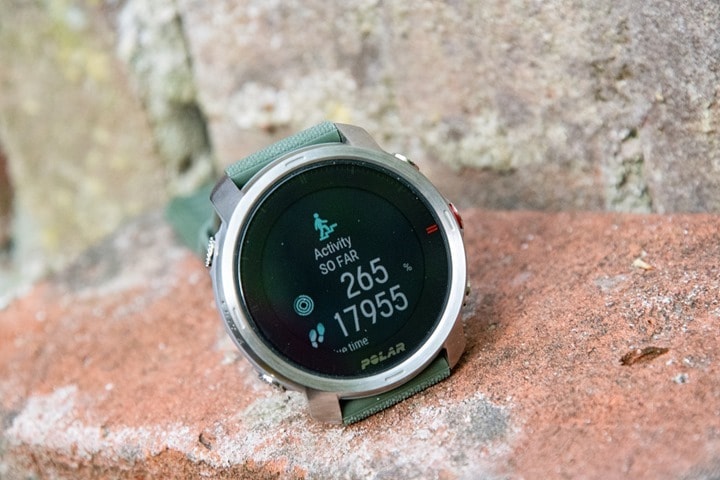 For this section I'll cover all of the non-sport features of the Grit X. So aspects like the user interface, the activity tracking, sleep tracking, and so on. The watch mirrors that of the Vantage V series for all but two features (Recovery Pro & Orthostatic Test), so if you're familiar with that unit, then you can probably skim through this section faster.
The watch has both a touchscreen and five dedicated buttons. The buttons on this are super crispy looking, and feeling (in terms of pushing them) compared to the Vantage series. Side by side with a Vantage V the buttons on that feel mushy, whereas these feel sharp and easy to press. There's also a slight vibration each time you press a button.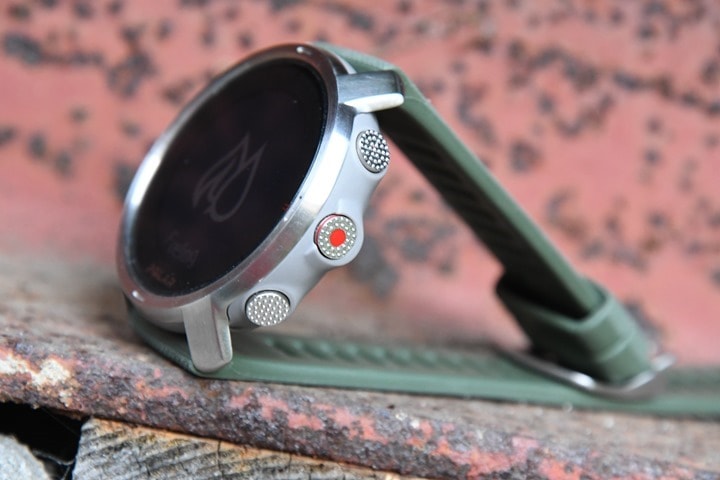 You can also use the touchscreen to swipe through pages in the menu, though I find the success rate somewhat low there (even sitting here in a dry office typing this, let alone outside). So I'll largely stick to buttons.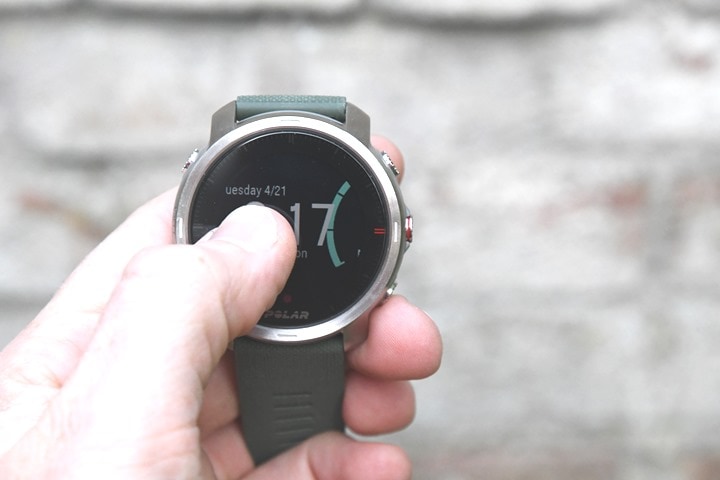 The bands use standard 22mm watch bands, which means you can go onto Amazon or whatever and buy any creative band you want, such as this one 22mm Polar Bear strap (seriously). That's notable as the Vantage V didn't have that, but the Vantage M did.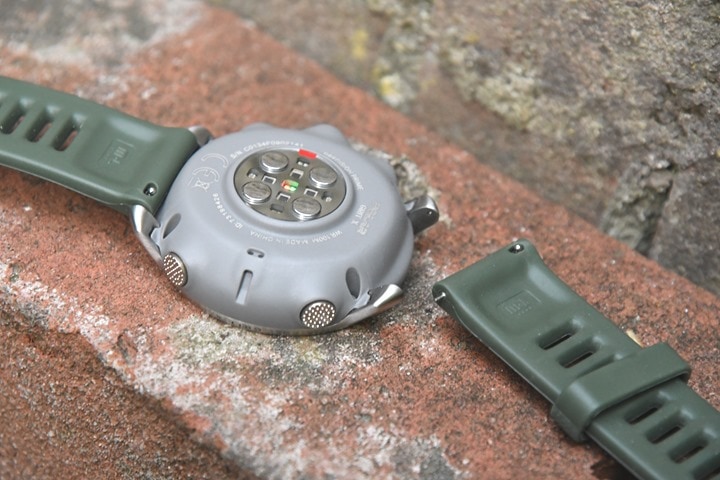 On the underside of the watch is the new optical sensor. What's notable here is that previously on the Vantage series watches Polar rolled out a similar looking sensor array. However, in the Grit X they've completely changed up the color of the LED's. Specifically, previously there were 9 LED's (5 green, 4 red, + 1 unused yellow). But in the Grit X there's now 10 LED's used (5 red, 4 orange/yellow, 1 green).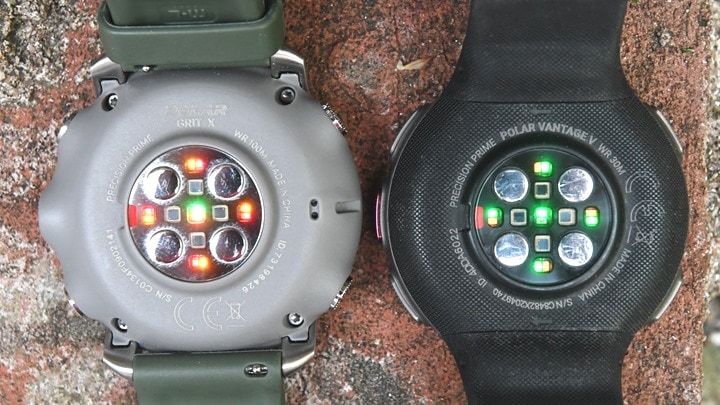 Typically speaking, the different color LED's handle different skin colors better. Also, some colors tend to go deeper than others which are better at more shallow depths. Polar has long toyed with different LED's to try and increase accuracy. And honestly, in general Polar seems to change their optical HR sensor with every product. But, what's also true is that the accuracy continues to climb and I'd easily rank them up as one of the most accurate optical HR sensors on the market.
The optical HR sensors will record your heart rate 24×7 when enabled (by default it's only used for workouts).
Back on the front of the watch there's a handful of main dashboard pages. You can swipe left or right to get the overview, and then swipe down to get more details. You can also use the buttons in the same manner. The first one is the nightly recharge sleep metrics. These won't show up until you've tracked three nights of sleep.  The nightly recharge stats essentially look at how recharged you are via ANS sleep.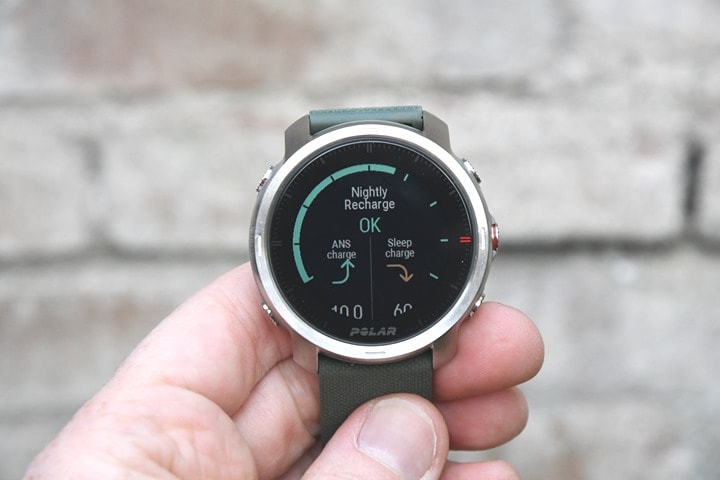 Most of these deeper sleep metrics came from the Polar Ignite, including breathing rate on a per night basis and HRV data: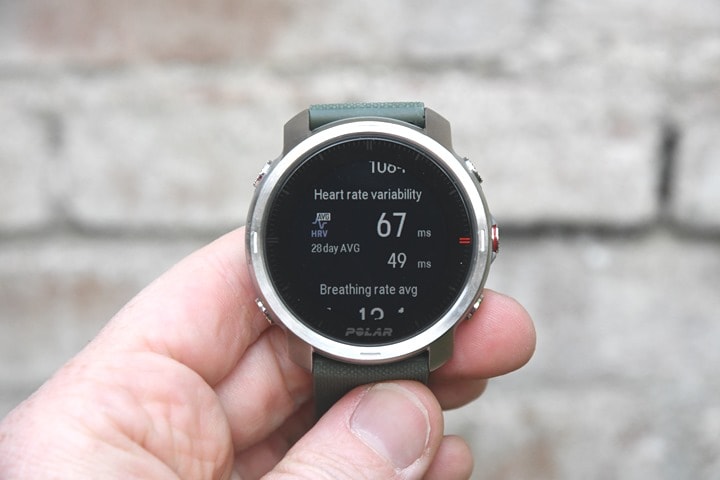 However, even if you haven't logged three days of sleep, you can get the more general sleep stats – including the time you fell asleep/woke-up, as well as the sleep charge number (which is basically a sleep score):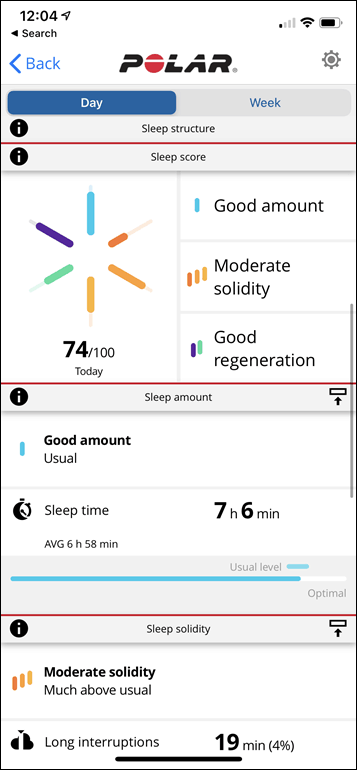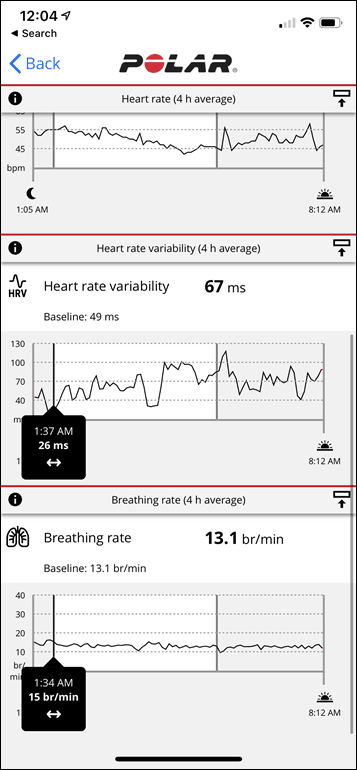 All of this is also found within the Polar Flow smartphone app (or on the website). There you can trend over longer periods of time as well if you want to: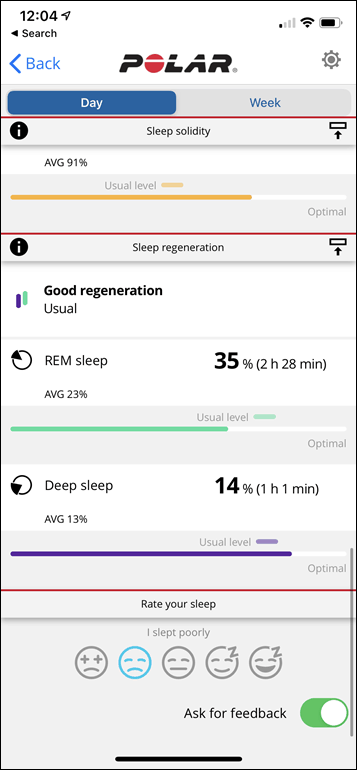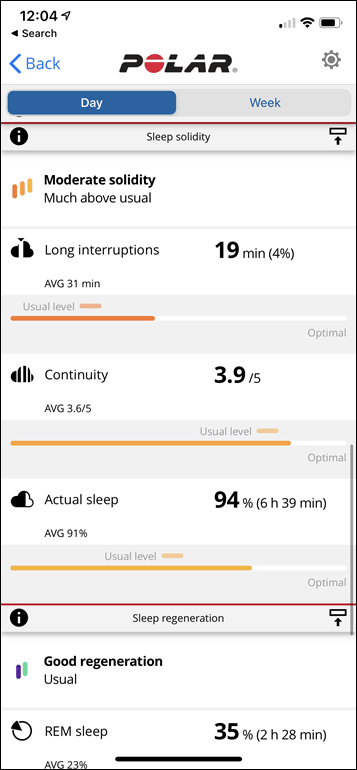 On the next main watch page is FitSpark. This will offer you a handful of different workouts for that day, unique to your current fitness level. In other words, if you did a hard workout the days prior, it'll likely give you something a bit easier, and also specifying a given intensity level: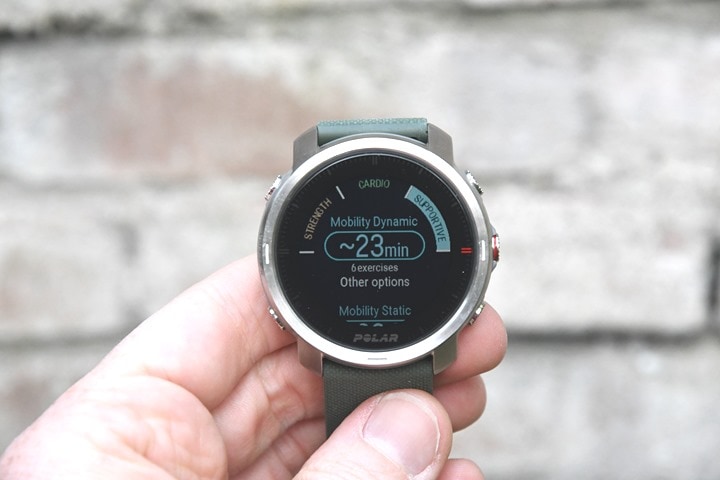 You can scroll down though to get other workout types, such as a strength or supportive (flexibility) workout, or a different cardio workout of perhaps shorter intensity. I'll dive into FitSpark a bit later on in the sports section.
The next page is the weather. This is new on the Grit X, and will show you the weather for the next few hours. You can open it though to see the projected high/low for the day, as well as the rain, wind speed, wind direction, humidity, and forecast for the next few days in varying detail: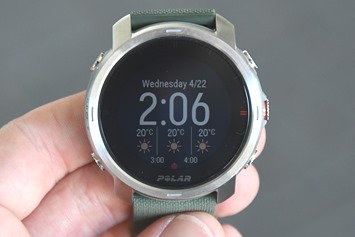 Next, there's the last workout that you did. It'll show how many hours since that workout, and you can tap it to open up the history of that workout: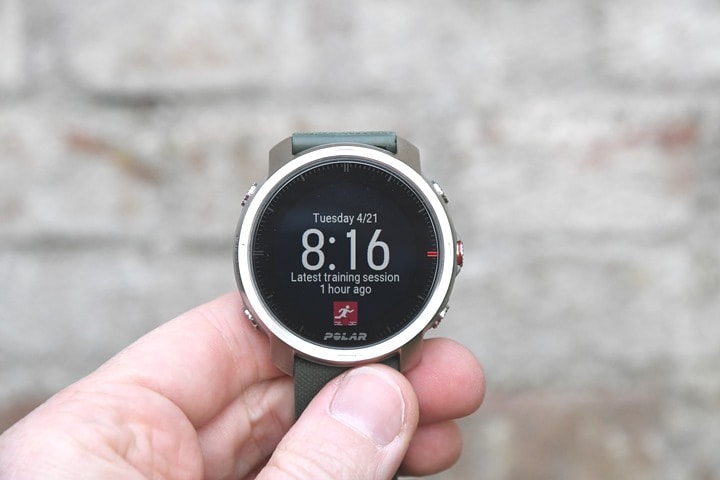 Then there's the Cardio Load Status Page. This will show up after 8 days of sessions as well and detail the breakout of your current training and whether you're overtraining or undertraining. This is the same as on the Polar Vantage V & M series watches. More on this later in the sports section.
After that, we've got general activity tracking. This covers bits like steps walked, and how far towards your step goal as well as calories.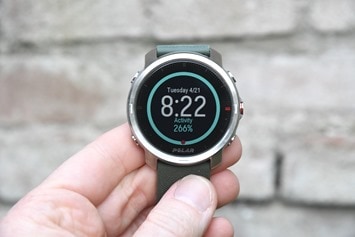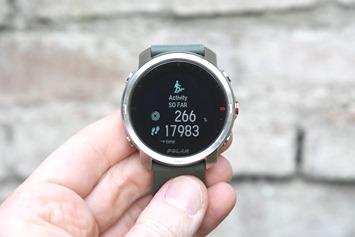 And then a separate screen for your current heart rate stats (assuming you've turned on 24×7 HR tracking). It'll show your current heart rate on the main screen, but you can dive down to see your max and min HR for the day, as well as the lowest sleep HR of the previous night.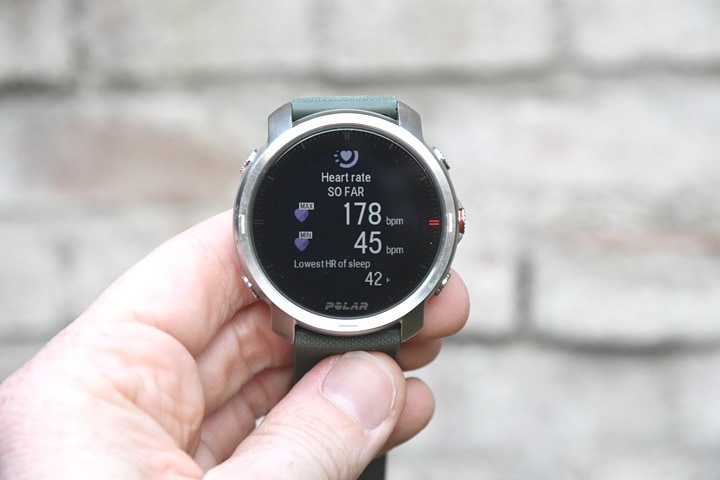 Oh, and then there's the time and date on one last screen.
As noted earlier, all of this stuff syncs to the Polar Flow app. That's where you can see your completed workouts, create workouts, see day to day activity tracking and all the usual stuff you'd expect from a smartwatch. I'll largely cover the sport-specific pieces down in the sport-usage section. But within the settings you can also access general settings for the watch: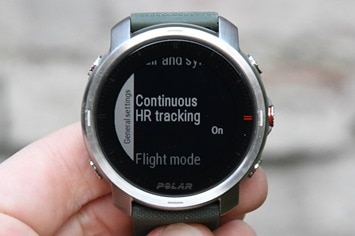 Some of these settings (and plenty more) can also be found online via the Flow Desktop app, as well as via the watch itself by pressing the lower left button: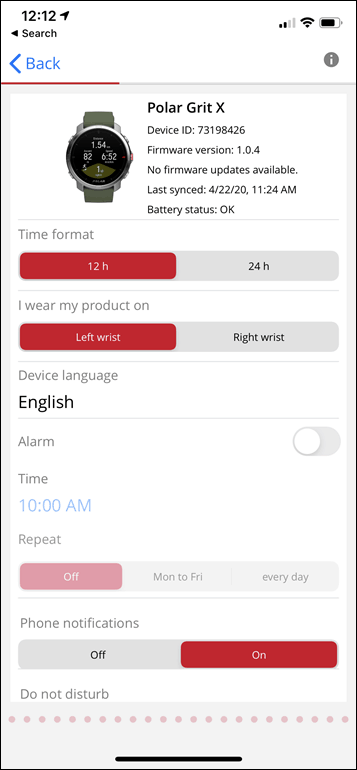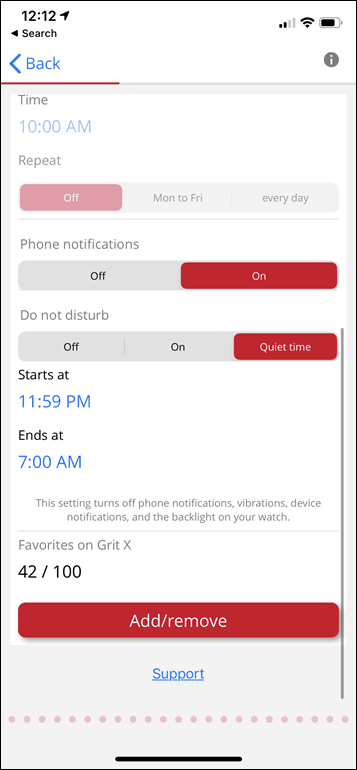 And finally, if you need to relax a bit after watching the day's news, you can use the Serene guided breathing functionality. You'll access this in the lower left side button as well, and then down to Serene: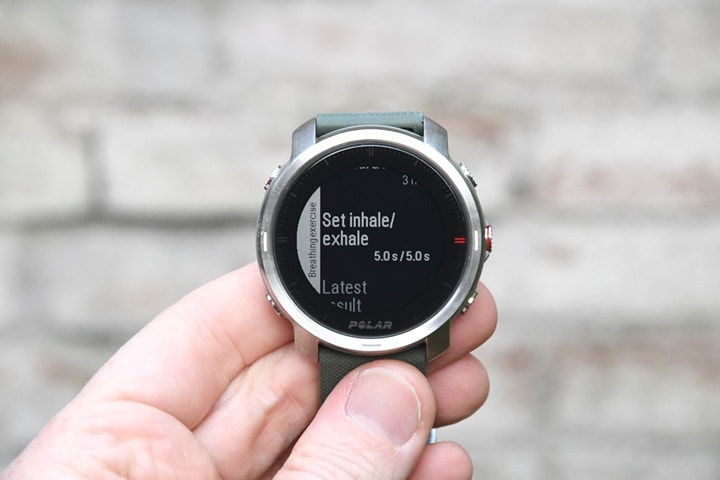 You'll configure the overall duration as well as the inhale/exhale lengths. Then you're off to the couch.
Speaking of things that are not relaxation-inducing – there's smartphone notifications. These are supported across all apps, and handled at the iOS/Android level. However, I will note that I have had some intermittent issues with notification delays. Polar is looking into it and can't reproduce it yet on their end, so hopefully it's just a 'me' thing.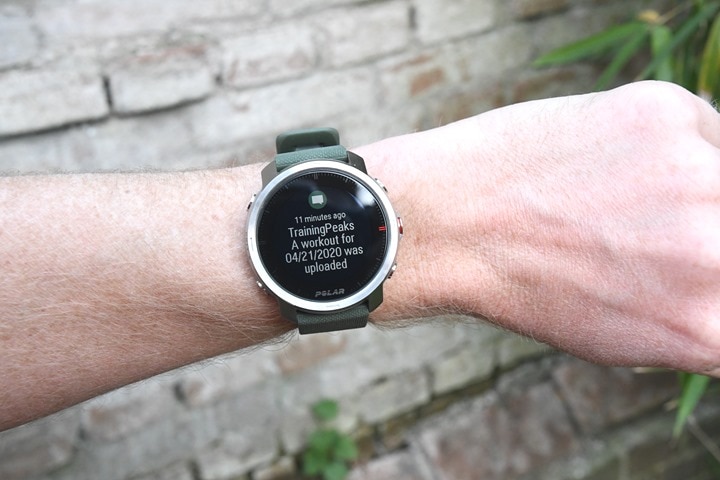 Oh, and simply because I know someone might ask: No, there's no music storage/playback/control on the Grit X, nor any contactless payments. Ok, with that we've covered all the non-sport bits, so let's get sweaty.
Sport Usage:
It's pretty likely that if you're buying the Grit X, it's for sports. Whether that's hiking, a trail run, or a triathlon – the Grit X covers all those pretty equally. It supports all the major sensor types via Bluetooth Smart (but not ANT+ – more on why that still matters in a moment). But if you were happy with your Vantage series setup, you'll likely be happy here. Unless you used Recovery Pro, in which case you're outta luck here. Same goes for the Orthostatic test (but honestly, I suspect very few people actually used that beyond curiosity once or twice).
To start a sport mode you'll either long-hold the middle right button, or single-press the lower left button and select start training. Both take you to the below photo. Note that the GPS icon (the arrow) is red still, indicating it's finding GPS.
This is where you'll find your sport listing. You can store 20 sports in the Grit X. These can be customized on either Polar Flow desktop or smartphone app.
x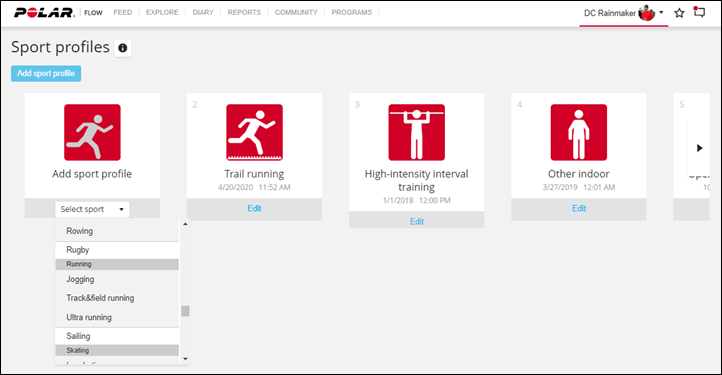 The customization of sports covers everything from the exact data fields and pages you want shown, or the frequency of update rates. You can also change zone limits for pace, power, and heart rate. As well as automatic laps and more.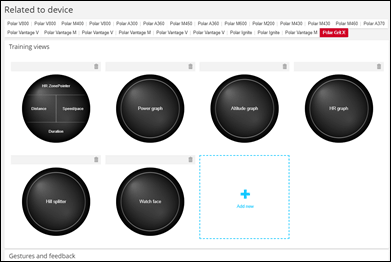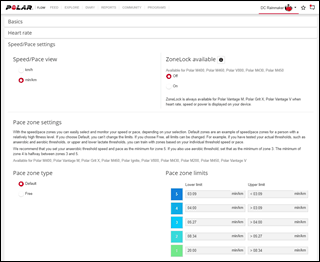 For example, it's in here that you can tweak the GPS recording rate, which can get you the higher battery durations (though, this can also be changed on the watch itself).

These changes are synced to your watch anytime you sync your watch, which can be done via Bluetooth Smart to your phone, or cable to your computer. Usually the sync process takes about 20-40 seconds via computer, or about 30-60 seconds via Bluetooth Smart.
Back on the watch, once you've selected a sport mode, it'll go off and find GPS (if an outdoor sport), as well as lock optical HR (if using the optical HR sensor). Additionally, you'll see sensor status listed as well: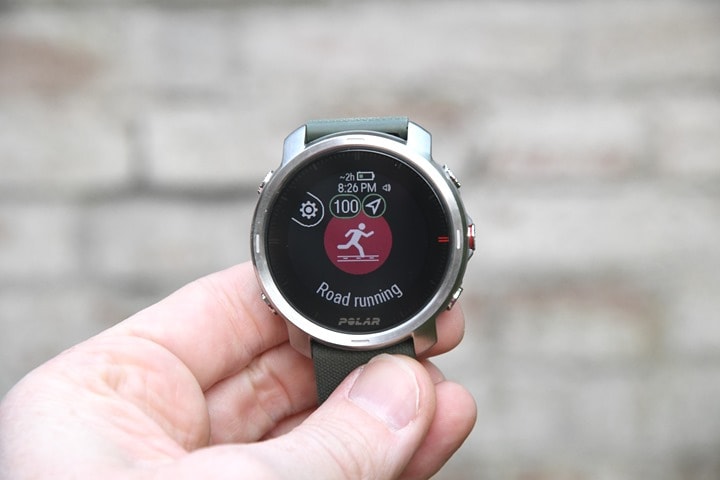 The Grit X supports the same sensor types as the Vantage series. These are:
– Bluetooth Smart Heart Rate Straps
– Bluetooth Smart Cycling Power Meters
– Bluetooth Smart Cycling Cadence & Speed Sensors
– Bluetooth Smart Running Footpods
– Bluetooth Smart Running Power Meters (it also includes a built-in one)
From a power meter standpoint, I tested a few different ones. I had success with both a Quarq & Vector 3 power meter, but oddly was unable to pair to a PowerTap P2 pedal set. I'm not sure why. You can however pair multiple types of sensors to the watch easily via the sensors menu. So you can effectively save multiple bikes' sensor configurations, or multiple heart rate straps, etc…
If you press the upper-right button while on the sport screen you'll get a mini-settings menu of sorts. This is where you can select routes, do back to start navigation, add countdown/interval timers, or load structured workouts. It's also where you can configure power-saving settings to get that touted 100 hours of GPS battery life.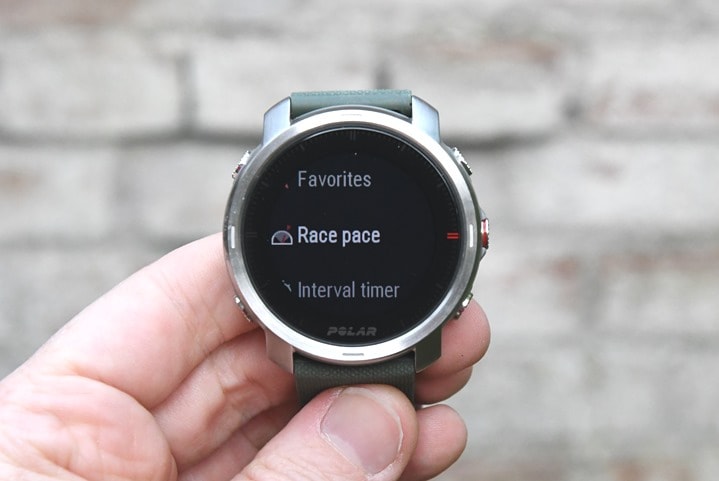 I'll come back to that in a moment. So, back on the main page once you've got GPS/HR/sensor lock it'll turn each of the little circles green. Also, up top it shows approximately how much GPS battery life it has remaining. Obviously, if your activity is planned longer than this number, you should adjust the battery savings to make it fit. Or, go find the charging cable for a quick top-off. Or, simply stop early and eat ice cream.  Whatever you do, don't workout longer than your GPS can record for, because obviously then it won't count.
Anyway, tap the center right button to start recording. At this juncture you can now iterate through your data fields to see various metrics from whatever workout it is you're doing. So if you're outside you'll see things like speed/pace, distance, etc… More or less all the usual goodness you'd expect from a GPS watch. Here's some pics from a workout: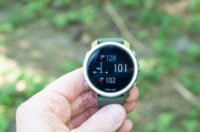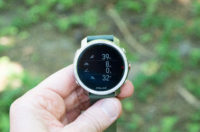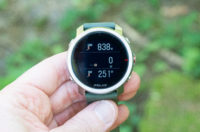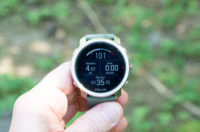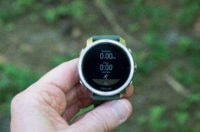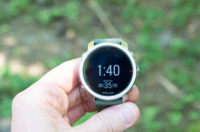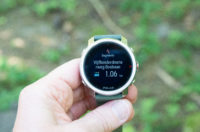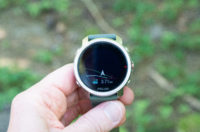 Sensor data will also show up as well. And, with the Grit X you get running power natively without any extra sensors (meaning, no Stryd required). I talked about Polar running power back in the Vantage series watch – there's no change here with the Grit X. It uses the accelerometer in the watch on your wrist to make those calculations. That has its pros and cons as I've outlined previously.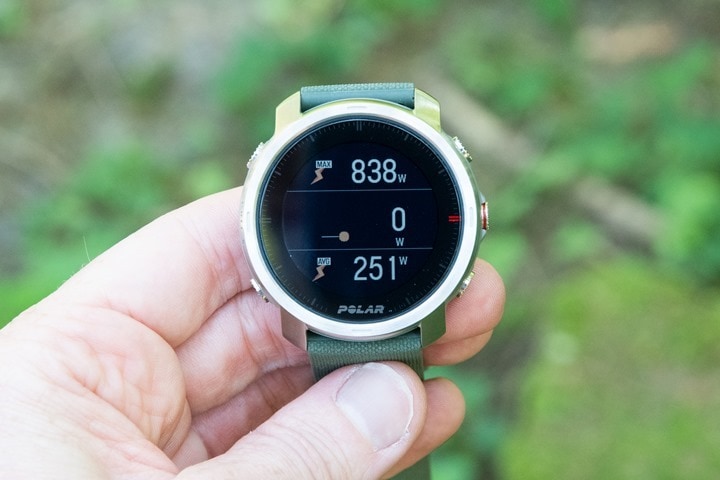 If you're using Hill Splitter in your sport profile, you'll also have that data page shown – even if not on/near a hill: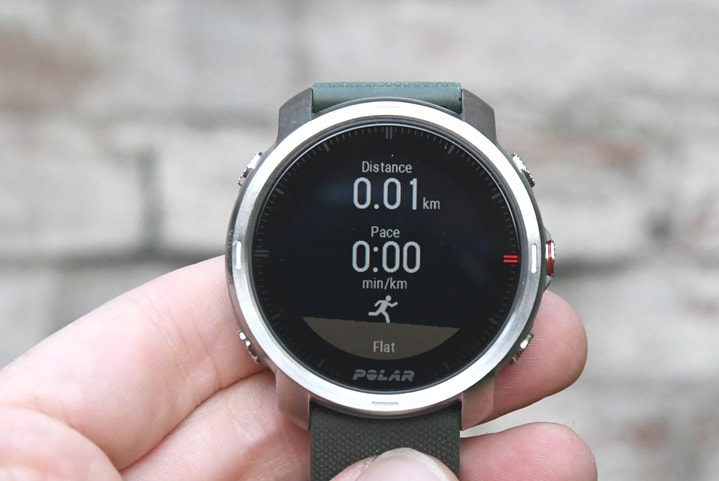 But, we're not gonna talk about Hill Splitter here. Instead, the entire next section covers that. So, let's keep moving on. And no better place to move onto than the new Komoot integration. That allows you to get "turn by turn" routing navigation for a course. Previously you had to create your courses within Polar Flow (they don't support Strava Routes…yet…but they are planned). To get a route from Komoot to the Grit X, the following things have to be done:
A) Pair up your Polar Flow account to Komoot (in Polar Flow, just like pairing Strava/Training Peaks/etc…)
B) Create a route on Komoot
C) Have the Komoot region that the route starts from activated in Komoot (or, paid for)
D) Sync your Komoot routes to Polar Flow (should happen automatically)
E) Favorite the specific route in Polar Flow to sync to the watch
F) Sync the watch to get it to show up on the Grit X
G) Activate the route on the watch itself after choosing a sport
Got all that? Yeah, it's kinda messy, namely item 'C' above. A Komoot region is a very small area of land. In the US it's your county (e.g. King County for Seattle). In the Netherlands where I live it's your province (North Holland). If your ride doesn't start within that region, it won't sync to Polar. You get one free activated region in Komoot under a free account, otherwise you have to pay for extra regions or pay for a global map unlock.
Assuming you sort all that out, here's what the routes look like in Polar Flow using the sync option, you can see the Komoot ones with the icons in the middle, and then on the right which ones are synced to my watch: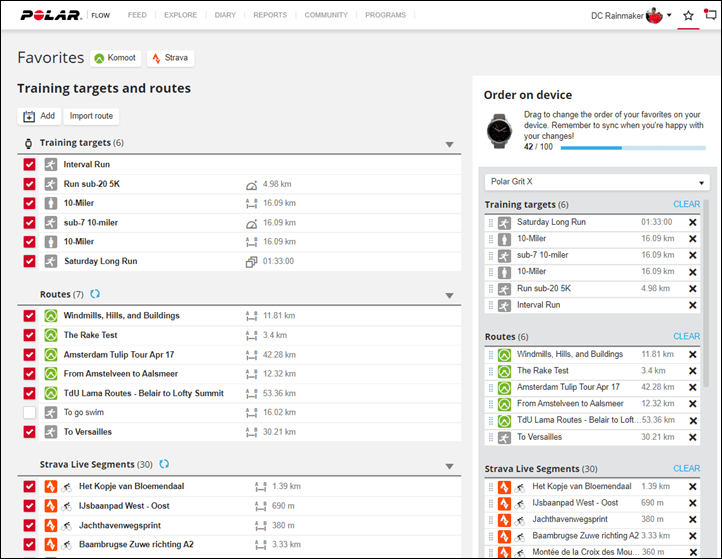 Next, after syncing to the watch, then go into the mini-settings menu and select the route. It doesn't show any information about the route, but it does let you choose whether to start it at the beginning or at a mid-point.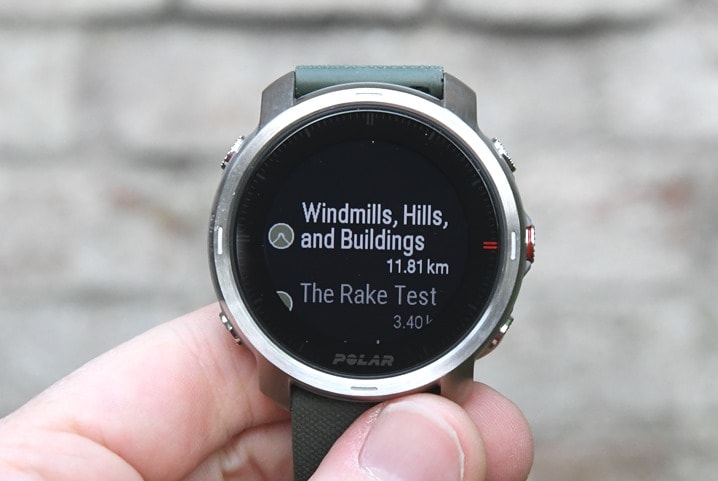 After choosing the route it'll load it up and indicate the icon on the pending sport screen.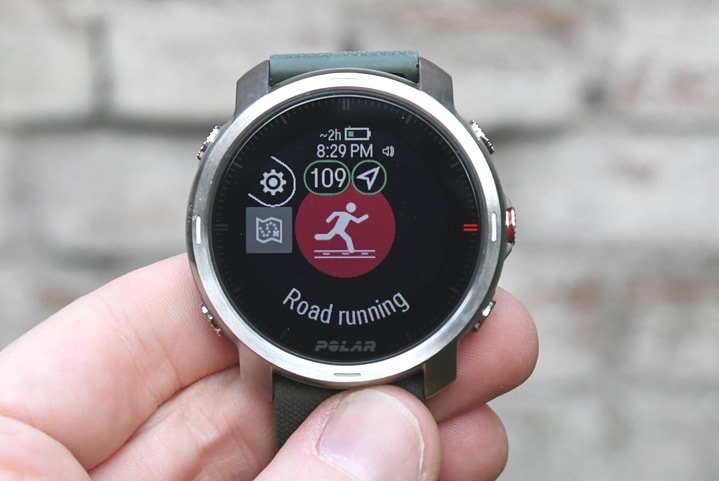 Once you begin, it effectively shows up as a breadcrumb trail that you can follow. There's no underlying map data or contextual terrain or city/road/trail data on the page.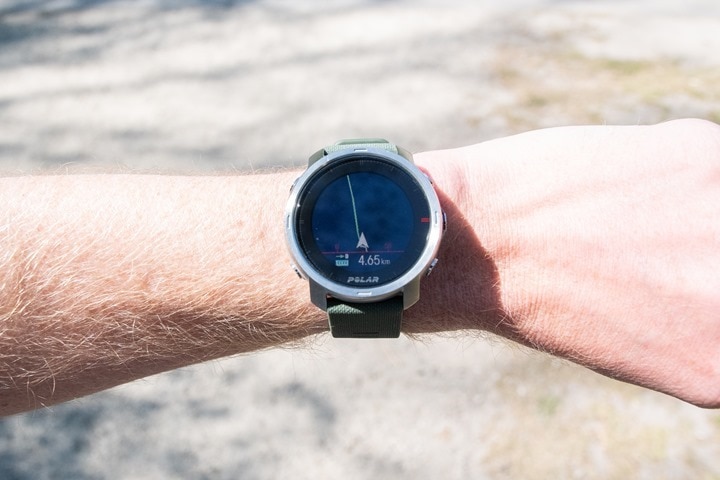 However, as you approach a turn you'll get a small arrow indicating which way you should go: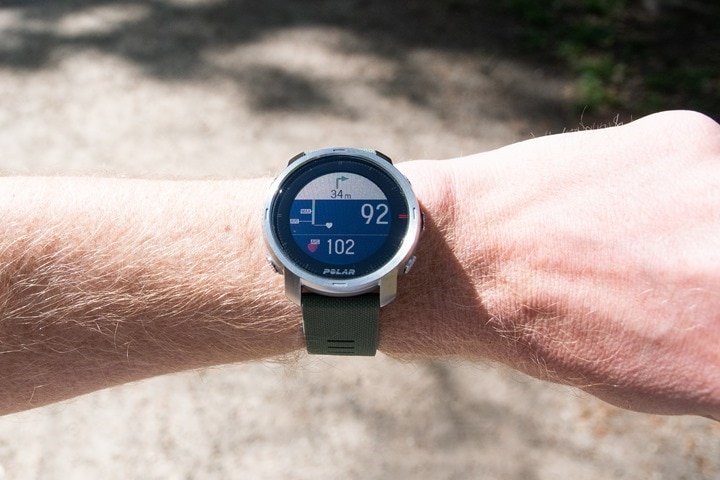 If you go off-trail, it'll notify you of that as well.
Now my testing has been a bit mixed here. On one run when I went off-course momentarily, it skewed the rest of the route after that point by about 100-200m. However, on my most recent run with Komoot routing yesterday, it was perfectly fine. And then again while shooting these very photos a few hours ago, it seemed to confuse left with right turns (telling me to go the wrong way, or telling me to go into the woods).
In any case, navigation aside, post workout you'll get summary stats on the watch itself, including Hill Splitter metrics. Here's a mini-gallery of those: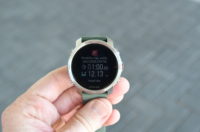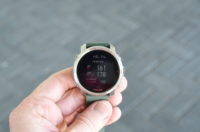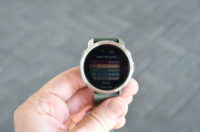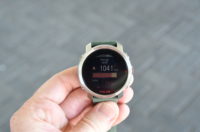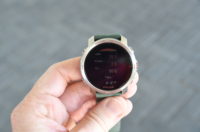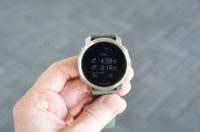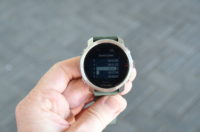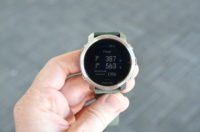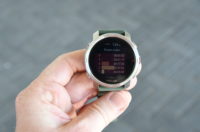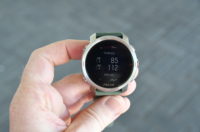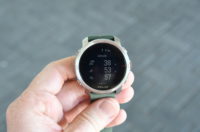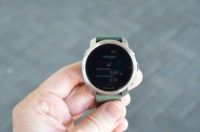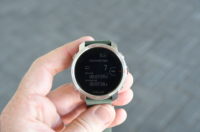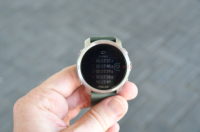 Also of note is that the route-name is appended to the activity throughout Polar Flow (and on the watch), so if you look in history, you won't just see a generic workout date, but the name of the route itself. A nice touch.
And even more detail over on the Polar Flow app (or web via desktop):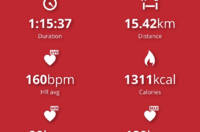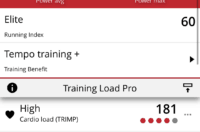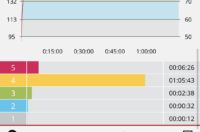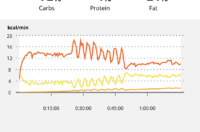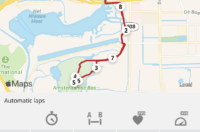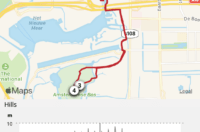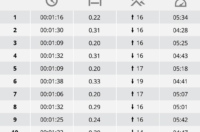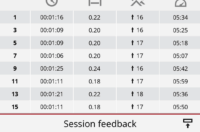 Now sliding back a bit – if you need to go longer than the 40 hours of battery life, within the Grit X there's expanded battery life options, getting upwards of 100 hours of GPS-on battery time. Albeit, with some reductions in tracking, screen update rate, or without optical HR. The following chart explains the core levels:
Up to 40 hours: 1-second GPS recording, optical HR enabled, normal screen update rate
Up to 60 hours: 1-minute GPS update rate, optical HR enabled, normal screen update rate
Up to 65 hours: 2-minute GPS update rate, optical HR enabled, normal screen update rate
Up to 100 hours: 2-minute GPS update rate, optical HR DISABLED (but using Bluetooth HR strap instead), screensaver mode enabled
To access these, you'll press the settings option at the start of a sport profile on the watch, and then choose the power saver settings: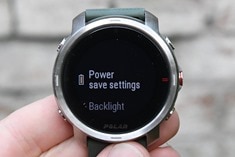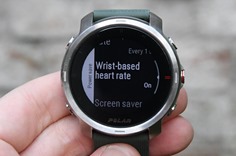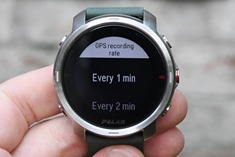 Essentially, these all break-down into four basic things:
– Reduced GPS Update Rates: Normally it updates at once per second, but there's an every 1-minute and every 2-minute option
– Turning off optical HR: This means you'd use a Bluetooth Smart HR strap instead (optical HR LED's take a lot of power at full strength in workout mode)
– Reducing screen update rate (screensaver): This is sorta the last thing you'd likely turn on, but this buys you even more battery, and is ideal for super-long activities where knowing the second by second details aren't frankly that important.
For the reduced GPS update rate at every 1 minutes, it works by turning on the GPS for 15 seconds, then turning it off for 105 seconds. As such if you use any reduced GPS update rates, keep in mind that the GPS track will cut corners. To demonstrate this, I did a simple route around my hood with a number of turns on a bike. In this case you can see how it cuts the corners. This is similar to how it works on Garmin, though, on Suunto while running/hiking they do some GPS route awesomeness with their FusedTrack that does actually plot a route (more on that here).
The dots are hard to see on the right (it changes the lines on Polar Flow), but you can see them if you look closely.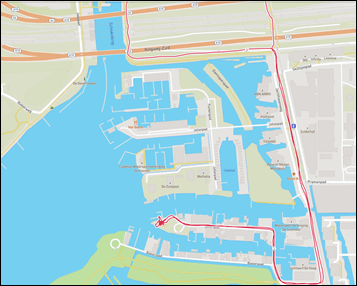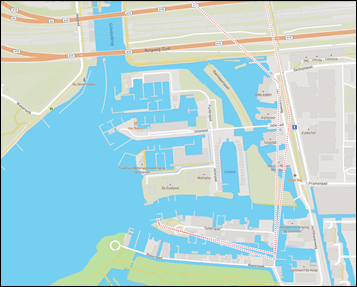 Of course, if you're going slow on mostly straight terrain – then it won't be a huge impact on things.  But, even in the mountain on switchbacks, keep in mind that an update rate of once every 2 mins means you might cut a number of corners. Again, I wouldn't ever enable these options unless you really, really, really need them.
Last but not least there's FitSpark. This was added in the Polar Ignite units, and then continued through in the Vantage series last year via updates. Essentially FitSpark is a virtual coach that has no overarching fitness/seasonal goal in mind, except to give you a workout of the day. But the biggest and most important take away is that it looks at your nightly recharge scores and underlying sleep data to determine whether or not you should be doing anything at all.
That's a super critical gap that's been missing. Most automated training guidance coaches/platforms don't do that. And by 'most', I mean, 'none do'. You could have a newborn at home and be days deep of horrific sleep, and they'll tell you to go out and run a 2hr long run. Whereas Polar will look at that sleep data and give you a go/no-go type guidance, and then depending on what your greater training data looks like, will also give you specific workouts to do.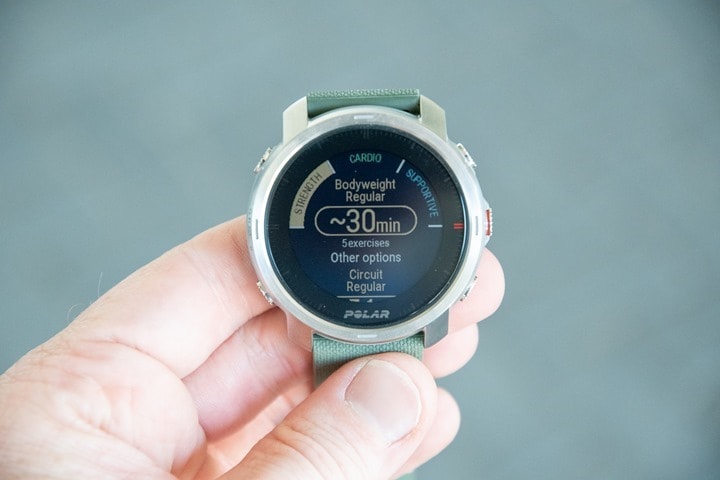 Remember, this isn't tied to a plan. Meaning, you're not tied to some 5KM running plan. This is basically saying 'Hi there, I know a scary amount about you, here's four options for workouts today. Pick one.' Oh, right, yes, it gives you options. Numerous options. Pick your poison: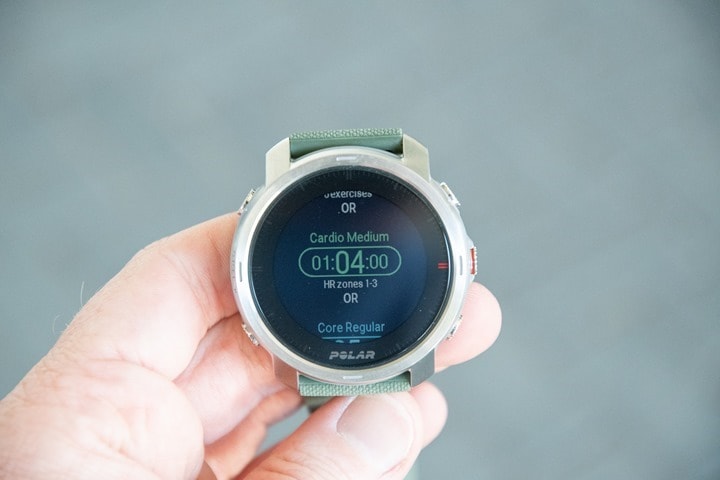 And then for each of those options it'll give you the specific steps and guidance in the watch itself. There are cardio-focused running workouts with different intensities. And then there are core type workouts too, and for those, it'll give you the specific moves to do, along with animations and text for each one: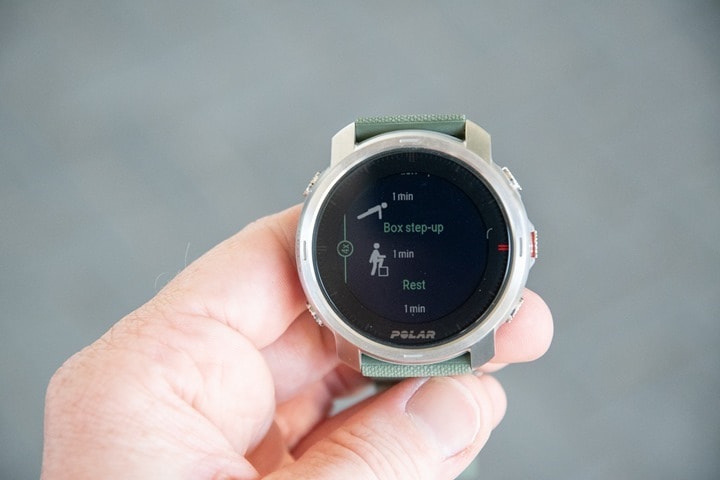 But let's say you choose the cardio workout, go run an hour or so, and then finish up. At that point, the watch gives you new suggestions. Specifically ones around active recovery such as stretching and related core workouts that'll help and support that initial workout.
Again, keep in mind the goal of this function isn't to be an endurance trail running coach. It'll suck at that. Instead, the goal is actually more applicable to date: To keep you fit and push you slightly with mostly varied workouts across disciplines (such as flexibility and strength).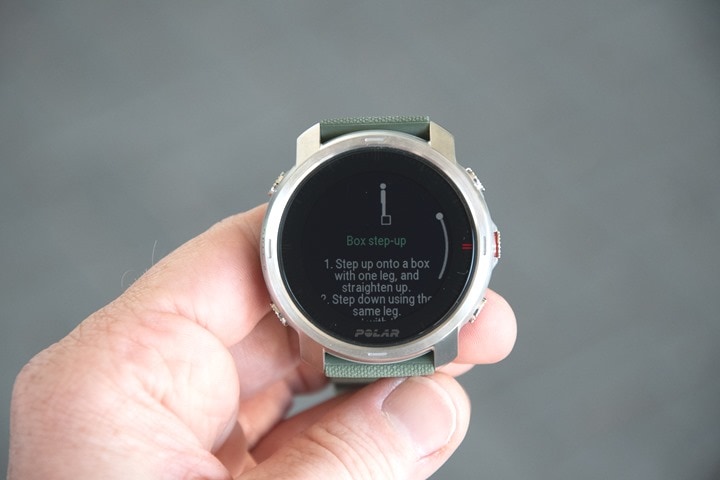 Ok, with that, I think I've covered everything there is in the sport section here. If I missed something, then definitely check out my Polar Ignite or Vantage reviews, as those will cover some of those aspects (and they're the same). An example being indoor pool support (the pools are all closed here), or triathlon support (no triathlons right now). Note that I cover the FuelWise and Energy source bits within their own section down below.
Understanding Hill Splitter: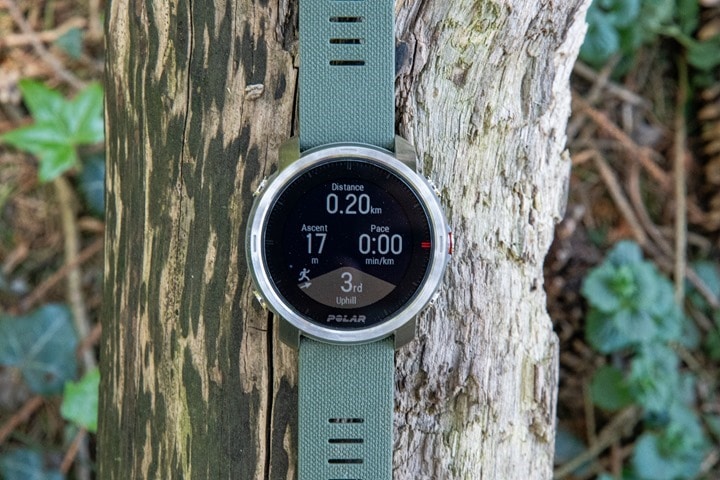 These three features are at the core of the new functionality within the Grit X. Thus I'm going to spend slightly longer to explain all three in more detail than what I touched on in the sport usage section. All are focused purely on sports of course. The point of this section being that if you already know all the sport basics on the Vantage Series, you can basically just read this section and the next and get caught up on these key new features. This section will be all about hills and climbing.
Hill Splitter automatically detects when you're ascending or descending a hill and will give you the time ascending/descending, as well as length of the climb/descent. It'll also count each ascent/descent. You'll see that on the screen each time you go up/down, as well as summarized afterwards on the watch and then on the app.
On the watch, this is accomplished via a new full-screen data page (named Hill Splitter). This page is non-customizable, but can be added to your watch. If you're on flat ground, this is what it looks like:
If you go up a very slight incline the 'ground' at the bottom of the screen will actually reflect that, before it toggles into full hill mode. Kinda neat. So basically false-flats would register there.
Next, as you start going up a climb, once you hit around the 8-10m of elevation gain marker, it'll trigger an ascent, and the screen changes to the below screen which shows how far you've run/ridden/hiked up that climb as well as the duration. And of course you see which number hill this is (e.g. 1st ascent):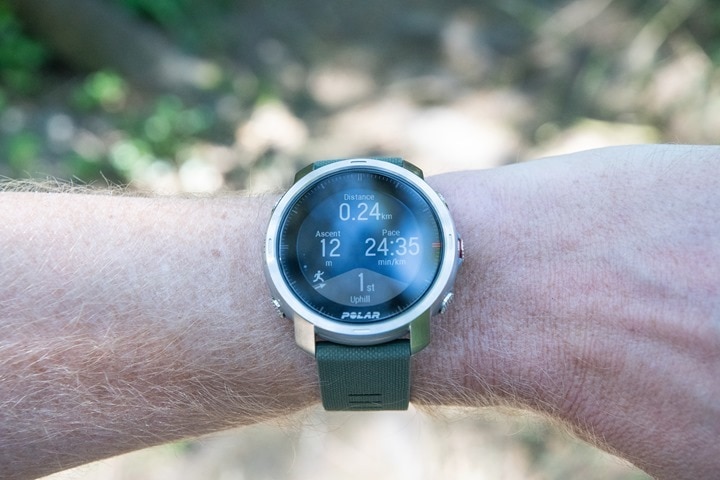 And that's basically it. Hill Splitter doesn't leverage courses in any way, nor does it show incline or anything else. You can however add the standard elevation page to your watch, and then you'll see incline there, but you won't see per-climb ascent metrics like you might on some other watches.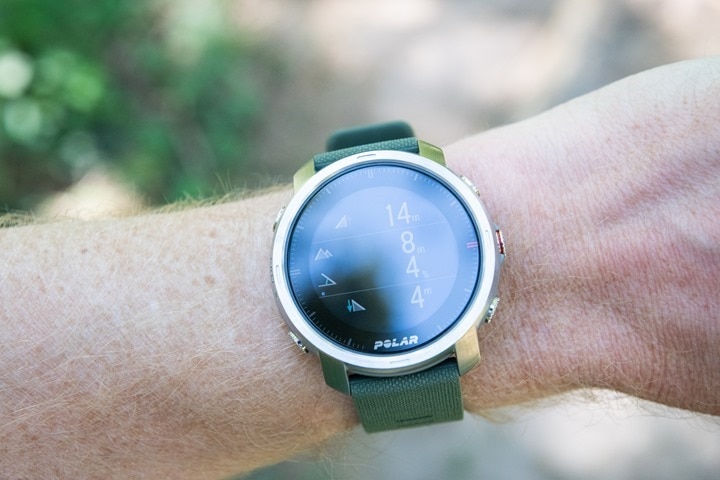 Meanwhile, once you're ready to descend, you see all the same metrics again, this time for descending instead: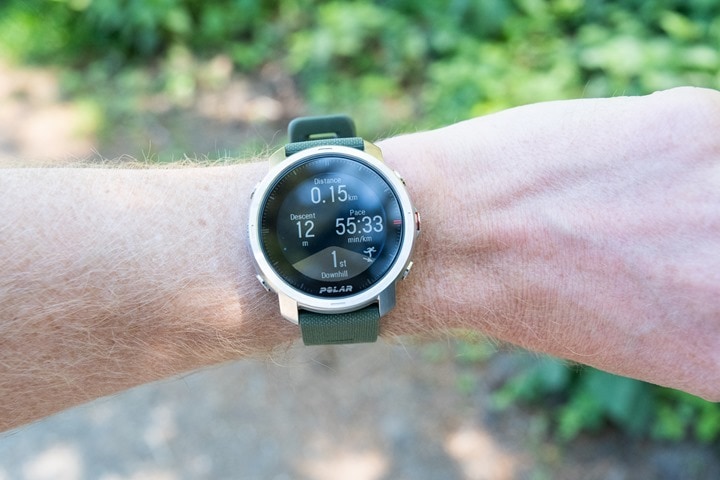 Afterwards, post-workout you'll see a summary display of stats showing how many hills you climbed and how much ascending/descending time. Though, it looks like there's still a few bugs here since those two should be identical numbers given my route was out/back and I did identical hill repeats.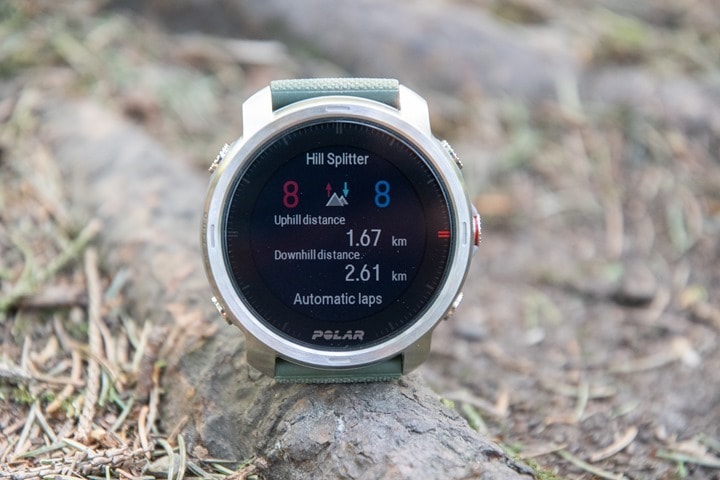 The detail is better once you crack open your smartphone though and look at the app there. You can see the exact details for each ascent/descent – this is great.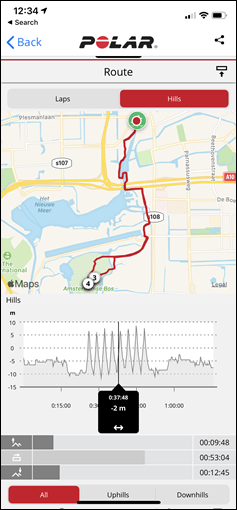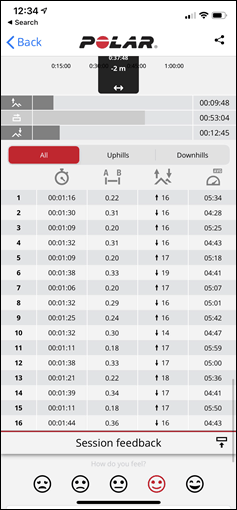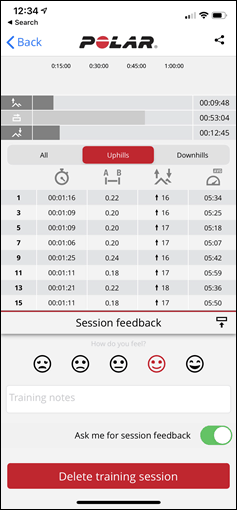 So – about now you're probably asking what's the difference between Polar Hill Splitter and something like Garmin ClimbPro. Well, that's kinda like comparing a paper airplane to a Boeing 747. Roughly. But, they also serve two different purposes. If I'm doing hill repeats out in the woods randomly, Hill Splitter is a actually a strong option. But for any sort of planned adventure, ClimbPro is far better. But still, if you need to throw an airplane across a room – it's easier to throw a paper airplane than a 747. But wait, there's the Cessna of Garmin Auto Climb. Which kinda sits in the middle.
Here's the high-level overview between these three technologies:
Polar Hill Splitter:
– Automatically detects a climb
– Shows current hill climb time, length
– Shows current hill ascent number (i.e. ascent #4)
– Shows current hill descent time, length
– Shows current hill descent number (i.e. descent #4)
– Doesn't show total climb stats mid-workout, just for that specific climb (other pages can though)
– Not dependent on any course (doesn't use them at all)
– Hill Splitter page not customizable
– Shows per-hill ascent/descent stats in workout summary on watch
– Shows per-hill complete breakdown stats in companion app
In my opinion, Hill Splitter is really best used when doing hill repeats where you care about the specific hill count, but less about your vertical ascent metrics. Meaning, if I'm doing 2-4 minute long hill repeats, I don't care what my vertical ascent rates are. I just want to know how I'm doing on that specific repeat. Whereas if I'm doing a trail run in the French Alps where the climbs are far longer (perhaps an hour or more easily), I care about the vertical ascent rate, current altitude, etc… I can get some of those metrics on other data pages, but not consolidated into one page.
Garmin Auto Climb
– Automatically detects a climb
– Adds a climbing data page when it detects a climb
– That page is totally customizable with any metrics (so you could add total ascent/VAM/etc..)
– Cannot show per-climb stats (e.g. this hill is 200m long), only run or lap total stats
– Can customize specific vertical ascent rate threshold (i.e. 1,600ft/hour)
– Can customize detection rates (how quickly it detects a climb or not)
– Does not trigger when going downhills
Garmin Auto Climb is mostly best for longer sustained climbs (such as that French Alps scenario above). Or, for trail runs such as in the Alps where I have multiple climbs over the run with each of them and care less about each one being a precise number, but more about my live climbing stats. While it doesn't track by default on a per-hill basis, if you're using the lap button (which, you probably are for hill repeats), then you can easily get those same per-hill/length stats by just having the Auto Climb set to lap totals for each one.
Garmin ClimbPro:
– Automatically detects a climb
– Requires a course/route be loaded ahead of time
– Automatically shows exact distance remaining in climb, ascent remaining, and average grade for climb
– Shows which climb # you're on (i.e. 2 of 5), with location on the climb
– Shows current vertical speed, current time of climb
– Shows graphical elevation map of the climb
– Can look ahead to next/upcoming climbs
– Has customizable data field
– Does not trigger when going downhills
– Variable minimum climb threshold based on totality of route (smaller climbs would show up on a flatter route, but not on a mountainous route)
Garmin ClimbPro is undoubtedly the Cadillac of climbing related data fields. I've used to numerous times in the Alps on courses with long climbs. Or more specifically painful climbs, often multiple climbs. It's fantastic when you have a known course. However, it's less ideal for other day to day type scenarios. For example, if you're just going out for a run and happen to live nearby hills/mountains, it doesn't work unless you load a course in it. It's also useless for hill repeats (Garmin Auto Climb above would work there). So again, back to that 747 vs paper airplane analogy, sometimes you just need a paper airplane. If I'm doing hill repeats locally, don't give me Climb Pro. Inversely, if I'm down in the Alps on a planned route trail run, don't give me Hill Splitter.
So, in summary, I actually like Hill Splitter as more of an everyday type of feature. Ignoring my sparse hill options here, I'd actually use Hill Splitter more than the Garmin ones for day to day usage. But, if I'm looking at the feature when in legit mountains that I'm trying to pace a longer run on, then I'd like to see Polar expand Hill Splitter to take advantage of things like the route (if loaded) or more of the details of the overall climb (such as ascent rates, etc…) on a single expanded climb-focused page. But again, it's a good start.
Understanding FuelWise & Energy Sources: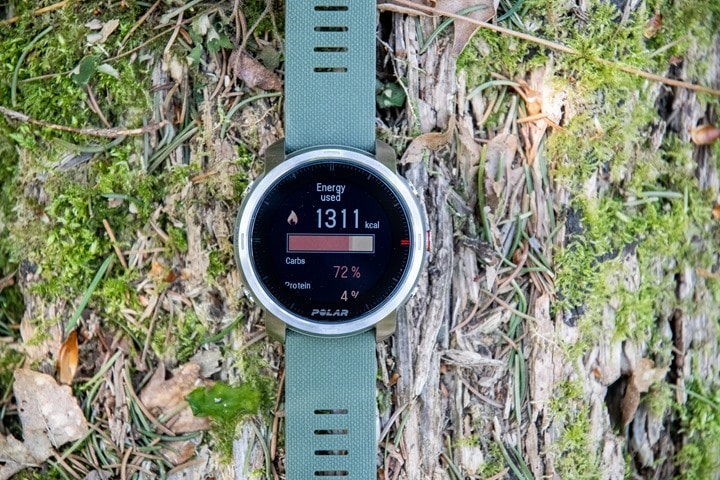 The new FuelWise and Energy Sources bits go hand in hand, though, they are distinct and separate features.
First up is FuelWise, which is accessed pre-workout via the 'Fueling' menu. This feature will offer both 'smart' and 'manual' alerts for carb replenishment mid-workout, for workouts of 90 minutes or longer. In addition, it can also trigger hydration alerts in conjunction with that. It doesn't matter the workout type, the functionality works the same.
To access it, you'll press the lower left button once, and then again down to Fueling: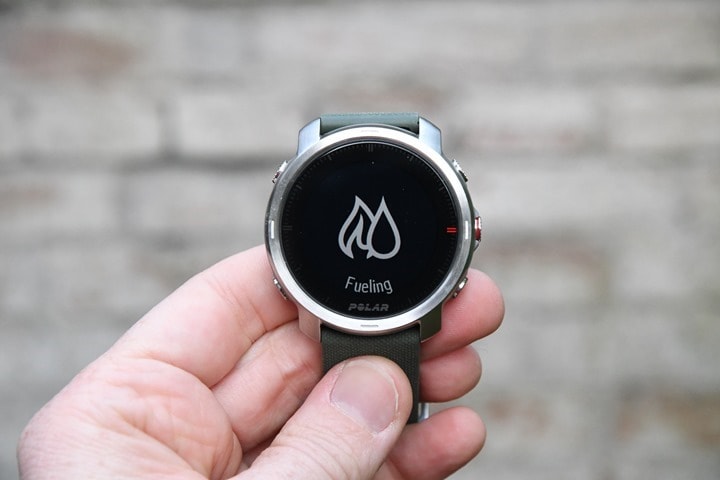 It's here you've got the three aforementioned options – Smart Carbs, Manual Carbs, and Hydration. Regrettably, a Spaghetti option is not shown.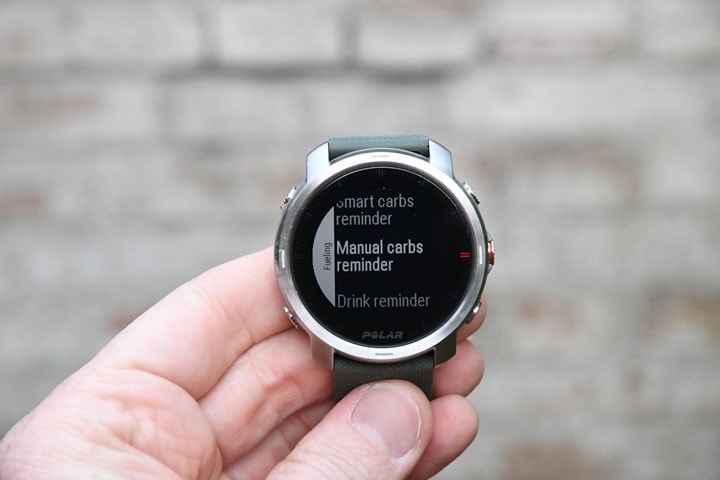 If you choose Smart Carbs, you'll specify the duration of the activity. The default, and minimum, is 90 minutes. If however you end up going longer, it'll continue offering alerts on a schedule it thinks makes sense.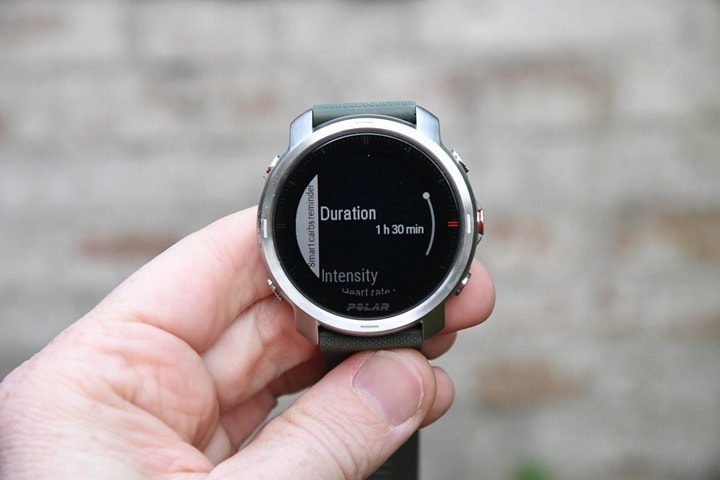 You can specify how many carbs are in each 'serving'. In other words, each gel pack serving size (or whatever it is you're eating). You'll also specify the heart rate zone of the workout.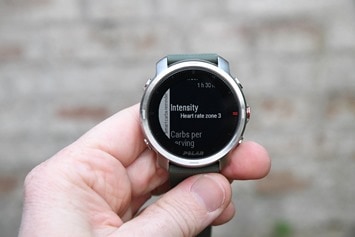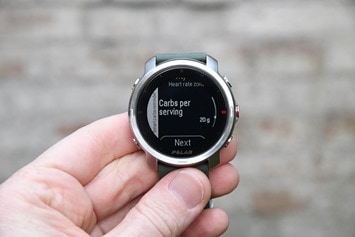 Based on these basic parameters it'll use what it knows about your past workouts in this zone and remind you to take in nutrients at specified intervals throughout the workout.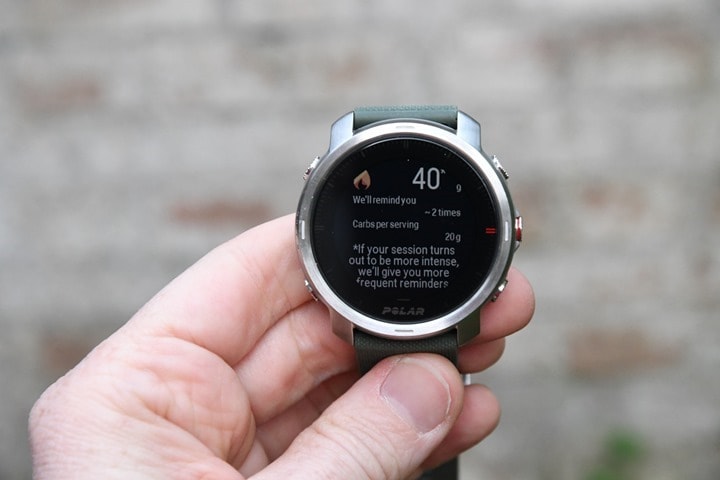 At this point, you can then add in automatic hydration alerts to the menu, where you'll specify how often you want to drink.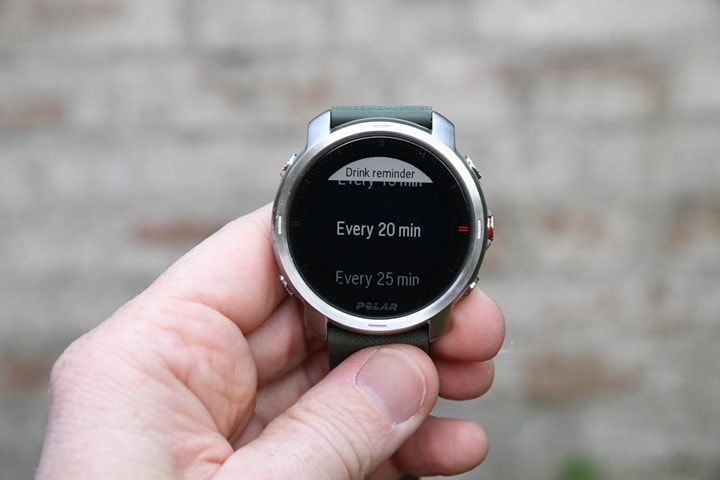 It specifies how much you should drink each time: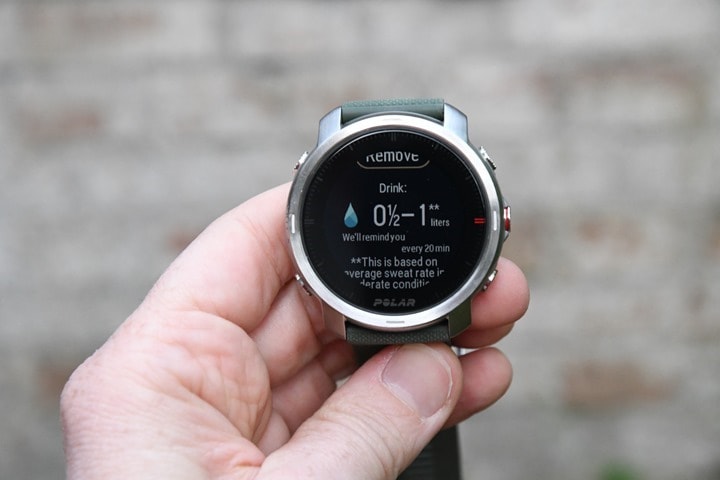 Once that's done you'll say you're ready to go, and it'll let you choose a sport. Along the side of the sport it'll show an icon indicating that Fueling has been added to that activity prior to pressing start. Note that if you've also added a workout or route, it'll rotate through the icons.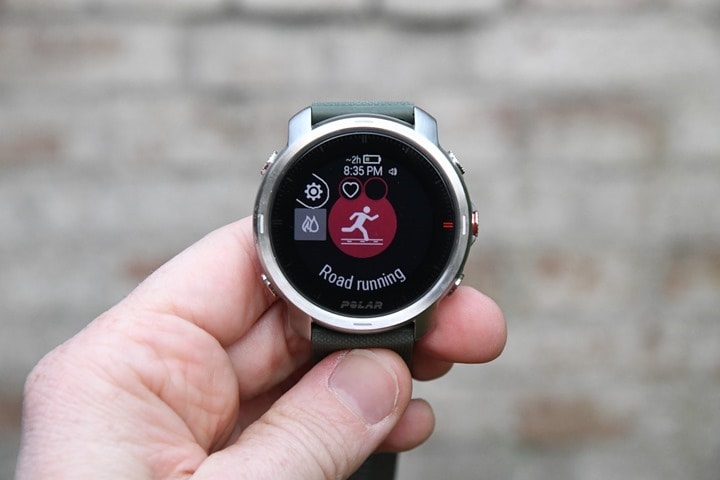 Finally, mid-workout there's a brief notification to drink or eat. It's super quick and only stays 2-3 seconds, and could easily be missed. I'd like to see it stay on the screen for 10 seconds, unless dismissed prior to that. I've got one super fuzzy photo of what it looks like in my video), but here's a better press shot (it's the same, except nowhere near as vibrant):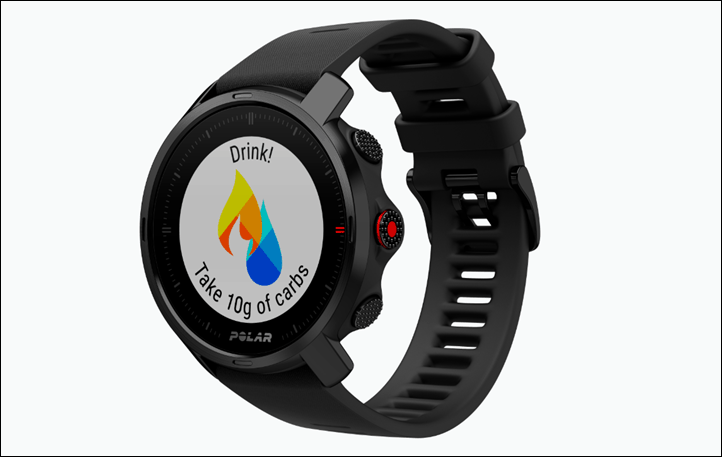 As for the 'manual' options, it's the exact same menu as above, the only difference is that you specify the exact interval for manual carb intake. The hydration menu remains the same.
At a basic level – this is good stuff from Polar. It's definitely not as advanced as we've seen from others, since it doesn't account for any weather aspects. For example, on a hotter day it doesn't advise you to drink more, nor reduce the liquids on a much cooler day. There also doesn't seem to be a ton of insight into how these calculations are made precisely. So I'd like to see a bit more there within the app somewhere.
However, the insights do come from some of your historical workouts. And that gets into the next bit, which is the new Energy Sources component. This is purely an after-workout feature that shows where your energy sources were for a given workout. You'll see this as you scroll down into the summary stats. Here's an example run: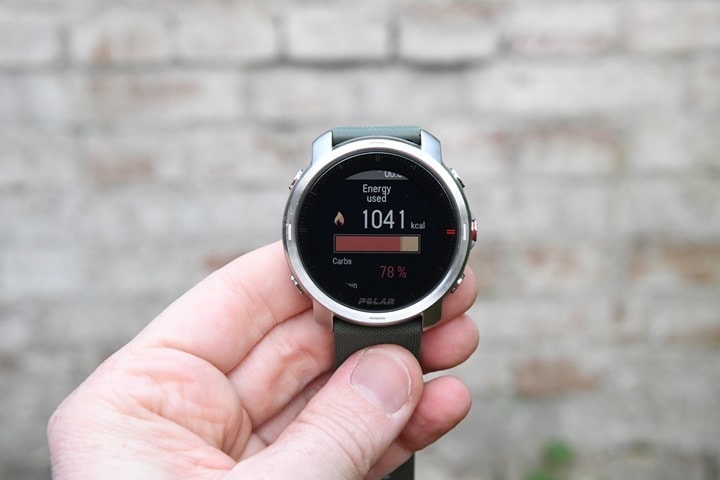 And as I scroll a bit further you can see the exact breakdowns: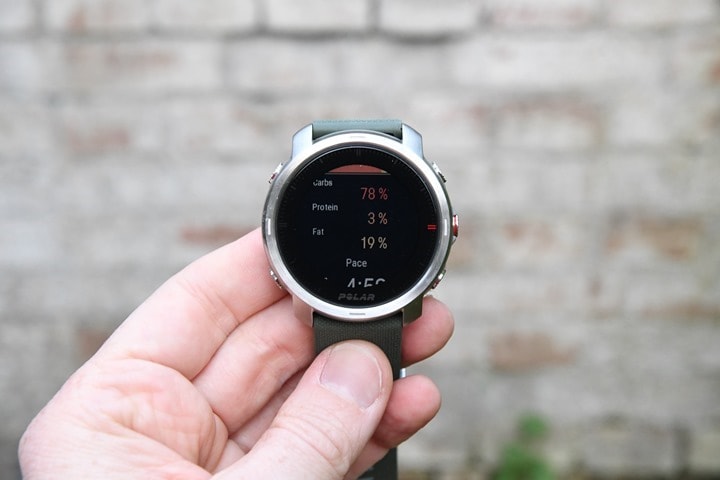 You'll also get these in more detail on the Polar Flow smartphone app, including a little slider you can move back and forth to see the shifts in energy: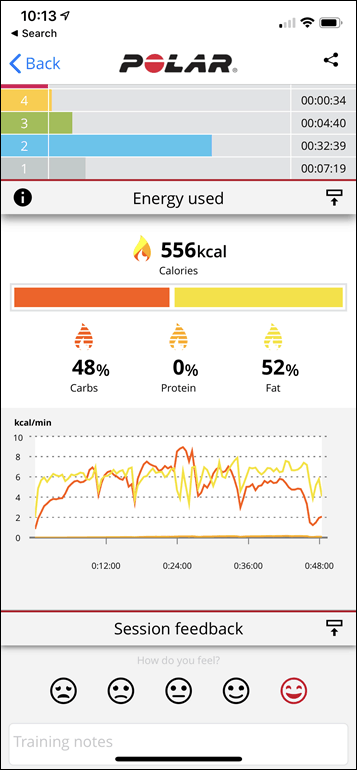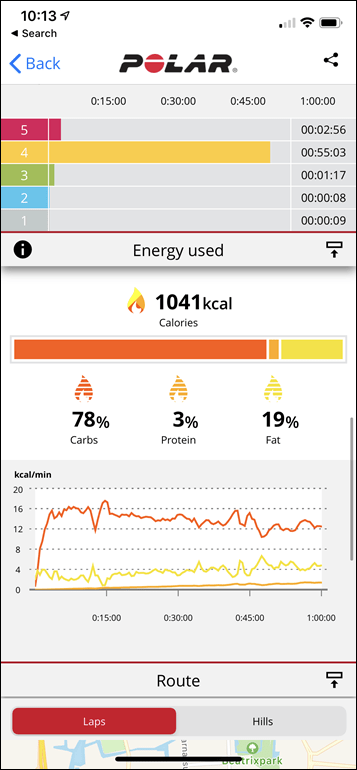 I like this feature more-so than the basic fueling components. But I'd love to see this in conjunction with structured/planned workouts. For example, if I load a 3-hour long structured workout at varying intensities, I'd love to see it look at my historical data for those zones and give super-specific information.
I'm sure Polar will get there. Like any company, you've gotta start somewhere and this seems like a reasonable place to start.
GPS Accuracy: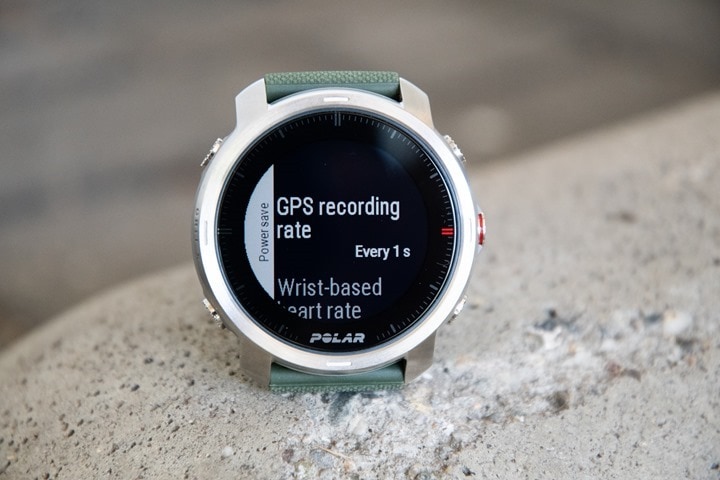 There's likely no topic that stirs as much discussion and passion as GPS accuracy.  A watch could fall apart and give you dire electrical shocks while doing so, but if it shows you on the wrong side of the road?  Oh hell no, bring on the fury of the internet!
GPS accuracy can be looked at in a number of different ways, but I prefer to look at it using a number of devices in real-world scenarios across a vast number of activities.  I use 2-6 other devices at once, trying to get a clear picture of how a given set of devices handles conditions on a certain day.  Conditions include everything from tree/building cover to weather.
Over the years, I've continued to tweak my GPS testing methodology.  For example, I don't place two units next to each other on my wrists, as that can impact signal. If I do so, I'll put a thin fabric spacer of about 1"/3cm between them (I didn't do that on any of my Polar Grit X activities however, all workouts only had a single device per wrist).  But often I'll simply carry other units by the straps, or attach them to the shoulder straps of my hydration backpack.  Plus, wearing multiple watches on the same wrist is well known to impact optical HR accuracy.
Next, as noted, I use just my daily training routes.  Using a single route over and over again isn't really indicative of real-world conditions, it's just indicative of one trail – that's why I use routes all over the place.  The workouts you see here are just my normal daily workouts.
First up, we'll start with something that's a blend of easy and challenging – a run through the forest. In this case it's got some wide open areas around fields, but also some fairly tree-dense locations. It's compared against a Garmin Instinct, a Timex R300 GPS, and even its sibling the Polar Vantage V. Here's that data set: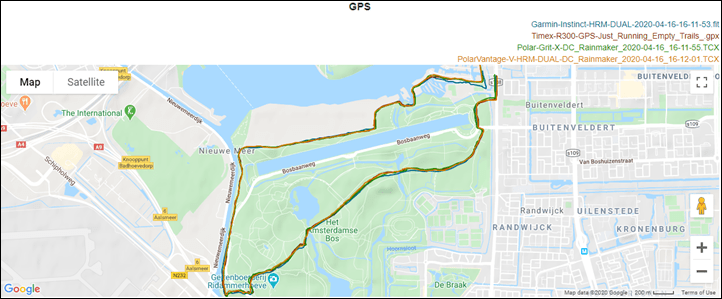 At a high level, things look kinda similar between them. Though, at the beginning there's clearly some mis-alignment coming from the Garmin Instinct:

Thankfully that mess doesn't last very long and the units all form a pretty close pack. There's a couple points below where the Vantage V is off in the woods a bit more, but the Grit X is actually nicely on-point here.

I mean, until we got to this point. Then it all went to crap:

Ahh yes, the much taller trees. All the units struggled here – though oddly in different parts. The Grit X actually did pretty well initially, but that sputtered out towards the 2nd turn. The winner on this segment? The $ 129 Timex R300 GPS. I mean, it wasn't a stellar track, but it was better than the others.
For the most part, nobody really nailed it the rest of the way through the woods. Everyone was sorta near the track, but sorta not:

But hey, once we got out to the fields, then it got acceptable by everyone again:

Distance-wise at the end of the day, they were all fairly similar. The Timex doesn't write its distance to the file as a summary field, but it's recorded distance was in the middle at 8.80km.

Now, let's increase the difficulty by going on tighter trails for hill repeats…eight times in a row. This will look at how well it can maintain the same exact loop over and over again (all, on trails). In this case I swapped out the Polar Vantage V for an Apple Watch Series 5. Just to mix it up. Here's that data set:

Ok, again, at a high level it's fine. And initially, as I was leaving the city, it was fine too (a tiny bit of offset on one direction to/from with the Timex R300, but nothing major):

The rest of the trail there was fine. So let's go straight on down to the hill.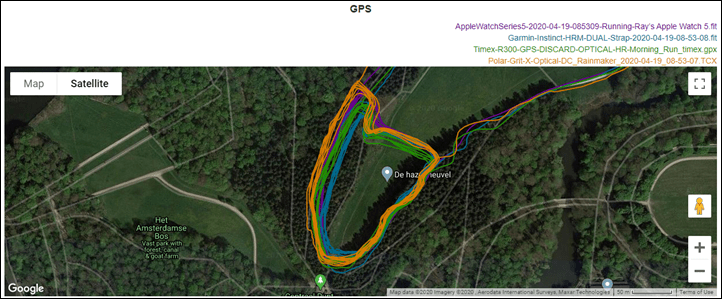 That's kinda pleasing in a visual sort of way. The right side of this circle is where I went up each time, and the left side is where I went down each time. Interestingly, there are two observations here:
A) Going up, they're all very very close. Within a few meters of each other on all the loops
B) Going down, they're a bit more spread out, but also aligned in groupings unto themselves
In other words, it seems like going downhill causes some 'drift' for each given unit, which is why we can see the colors more easily than not.
So who was closest? Well, it's tough – but I'd say it's a tie between the Grit X and the Apple Watch, with the Timex close behind. Which isn't to say the Instinct was far off. We're really talking just 5-7 meters off to one side at most. Very small differences.

Now, keep in mind my hills are pretty darn small here. Look, that's all I've got. It's not the size of your hill, but how you use it. Or, something like that.

Note that at present we don't show negative elevation values on the DCR Analyzer graphs, though this would be a case where it would be helpful. The hill starts below sea level. The three non-Timex units are all pretty close when you look at the scale here.
Next, let's increase difficulty again – this time throwing some tall buildings in the mix. Obviously, had this not been in the middle of a pandemic I would have gone down to the Alps for more detailed elevation and dense-tree testing, but I'm workin' with what I've got. So buildings it is! Here's that data set:

Well then, let's get straight to the chunks of metal:

Yup…that's a mess.
It's probably easier to rank them here on levels of suck:
A) Garmin Instinct: Winner of the most suck – it's drawing mountains in my buildings
B) Polar Vantage V: Strong runner-up of suck – it's multiple blocks away
C) Polar Grit X: Pretty good actually. Not perfect, but totally passable.
D) COROS Vertix: Well then, that's just about perfect. Nicely done!
The rest of the run was perfectly fine for the Grit X, with only a few minor quibbles here and there, no more than the other watches.

Next, let's switch over to some cycling. This is a big ol' loop around the area. None of the terrain is super difficult from a GPS standpoint, though there are plenty of buildings and bridges – especially earlier on. Here's that data set.

At a high level, things look basically identical.
And, at a medium level – they're still identical:

And a low level, they're still virtually identical. Even going under this gigantic highway overpass all units are basically the same. No wonky outliers here.

Honestly, this entire track is watching four lines all within a meter or two of each other at all times.

So yeah, kinda boring.
But ya know what? Boring is good for GPS accuracy. And overall this was pretty solid. I don't have any real complaints here. Comparing them to Vantage V GPS tracks there's clearly a bump-up in accuracy. My guess here would be that's probably more due to antenna design or power to the GPS chipset than anything else. Either way – whatever changes they made under the covers are solid!
(Note: All of the charts in these accuracy sections were created using the DCR Analyzer tool.  It allows you to compare power meters/trainers, heart rate, cadence, speed/pace, GPS tracks and plenty more. You can use it as well for your own gadget comparisons, more details here.)
Heart Rate Accuracy: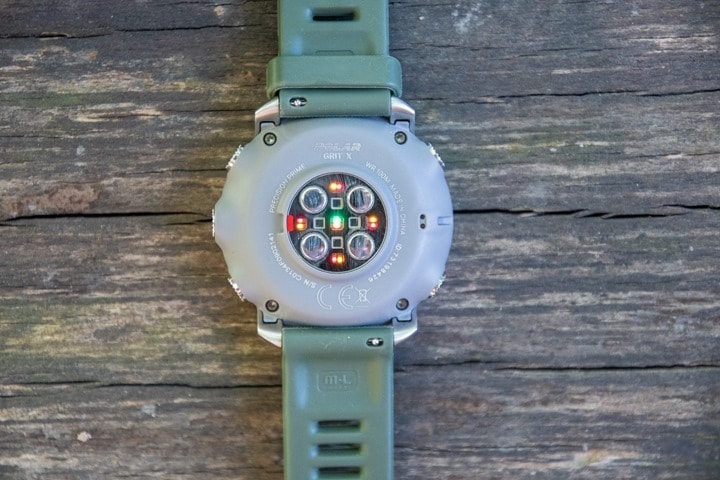 Next up we've got heart rate accuracy.  This roughly falls into two buckets: 24×7 HR, and workout HR.  As is usually the case with most devices these days, I see no tangible issues with 24×7 HR (it's exceptionally rare that I see issues in this realm, given how easy it is).  It works well across both normal daily routines as well as things like sleep.  Speaking of which, I talk about RHR values and 24×7 monitoring here and why it's interesting.
Before we move on to the test results, note that optical HR sensor accuracy is rather varied from individual to individual.  Aspects such as skin color, hair density, and position can impact accuracy.  Position, and how the band is worn, are *the most important* pieces.  A unit with an optical HR sensor should be snug.  It doesn't need to leave marks, but you shouldn't be able to slide a finger under the band (at least during workouts).  You can wear it a tiny bit looser the rest of the day.
Ok, so in my testing, I simply use the watch throughout my normal workouts.  Those workouts include a wide variety of intensities and conditions, making them great for accuracy testing.  I've got steady runs, interval workouts on both bike and running.
For each test, I'm wearing additional devices, usually 3-4 in total, which capture data from other sensors.  Typically I'd wear a chest strap (usually the Garmin HRM-DUAL or Polar H10, but also Polar H9) as well as another optical HR sensor watch on the other wrist (lately the Whoop band, Polar OH1 Plus, as well as the Mio Pod). Note that the numbers you see in the upper right corner are *not* the averages, but rather just the exact point my mouse is sitting over.  Note all this data is analyzed using the DCR Analyzer, details here.
We're going to start with something simple here first, a relatively stable run without a ton of variance. Here's that dataset.

Starting at the beginning, there's definitely some disagreement there – the Polar Grit X seems to be a bit slow on the uptake compared to the Polar OH1 Plus and Timex R300 GPS. Meanwhile, the Garmin HRM-DUAL chest strap had the rare initial spike (definitely not accurate). I got it wet (again) about two minutes into it and things got happy.
For the most part as you can see above, the graphs are virtually identical. However, there were three minor spikes that I can't account for from the Grit X. Lasting a few seconds each, but spiking to 170+:

Since that data set is largely pretty basic, let's shift over to the hill repeat data set. This one is compared against the Apple Watch Series 5 on the other wrist, and then both a Polar OH1 Plus and a Garmin HRM-DUAL chest strap:

At a high level things look good, but we do see a few orange blips (the Grit X) here, which is similar to what I saw before with slight HR spikes.
Looking more closely at those 8 hill repeats, you'll see that overall it was pretty good there. A tiny bit of lag though compared to the Apple Watch Series 5 and the HRM-DUAL strap. The OH1 was similarly slightly slower than the others too. Likely an indication of similar optical HR algorithms being used between the two Polar products.
But for the most part, the differences were very small there in those higher intensity sections.
Still, if we look at the rest of the workout we see those same little spikes again throughout:

None of them are huge – usually only a 5-7bpm bump. But still very obvious in these graphs, and certainly would shift someone from one HR zone to another.
For comparison, here's another data set, this one compared against the Polar Vantage V on the other wrist for optical HR. In this set, the Grit X is GREEN, and you can see those spikes that don't seem to exist for the Vantage V:

And what about an indoor bike workout? Ask and you shall receive. Very very close, but again in ORANGE you can see some of those little spikes of the Grit X. Hardly anything major – but certainly visible.

And finally – what about an outdoor ride. No prob – I've got data there too. Well…at least it wasn't the Timex here:

Ok, that watch is only $ 129 – ya win some, ya lose some. But for the Grit X in orange, it actually does really darn well. Like, crazy well for an optical HR sensor on my wrist. I see 1-2 problem points (around the 1:17 marker), but other than that, it's solid.

Though again, there are a few of those little spiky things here and there mixed in.
So overall the Polar Grit X optical HR story is a bit conflicted. On one hand, if we take away the quirky spikey things, then it's really really good – very solid and spot-on in almost every case. Easily among the best out there.
However, the small spikes are odd, and usually indicative of an algorithm failure somewhere. I've seen that before on other watches over the years, and in almost all cases the manufacturers can sort it out within a few weeks or months. So that bit bodes well for them.
Wrap-Up: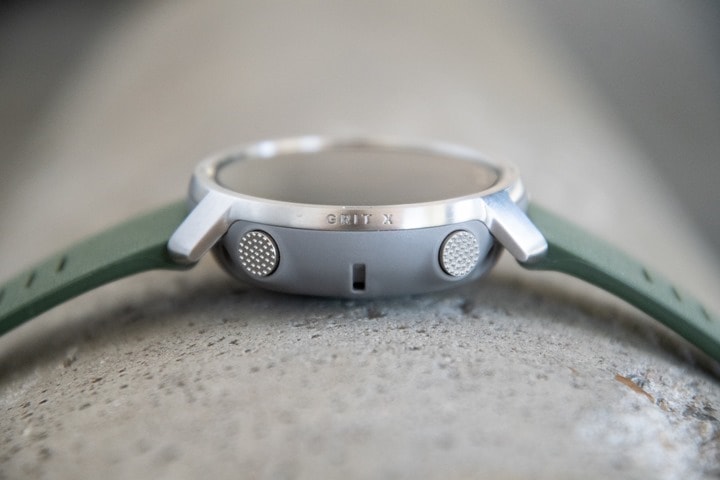 It's clear that Polar has seen the success of the outdoor/hiking/ultra focused market from their competitors in recent years, and the Grit X aims to replicate that success on their own product line. Some of the changes are cosmetic or external in nature, included to make the watch feel more rugged. While other features are true feature adds that cater well to someone going out and hiking or running through mountains. I think it's easily the best watch Polar has made to date.
Which isn't to say it's perfect. Some of the features, like the Hill Splitter, while aimed at the trail running crowd, need a bit more finesse to be really useful there. Things like accounting for the planned route or even showing more climb-specific metrics automatically would help it hit that target user group considerably. And then there's also the price. While $ 429 isn't too bad, I think it would have done really well at $ 399. Sure, it's $ 100 more than the Garmin Instinct – but it can cater to the multisport crowd whereas the Instinct can't.
I do think the lack of ANT+ support, while sounding old here, has made itself more obvious in the last two months with many people stuck indoors. The inability to pair to a smart trainer on apps like Zwift or TrainerRoad as a second connection of Bluetooth Smart (only Wahoo KICKR's support that, due to most other devices using older Bluetooth chipsets), means that you won't get all of the training load bits into the watch. Polar could easily solve that by enabling ANT+ in the Grit X (or Vantage series).
Still, I'm liking the direction of this. Polar largely isn't trying to compete purely on features here. They've found a rough balance between useful new functionality and keeping the price reasonable. And the tweaks they need aren't substantial, but rather minor feature refinements that can easily happen quickly.
And all of which ignores the fact that if you're looking for a triathlon watch, this is just as capable with full sensor support as anything else at that price point – or even slightly above it.
With that – thanks for reading!
Wanna Save 10%? Or found this review useful? Read on!

Hopefully you found this review useful.  At the end of the day, I'm an athlete just like you looking for the most detail possible on a new purchase – so my review is written from the standpoint of how I used the device.  The reviews generally take a lot of hours to put together, so it's a fair bit of work (and labor of love).  As you probably noticed by looking below, I also take time to answer all the questions posted in the comments – and there's quite a bit of detail in there as well.
I've partnered with Clever Training to offer all DC Rainmaker readers an exclusive 10% discount across the board on all products (except clearance items).  You can pick up the Polar Grit X (or any accessories) from Clever Training. Then receive 10% off of everything in your cart by adding code DCR10BTF at checkout.  By doing so, you not only support the site (and all the work I do here) – but you also get a sweet discount. And, since this item is more than $ 99, you get free US shipping as well.
Polar Grit X (choose drop-down for band style)
Additionally, you can also use Amazon to purchase the unit (all colors shown after clicking through to the left) or accessories (though, no discount on Amazon).  Or, anything else you pick up on Amazon helps support the site as well (socks, laundry detergent, cowbells).  If you're outside the US, I've got links to all of the major individual country Amazon stores on the sidebar towards the top.  Though, Clever Training also ships there too, and you get the 10% discount.
Thanks for reading!