Today GoPro announces not one, but two new action cameras. First, is the GoPro Hero 11 Black, which continues the same form factor as the existing Hero 10. As always, there's a slate of new features including a wider digital lens option, faster frame rates for certain resolutions, a bigger sensor, and plenty more practical features like (optionally) automatically clearing off the SD card once it finishes uploading to the GoPro Cloud. All of which I've detailed below.
I've got my full in-depth review on YouTube already up, with my written review not far behind. But till that gets finished, you can hit play above, which is packed full of comparison footage (even to the new DJI Action 3 camera, also released today). The video has YouTube chapters in it to easily navigate around, though, you can hit any of the quick-links to send you right to the applicable section. Go forth and enjoy:
0:00 Overview & Hero 11 Black Mini
0:38 Pricing & Models
0:58 New Sensor & FOV
1:52 10-Bit Color
2:39 New HyperView Lens
3:30 Horizon Lock
3:59 HyperSmooth Auto Boost
4:58 Night Video Modes
6:04 SuperView in 5K/60 & 4K/120
6:35 App Changing Digital Lenses
7:07 Desktop Aspect Ratio Changing
7:29 Photo Mode to 27MP
8:02 Enduro Battery included
8:45 New Easy/Pro Mode Controls
9:24 New Video Management Modes
10:20 Does it overheat?
11:50 Auto Highlight Videos
12:12 Automatic SD Card Cleaning
12:30 Leftover Compatibility Tidbits
13:09 Is it worth the upgrade?
Then, atop that they announced the new GoPro Hero 11 Black Mini. This camera takes the guts of the Hero 11 Black, and stuffs it into a smaller case without a back screen. It's not quite as small as the old GoPro Session was, but it's a gazillion times more powerful. While that camera won't start shipping till later in October, I had some brief hands-on time with it recently. That video is somehow coming up soon (somehow…), where I detail the key differences to the Hero 11 Black. After all, there were some space (and cost) savings to be made, with fitting it into a smaller form factor and a lower price. While I finish editing that (and the DJI Action 3 Video, and XYZ, and ZYX, and…), here's a quick teaser pic.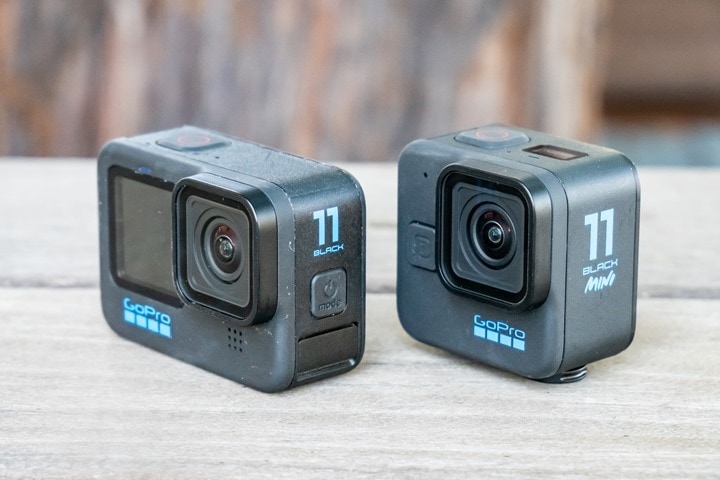 Again, that video is on the way, and then a full in-depth review later in October (when the rest of the sports tech world will have hopefully calmed down a bit).
With that – thanks for watching (and reading!).