Garmin as just announced their first watch with wireless charging, the new Vivomove Trend. This analog-hand capable watch is the latest in the Vivomove series of watches that aim to avoid the smartwatch look, yet have all the smartwatch features hidden inside. It'll track your activity, heart rate, workouts, and just about every other health/wellness feature that Garmin watches normally track.
In the case of the Vivomove Trend though, aside from the new Qi wireless charging, it also adds Garmin Pay and a barometric altimeter (compared to the Vivomove Sport from last year), further, they've swapped out the display type to increase both clarity and brightness, while making it bigger too.
I've been giving the Vivomove Trend a whirl both in day to day usage as well as workouts to see how it handles. Plus, I've taken out a slate of wireless chargers to see which ones work, and which ones to avoid. As always, wireless charging – even when done via standards and with big name companies, seems to be the Wild West still. That's no different here.
Note that Garmin sent over a loaner Vivomove Trend to try out. Once I've finished up here I'll get it boxed back up and sent back to them in Kansas. Just the way I roll. As usual, this review is not sponsored (nor does any company get to preview anything I review), and I don't take any advertiser money from any companies I review. If you found this review useful, you can use the links at the bottom, or consider becoming a DCR Supporter which makes the site ad-free, while also getting access to a mostly weekly video series behind the scenes of the DCR Cave. And of course, it makes you awesome.
What's New: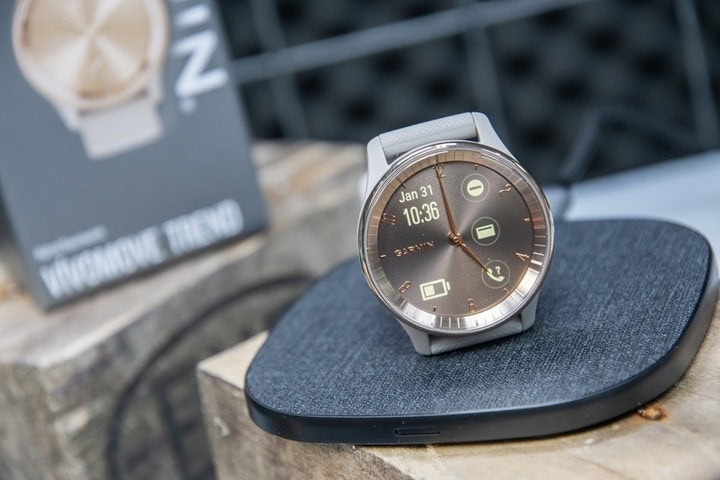 Now, the Vivomove Trend is effectively a replacement for the Vivomove 3 generation units (inclusive of the Vivomove Sport about a year ago). That means that it's easiest to compare what's new on the Vivomove Trend to the Vivomove Sport, since that's the most recent edition. Here's what's changed:
– Adds wireless charging (but retains wired charging too)
– Adds Garmin Pay contactless payments
– Adds barometric altimeter
– Adds floors climbed metric
– Adds Sleep Score (on device, but coming to Vivomove Sport soon via update)
– Change display type from OLED to LCD
– Increases touchscreen to entire display
– Increase size of display resolution from 132x64px up to 346x25px
– Changed bezel from polymer to stainless steel
– Same 5 day smartwatch battery mode
– 40mm watch case size
The price for the Vivomove Trend is $ 269/$ 299, which is a fair bit more than the $ 179 the Vivomove Sport announced at a year ago, but, it's also got more premium materials and…ya know…inflation.
In terms of baseline Garmin sports/fitness features that both units have, they are:
– Touchscreen & tap for interactions, no specific side buttons
– Vibration alerts, but no audible alerts
– 24×7 optical HR sensor
– Daily steps/distance activity tracking
– Sleep tracking
– SpO2 (PulseOx), Respiration Rate, Battery Battery, Stress tracking
– Women's health tracking (but only via manual logging, not automatic)
– Vo2Max & Fitness Age metrics
– Smartphone notifications (and on-watch text responses on Android phones, Apple doesn't permit it for iPhones)
– Workout tracking (14 sport profiles), including upload to 3rd party apps like Strava/etc.
– Connected GPS (uses your phone's GPS) for outdoors workout tracks
– Probably a bunch of other basic things I'm forgetting
The one notable feature this doesn't have is ECG support. Granted, it also doesn't have Garmin's latest generation (from nearly two years ago) optical HR sensor either. Practically speaking the HR sensor doesn't matter here, what it does have it more than good enough (see my accuracy section), and realistically we don't see many competitors at this price point with ECG. I think a year from now, in a Vivomove Trend 2 or whatever, I'd be expected. But with Garmin just launching this last week, on this specific device it's probably excusable.
With that, let's dive into the box.
In The Box:
First up, it's notable there are a few different colors/styles of the Vivomove Trend. So, just for completeness, here's a Garmin image showing the other styles: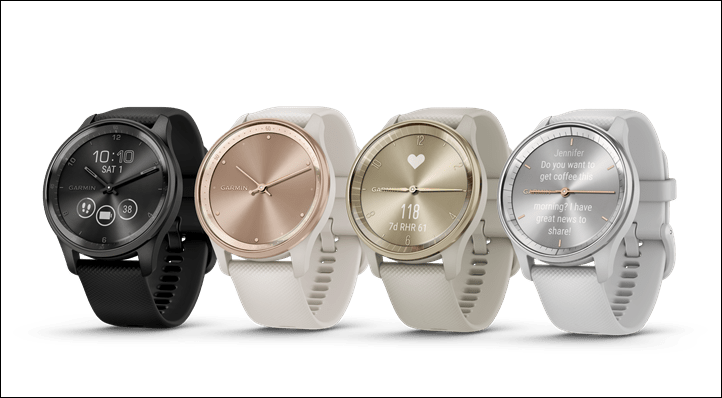 Meanwhile, here's the box for the variant I've got, which is the 'Cream Gold' variant.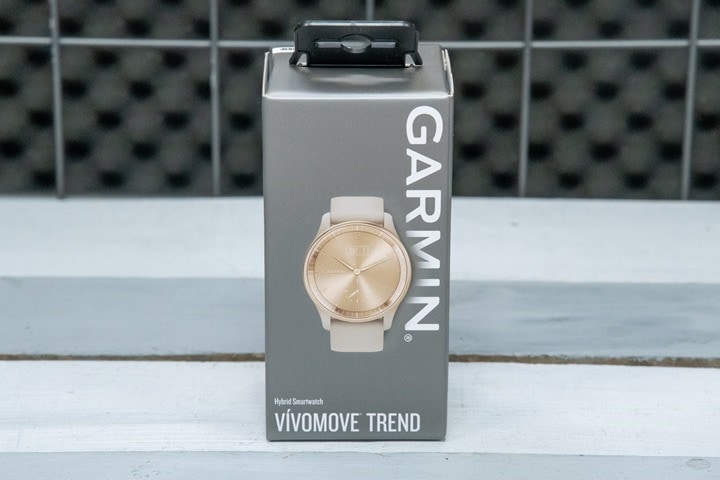 Inside the box you've got the watch, a clip-style Garmin charging cable (that's also USB-C!!!!), and some paper stuffs: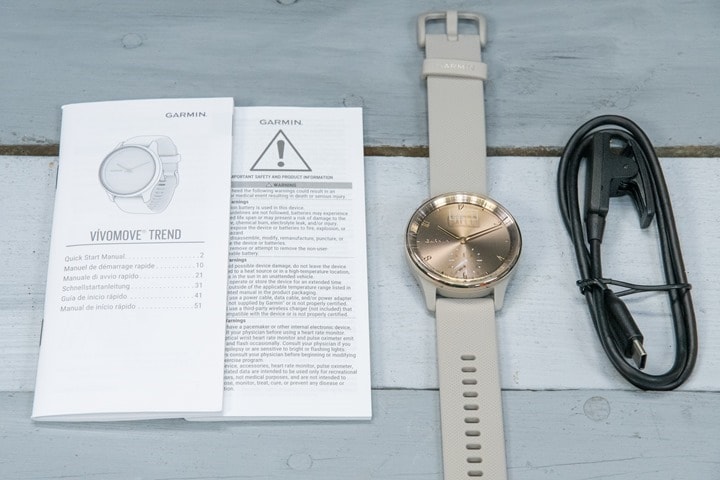 Here's a closer look at that USB-C charging cable. We saw Garmin introduce USB-C charging cables on the Garmin MARQ 2 series last fall, and this continues it. Though, we haven't seen the 'standard' Garmin charging cable upgraded to USB-C yet (albeit, you can buy a variant on Amazon, which I've had for a year or so, it works perfectly fine).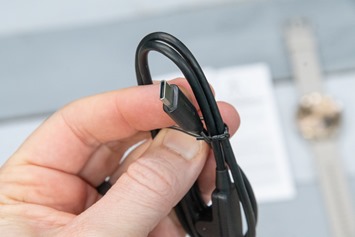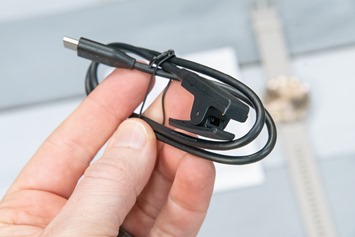 And finally, the watch itself. You'll see plenty of shots of that over the course of the review: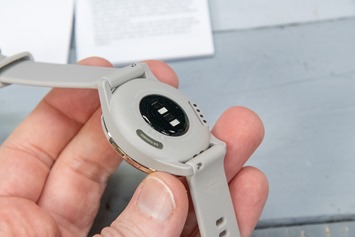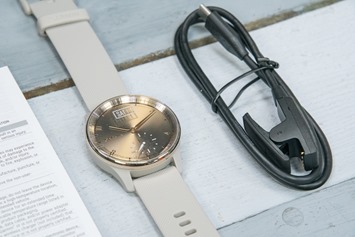 The watch weighs in at 44g on my scale.
Everyday Usage: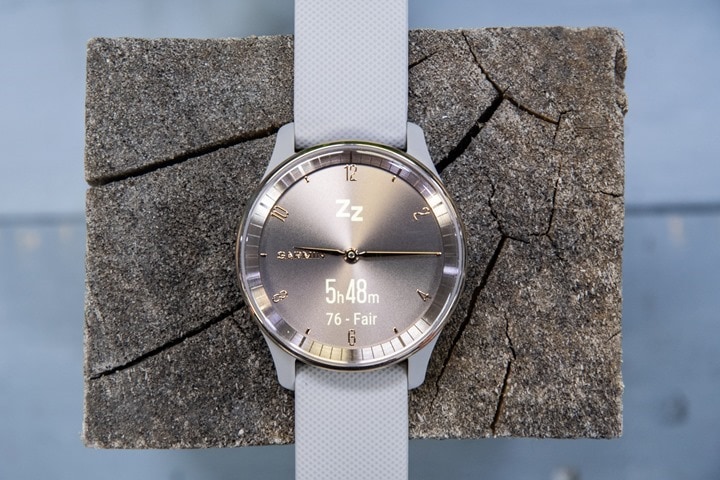 The Vivomove Trend is not a difficult device to use, as virtually all actions are either taps or swipes. However, it might take a short period to figure out which type of tap or swipe it craves. Coming from a history of using Garmin devices, it's pretty second nature. But I'd say for a new person it'll take a day or so before you get the swing of it.
To begin, the watch doesn't appear to have a display at all, unless you've raised your wrist. So, to the average person stalking your wrist, it'll look just like a typical analog watch. No buttons, no display text.
However, the moment you raise your wrist or tap the watch, the screen will illuminate behind the hands, and the hands will swing out of the way. Depending on the exact thing the watch is showing, the hands will move to different positions. In fact, in some data pages (like steps per day or other goal-based metrics), it'll use the hands as a 'gauge', sorta like a fuel tank. It's super clever: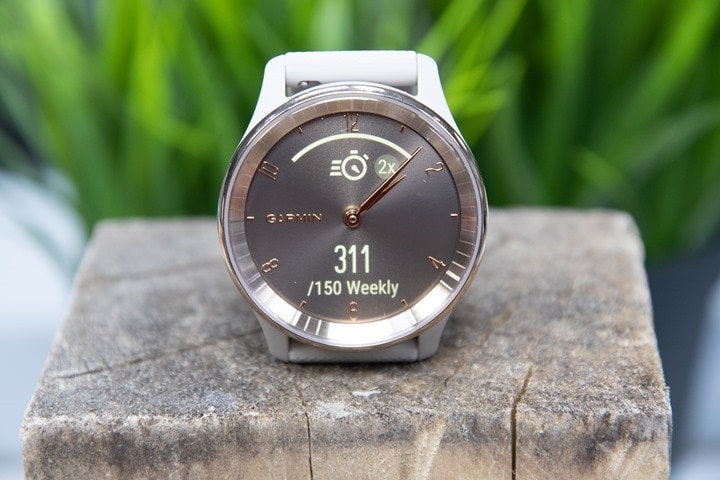 While Garmin Vivomove devices of yesterday have been hard (even impossible) to see in sunlight, I didn't have any issues with that. Like the Garmin Lily device I reviewed in the past, this is super bright, and super easy to see. Really happy here. What's also nice is that there's no display 'bleed'. Meaning, it always just looks like a clean gold surface, it doesn't appear to have light bleed when things illuminate it. In other words, it still looks classy.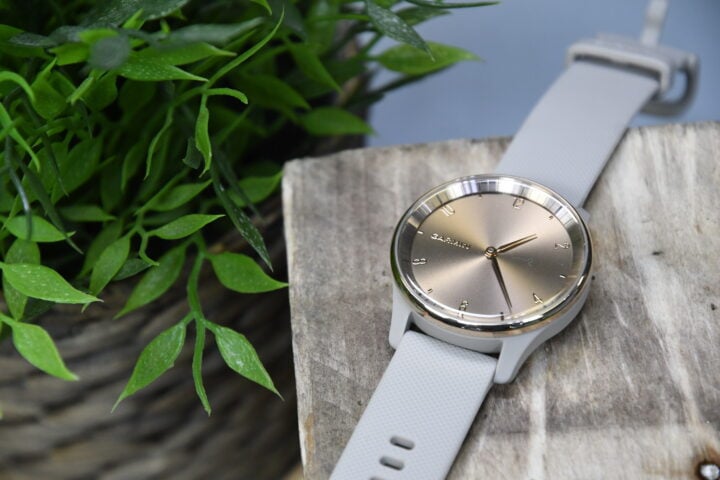 For the 'watch face', you've got a few options, depending on what data you prefer to show. All these are changeable using the Garmin Connect Mobile smartphone app. Note that it doesn't support Garmin's 3rd party Connect IQ app store, nor Connect IQ watch faces, but I doubt that's a dealbreaker for most.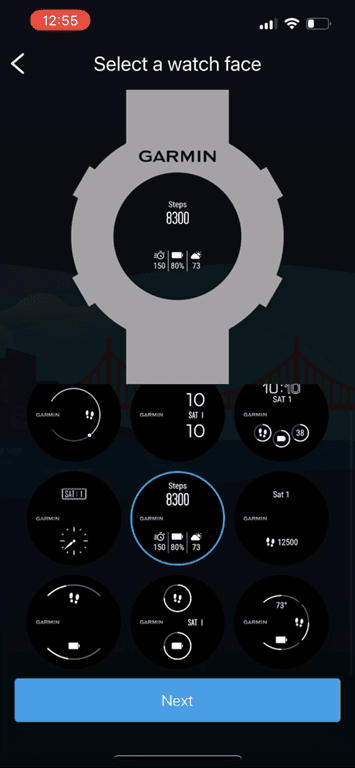 In my case, I switched it up from the default, to one that shows Steps up top, then down below Intensity Minutes, Battery life, and Temperature. But again, you can tweak these however you see fit.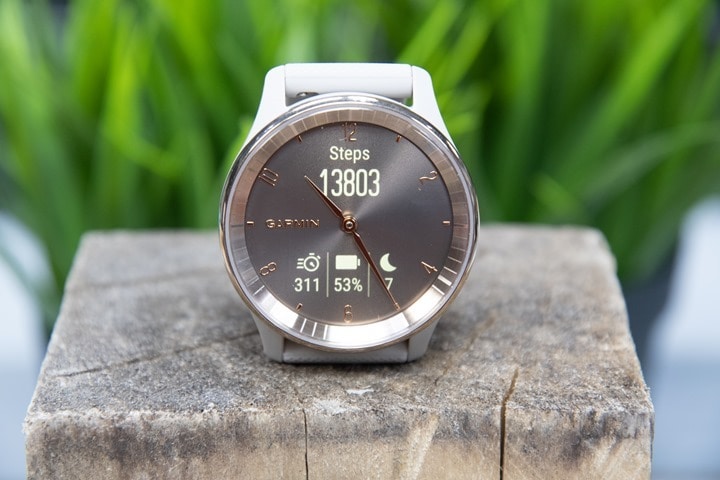 I can then swipe to iterate through the 'widgets', which are also customizable. An example of the widgets is the 'Steps' widget, which shows my current steps for the day, as well as goal steps (which can automatically fluctuate based on your daily progress).  You'll also notice it uses the hands to show my completion along progress bar at the top, which shows well beyond the 100% required.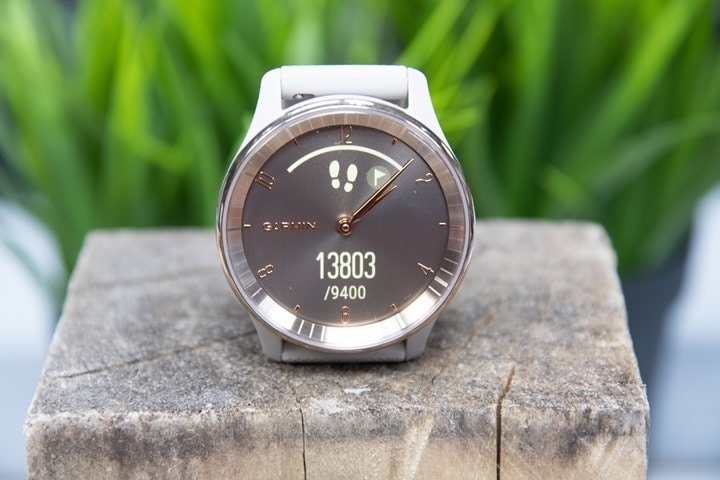 You can then tap that again to see steps over the last 7 days: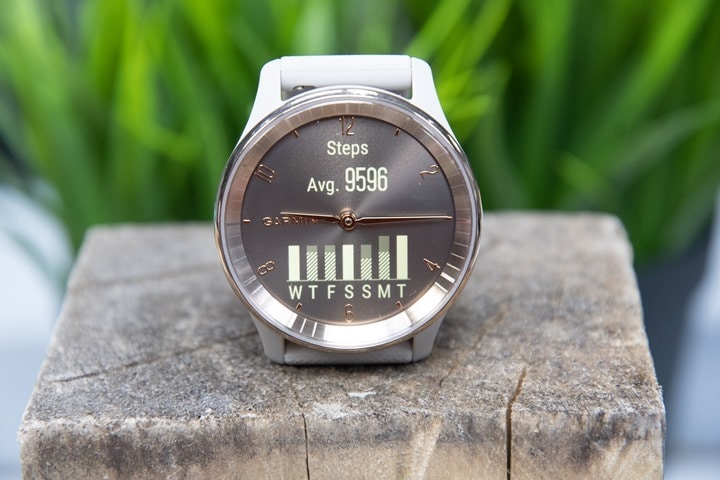 This data is also synced to Garmin Connect Mobile, showing your steps for the day, as well as more historical data than you can ever ask for: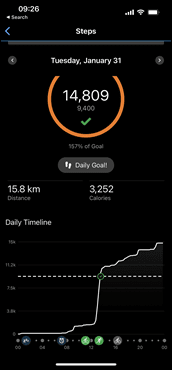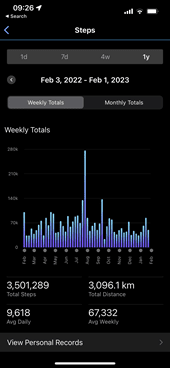 This is true of all other widgets and data types, having both a main page, and then a more details page. For example heart rate, stress, sleep, etc… Here's a quick gallery of all the default widgets: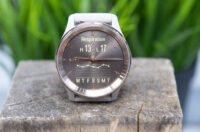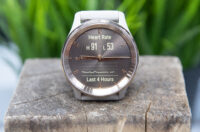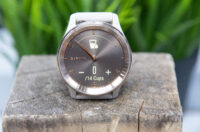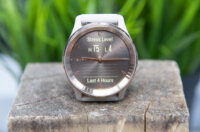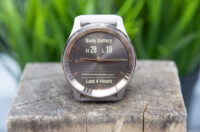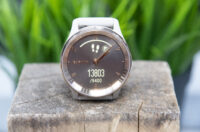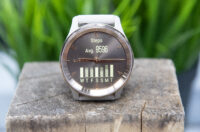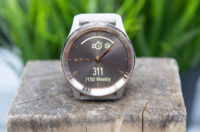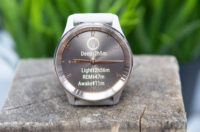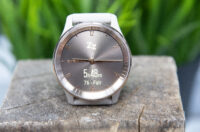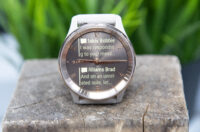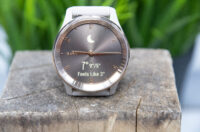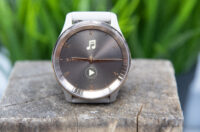 And here's the current list of widgets you can add/remove/tweak: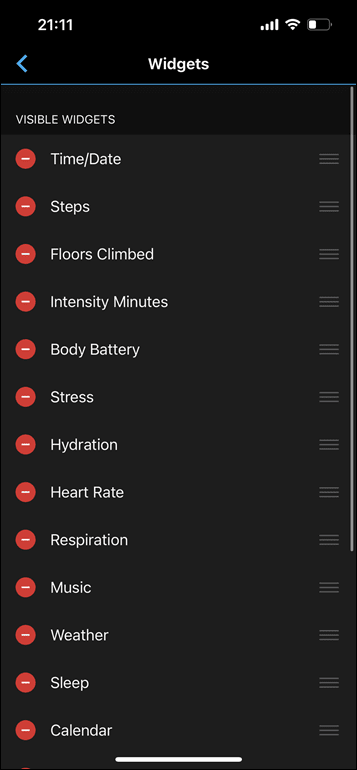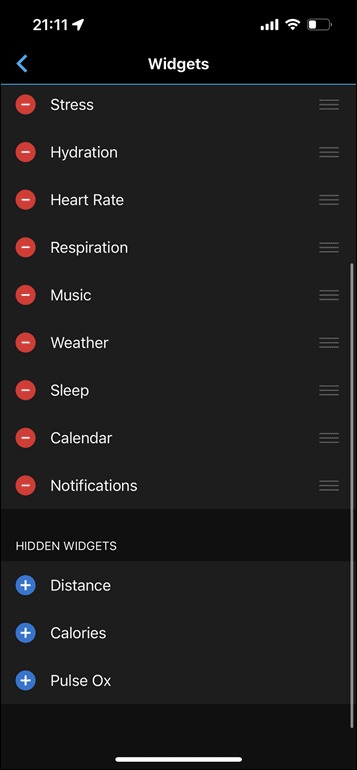 Speaking of sleep, there's both automatic sleep tracking as well as sleep score data on the watch. You can access this via the Sleep Widget: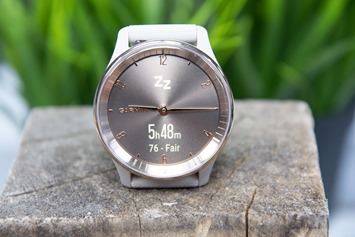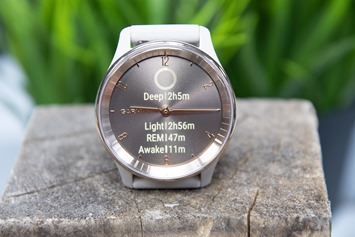 This too replicates over to the sleep data pages on Garmin Connect Mobile (and Garmin Connect web):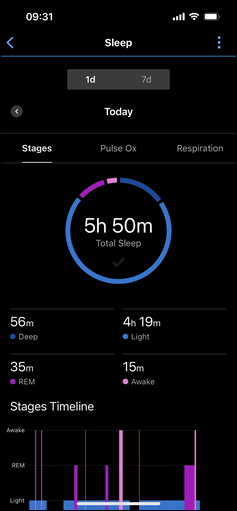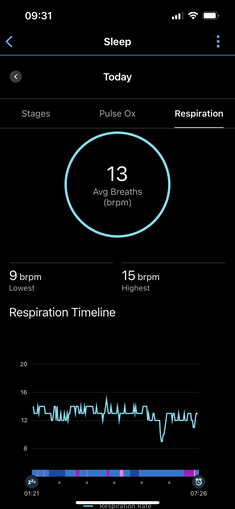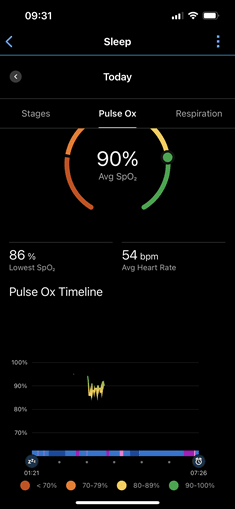 In terms of sleep accuracy, it nailed all of my going to sleep/wake-up times without issue. I've noticed Garmin has quietly gotten better about handling early morning disturbances too (small children coming in and saying 'Hi' at 5AM before going back to sleep). Previously that'd often 'break' the sleep and consider it morning time, even if it only took a minute or two. These days it properly assigns it as one block, and then shows theoretical sleep stages/phases. I say 'theoretical' because it's a bit hard to validate sleep phases/stages, given the technology to do so isn't really all that accurate (about 80% in a best case scenario). Thus, I don't tend to focus on that (either good or bad, it's just blah to me).
The Vivomove Trend also supports blood oxygen tracking while asleep (Garmin calls this PulseOx). It's not enabled by default however, given it burns battery like a blowtorch. I'd strongly recommend not enabling it, unless you have a hyper-specific purpose and actually believe the data is accurate (it's questionable at times). Both this and all the heart rate metrics leverages the optical HR sensor on the bottom. For regular heart rate data, it's going to be a green light, however, for blood oxygen data, you'll see the light illuminate red.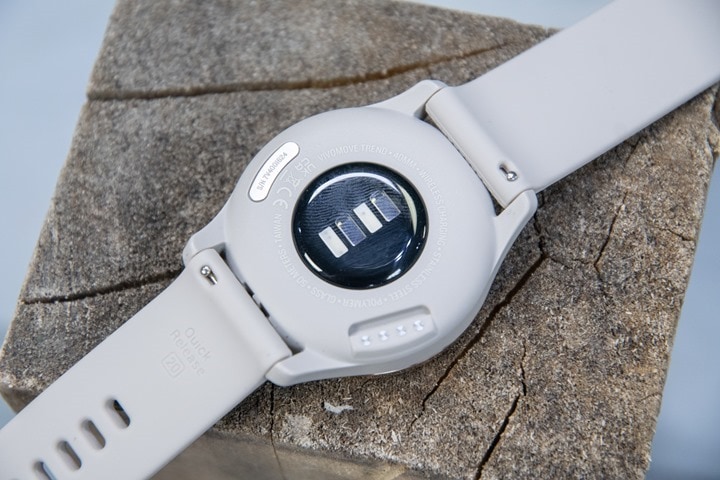 You'll see it after the fact on Garmin Connect Mobile too in my sleep stats section, where, the data looks pretty suspect. As you can see it struggled to track SpO2 readings for the vast majority of the night, only showing a small snippet of time. And even within that window it's highly unlikely I was at 90% – especially given I'm at sea level (actually, about 2 meters below sea level), and all other devices show me having far higher SpO2 readings.
Changing topics a bit, to access the settings and other features, you'll long-hold in the middle of the watch. This lets you do a workout, access heart rate stats like PulseOx (one-off readings), heart rate broadcasting (via Bluetooth Smart to 3rd party apps such as Peloton), timers (timer, stopwatch, alarm), and settings (boatloads of things):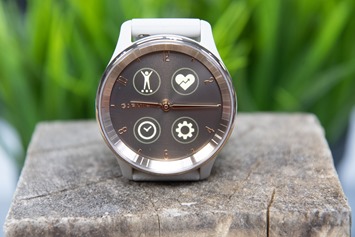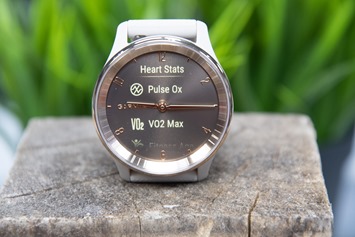 Meanwhile, you can also swipe from the right to see the current date/time, battery, and access Garmin Pay. You can also use this to enable Do-Not-Disturb mode, and 'Find my phone' feature.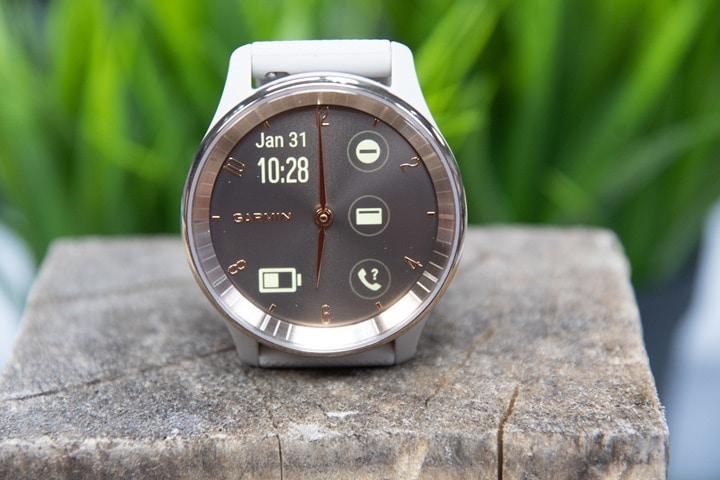 For Gamin Pay contactless payments, you'll set this up via the Garmin Connect Mobile app, assuming you have a credit card from a participating bank. These partnerships have to be setup on a per-bank basis. So it's not all Visa cards, or all Mastercard's, etc… You can find the full bank listing here by country. Setting it up only takes a moment.
Once done, you'll enter a pin, and then you can use it to tap against any NFC payment reader that supports contactless payments: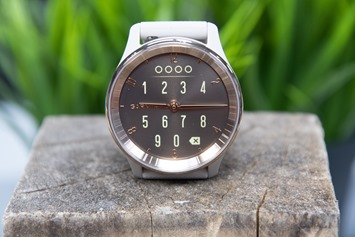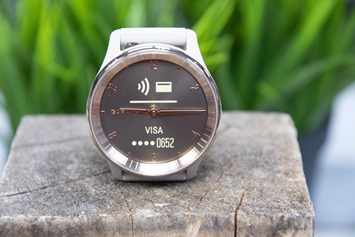 Rounding home here to one last topic, when text messages come in, you'll see them on the watch. In the case of Apple phones, you won't be able to respond to them on-watch (due to Apple restricting this feature to only Apple Watches). However, Android users can respond to text messages on the watch. Meanwhile, all other smartphone notifications also come in, as configured per your phone. You can access missed ones by swiping down from the top, if you happen to have the the Smartphone Notifications widget listed last in your widget roll.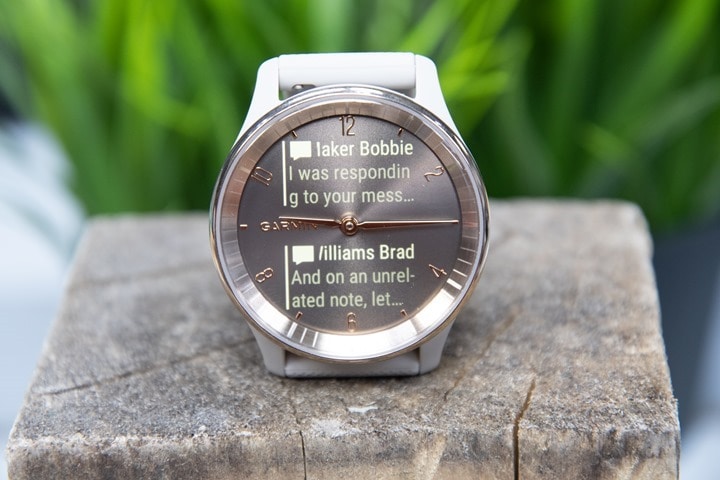 Now, one last thing, which is the bands. The watch uses standard 20mm quick release bands, so you can either pickup other ones from Garmin, or anything the magic that Amazon has.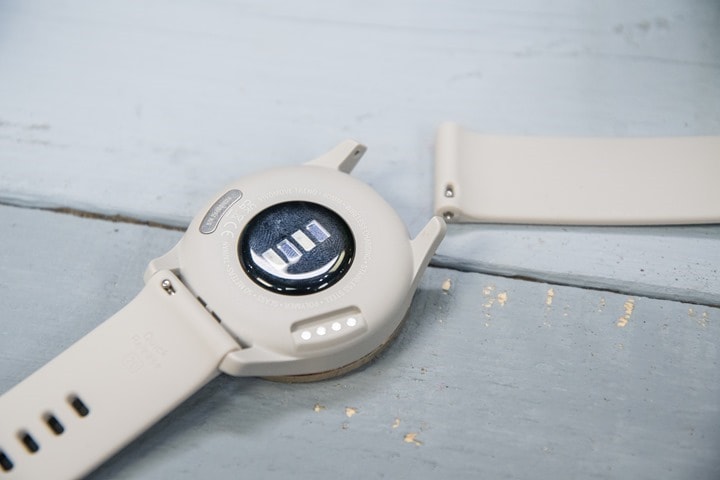 Swapping bands is literally a two-second affair, super easy, but the bands are also super secure. I found the included silicone band perfectly comfortable.
We'll get into battery charging (wired and wireless), in the Qi charging section.
Sport Usage: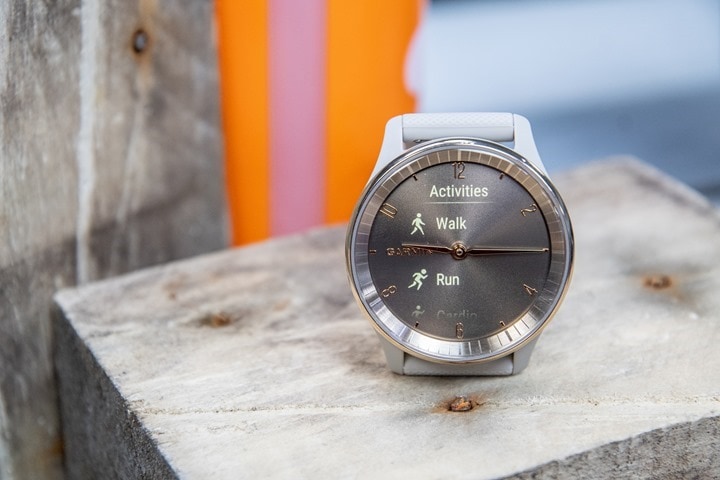 While Garmin makes plenty of watches that have far deeper sport capabilities than the Vivomove Trend, the unit still can track most workout types just fine. It'll use the optical HR sensor on the back for measuring your heart rate, and then accelerometers internally for most other movement tracking. If you head outdoors, you can use the GPS in your phone in what's called 'Connected GPS' mode, which means it just leverages your phone's GPS assuming it's within range (via Bluetooth).
The Vivomove Trend supports 10 concurrent on-device sport profiles, and Garmin has 14 available to load onto the watch. each sport profile has a few customizable data pages that you can choose from.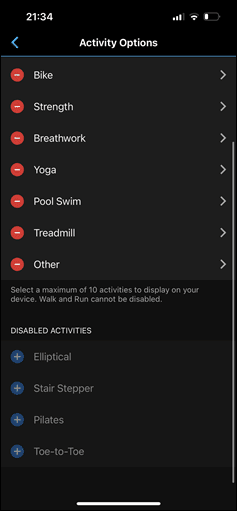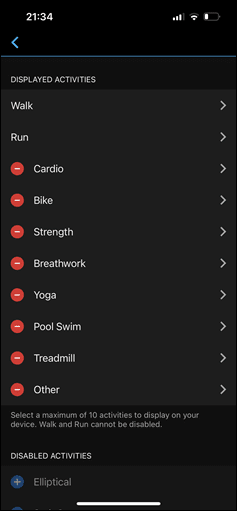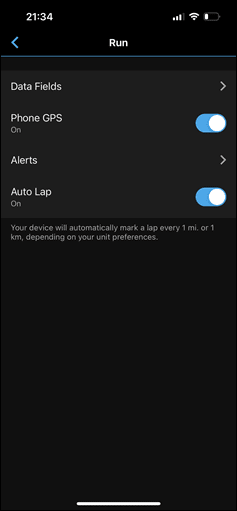 You can see the customization available here and the data fields available for the 'Run' profile. These change slightly between the different types. For example, in Bike mode you'll see 'Speed' instead of 'Pace. You'll also notice you can toggle the heart rate gauge, music, and clock data pages.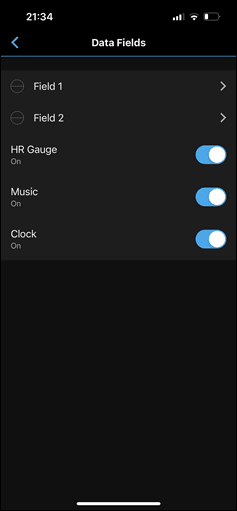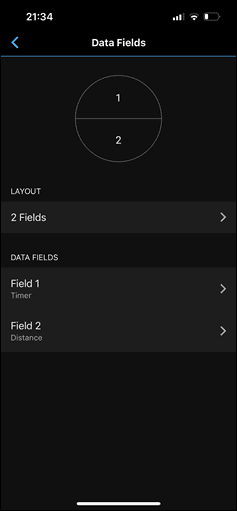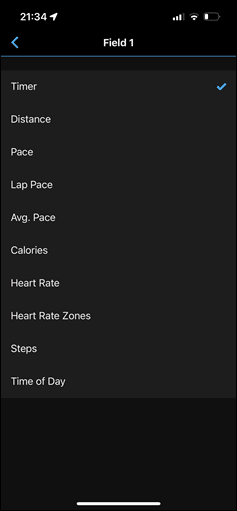 There's also alerts for Heart Rate, Time, Distance, and Calories that you can individually set. Heart rate is based on heart rate zone, while the rest are pretty self-explanatory. Each potentially viable outdoor profile also has the option to choose whether should be enabled by default. But as you'll see in the next page, you can turn it on/off manually on the watch.
To access a sport mode you'll long hold the watch face, showing the sport mode, and then a list of activities.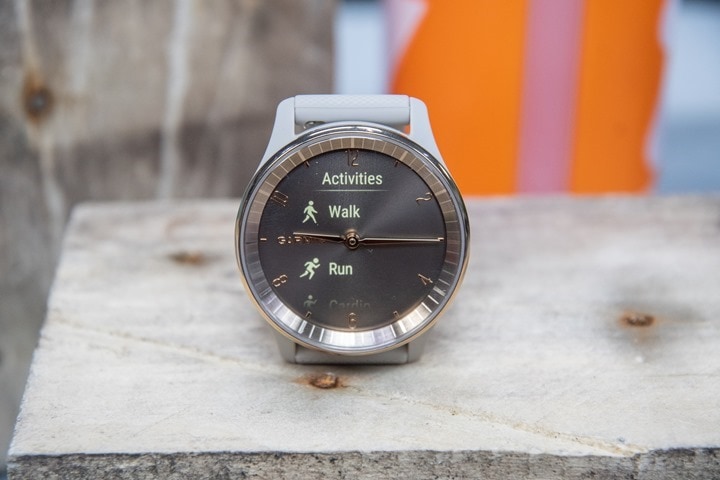 Once you select a sport profile it'll connect to your phone if you've got an outdoor workout that wants to leverage GPS. You'll see the confirmation on the left side showing that it's actively connected to GPS (it also gives you a confirmation message briefly).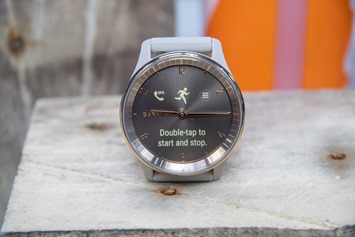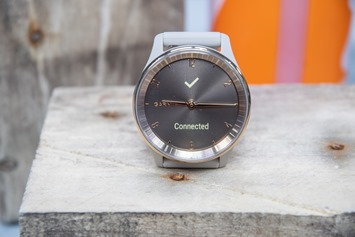 To start your workout, simply double-tap and the timer/distance/etc will begin: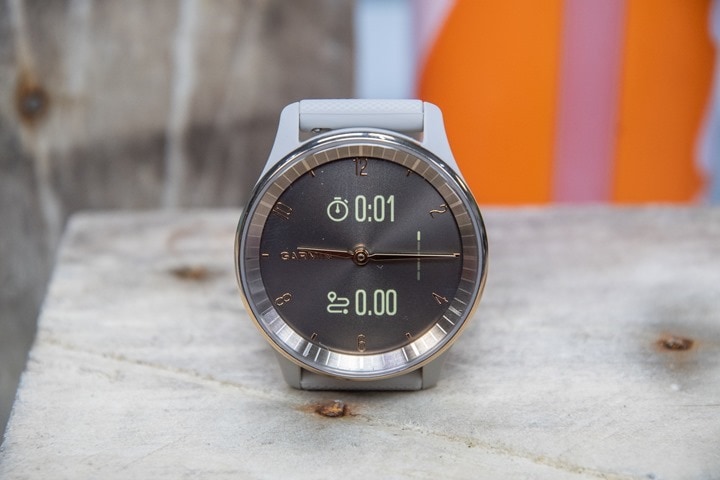 Once you're out and doing your sport, you'll see the data pages you've setup. In my case, I'll show you a run, to show how visible the screen is outdoors. You can swipe through the display to see your different data pages. Despite being covered in sweat on my tempo run, I didn't have any issues with touch responsiveness.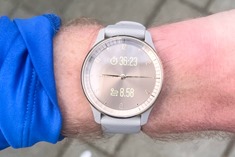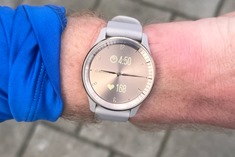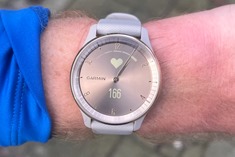 Meanwhile, here's an indoor cycling workout show, again, perfectly visible: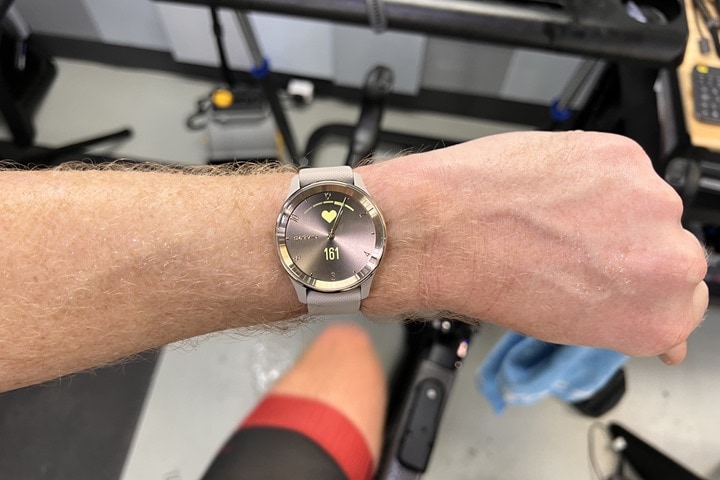 To end a run, you'll double-tap the screen, which pauses it. You can then choose to resume or save/end. There isn't any post-workout summary, which is kinda…sad.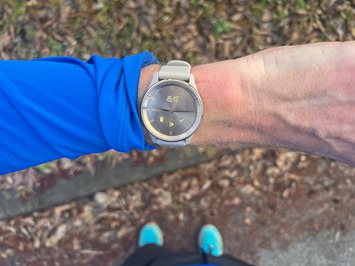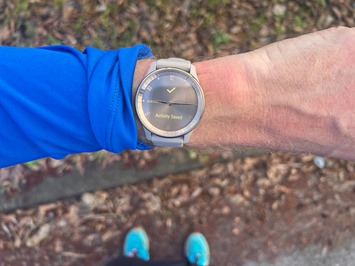 However, you'll see all this data up on Garmin Connect, either via desktop or smartphone app. This includes boatloads of data not seen on the watch itself. Here's a few screenshots of my run from yesterday: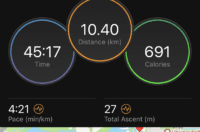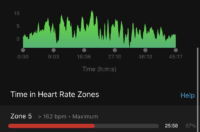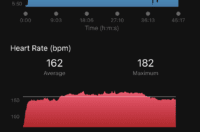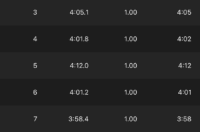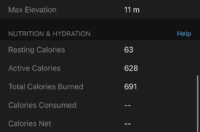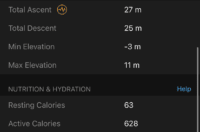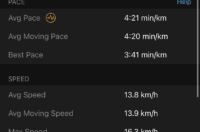 And of course, all this data also ends up over on any 3rd party platforms you've connected, such as Strava, MapMyFitness, etc…
The thing to keep in mind is that while the data on the watch is somewhat limited, and of course heavily dependent on your phone if outdoors using GPS, that the actual data shown on Garmin Connect is almost identical to what you'd get with most higher end Garmin watches. Sure there's a few extra fancier/more technical metrics. But otherwise, 80-85% of the metrics are identical.
Also, for lack of anywhere else to mention it, the Vivomove Trend does not connect to external sensors of any sort. Thus, no connecting to external HR chest straps or cycling sensors. It does however broadcast your heart rate out as both ANT+ & Bluetooth Smart (assuming you enable that feature). Thus you can pair it to other devices/apps, such as a bike computer, or apps like Peloton, Strava, etc to get your heart rate displayed.
Now, we'll come back to accuracy in the GPS & HR accuracy section. But for now, let's talk charging.
Wireless (and Wired) Charging: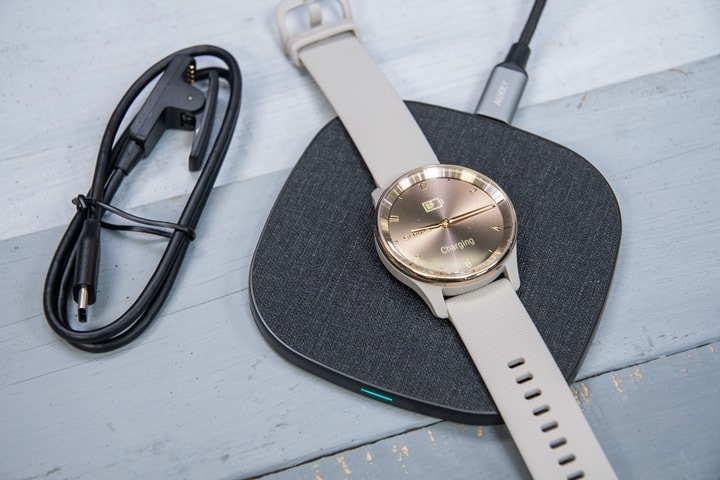 The Garmin Vivomove Trend is Garmin's first wireless charging capable watch. Though it still maintains wired charging. Frankly, I think this is great. While wireless charging has it's place, it can sometimes be finicky and slow. In Garmin's case, it's still slow – then again, somehow wired charging is also slow too. It's an area Garmin really needs to focus on going forward (for all their watches, compared to most of their competitors). However, the wired charging method also means you can offload data from it manually if you want to – no app required.
While only a small portion of customers probably still download data from Garmin's watches without the internet, they've kept that option there throughout the years for those that either don't have a smartphone or simply have privacy concerns about the interwebs and online platforms.
In any case, looking at the back of the watch you won't notice any visual difference, except the charging pins still there. The Vivomove series never used the standard Garmin charging connector, but rather a clip-on style one. So that remains the same as previous here.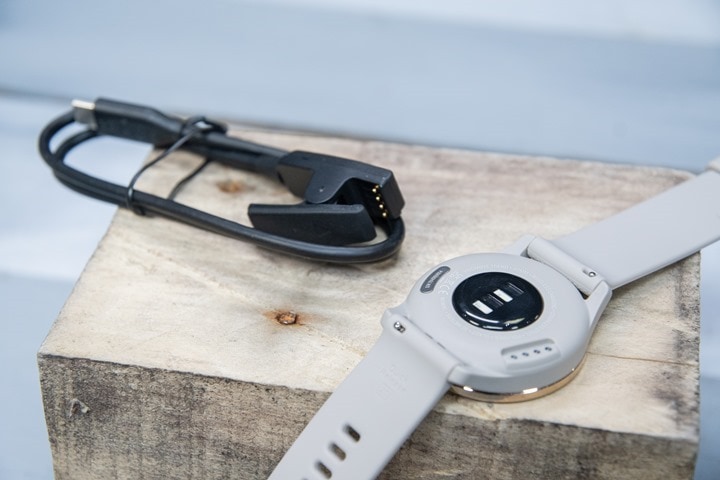 However internally, the watch is Qi compatible, and you can place it on most Qi compatible wireless chargers (Qi is simply the name of the charging standard that the world has adopted). Garmin doesn't at this time make their own wireless charging mat/etc, but instead you're free to use whatever you want. That can be a bit of landmine. I did ask for a few recommendations of ones that they've seen good luck with, and bought those to test with. These aren't "official Garmin recommendations", but, about as good as you're gonna get:
– Anker 313/A2503 (see my issues below)
– TOZO 10w Wireless Charger
– Luxsure Wireless Charging Station (My own choice, cause it's prettier)
– Anker Power Core III Battery Bank (I had this sitting around)
Here's those: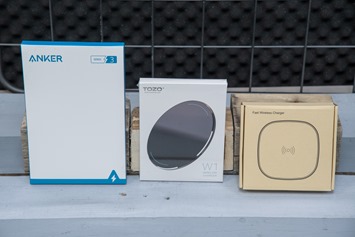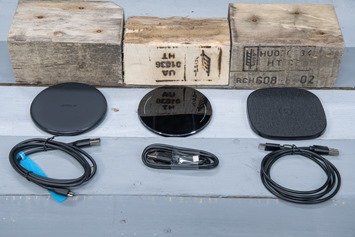 Oh, plus my existing Anker battery bank that I forgot for the photo: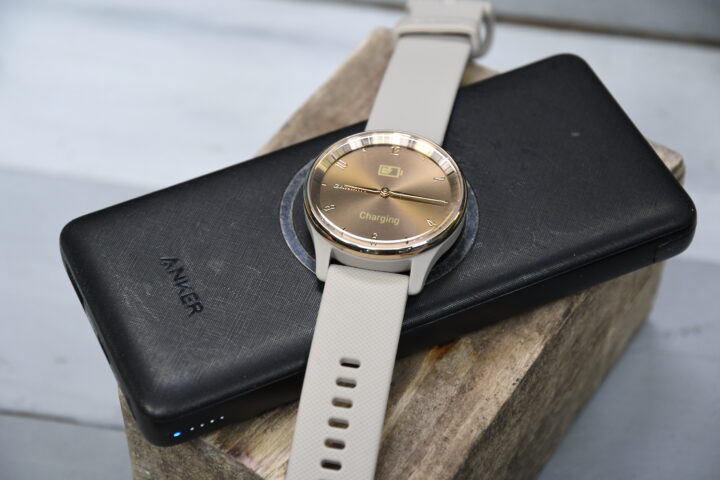 My quick review of these would be:
– Anker 313/A2503 mat: Bummer it's micro-USB, but even more bummer it didn't work for me. I don't know if I've just got a bad unit, but it simply won't charge the watch, but will charge my phone/etc…
– Anker PowerCore III Battery Bank: Works great, and is something I've used for quite a while now as my go-to battery bank
– TOZO mat: Really glossy, but also works as expected
– Luxsure mat: A little prettier with the faux heather grey mat, works as expected
When you place the watch on a charging mat, it'll show the current battery sate and then show "Charging" before the display turns off. You can simply tap the watch to see that it's still charging. Usually the charging mat will show some charging confirmation light (depends on vendor).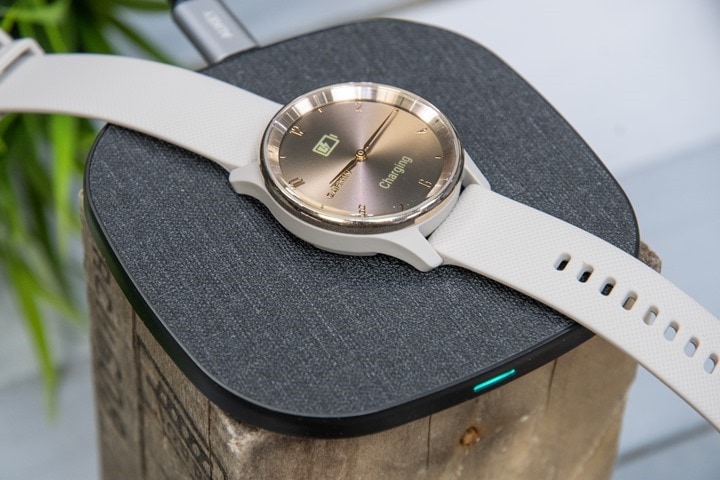 Garmin does not recommend either vehicle chargers or vertical chargers (like those for phones), as those might not work as well. They also noted (the obvious) to center the watch in the middle of the charger. I found that I had a fair bit of lenience on this, but once the watch was no longer touching some part of the center of the pad, it stopped charging. But it wasn't finicky. For both the chargers that worked, it worked instantly roughly anywhere in the middle.
For fun, I also tried a few other random things. Some I bought, some I had around. Notably, it charges seemingly just fine with Samsung watch charging pucks: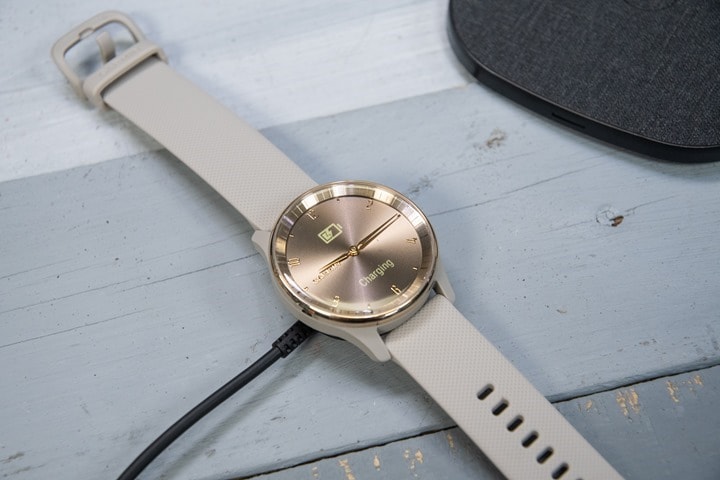 It does not charge with an Apple Watch charging puck, because Apple actually doesn't use Qi for their watches, but a proprietary charging. It's an Apple Watch quirk (other Apple devices like phone and AirPods/etc all support proper Qi wireless charging). I did also pull up one older no-name branded Qi charging mat that didn't work with the Vivomove Trend, but again, it literally said on the back just "Qi Charger" and was in the deep-way-back pile of older chargers.
In terms of charging times, Garmin says that both wired and wireless is identical, at "under 2 hours" from full dead. They also said 15 minutes of charging would otherwise give you one day of battery life. In my testing, it would take about 15 minutes to increase the battery life about 10-11% via wireless charging. As for battery life, with 60-90 mins of workouts per day, I'm seeing about 30% battery drain/day, which seems a touch bit high for the 5 days smartwatch mode. But I suspect that 5 days doesn't account for the longer workouts I'm doing. It definitely burned far more battery in Connected GPS mode than a standalone indoor cycling workout.
Garmin says there's no difference for the wattage of the wireless chargers and speed for the Vivomove Trend watches. So basically, don't go all crazy getting the fastest and fanciest wireless charger out there for just this watch, since it can't take advantage of it (your phone still might be able to though).
GPS & HR Accuracy:
In this section, I'll take a look at the GPS & heart rate accuracy of the Garmin Vivomove Trend. In these tests, I'm comparing them against a 'known good' chest strap (the Polar H10 or Garmin HRM-PRO Plus), as well as one or more other watches or optical heart rate sensors. In these tests, only one watch is worn per wrist to ensure optical HR accuracy is still valid. Additional sensors may be worn on the upper arm (Whoop or Polar Verity Sense), the finger (Oura), or the chest (various chest straps). Note that obviously, the Garmin Vivomove Trend does not have built-in GPS, but instead, leverages your phone's GPS. However, what's notable is that apps have a bit of leeway in how they tweak the GPS data. For fun, I did one test with the same phone, but three different apps (Oura, Whoop, Garmin) leveraging that data for their own recording purposes.
First up though, an indoor workout. This was pretty intense intervals, but they were very long with only 15-seconds of break. So, it kinda looks like one giant long interval for an hour.

You'll notice a bit of lagginess from all the optical HR sensors, as compared to the chest strap in red. You can see when I stopped briefly at the 10-15 minute marker for calibration of the cycling power meters, that it's about 10-15 seconds of lag here. This is a bit more than I typically see, but likely because these aren't super high intensity intervals, but more casual increases/decreases.

Next up, an outdoor tempo run workout. It was somewhat chilly (about 38-40*F), but quite a it windier, which would have increased the windchill factor, which does actually matter for optical sensors and blood flow.

And here my folks, buried in a non-endurance sports watch review, is the first absolutely epic failure of HR for the Apple Watch Ultra. Check that out – it's complete off, waaaaay off, the entire run. It appears to have cadence lock by the looks of it, but man, ouch. Anyways, the Vivomove Trend did just fine here for the most part, including ramping up into the Tempo portion. Slightly delayed as before, but just a few seconds.
The only caveat was these little spikes I saw here and there a few times. It's not clear why this occurred. I don't have any obvious explanation for anything at these times, as this was a super 'clean' run for me in terms of distractions/etc… Note this is zoomed in, but it's still a 8BPM spikes temporality. Maybe it just wanted to see what the Apple Watch Ultra was seeing.

Finally, let's look at a GPS track. This is compared not just within three different apps on the same iPhone 13 Pro (Garmin Connect, Whoop, Oura), but also to two higher end watches, the Apple Watch Ultra and Garmin Epix. Except for whatever reason the Oura ring workout export failed. Thus, no data for the moment there. Here's the GPS track, which…umm…looks like…oh nevermind: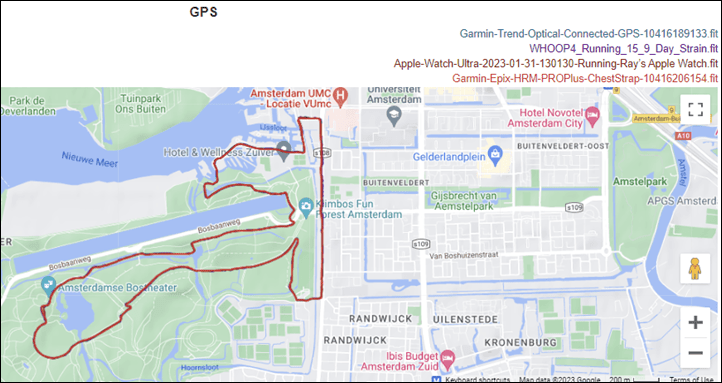 As you can see, at a high level, it looks very similar, and it is. However, it is interesting to see the slight differences between the Garmin & Whoop 'Connected GPS' tracks, despite being from the same phone. Speaking of which, that phone is in my pocket. It's not 2012 anymore, people aren't wearing phone armbands anymore.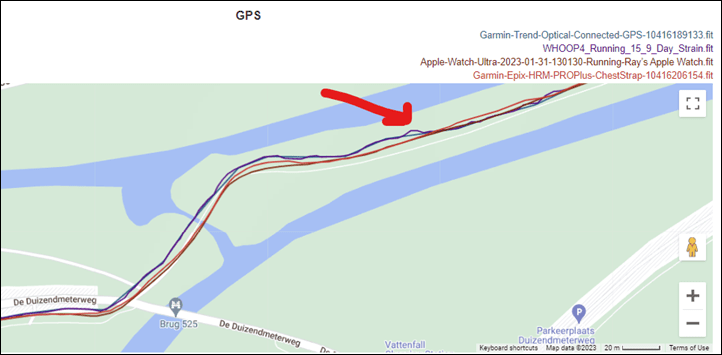 In fact, for whatever reason, the phone actually beats both the Apple Watch Ultra & Garmin Epix on this turn. The Apple Watch Ultra heavily cuts the corner, the Garmin Epix slightly cuts it, but the phone apps correctly nail it.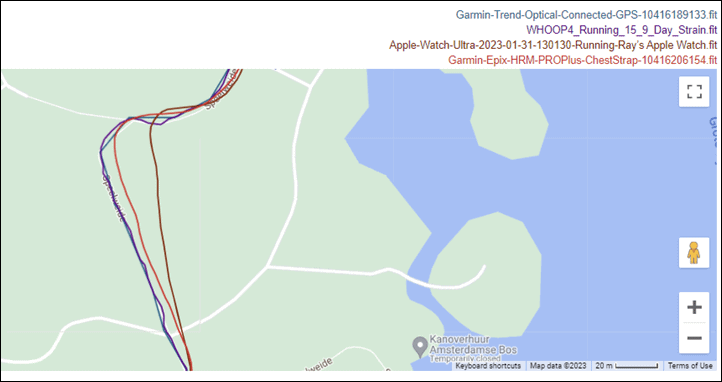 Albeit inversely, on the next wiggle section, the dedicated watches get it correct, whereas the phone overshoots these sharp corners.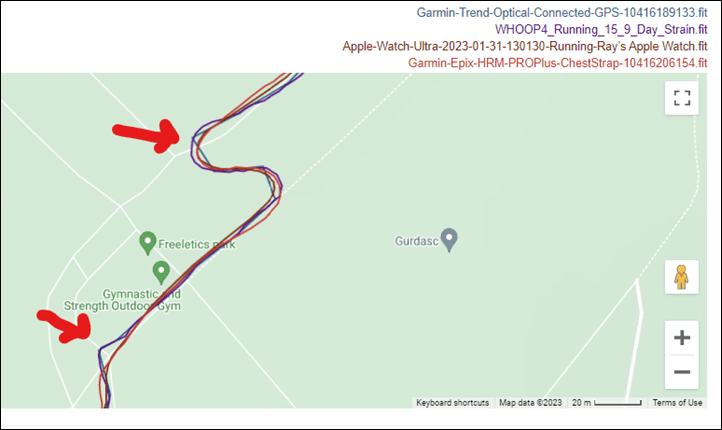 Overall, if I look at these workouts (and a few shorter things I haven't had time to pull in), the optical HR sensor is as expected – largely fine for most usage, but not quite as good as Garmin's latest iteration. For GPS, you're heavily dependent on the GPS in your phone, but as you can see, that's not really such a bad thing as long as you have a semi-modern phone.
(Note: All of the charts in these accuracy sections were created using the DCR Analyzer tool.  It allows you to compare power meters/trainers, heart rate, cadence, speed/pace, GPS tracks, and plenty more. You can use it as well for your own gadget comparisons, more details here.)
Wrap-Up:
Setting aside for a second the wireless charging newness, the Garmin Vivomove Trend is a nice upgrade from previous Vivomove series devices. In particular, the new display is far better than before, making it far easier to read outdoors (as well as just being bigger). All while continuing that 'not a smartwatch' look that has made this series popular.
Meanwhile, it's good to see that for Garmin's first wireless charging watch, they split the difference. Meaning you've still got the ability to use the charging cable if you want it (even just to download data). This approach is similar to what we've seen Garmin do on their Fenix watches with touchscreen, which gives users the 'choice' to use the touchscreen, use buttons, or a blend of both. As for compatibility, it's as mixed as you'll find for any other wireless charging device/pad. Sometimes it works, sometimes it doesn't. I suspect on the balance, most newer things work – like my Anker battery pack. But ultimately, even things that should work, didn't work perfect. Again, situation normal for Qi wireless charging.
It'll be interesting to see where wireless charging lands next on Garmin's wearables front. I don't actually think it's as important to consumers as other features such as ECG, or AMOLED displays. So I'm not gonna be super upset if it's missing on whatever watches come next. As geeky as I am, I prefer functional and dependable geekery over hopeful geekry.
With that, thanks for reading!