The Garmin Venu 2 Plus aims to be an incremental update over the 7-month-old Venu 2/2S, with the core new features being voice assistants and a speaker for making and receiving calls. This is the first Garmin watch to offer any sort of voice assistant integration, and out of the gate it supports Apple's Siri, Google Assistant, and Samsung's Bixby. However, most interesting in my opinion is the ability to take calls on your wrist, and even trigger emergency assistance and safety alerts using voice (which is new to Garmin as well). Plus you can now listen to music using the speaker on the watch if that's your thing, and it's surprisingly not horrible.
Beyond that, the changes are almost entirely industrial design related. Meaning, they're things like adding in a third button (in the middle), and splitting the difference in sizes between the previous Venu 2 and 2S. Further, a slate of minor things like switching out materials for nicer ones – such as going with a stainless steel rear case, and going with 20mm industry standard quick release bands.
But let's not get ahead of ourselves. There are lots of details to cover, and I've been using this watch for more than a month now – putting it through its paces in all assortment of conditions. From snowy winter glove weather to bright sunny islands. Flatlands to high-altitude forests. You name it, I've been trying it.
As usual, this watch is a media loaner, and it'll go back to Garmin shortly. After which, I'll go out and get my own for any future testing needs.  If you found this review useful, you can use the links at the bottom, or consider becoming a DCR Supporter which makes the site ad-free, while also getting access to a mostly weekly video series behind the scenes of the DCR Cave. And of course, it makes you awesome.
With that, let's get into it.
What's New: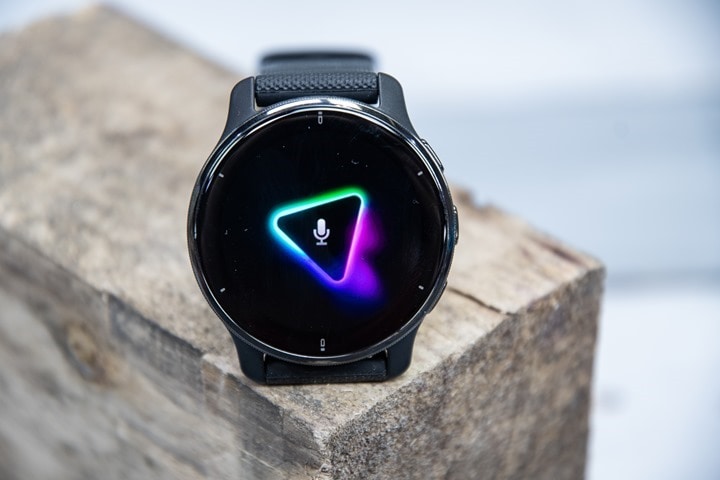 As noted in the intro. the vast majority of the differences here are related to the voice assistant and speaker aspects, plus some external finishing bits (as well as that third button). So, let's dive into this briefly before we start into the review pieces:
– Added a 3rd button to side, which is customizable
– Added a speaker and microphone
– Added Voice Assistants: Apple Siri, Google Assistant, Samsung Bixby
– Added ability to playback music on watch speaker (without headphones)
– Added ability to receive calls from watch (without headphones)
– Added ability to make calls from watch (without headphones)
– Added new option for Assistance and Incident Detection to *call* an emergency contact (previously just text)
– Added/changed a pile of tones throughout the system to sound prettier (since now speaker versus just beeper)
– Added some new Venu 2 Plus-only watch faces
– Added ability to hold down watch face complications and get directly to deeper widget data
– Changed size to 43.6mm, a middle-ground between the Venu 2 (45.4mm) & smaller 2S (40.4mm)
– Slightly increased weight to 51g (Venu 2 was 49g, 2S was 38.2g)
– Same 1.3" display as Venu 2
– Same Garmin Gen 4 ELEVATE Optical HR sensor
– Slightly decreased daily battery life (9 days for Venu 2 Plus, vs 11 days for Venu 2 and 10 days for Venu 2S)
– Slightly increased GPS battery life (24 hours for Venu 2 Plus, versus 22 hours for Venu 2 previously)
– Maintained 50m waterproofing
– Switched to a stainless steel rear case
– Added new bezel detailing, plus all metal surfaces now have PVD (better protection)
– Price increases to $ 449 (from $ 399)
So yes, if you expand every last detail out it looks like a lot, but in practice, virtually everything feature-wise is basically either making/receiving calls, voice assistant related, or playing music on the speaker. Now, for those Venu 2 users wondering what, if any, of the features from the Venu 2 Plus they'll be getting, you're in luck – you'll get the newness that's not dependent on hardware. So obviously, all the speaker/mic stuff is dependent on hardware. But this item isn't dependent on hardware, and thus will get rolled out to everyone:
– Ability to hold down watch face complications and get directly to deeper widget data [Coming to Venu 2/2S in Feb 2022]
While I often talk about the concern with buying out-of-cycle technology demonstrator watches (such as the FR945 LTE), I'm less concerned about this watch. The reasons are two-fold. First, it's released in a tighter timeframe than the same-numbered FR945 LTE was to the FR945 two years prior. So by that aspect alone, the lifecycle is going to be far more similar to the original Venu 2 units. Second, it's a less expensive watch with a relatively frequent annualish release cycle. The Venu series is merely the pretty-display extension of the Vivoactive series, and that series has roughly seen annual releases. Sure, slightly marred by COVID, but by and large Garmin has historically released a new edition each September (like Apple, Samsung, Fitbit, and others have done in that same target market/category).
In other words, you already know that those units have a pre-determined fate that's not as long of a lifecycle as the Forerunner or Fenix series which refreshes every 2-3 years.
Still, my hope is that Garmin and others continue to shift more towards packing as many new software features over time into these watches, rather than being purely hardware dependent. We've seen that be the case in the last 1-2 years on Garmin's Edge, Forerunner & Fenix series. Though the Venu series to date hasn't quite been as expansive there. Still, here's to hoping.
In the Box: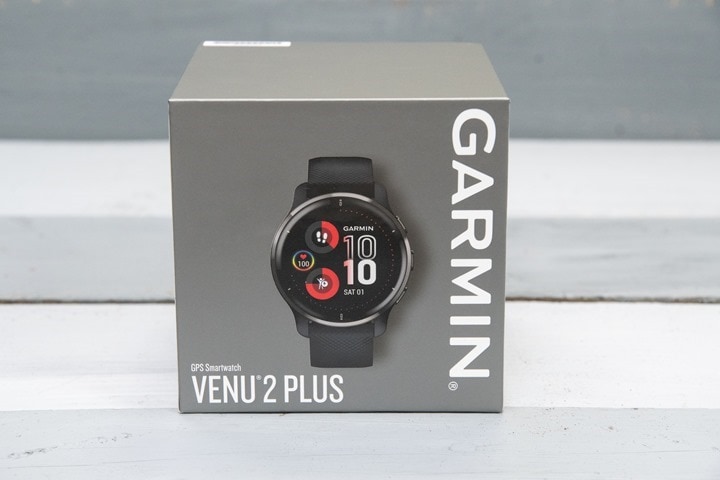 The Venu 2 Plus box isn't really much different than the Venu 2 box, or any other Garmin product for that matter. Small square grey box with a watch, foam, charging cable, and a small booklet inside.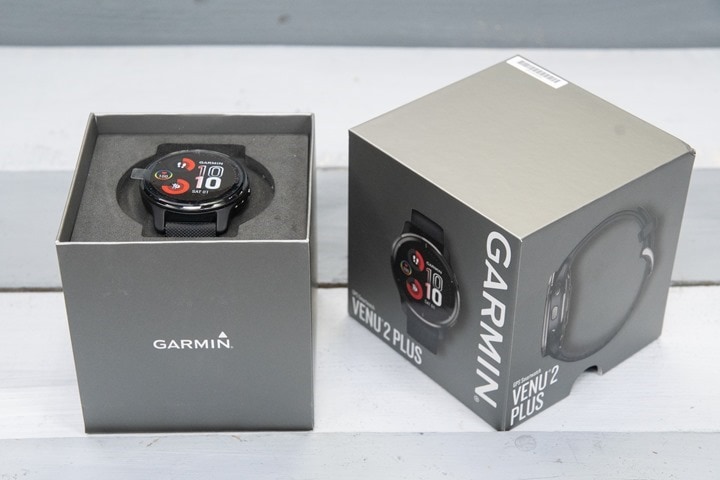 Here's everything removed, including the standard Garmin charging cable with the four-prongs. Also compatible with the myriad of (awesome) third party chargers, and even the keychain, USB-C, and desk chargers.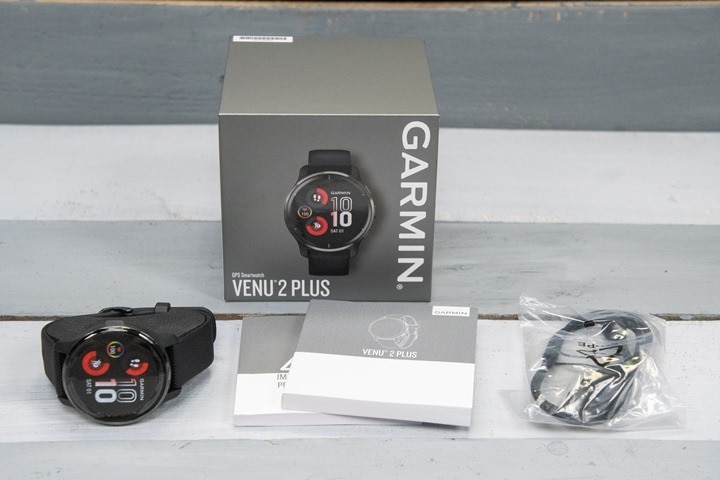 You'll notice the added button, comprising the three-button side on the right side: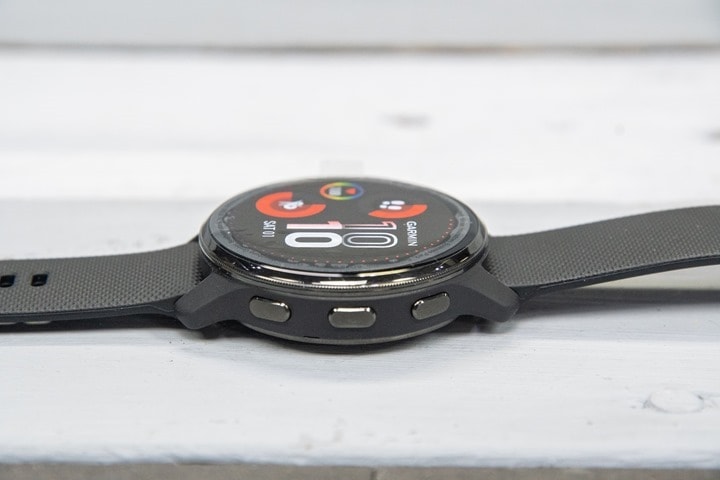 Plus you've got the new stainless steel backing: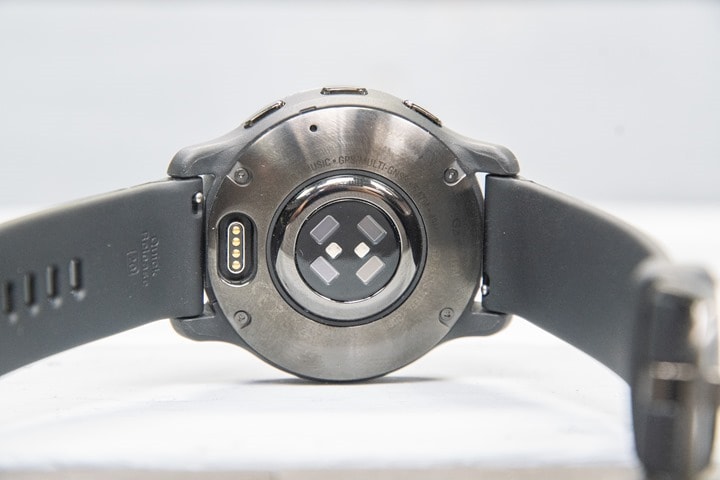 But don't worry, we'll dive into all the details throughout it.
Here's a quick look at how it compares to the Venu 2S and Venu 2, whereby it slots into the middle of those two watches size-wise. Here's the front: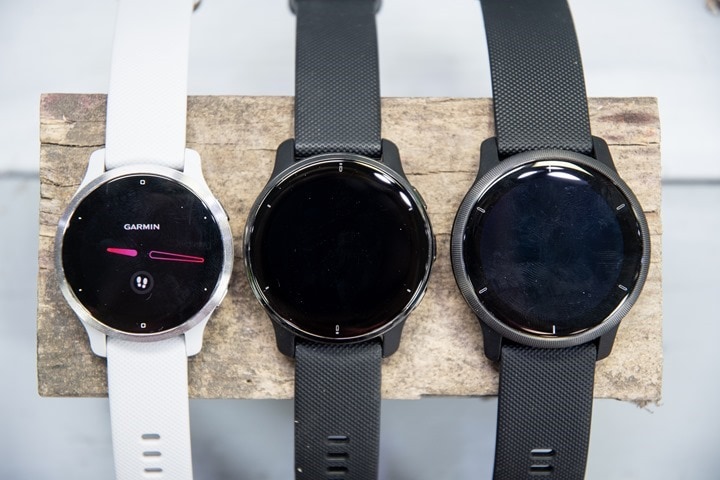 Followed by the thickness: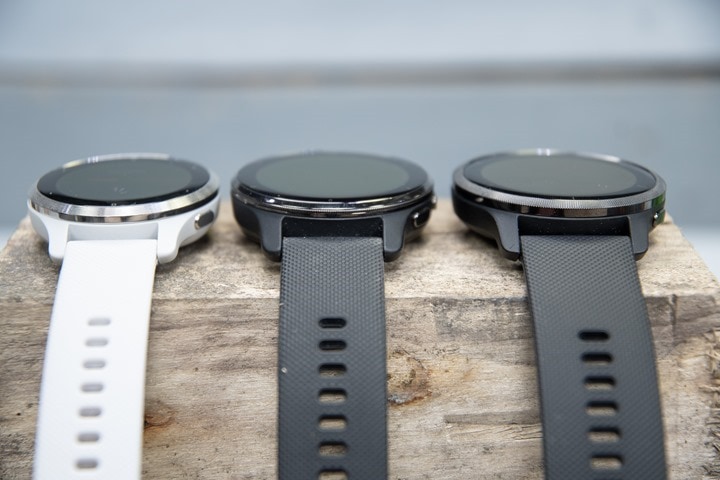 And lastly, the back of the watch. It retains the same optical HR sensor as before (Gen 4), however, you'll notice they've moved the position of the charging port from the side to the bottom.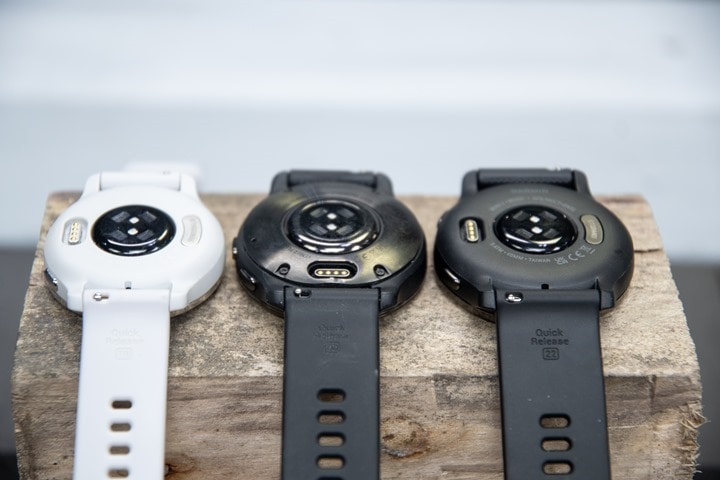 With that, let's get into basic usage.
The Basics: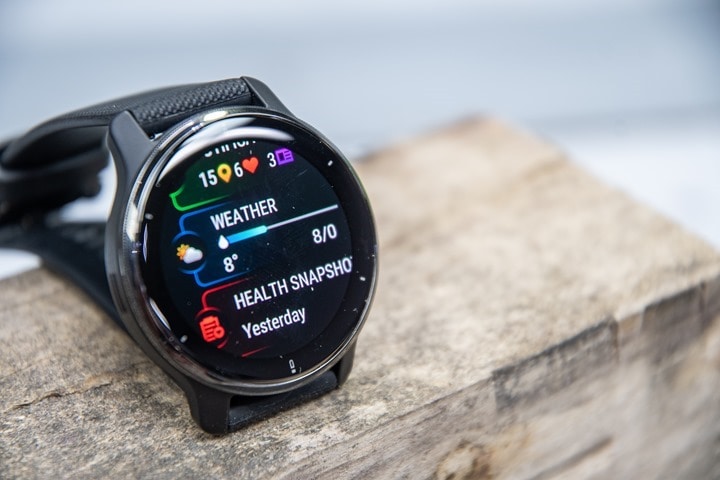 So, for this section, I'm going to run through all the basics of using the Venu 2 Plus. So things like the interface, daily activity tracking, buttons/touchscreen, etc… If you have an existing Garmin device, then much of this will be the same as you've seen in the past – save the handful of new features/tweaks. If you want a deep-dive tutorial of this, then you can hit the 'Play' button above, which walks you through the entire watch step by step.
First up, we've got the hardware itself. The unit now includes three buttons (by adding a new middle button). This is short of the 5-button design most non-touchscreen Garmin watches have, but helps make usability a bit easier. That middle button is both the voice assistant button (if long-pressed), and customizable (if short-pressed).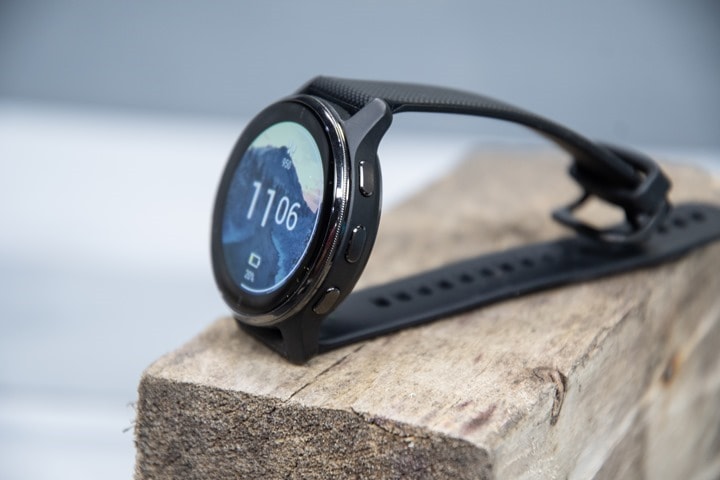 Meanwhile, the touchscreen itself is the same as the non-Plus Venu 2, which is an AMOLED display. The screen has two basic power options. The first is gesture-mode, which means it'll turn on when you raise your wrist, saving battery. In this configuration it gets 9 days of battery life. However, in reality with daily GPS and non-GPS workouts, I'm getting about 5-6 days of battery life. Still, plenty for most people.
The second option is the always-on mode. In this case, the screen is always on and in turn burns more battery life. My testing puts this about 2-3 days, depending on exact GPS usage. Both modes though have a sleep-option to turn off the screen at night, which is useful because the Venu 2 Plus screen is insanely bright even in its dimmest of settings at night.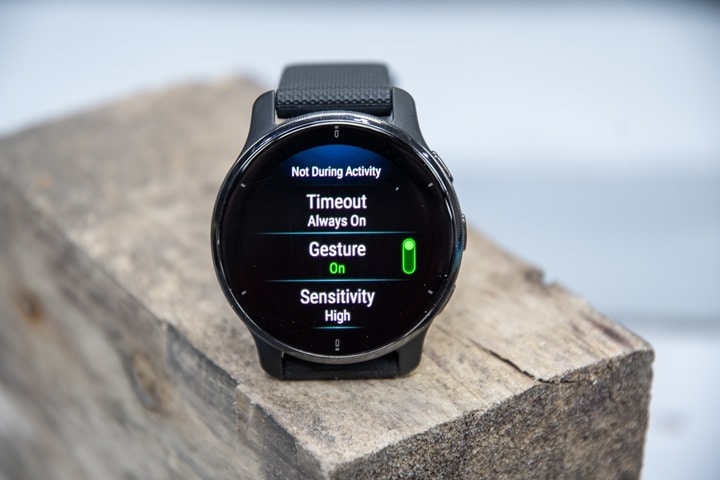 On the back of the unit is the Garmin Elevate V4 optical HR sensor. This is what measures your heart rate 24×7, as well blood oxygen levels, respiration rates, and other heart rate driven metrics. There is no ECG feature on any Garmin watch, nor any skin temperature type features on any Garmin watches. This is the same sensor that's found on the existing Venu 2, as well as the Forerunner 45 LTE. We'll get into the accuracy a bit later on.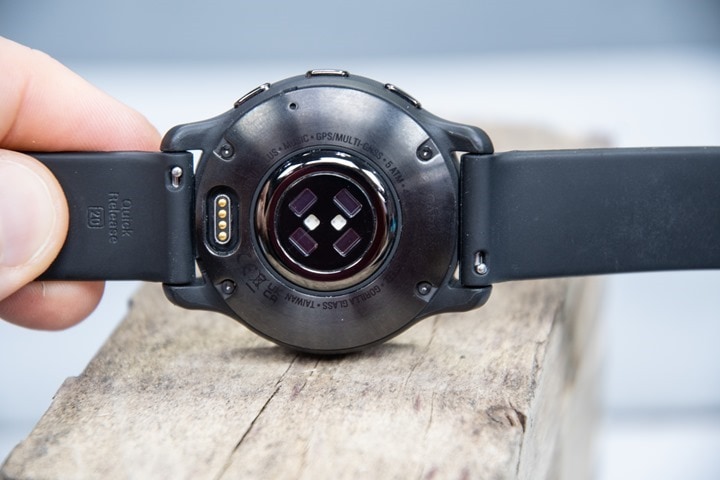 Back on the home screen, you've got the watch face. These are customizable, either by tweaking the pile of built-in ones, or by downloading your own from thousands of watch faces on Garmin's Connect IQ app store. Or, you can put your cat's face on one and make it your watch face (or, you're own picture of the Eiffel Tower). Whatever floats your boat. You can customize the data shown on them as well.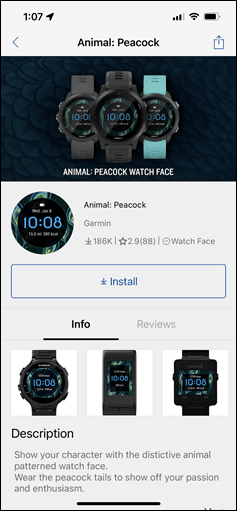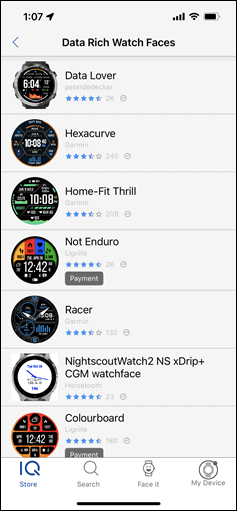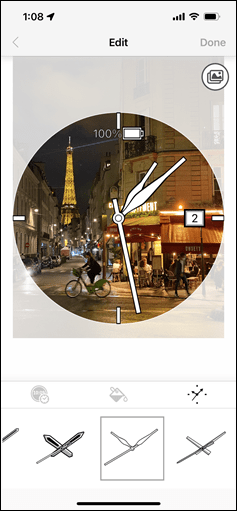 And this is where we get to one of the few new features that don't involve the speaker/mics – the ability to long-hold on a data complication (that's what they call the data bits on the watch face) to access deeper data. So by long-holding the steps on the watch face, it'll take you directly to the steps widget/details. This new feature is coming to the existing Venu 2 units in a February firmware update.
These widgets are also accessible by just simply swiping downwards, where you can see and customize numerous data points. Steps, stairs, intensity minutes, sleep, etc… You can then tap any of these and get more detail about it. For example, tapping the Body Battery metric will take you to the graph of Body Battery for the day. Here's a giant gallery of these from today: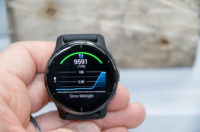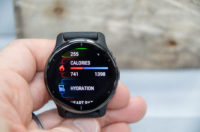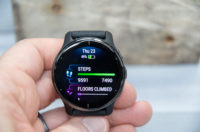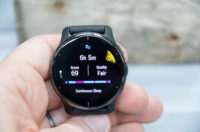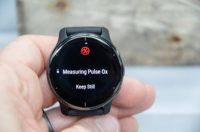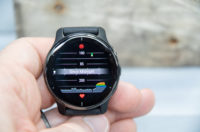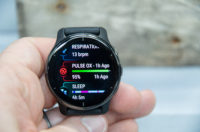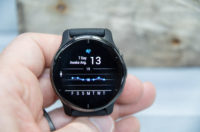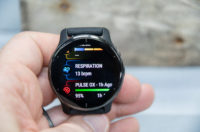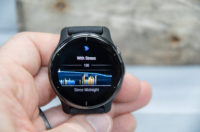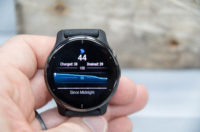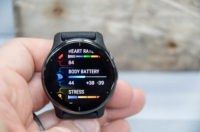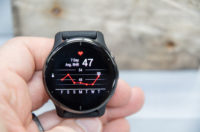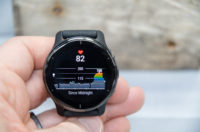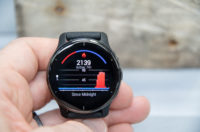 All of these details are then synced to Garmin Connect, using either Bluetooth to your phone or WiFi (or USB). They're then accessible both on the Garmin Connect Mobile app, as well as on their Garmin Connect website. You can see some of these stats here: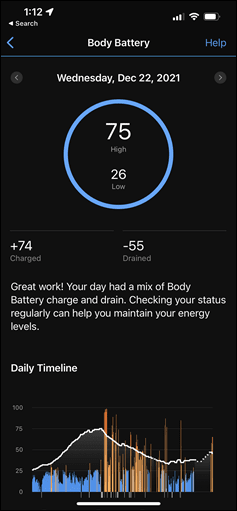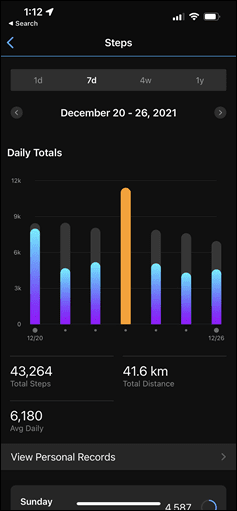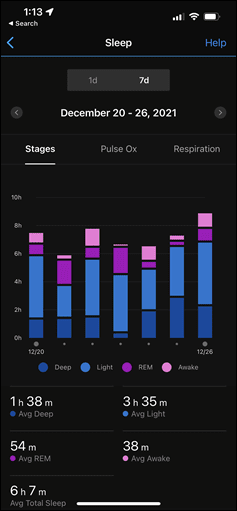 There's no platform that offers deeper phone-based access to all these stats than Garmin. You can sift through countless metrics and reports on everything from breathing rate to sleep patterns. Though, that's also often cited as the downside: Many metrics feel like they're buried deep in the app. That said, you can easily tweak what's shown on the main daily dashboard, which is really your best bet: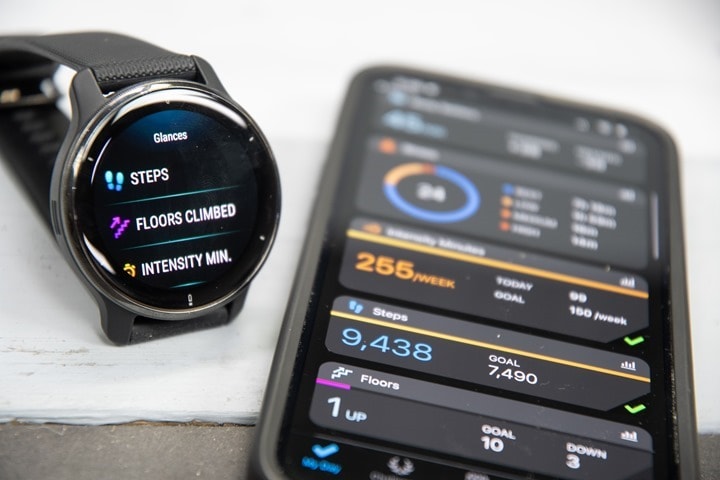 In addition to steps, stairs, stress, and more, it'll also track sleep. There's nothing you need to do here, except simply fall asleep. In the morning when you wake up it'll show your sleep details and a sleep score. It'll also give you its best guesstimates at sleep phases, by the colored sections, which you can tap to get more details on.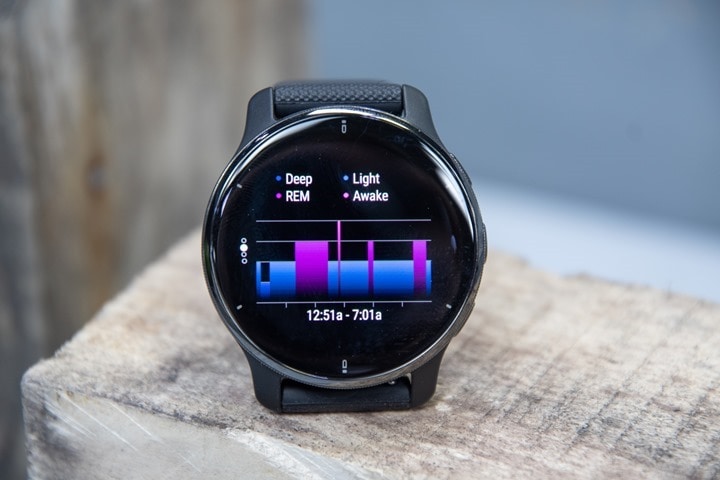 In general I find the sleep timing pretty accurate, however with some caveats. First, no Garmin device supports naps. So if you fall asleep at some other point in the day, nothing is recorded there. Secondly, it doesn't tend to handle early morning going back to sleep well. For example, looking at this morning, it shows me waking up at 7:01AM. Which is true…briefly. I woke up then to get the kids downstairs to let them play – and then I went back to sleep for another 75-80 minutes. Except, it didn't catch that secondary sleep. Whereas other companies like Whoop and Oura do a far better job of catching the secondary sleeps. Most of the time Garmin will miss this type of sleep addition. Note that it has no issues if I wake up at 3AM or something, but it's the ones that are closer to a normal wake-up time that confuses it.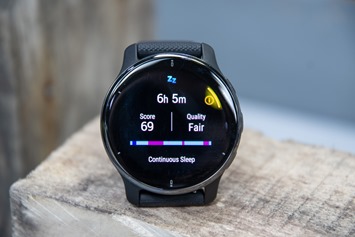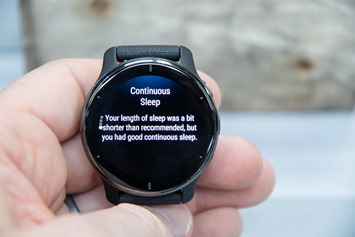 Now, while not a new feature to the Venu 2 Plus, something that was introduced with the Venu 2 is the Health Snapshot. This feature takes five core metrics and distills them down into a single 2-minute measurement period. All you need to do is sit down and relax.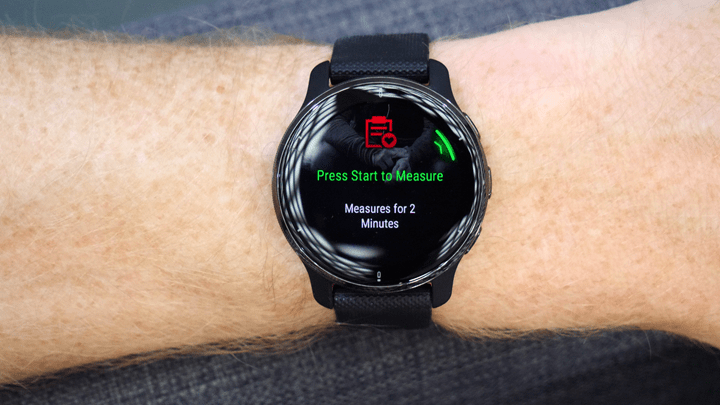 During the 2-minute period it'll measure your heart rate, blood oxygen level, respiration rate, stress, and HRV (heart rate variability). The idea being you can consistently do this, ideally at the same time each day, and start to get a bit of a snapshot of how things are trending. All of these metrics are already tracked by Garmin more deeply in the app/platform, but this aims to put it on a single plate (so to speak). You can then export it into a single PDF if you'd like as well.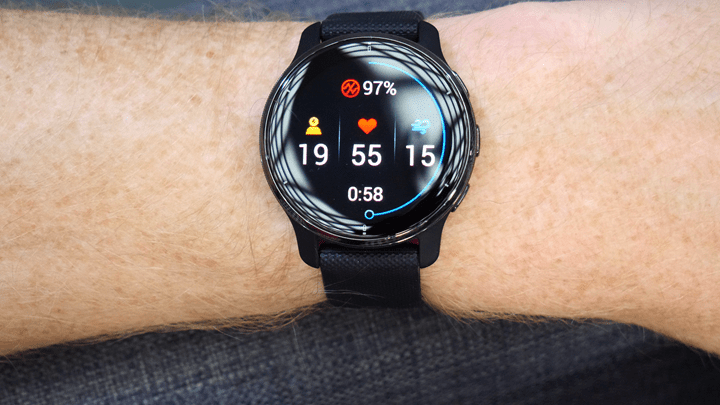 Once the two-minute period is over, it'll give you a summary of that info: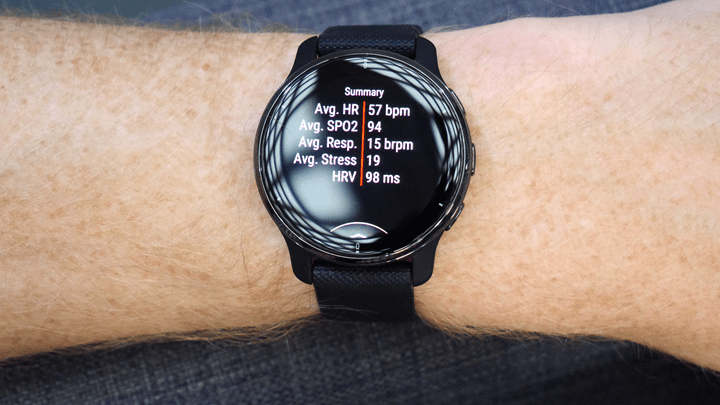 This is also then tracked in Garmin Connect Mobile (this screenshot from a different test):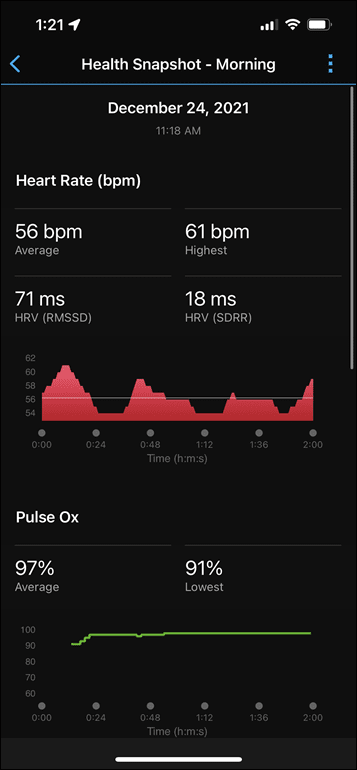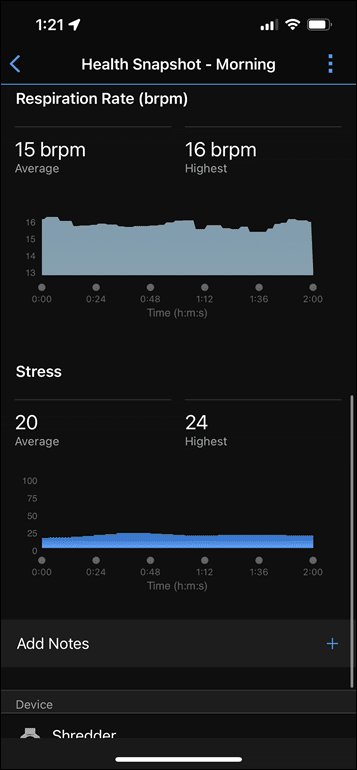 And then you can select the menu dots at the top right to export it into a PDF: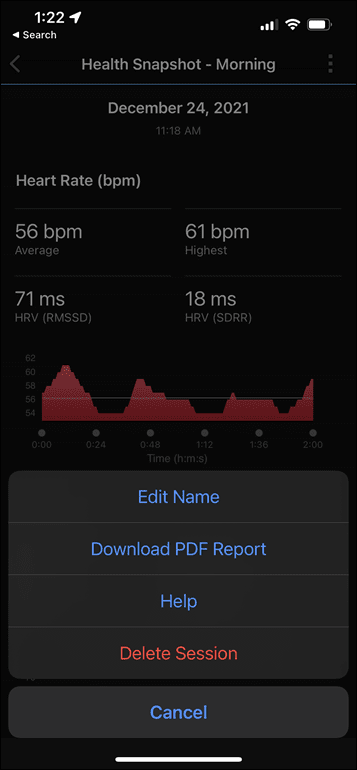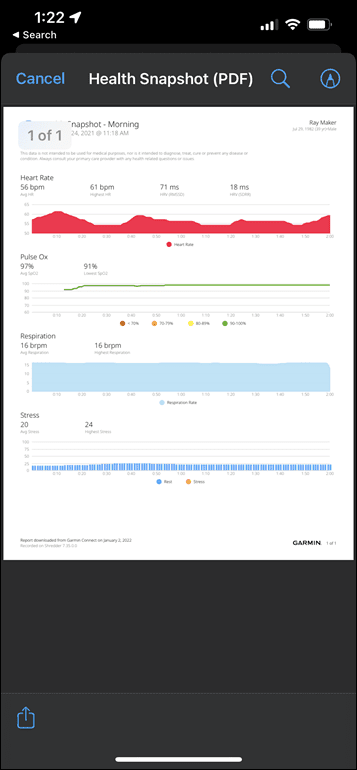 Lastly, you've got smartphone notifications. Garmin improved these significantly when they launched the original Venu 2 units, specifically around emojis and including more of them. And indeed, it's gotten pretty good. With the Venu 2 Plus, you've also got the new speaker-driven tones (as opposed to beeper-driven tones). While new users to Garmin watches probably won't think anything different, the reality is that for existing Garmin users it'll sound much cleaner, and will generally just feel more polished when notifications come in. This is the first Garmin watch to have an actual speaker.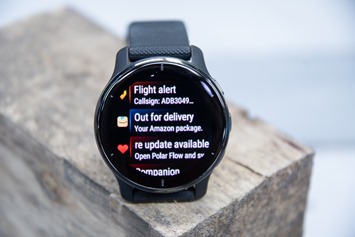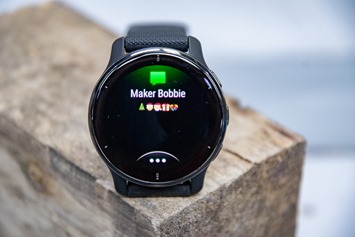 Of course, as noted, all of this comes at some battery cost compared to the original Venu 2/2S for daily watch use, but a slight increase for GPS mode. Those watches previously had an 11 day (Venu 2) and 10 day (Venu 2S) battery life claim in smartwatch mode, whereas the Venu 2 Plus has 9 days. Also, the Venu 2 Plus has gained 2 hours of battery life during GPS usage. Here's a chart of all the battery claims for the Venu 2 Plus:

You've also got the newish (to the original Venu 2 anyway) Battery Manager and Battery Saver. Battery manager is essentially where you can toggle battery life estimates on/off (showing you how many days are remaining), and then it's also where you toggle on Battery Saver: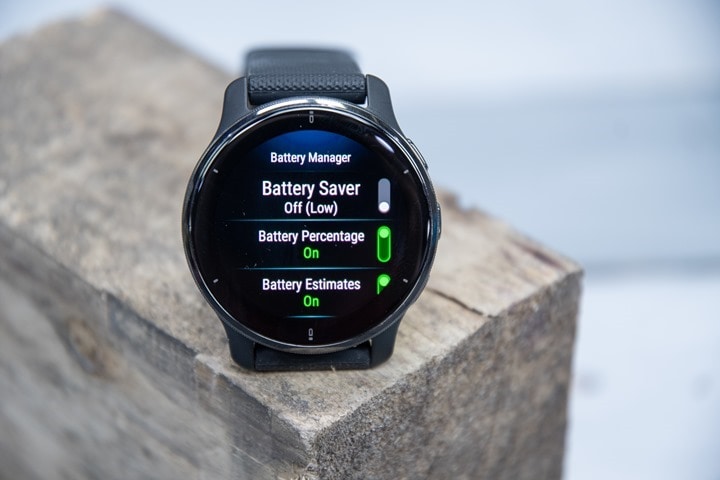 When you turn on Battery Saver, it gives you an incredibly long list of things it's about to shut off, in order to eke out more battery life. Something like 20% battery life turns into basically 3 days of standby watch time, with the following settings toggled in battery saver mode: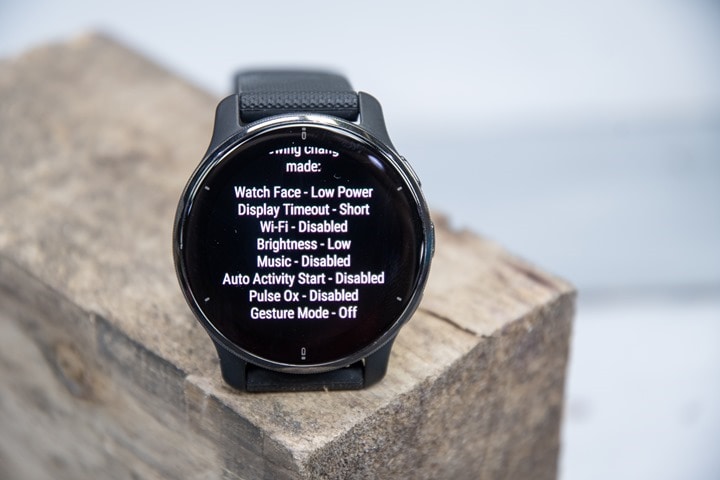 In addition, tied in with that, there's the faster Venu 2 series charging, which essentially guarantees that if you have a watch with no charge, that in 10 minutes you'll have enough battery for a 1-hour GPS run, or 1 day in smartwatch mode.
Anyways, in my testing of the Venu 2 Plus I've been getting pretty consistently 5-6 days in gesture mode (inclusive of an hour or so workout each day, sometimes GPS, sometimes not – sometimes longer). In always-on mode, it's about 2-3 days. In both cases, I have it set for evening do-not-disturb screen-off from 10PM till 7AM. So this saves the battery a bit more. You can access the screen by tapping a button.
With that, let's dive into the voice & audio features, or you can skip down to the sports section.
Voice & Audio Features: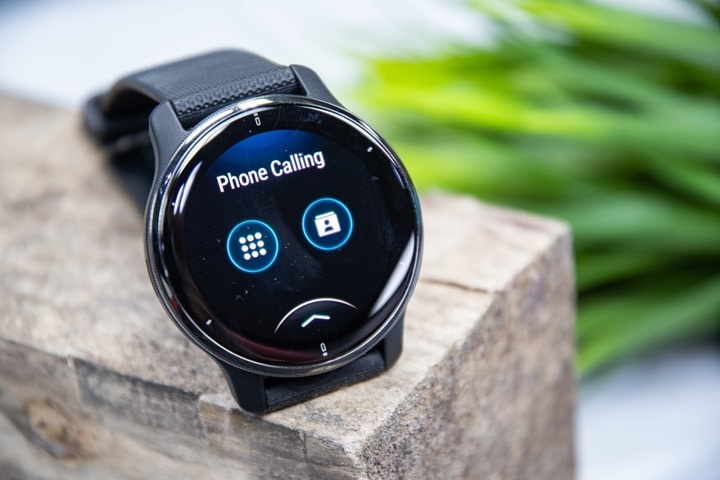 Without question, the most interesting new parts of the Venu 2 Plus are those tied to the speaker and microphone. While things like the voice assistants get all the attention here, in reality there's a slate of features that leverage this:
– Added Voice Assistants: Apple Siri, Google Assistant, Samsung Bixby
– Added ability to playback music on watch speaker (without headphones)
– Added ability to receive calls from watch (without headphones)
– Added ability to make calls from watch (without headphones)
– Added new option for Assistance and Incident Detection to *call* an emergency contact (previously just text)
So we're gonna walk through them one by one here. The first thing to know though is that you can adjust the volume of the speaker through the settings, or via the controls menu (long-hold upper right button). In fact, you actually adjust the speaker level for different audio situations – from notifications to alerts to music: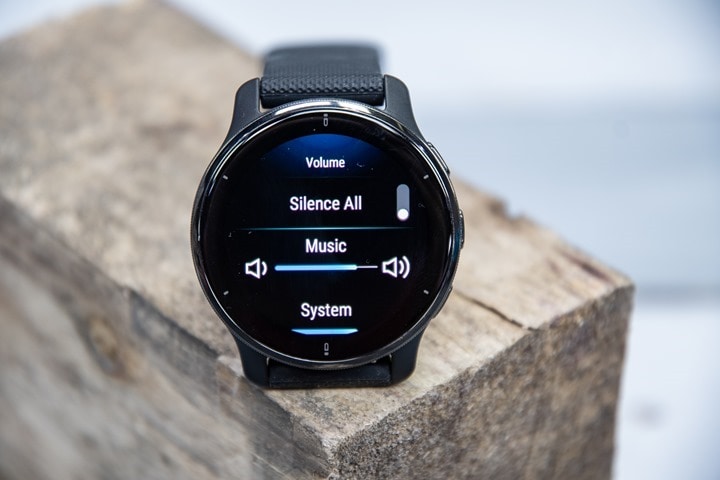 However, the voice assistant volume level is actually set within the voice assistant itself, which is kinda weird that it's not exposed in the general volume list. Garmin says that this is because they actually try and keep the voice assistance volume matched to your phone's volume – and thus found that in their testing that the experience was better if it wasn't exposed in this menu here.
In any event, with the voice assistants, Garmin supports Apple's Siri, Google Assistant, and Samsung's Bixby. For Apple devices, you'll use Siri, for Samsung devices you can choose Bixby or Google Assistant, and for all other Android devices you'll get Google Assistant. Note that no matter the device, your phone must be connected via Bluetooth and in-range.
To access the voice assistant, simply long-hold the new middle-button, and it'll connect to the assistant. This takes about 2 seconds, and then it's ready for you to talk to it: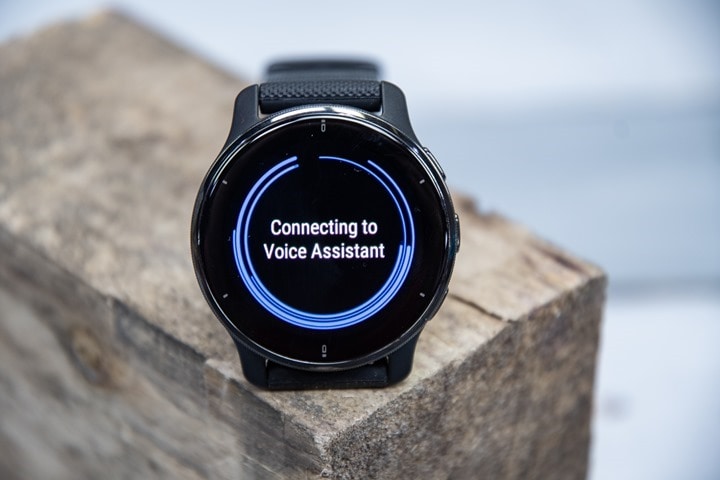 You'll speak your request like normal, and then it'll return both an audible answer via the watch's speaker, as well as a visual/written answer on your phone (I show this in a demo in the main videos). Here's what happens when I asked it "Who is DC Rainmaker", which, surprisingly it pulls an answer from. I've never had occasion to ask my phone that, but hey…I gave it a whirl, and Siri figured it out.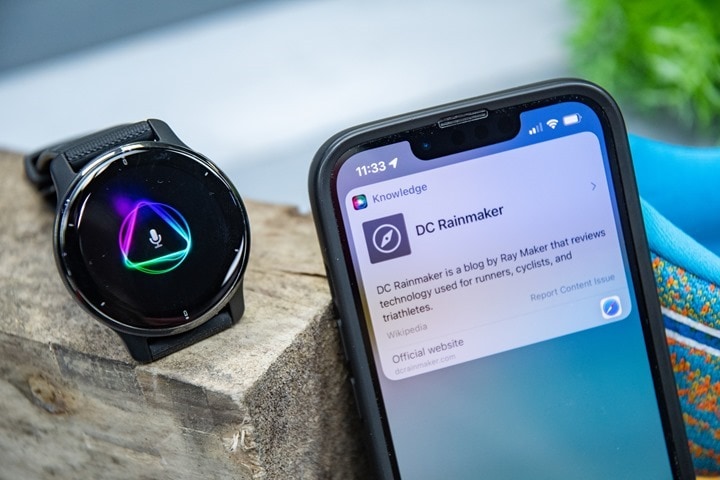 All of this works fine, to the usual degree of voice assistants. Meaning, some voice assistants are smarter than others. Personally, I've never been a big user of voice assistants, aside from setting timers in the kitchen. So for my own uses, this is mostly just a shrug. Obviously – to each their own!
Next up is the ability to make and receive calls on the watch without any Bluetooth headphones. Note again that this requires your phone be nearby, as the Venu 2 Plus doesn't have cellular built into it. Now there's a few different ways to get into the calling menu, but in my case I just use the control options (long-hold upper control, then tap the phone icon). But you can also add a shortcut for the phone dialer to the middle-button if you want. Either way, it brings you here: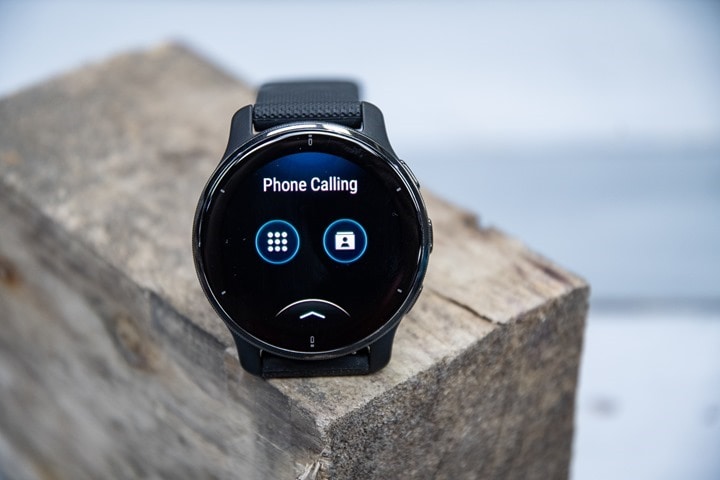 This menu lets you either type out a phone number manually, or choose from a contact. You can also swipe up to see past calls, which is a handy way to get to what are probably your favorite people.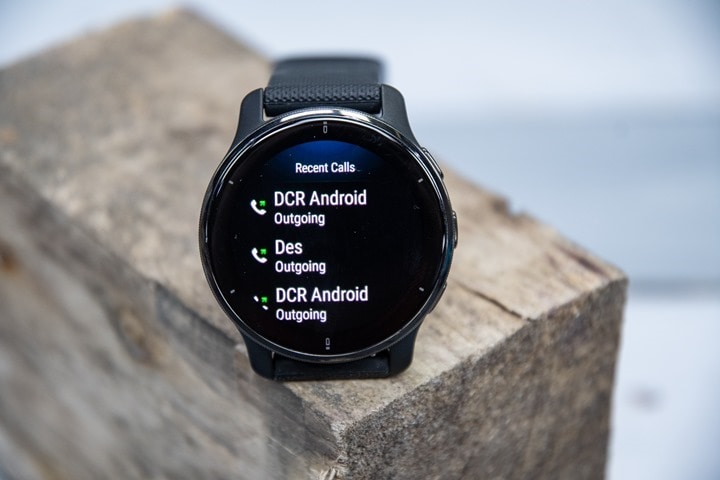 If you choose to manually call, here's that simple numberiffic menu: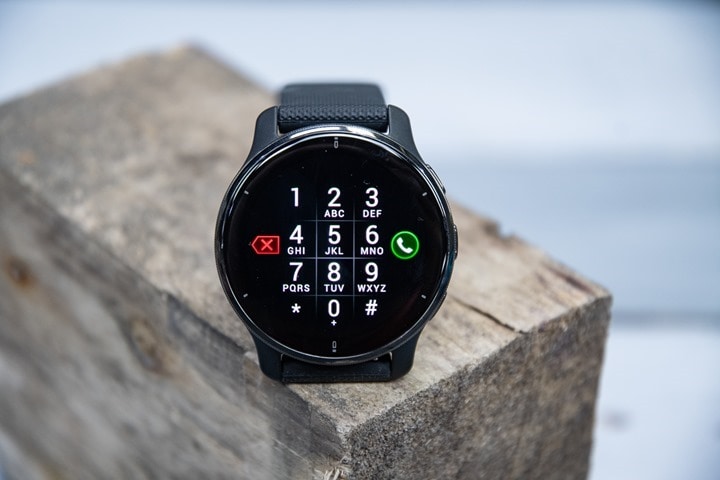 Otherwise, you've got your contact list. Note that this is actually a subset of your contact list, and one managed within the Garmin Connect mobile app, that allows you to select from your main contacts. The (logical) reason for this is that if your main contacts list is anything like mine, it's got hundreds of contacts in it, which would be cumbersome on a watch. So you can pick the ones you'll most likely dial here: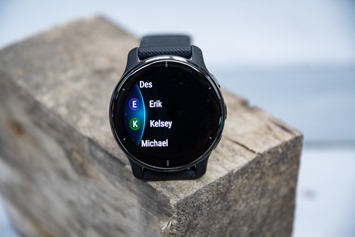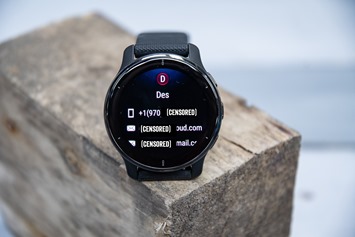 Once you tap on a name, it'll call that person and you can have a chat with them. From an audio quality standpoint, it's acceptable. It's not fantastic, but it's not horrible either. It's just "fine". In placing calls to a few friends, everyone found it perfectly fine to hear what I said, and I was able to hear what they said. Again, there's some samples of this in the video.
For an incoming call, you'll simply tap to receive it on your wrist, which will leverage that speaker/mic instead of your phone.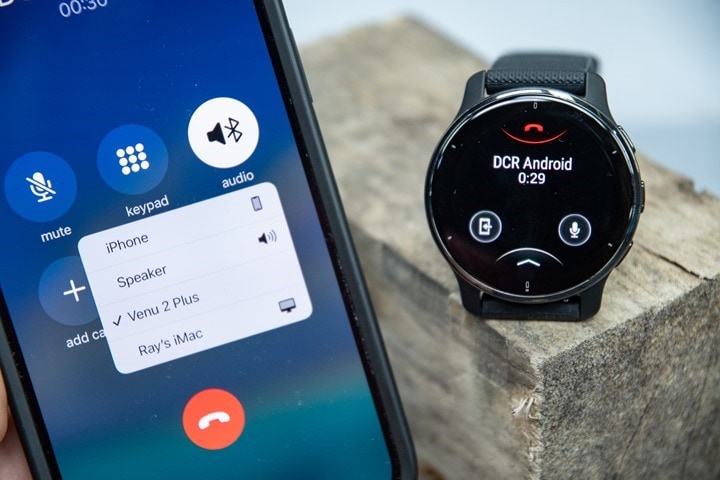 Next there's the ability to play music from the wrist. You can take any music you've stored offline on your Venu 2 Plus (such as Spotify, Amazon Music, etc…), and play it. When you tap play, it'll ask if you want to play it on the speaker, or headphones (if headphones are connected, it'll just play there automatically). No phone is required here.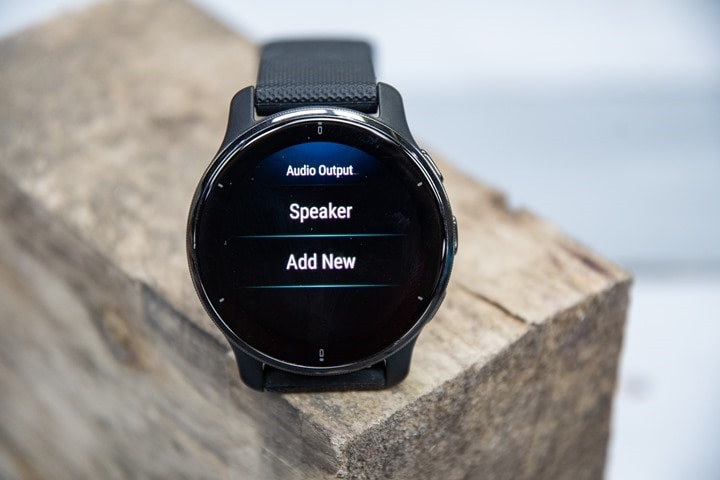 The speaker quality here is perfectly fine, and I found the music actually ends up sounding a bit better than a voice call – probably because all the instrumental bits kinda cover up things slightly. Overall, this was more than OK for listening to music by myself when I didn't have my phone with me and didn't want to wear headphones such as perhaps running in the woods by myself, or such. I grant you the use cases are somewhat limited here, but it's no different than the use cases for people listening to music on their Apple Watch today (which plenty do).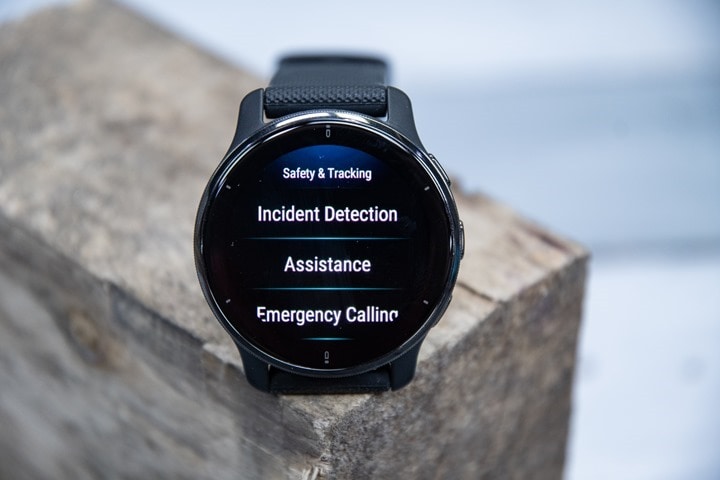 Finally we've got arguably the most interesting update which is the ability for you to trigger safety assistance features and use the speaker/mic. When you configure this you've got two basic options:
A) Call 911 (or whatever the emergency number is in your country)
B) Call a specified emergency contact
So these features build atop Garmin's existing safety features that previously would send your emergency contacts a text message with your current location as a new LiveTrack session. And in fact, it still does that. They'll still get that message, but now you can choose to call someone too. This can be triggered via the following ways:
A) Manually from controls menu
B) Silently with an extra-long hold from the upper right button
C) Automatically after a detected crash (you choose which sport profiles)
In all scenarios, it'll give you the option to call or text, however, if you don't choose within 5 seconds, it'll default to sending a message to your list of contacts. Remember, both still require your phone be within Bluetooth range, since it leverages the cellular connectivity. But this is handy if you're phone is in a bag or pocket that you can't reach (due to a crash or such).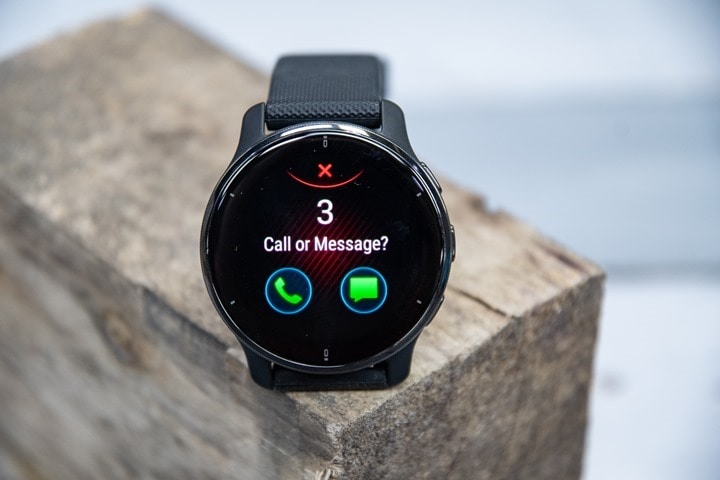 When it makes the phone call for you, it's simply connecting the line. It doesn't speak anything for you, nor does it give some sort of automated voice messages to 911. It's just opening a phone call that then you talk on. Meanwhile, it'll text a new LiveTrack session with your exact current position (as well as historical position). That LiveTrack will stay alive until you end it. So if you get a ride in an ambulance, it'll show your friends which hospital you're going to. Or, if you were being kidnapped, it'd continue showing your moving location until you ended it.
Note that *none* of this leverages Garmin's International Emergency Response Coordination Center (IERCC) though, as it does with the Forerunner 945 LTE (that has LTE in the watch itself). Just wanted to be clear about that. Also, as before, you can still toggle which sports will trigger fall detection within the greater incident detection categories. I haven't had any false-positives to date on the Venu 2 Plus.
Ultimately, I see the voice/speaker/mic integration bits as Garmin's first step towards using these features as a standard baseline moving forward into the next few years. Still, for a first go at things, they're pretty darn solid and seem to cover the major scenarios pretty well – with a speaker that seems fine enough.
Sport Usage: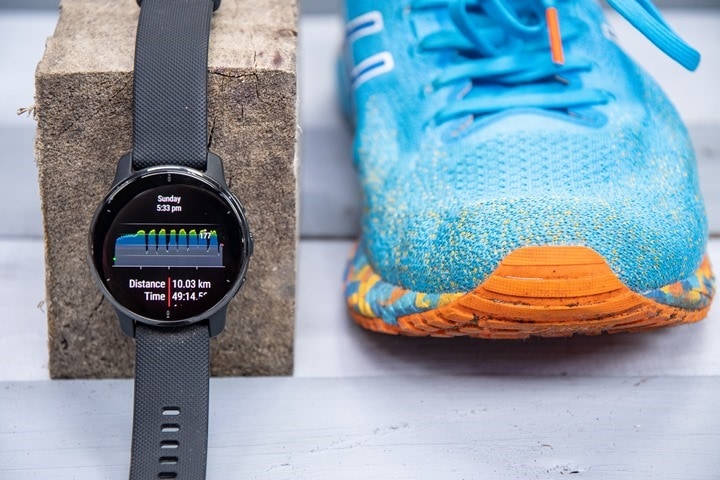 For most people, the reason you'd choose a Garmin watch over one of their competitors is the sport features (albeit, sometimes also the battery life). Thus for this section we're going to dive into the sport and fitness features in more detail.
The Venu 2 is part of the larger Vivo family of devices, which means it tries to be a more mainstream version of their Forerunner series devices that target runners and endurance athletes. Thus, Garmin will often introduce features with wider appeal in these devices (like the Health Snapshot feature on the Venu 2, before they added it to other watches this past fall). Inversely, some features that are more sport-specific aren't here, despite being on lower-priced Forerunner watches from Garmin. For example, you won't find an outdoor track running mode, or basic training load, like you would on a Forerunner 245 that costs $ 100 less.
Note however, that there are zero new sport/fitness features in the Venu 2 Plus compared to the Venu 2. It's identical in every aspect that way. This is somewhat disappointing, though by the same token, Garmin has added features to the Venu 2 series since launch last spring. For example, this past fall they added Bluetooth broadcasting, as well as a smattering of new watch faces. Though it's been relatively minor compared to most other watches and bike computers that Garmin releases.
To begin, you'll simply tap the upper right button, which shows the full sport listing. You've got favorites that appear first (you define your favorites, and can edit them whenever you like).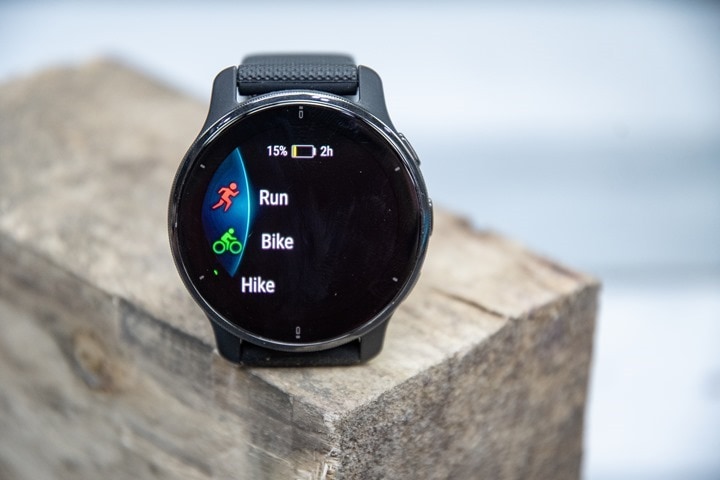 Here's the full sport list, which generally have both features specific to them, as well as calorie burn calculation unique to them. For example, in downhill skiing you'll see data fields like total descent and runs (ski runs), whereas in pool swimming you'd have stroke rate and pool-size details to configure:
Run, Treadmill, Bike, Bike Indoor, Strength, Cardio, Navigate, Breathwork, Health Snapshot, Walk, Walk Indoor, Indoor Track, Floor Climb, Pool Swim, HIIT, Hike, Yoga, Pilates, Elliptical, Stair Stepper, Climb Indoor, Bouldering, Row Indoor, Row, SUP, Golf, Ski, Snowboard, XC Ski, Hydration, Challenges, Other.
The Venu 2 series supports a variety of both ANT+ & Bluetooth Smart sensors. This hasn't changed with the Venu 2 Plus.  The unit supports Headphones (Bluetooth audio devices), Heart Rate Sensors, Speed/Cadence, Foot Pod, Tempe (Temperature), ANT+ Cycling Lights, ANT+ Radar, and golf club sensors. As with other Venu/Vivoactive devices, Running Dynamics sensors are not supported here either.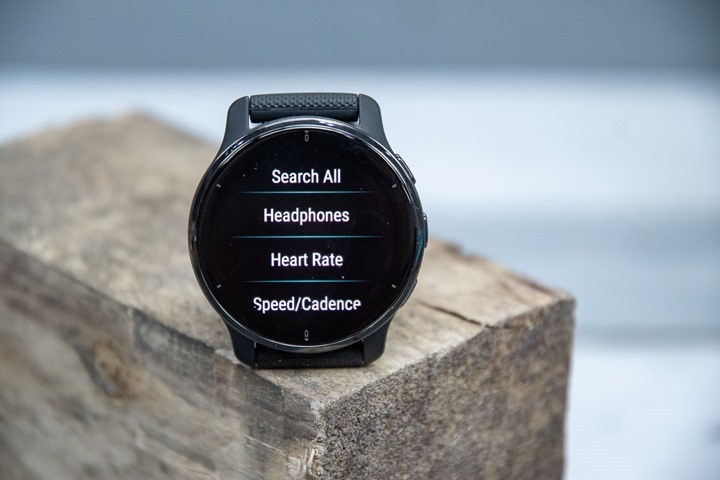 You can save sensors and rename them, as well as save multiple of the same sensor type. For example, if you had multiple bikes, or perhaps different heart rate straps.
The Venu 2 Plus supports re-broadcasting your heart rate as both ANT+ & Bluetooth Smart, which Garmin added to the Venu 2 series this past summer/fall. This is handy if you want to use the heart rate sensor in the watch with other apps, for example Zwift or Peloton. Here you can see this below in both, showing up in the pairing menu as a Bluetooth sensor: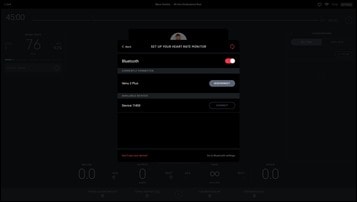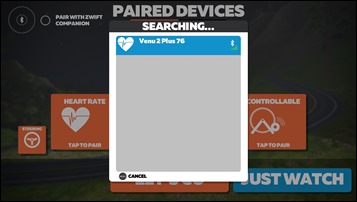 For the Peloton Bike/Bike+/Tread/Tread+ hardware, it actually supports ANT+ heart rate sensors too, so you'll see it there listed by both. Whereas if on an Apple/etc device that only supports Bluetooth smart (such as my Zwift Apple TV session above), you'll just see the Bluetooth connection.
Anyways, back on our workout front, we'll choose to do a run. From there the GPS will go off and acquire signal, which generally just takes a few seconds. You'll also see the little heart rate icon, which will stop blinking once it's got HR lock. Any sensors you might have had paired will automatically connect too.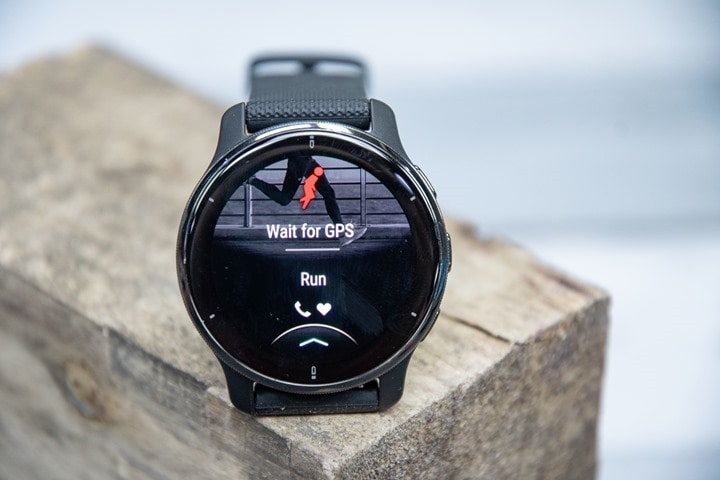 You could press start to begin recording your workout, or you can swipe up to access structured workouts. Garmin pre-loads a couple of run interval workouts, or you can easily create your own on Garmin Connect, or download various training plans too. Here's some of those pre-loaded ones: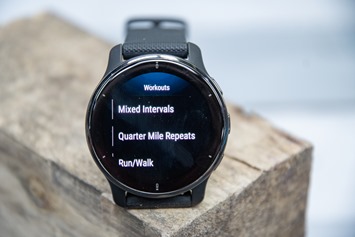 But realistically, those three pre-loaded ones are just the tip of the iceberg of ones you can pull from the Garmin Connect app. However, all of the running ones are part of larger training plans (which are free). Whereas there are 81 different strength, yoga, Pilates, and HIIT workouts.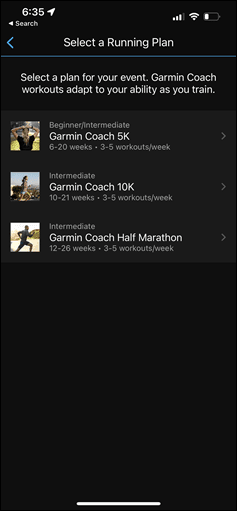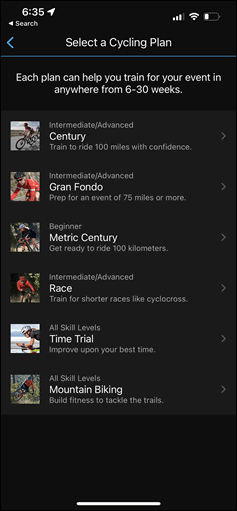 In any case, if you do a training plan, those workouts will automatically appear here based on their correct calendar day. As well as any 3rd party platforms (like TrainingPeaks or TrainerRoad) that push workouts to your Garmin account.
When it comes to customization of data screens mid-workout, there are three customizable data screens, each with up to four data fields. In addition, there's an HR zone gauge. This is on a per-sport profile basis. Meaning your running data page would look different than your strength or yoga data pages.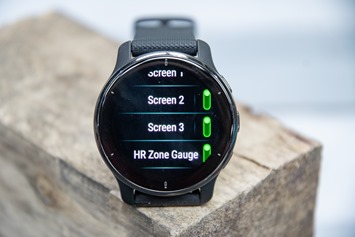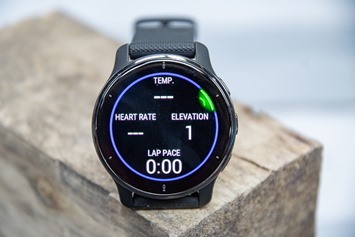 You can also configure alerts for heart rate, run/walk, pace, time, distance, cadence, and calories. Which is different than auto-lap, which can be configured for a distance of your choosing, all the way down to 0.10 miles to 99.99 miles. Most of us probably just leave it on 1mi/1km. Or, simply turn it off altogether and manual lap instead (or, do both). There's also auto-pause and auto-scroll (which automatically iterates through your data pages).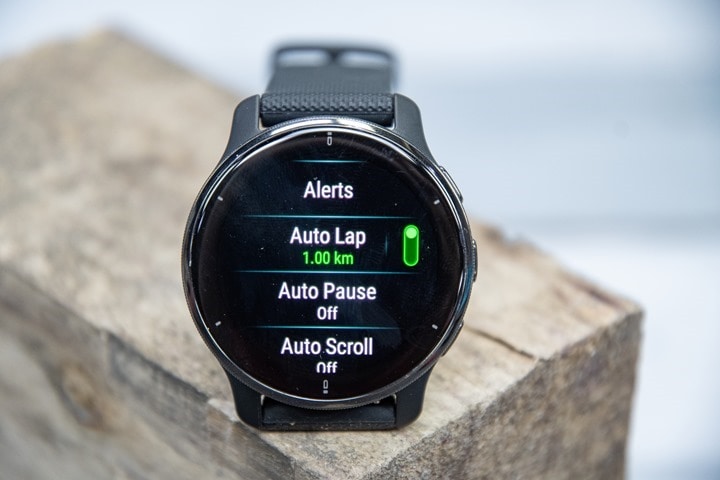 Also, you can enable LiveTrack to automatically notify a predefined list of recipients every time you start a workout, which sends them an e-mailed link with your exact position and historical data for that workout (including heart rate/pace/speed/etc…). Note that the Venu series doesn't support courses, so it doesn't send them that.
With all that set, we'll tap start to begin, and then we'll get data displayed on our wrist updated every second. This is also recorded of course for later access. You can swipe up/down to iterate through the data pages: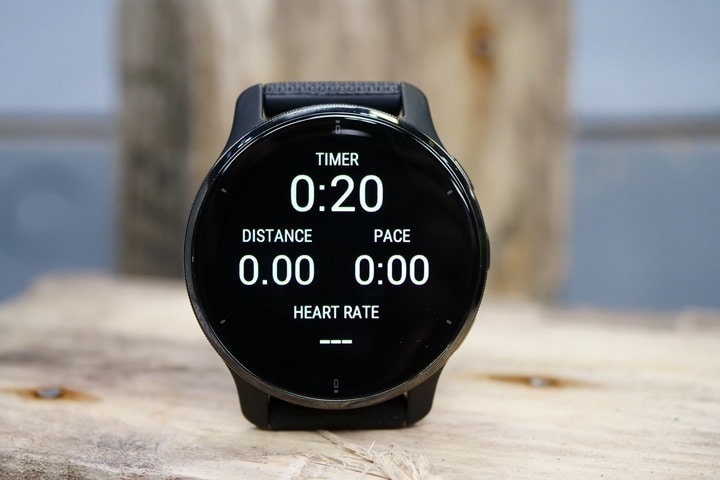 From a pace stability standpoint, it was perfectly fine for me across a wide variety of runs and runs.
Similarly, screen visibility was good. This was true of both night workouts using the backlight, as well as true in the sun – even out at high altitude or beach-front on an island with summer-like weather in the middle of the Atlantic ocean. The only caveat was the slight delay for moderate brightness to full brightness as you raise your wrist with always-on mode. Though, being more winter now it's less of an issue than mid-summer runs (in general, displays do better in darker weather than sunnier weather – but neither was an issue here).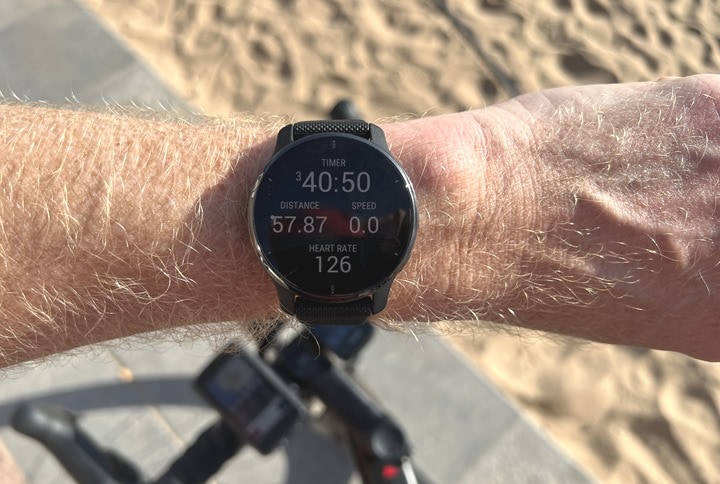 Once at the end of a workout, you'll get a small summary of your workout. This includes both an outline map of your route (if outdoors), as well as a heart rate graph (for all workouts):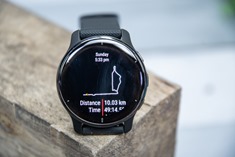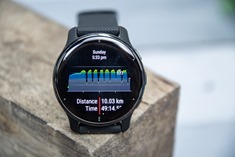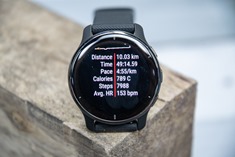 In addition, you can look at lap and summary information. Though, the bulk of the information is instead on Garmin Connect, either the smartphone app or desktop apps. Here's a look at an interval workout I did a few weeks ago, showing both the GPS-related data as well as the heart rate throughout the intervals.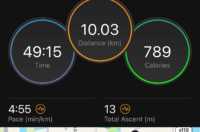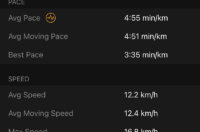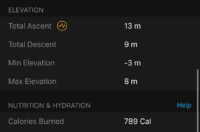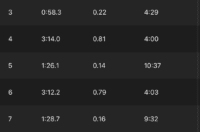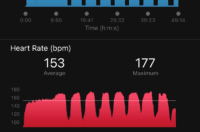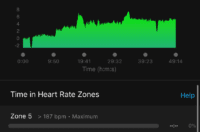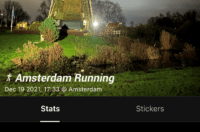 Switching up sports a bit, one of the things that Garmin expanded significantly with the Venu 2 series was the Strength and HIIT training activities. You'll see these are both individual sports listed like any other, but in reality they have a pile of additional features behind the scenes once selected.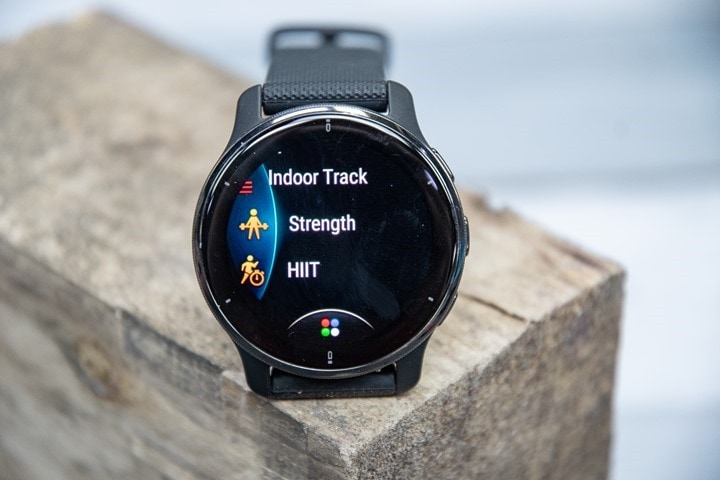 For example, if I choose the HIIT workout type, I'm then able to select the type of HIIT training I want to do – Free, HIIT Timers, or Workouts:
The HIIT Timer option then lets me pick from AMRAP (As Many Rounds as Possible), EMOM (Every Minute on the Minute), Tabata (20s on, 20s off), or Custom.
If I select the HIIIT Workout type, then I'm able to choose from a small pile of pre-loaded workouts. But again, remember earlier there are boatloads of additional workouts you can grab from Garmin Connect (for free), or, you can also cobble together your own workout using Garmin Connect's workout builder.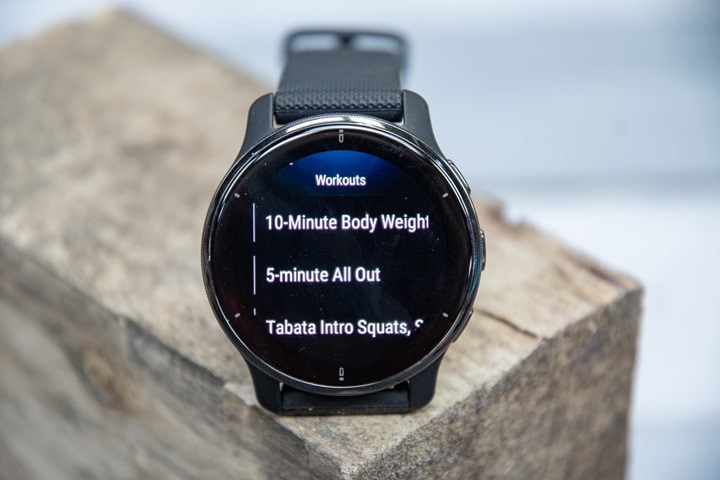 After selecting one of the options, you can see the exact steps in that workout: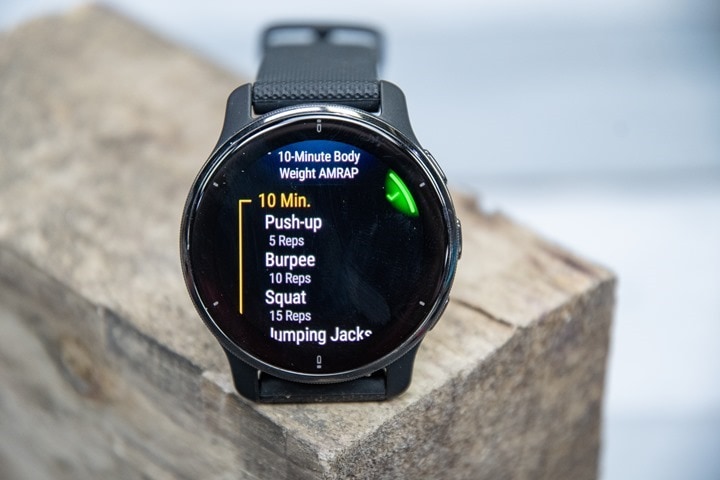 The same is true of strength training too. For example, another small pile of workouts to choose from, with yet more online: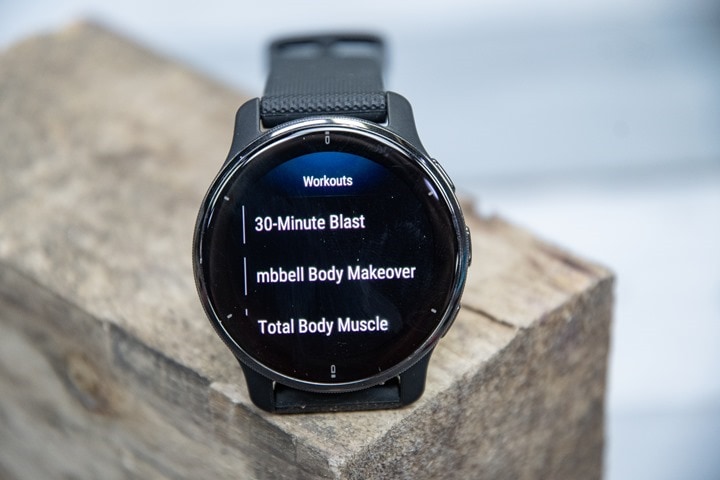 For each step in the workout, you can see which muscles of the body are being worked: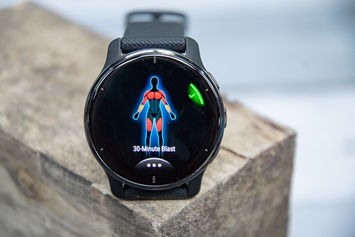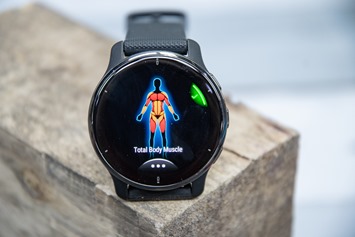 Once you're ready, go ahead and ensure heart rate lock (in other words, don't leave your watch sitting on a wooden block getting an Instagram photoshoot). And then press start. It'll give you a heads up on which step is first: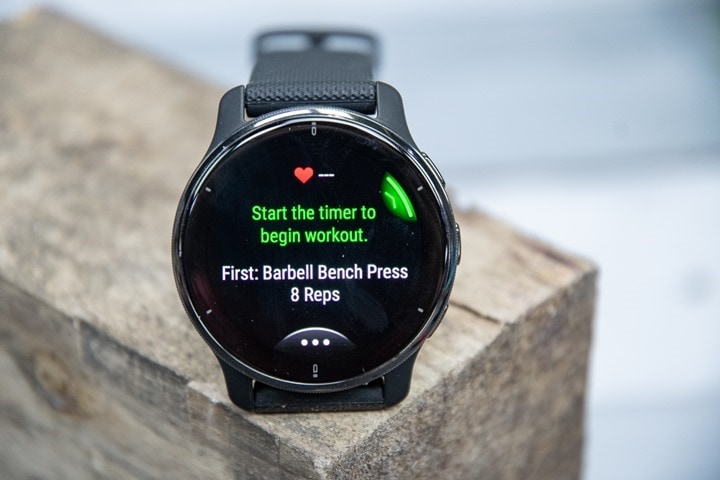 Each step will show the number of reps to be completed, as well as total sets, plus again – what step is next. In addition, for every step you can see what exactly in the body will hurt later, as well as how exactly to do the step with a small animation. While undoubtedly most people know how to do a pushup, the reality is there are probably 100 other different moves that the majority of folks (including myself) won't execute correctly each time.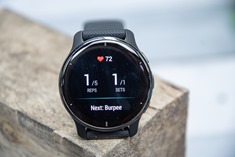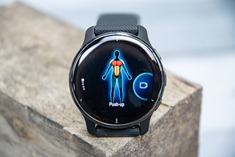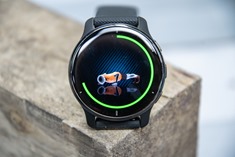 This same animation concept was used previously on the original Venu watch for Yoga, Strength, and Pilates.
On a workout involving weights, once done with the entire workout, it'll save the full rep details and you can specify exactly how much weight you used.
And of course, all this will sync off to 3rd parties like Strava, TrainingPeaks, and plenty more, automatically. That usually happens a few seconds after the workout uploads, which usually happens a few seconds after I press save.
Music & Contactless Payments: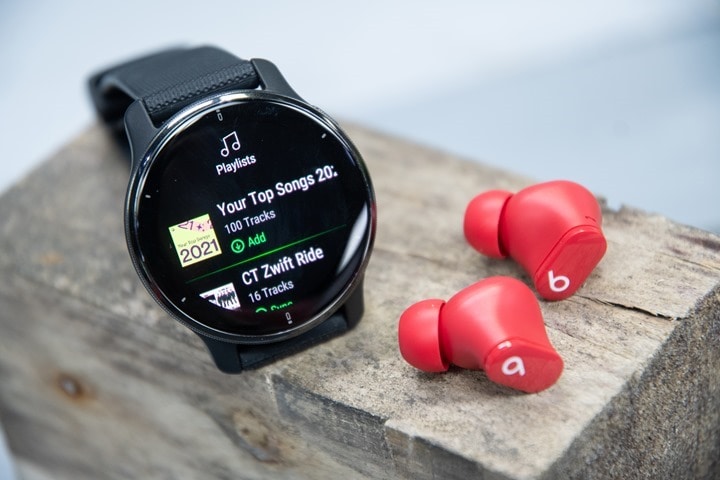 The Venu 2 Plus carries with it the same music and contactless payment features of the Venu 2/2S. The only difference though now being that you can play music out of the speaker directly, as opposed to requiring Bluetooth headphones. Music options remain the same with offline Spotify, Deezer, Amazon Music, as well as any of your own MP3's. Meanwhile, on the contactless payments side, that continues with Garmin Pay, where you can load your bank cards – assuming they're supported. These days, the biggest banks in the US and many other countries are supported though.
Starting on the music front, you've got a couple of different ways you can access music. In my case, I primarily use Spotify, so it only took a few seconds to link up my Spotify account. A Spotify Premium account is required though for doing offline music to your watch (thus, no phone required). Once connected though, you can choose which playlists you want to sync.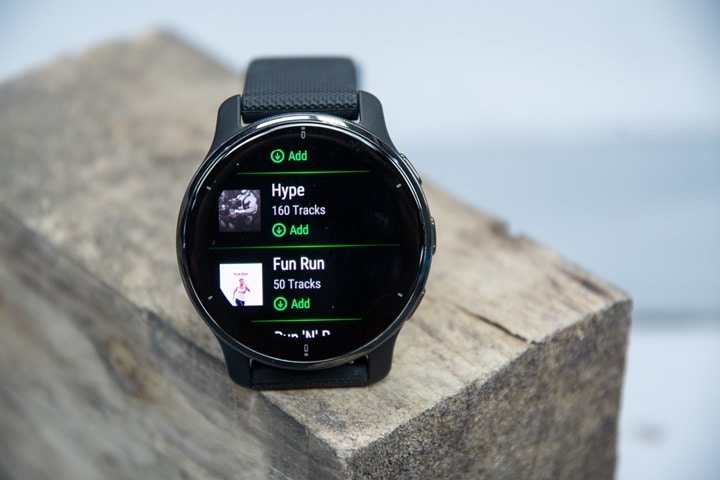 You can also use Spotify to download podcasts, which is a handy way of doing it versus the regular Garmin podcast feature that requires a computer to sync the podcasts. With all music streaming services it'll leverage WiFi for the music sync. In general, the simple math is about 5-10 seconds per song to download (so about 10 songs per minute (speed varies based on the length of the song and other factors. You'll just choose which playlists you want, and then it'll go off and download them. As long as the Spotify app checks in once per 30 days, your music stays valid.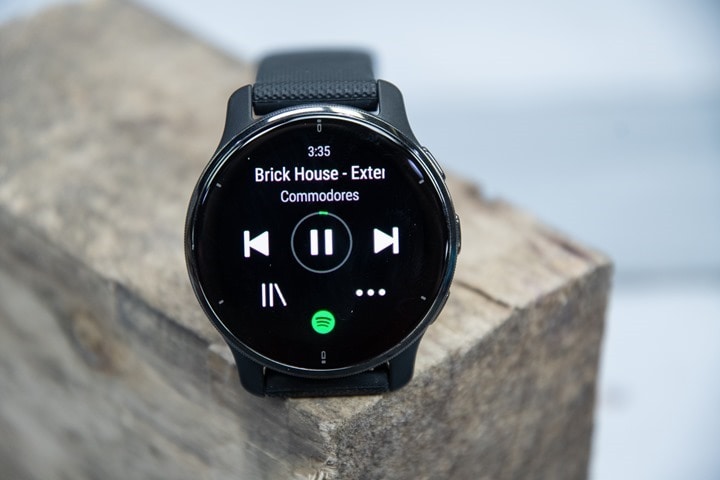 Behind the scenes, the Spotify app will also update the music list over WiFi when you connect your Venu 2 Plus to a charging cable, so that it's always in sync for dynamic playlists that get regularly updated.  You can download multiple playlists from multiple services (plus manually load music on the watch using a USB cable, such as MP3 files. Like the existing Venu 2, the Venu 2 Plus has 7GB of storage space, with slightly less than that usable once you consider operating system bits.
Now for most people, you won't use the speaker to play music. Sure, you can, but the quality is so-so. Thus, you'll probably want to pair up some Bluetooth headphones, or any other Bluetooth audio device. You can pair/save multiple headphones if you want, such as a pair of sporty headphones and then non-sporty ones. The music menu will automatically prompt you to do this, or you can always manage headphones in the sensors menu (the same place you'd manage heart rate straps).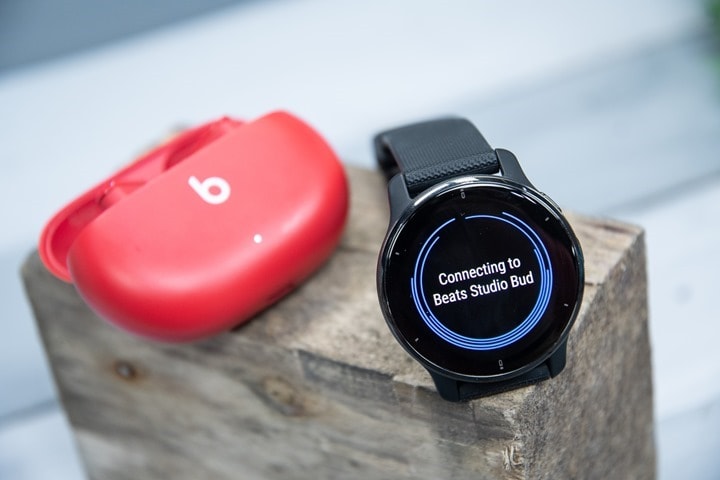 Once you're ready to play music, you can go to the music controls from numerous ways, such as a shortcut button, the controls menu, or the music widget. Once inside of that, you can choose the playlist you want, and skip songs. You can also play/pause and change volume, and change the play order (e.g. shuffle, repeat, etc…). This is accessible both within a workout and outside of it in regular smartwatch mode (such as just sitting at your desk).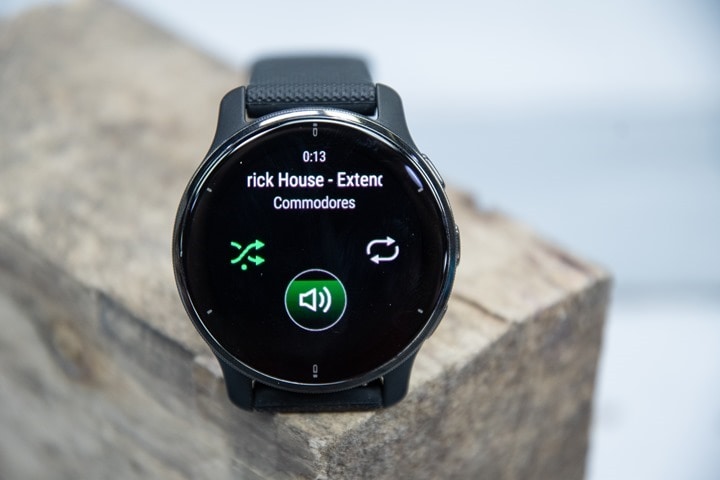 Finally on the music front, as noted in the speaker section, you can play music directly from the watch itself. All you need do is choose 'Speaker' when you tap play from the music menu. As long as you don't have your Bluetooth headphones turned on at that time, it'll play from the speaker as the default option.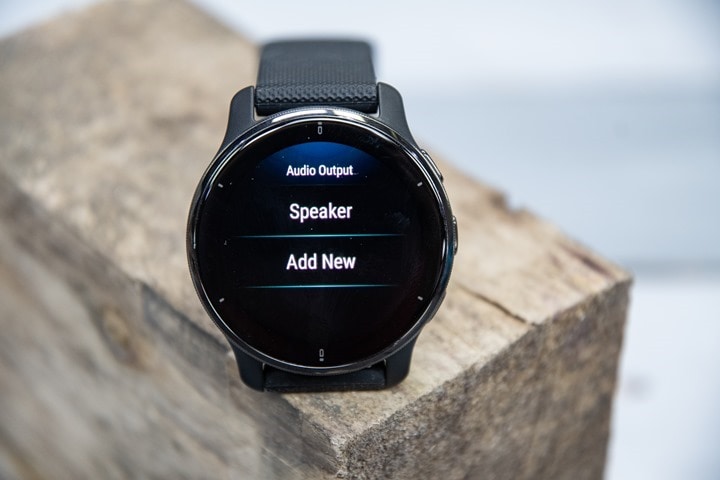 Like I said earlier, the speaker quality is fine. Nothing great, but not horrific for a wearable. I could see folks perhaps using it when they go out for a run or something and either don't want to wear headphones, or simply forgot to charge their headphones. This would work in a pinch.
Now, switching gears a bit you've got contactless payments. These use NFC, and in Garmin's case their payment platform is called Garmin Pay. It's essentially no different than Apple Pay or other payment platforms, and is generally supported anywhere you go as long as the card itself is supported by that merchant. And in fact, that'll likely be your main limiter in terms of usage: Whether or not your credit card is supported.
For this, you'll need your bank to be supported by Garmin. That's many of the big banks in the US, but beyond that it varies quite a bit. It's hit or miss. A full list is here.
In my case, my Netherlands bank (ING) isn't supported (still). However, my US Visa credit cards (Chase) are supported. My French Bank account (HSBC) isn't supported, nor are some of my US local banks. Ultimately, this requires Garmin going to every single bank worldwide and get them onboarded. It's not just a blank Visa/AMEX/Mastercard type thing. Hence why it's hit or miss.
In any case, adding a bank takes about 2-3 minutes, so I added my US Chase card instead. As part of the setup process you'll create a pin code to use when making a payment. This pin is only used when you actually go to tap and make a payment, so it's not something used throughout the rest of the day. And as long as the watch stays on your wrist, it won't ask you for the pin for another 24 hours.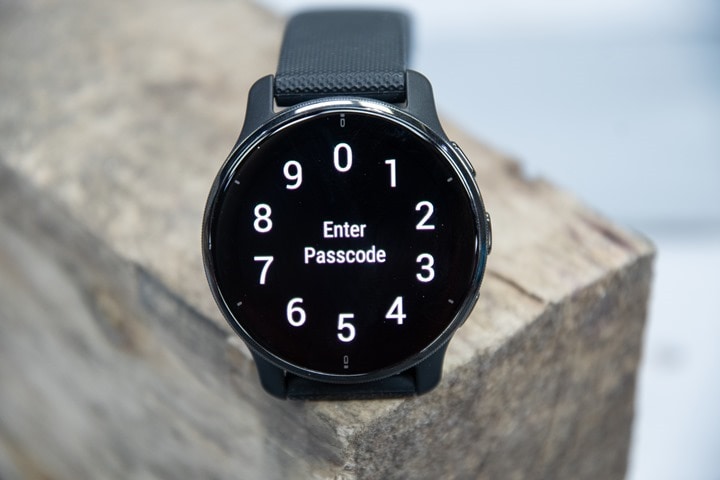 You can access the wallet either from the controls menu, or by assigning a shortcut key to it.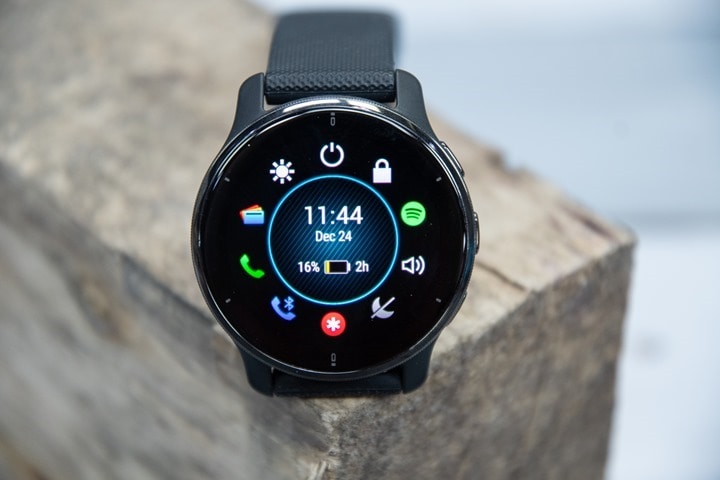 After which you've got 60 seconds to complete you're transaction by tapping the NFC reader: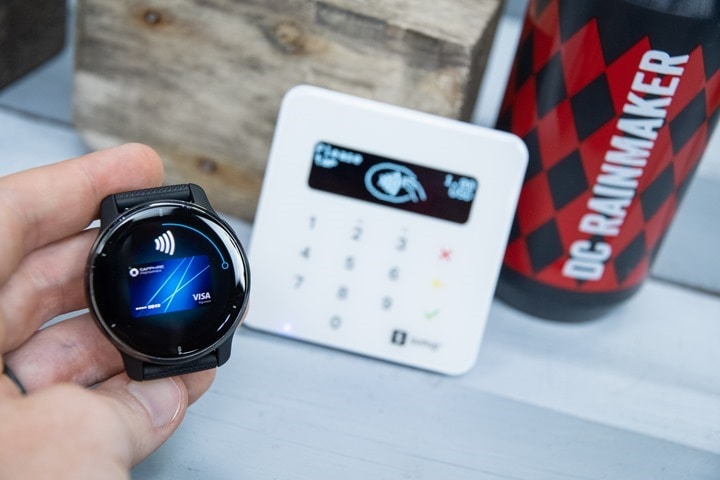 After which it'll give a successful green ring of win, indicating the payment completed.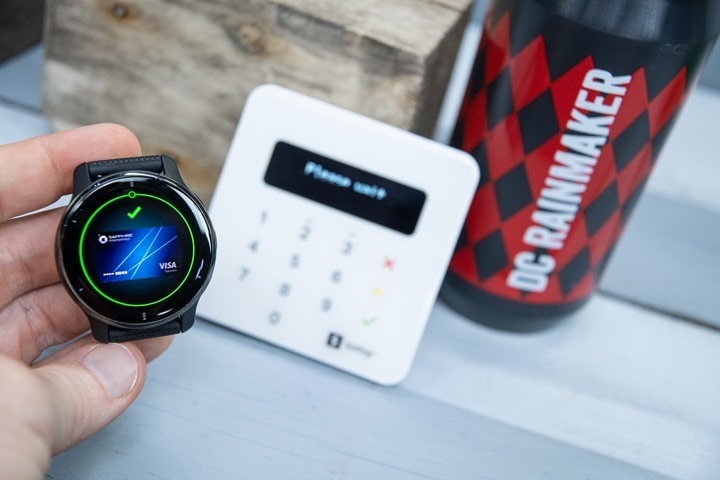 While you won't get any payment receipt on the watch, you can see it later in the Garmin Connect app under 'Recent transactions' within the Garmin Pay details.
For most people, they tend to use this type of functionality on their watches for well-known establishments that support contactless payments. For example, at a certain café or coffee shop they might stop at after a run (skipping bringing a wallet or smartphone). As always with contactless payments, I wouldn't depend on an unknown shop/merchant supporting NFC payments – since ya never know what will actually be available. Inversely, this is also handy simply as a backup in case your phone dies and you don't have a credit card on you.
GPS & Heart Rate Accuracy: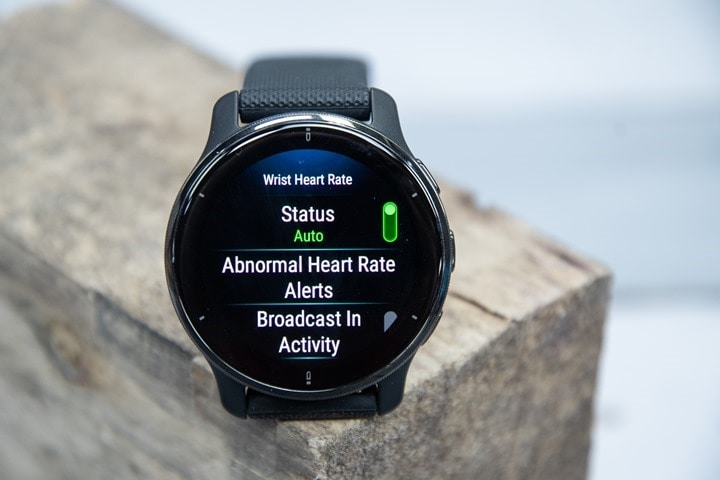 In this section I'm going to look at the accuracy of the optical sensor, as well as the accuracy of the GPS. The optical sensor here is of course new, as outlined earlier – Garmin's Elevate V4 sensor. The GPS chipset is still Sony, though Garmin has implied in conversations it's a very slightly updated version over what was in the original Venu.
For all these tests, I've got multiple other recording devices and sensors. As always, no two watches are on the same wrist so as to not interfere with each other. Extra watches are either worn elsewhere on the body (like a running pack) or bike (handlebars), or sometimes hand-carried. Those watches not on the wrist are collecting heart rate data from connected HR sensors/straps.
With that, let's dive straight into an interval workout. Outside in the winter. Which is essentially the quickest way to cause pain for an optical HR sensor. In this test, I had an Apple Watch Series 7 on the other wrist, as well as a Polar H10 chest strap being recorded by the Forerunner 745. For GPS I had an additional COROS Vertix 2, and my phone too recording using the Polar Flow app. Note that the Apple Watch had Bluetooth disabled, so that it only used the internal GPS inside the watch. Here's that data set.
Looking at the heart rate, you can see I did intervals (800m) for the workout, which is always a good test of things. Looking at the beginning of the workout, the Apple Watch struggles a fair bit, which is not surprising given it does not begin to acquire heart rate until after you press start.

However, once it sorts itself out, about 3 minutes into the workout, it's onboard the interval train. You'll notice that for Interval #3 above (though, zoomed in as interval #2 below), that the Venu 2 Plus misses the start of one interval. For some of the later intervals, the Venu 2 Plus was a bit more latent than the Polar H10/Apple Watch as I entered the cool-down. The Apple Watch also however overshot many of the intervals, which appears to be doing some minor cadence lock (where an optical HR sensor incorrectly latches onto your running cadence instead of your heart rate).

I suppose you're effectively deciding which bit of incorrect data is preferred. In the case of the Venu 2 Plus, it correctly gets the 'main'/work portion of each interval actually (arguably, the part you care about). Though, it undercuts/overcuts most of the ramp portions of each one.
Looking at the GPS side of that track, at a high level, things look pretty good: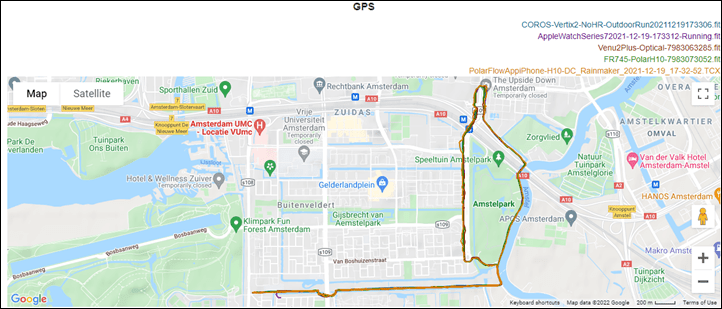 However, the devil's in the details as we zoom in. For example, on the straightaways the Venu 2 Plus/Apple Watch Series 7/FR745 all did solidly. However, the COROS Vertix 2 was off in the canal (despite being in dual-frequency mode). We're not talking major amounts here, but certainly a bit wet.

Meanwhile, a bit later on some giant underpasses under the main highway into Amsterdam as well as train tracks, all the units do great here.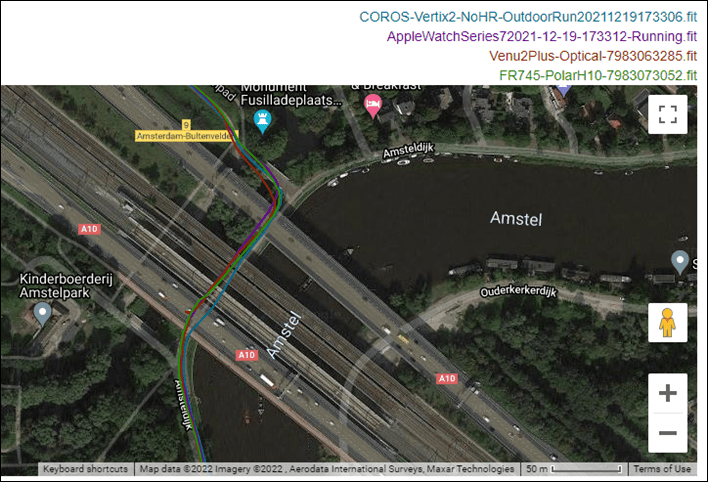 A short bit later near some tall buildings, there's a bit of struggle between the units. And frankly, they were all hit or miss in this section. None were off hugely, at most perhaps 5-7 meters. But you can see they took turns plowing through structures or trees, or being run over by cars.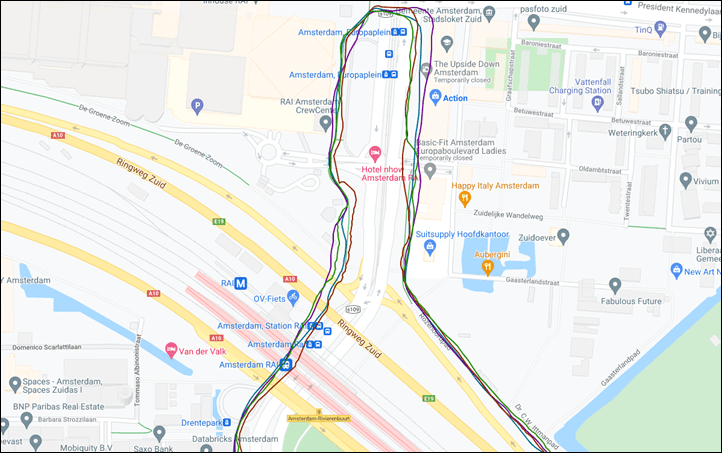 And then to switch things up, while the COROS was off in the canal earlier in the run on the straightaways, for this section it was the Venu 2 Plus that was offset by about the same distance. Albeit, this was under the trees rather than being wet.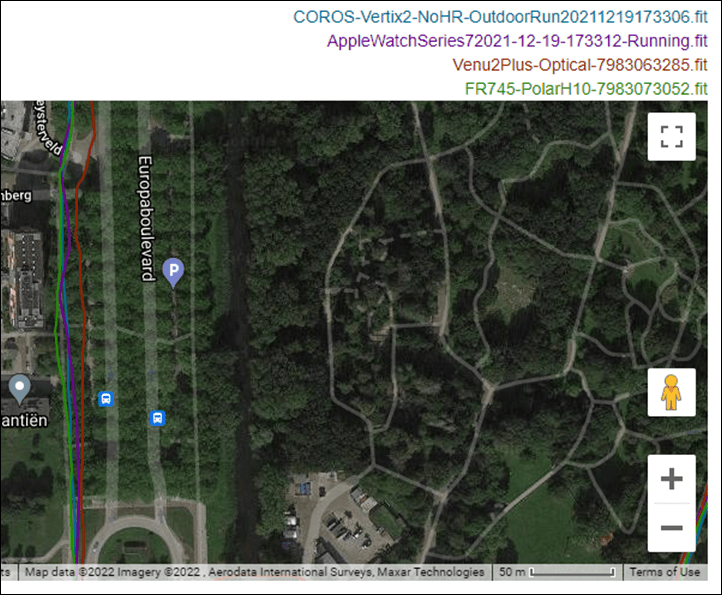 Looking at the distances at the end of the run, they ended up pretty close – save the iPhone using the Polar Flow app, which was some 600m off. Albeit, that was in my pocket, so we can't blame it entirely. The total spread on 10KM was 50m between the watches, so that's respectable. No massive errors here.

Moving on to another outdoor workout, we've got a coastal run. This is notable as it's up against various cliff sides, plus a tunnel for good measure. This one only had one other competitor, but that's OK. It was the COROS Vertix 2, using dual-frequency GPS. So it's a good test to see how that might handle the tougher cliffs. Here's the GPS data set at a high level:

The beginning and ending of the run is interesting, in that it goes through a tunnel to reach the seaside. In this case, the Venu 2 Plus almost nailed it both ways, whereas the COROS Vertix 2 meandered upon the exits both times off-course. Not a gigantic amount, but a building's worth or two.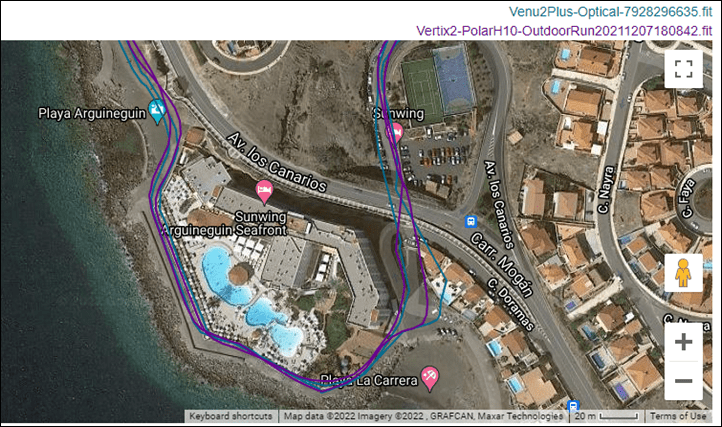 As we rounded the corner, against the seaside cliffs the height of 8 story buildings (which, is hard to see on a satellite image), both were actually really close to the actual path and each other. All good there. Albeit, heading across an empty parking lot the Vertix was slightly more accurate (the Venu 2 Plus was only off a couple of meters at most).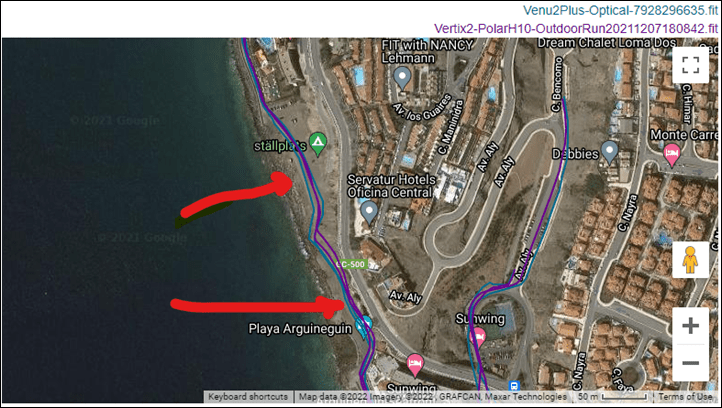 As we ran down onto a beach, the Venu 2 missed my turns a bit compared to the Vertix. In this case, perhaps by 10-20 meters or so. Whereas the Vertix 2 track was closer to life. After that point, for the remainder of the run, the two tracks were virtually identical on this out and back section along the waterfront.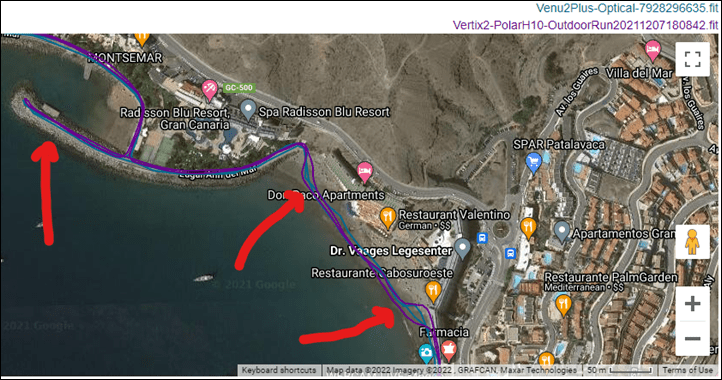 Meanwhile, if we look at the heart rate plot, the COROS Vertix 2 was connected to a Polar H10 chest strap. This is a good rare example of where lack of moisture can cause chest straps to struggle. This was a run at sunset in cooler weather with a slight bit of breeze. Thus, very dry. The Venu 2 was correct in all scenarios here except the latency around the 3-minute marker when we stopped to take a photo (the big dip there). But all the other 'drops' from the H10 are incorrect, and especially missing the 180bpm section at the end, which was a sprint uphill. The Venu 2 Plus nailed all those.

Next, we'll head indoors for an interval workout on the treadmill for an hour. We'll keep this one to a single image, cause frankly it's pretty self-explanatory and obvious. At the beginning, the Venu 2 Plus seems to fumble the first few minutes, which was a very low-speed jog/walk warm-up. That said, I'm also surprised, as 120bpm (what the others all say), would be exceptionally low for me, even in a jog. So I'm suspicious there that the Venu 2 Plus might have actually gotten it right. But it'd be exceptionally rare for the Apple Watch Series 7, Polar H10, and Whoop 4.0 all to be that close to each other and be wrong. It's just hard to know with a difference of 'only' 10bpm this early in the workout. Here's that data:

Next, here's another interval-laden workout, this time on an indoor trainer with TrainerRoad. You can see it nails this without issue:

Lastly, we've got a 3hr+ outdoor ride. Well, it was supposed to be a ride. But it ended up being more like 3hrs+ of cyclocross, with some hiking involved. For this data set, I'm going to focus on the riding portions of the adventure, rather than the portions where I hiked for an hour holding a bike over my shoulder. Anyway, here's the first half of that ride:

As you can see, the going uphill portion (which is the entire chart above) looks really clean. Actually, incredibly clean for an optical HR sensor on the wrist while cycling. Only the slightest and briefest of blips the entire time. Really solid.
But what goes up, must come down. And after we finished our hike across barren landscapes very much not meant to see road bicycle tires with carbon rims, we went back downhill. And that's when, predictably, the optical HR sensor fell apart. Given my wrists were tight holding on the handlebars, while descending steep turns holding the brakes, the optical HR performance went down the crapper:

This is pretty much the norm for most watches when descending without effort.
On the bright side, the barometric altimeter performance was spot-on. This is compared to a Hammerhead Karoo 2, Wahoo BOLT V2, and Garmin Edge 830. The max spread is a mere 6 meters! That's across an altitude range from sea level (0 feet/meters) all the way up to 970m/3,181ft. Damn!

Also, if you'd like to look at the GPS track for that epic mountain ride, you can do so here, though from a data standpoint, it's boringly perfect. The Venu 2 Plus only made a single blip the entire ride in a mountain cliff area, as I did a random road-u-turn.
So ultimately, where do we stand? Well, I think looking at things, the optical HR performance is largely pretty good, except in known very tough wrist optical HR situations, like downhill descending. But largely almost all of my interval workouts on both ride and run were very close to the known good chest and other optical HR sensors on the arm.
Like both optical and chest-based sensors, you can occasionally see some warm-up struggles, though those were rare here. From a GPS standpoint, there was nothing of concern across either of these data sets, or other runs/rides I've done. Nor any issues with just random day-to-day bike commuting.
(Note: All of the charts in these accuracy sections were created using the DCR Analyzer tool.  It allows you to compare power meters/trainers, heart rate, cadence, speed/pace, GPS tracks, and plenty more. You can use it as well for your own gadget comparisons, more details here.)
Product comparison:
I've added the Garmin Venu 2 Plus into the product comparison database, allowing you to compare it against other products that I've reviewed in the past.
For the purposes of below, I've compared it against the Fitbit Sense, Apple Watch Series 7, and original Venu 2/2S  –  which are probably the ones most people will be comparing it against from a sports/fitness standpoint.
Note that many smartwatches – but especially the Apple and Samsung watches, have cases where 3rd party can be used to fill gaps. But figuring out which apps are here today and gone tomorrow is tricky, and ultimately, companies are selling their offering with the features they have at certain price points, so anything beyond that requires either time or money (or both) to bridge those gaps. That probably favors Garmin in fitness features, but inversely disadvantages them in non-fitness features. In any event, use this as a starting point on the devices themselves:
Function/Feature

Garmin Venu 2 Plus

Garmin Venu 2

Fitbit Sense

Apple Watch Series 7

Copyright DC Rainmaker – Updated January 3rd, 2022 @ 5:22 am New Window Expand table for more results
Price
$ 449
$ 399
$ 329
$ 399/$ 499 (cellular)
Product Announcement Date
Jan 4th, 2022
Apr 22nd, 2021
Sept 2020
Sept 14th, 2021
Actual Availability/Shipping Date
Jan 4th, 2022
Apr 22nd, 2021
Sept 23rd, 2020
Oct 15th, 2021
Data Transfer
USB, BLUETOOTH SMART, WiFi
USB, BLUETOOTH SMART, WiFi
Bluetooth Smart/WiFi for music
Bluetooth Smart
Waterproofing
50 meters
50 meters
50m
50m
Battery Life (GPS)
24 hrs (just GPS), up to 8hrs GPS+Music
22 hrs (just GPS), up to 8hrs GPS+Music (2S: 19hrs GPS/7hrs with music)
12 hours
7hrs GPS on time (18hrs standby)
Recording Interval
1s or Smart Recording
1s or Smart Recording
1-second
Varies
Dual-Frequency GNSS
No
No
No
Alerts
Vibrate/Visual
Vibrate/Visual
Visual/Vibrate
Vibration/Audio/Visual
Has Mic/Speaker
Yes
No
Yes
Yes
And again – don't forget you can make your own product comparison charts comparing any products using the product comparison database.
Wrap-Up: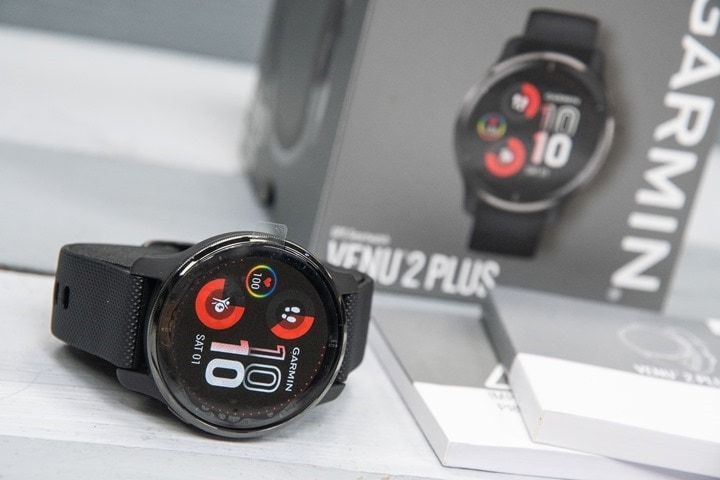 The Venu 2 Plus is undeniably a product Garmin has made to prove technology (voice/speaker/assistants), but also to better compete with Apple & Samsung smartwatches from a mainstream market standpoint. And there's nothing wrong with that, but unlike the transition from Venu 1 to Venu 2 where many existing Venu users would consider upgrading to the Venu 2 – I don't see that being the case for Venu 2 to Venu 2 Plus upgrades. I mean, unless you *really* want to talk to your wrist.
Which isn't to say it's a bad product. It's not. It's the best Venu/Vivo series Garmin has made, mainly because they took the already successful Venu 2 watch and added more features without seemingly compromising the existing features. Plus, they added more polish to the watch – both in minor software updates, but also equally important things like nuanced tones. Which I get it, tones may not be exciting – but as I've said for more years than I can count: It's the polish that makes users love their devices, even when they don't realize it. You instinctively know when something feels dated or unpolished. But most people don't realize though the minor touches of polish that make a product feel warm and fuzzy.
Still, there are gaps. Going into 2022 the Venu series lacks the cellular connectivity that Garmin rolled out on the Forerunner 945 LTE last spring. And they lack ECG found on almost every other mainstream competitor (even if we can debate the usefulness of that for the vast majority of people). And if we look at Garmin competing with companies like Whoop and Oura as more holistic health devices, the lack of skin temperature sensors will likely make Garmin unable to compete in some of the female health-related menstrual cycle and fertility prediction features, despite the fact that Garmin basically owns (and has led) the depth and detail of those features otherwise compared to their competitors.
Which ultimately leads me to believe the Venu 2 Plus is a perfectly fine stopgap product till the usual September release season, when there will probably be a more typically timed new Venu series product, which I'd hope would fill in most of those gaps. And that's OK. It doesn't take away from this product, as when it comes to sport and fitness features specifically, they are still far ahead of any other wearable that has voice-enabled features. Thus, if you're trying to narrow down options in the field, Garmin has removed the voice-related blockers, if those were a blocker for you.
With that – thanks for reading!
Found This Post Useful? Support The Site!
Hopefully you found this review useful. At the end of the day, I'm an athlete just like you looking for the most detail possible on a new purchase – so my review is written from the standpoint of how I used the device. The reviews generally take a lot of hours to put together, so it's a fair bit of work (and labor of love). As you probably noticed by looking below, I also take time to answer all the questions posted in the comments – and there's quite a bit of detail in there as well.
If you're shopping for the Garmin Venu 2 Plus or any other accessory items, please consider using the affiliate links below! As an Amazon Associate I earn from qualifying purchases. It doesn't cost you anything extra, but your purchases help support this website a lot. Even more, if you use Backcountry.com or Competitive Cyclist with coupon code DCRAINMAKER, first time users save 15% on applicable products!
Here's a few other variants or sibling products that are worth considering:
And finally, here's a handy list of accessories that work well with this unit (and some that I showed in the review). Given the unit pairs with ANT+ & Bluetooth Smart sensors, you can use just about anything though.
And of course – you can always sign-up to be a DCR Supporter! That gets you an ad-free DCR, access to the DCR Quarantine Corner video series packed with behind the scenes tidbits…and it also makes you awesome. And being awesome is what it's all about!
Thanks for reading! And as always, feel free to post comments or questions in the comments section below, I'll be happy to try and answer them as quickly as possible. And lastly, if you felt this review was useful – I always appreciate feedback in the comments below. Thanks!