xxxVIDEO
It's landed, the watch the 1% have been waiting for: The $ 1,900 Garmin MARQ Athlete, 2nd Gen edition. This watch builds upon the previous Garmin MARQ & CHRONOS lineups of fancier Fenix variants, but now switches over to the Garmin Epix series as the underlying platform. The previous MARQ editions were based on the Fenix 6 series. Of course, the Epix and Fenix 7 units are virtually identical in terms of features, just with different displays. The Epix-based MARQ Athlete now utilizes the AMOLED display instead.
As with the previous MARQ editions, the differences are almost entirely based in hardware and the outwards design of the watch. Aspects like case materials, buttons, and even a new charging port/cable that's massively faster than any other Garmin watch. However, this time there is a singular new software feature being launched on the Garmin MARQ series – a jetlag advisor. And ironically enough, I'm writing this from Boeing 777 at 36,000ft headed across the Atlantic Ocean – a perfect time to show how this all works. But fear not, this feature will also be coming to other more normally priced watches too.
First though, note that this watch is a media loaner, and it'll go back to Garmin shortly. This review is not sponsored (nor does any company get to preview anything I review), and I don't take any advertiser money from any companies I review. And as regular readers know, if something is crap, I'm gonna tell it brutally like it is – no matter the brand. Once this unit goes back, I'll go out and get my own for any future testing needs (though, usually I don't go out and buy MARQ watches). If you found this review useful, you can use the links at the bottom, or consider becoming a DCR Supporter which makes the site ad-free, while also getting access to a regular video series behind the scenes of the DCR Cave. And of course, it makes you awesome.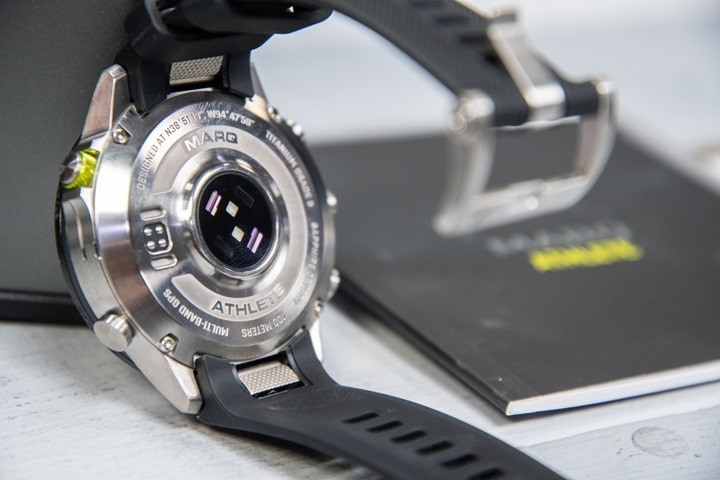 What's Different: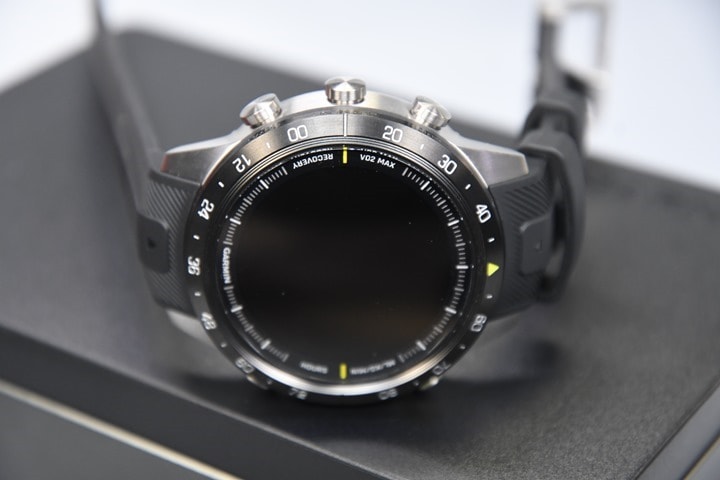 Usually in this section I'd compare what's new in this version to the latest version. However, doing so would pretty much just be me copying/pasting the "What's New" section of my Fenix 7/Epix In-Depth Review from earlier this year, since it's literally the same. However, there actually has been substantial new features since the launch 10 months ago. In fact, we can see a huge slate of those new features in the also recently launched Garmin Enduro 2 this past August. That brought with it things like HRV Status, Training Readiness, Next Fork and more. All of which are here.
Instead, if we look at what's new here compared to the Fenix 7/Epix, there's two items:
– A new USB-C based charging cable: While we've seen USB-C used by Garmin on a handful of other devices this year (inReach Mini 2, inReach Messenger, Garmin Edge 1040, Edge Explore 2), all of those had USB-C on the part that plugs into the Garmin device. Whereas this time, Garmin has put USB-C on the part that plugs into the wall/outlet/etc… Atop that, it's a new charging port design for the watch side, while concurrently offering way faster charging, taking just under hour to fully charge the watch (compared to 2hr 30 mins for the existing Fenix 7/Epix series).
– New Jetlag Advisor: This software feature lets you enter your travel plans (including exact city/arrival/departure information) and it generates guidance for how to minimize the impact of jetlag, while also giving you acclimation details. This feature comes from Garmin's Firstbeat team, and it sounds like this is really the first phase of this feature. Also, Garmin says this will be rolled out to the Fenix 7/Epix/Forerunner/Venu product lines, but didn't have exact models or timeframes yet. More on this later in the review.
From a hardware standpoint, here's the differences in the finishes/materials, according to Garmin's MARQ lead:
All metal build: This increased complexity with the antenna design, making is much more complex.
Grade 5 titanium: Added Aluminum and Vanadium to be 2.5x more scratch resistant than Grade 2 Ti. Garmin says this will keep the watch looking nicer, longer.
Ceramic inlay: This increases scratch resistance and color.
Level of finish and refinement: Most parts have multiple processes (Brushing, etching, lasering, inks, etc) to achieve the design which adds cost. The high complexity of buttons (multi-part construction), and other watch parts also adds costs.
Straps/Bracelets: Integrated fit of silicone/metal, Jacquard weaving for nylon, hardening process for titanium bracelet, sweat resistant construction of leather/FKM strap.
Sapphire Crystal Lens: Standard on all MARQ models.
So with that, let's take a quick look side by side at the two watches (Epix vs MARQ Athlete 2), just for a feel for some of the finishes. Starting off looking at the back of the watch, we'll see it's looks substantially different, though does utilize the same optical heart rate sensor as the Epix does. So from a features standpoint, it's the same there. Still, the rest of the backside looks way swankier than the Epix: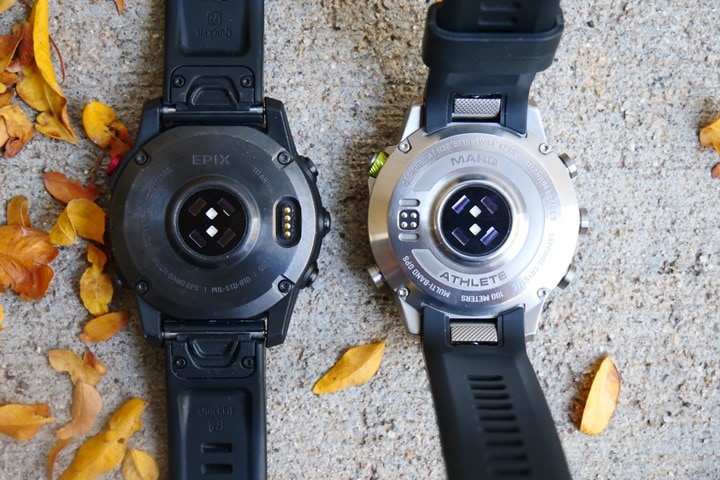 Looking at the left-side buttons, we can really see the physical differences in the button design.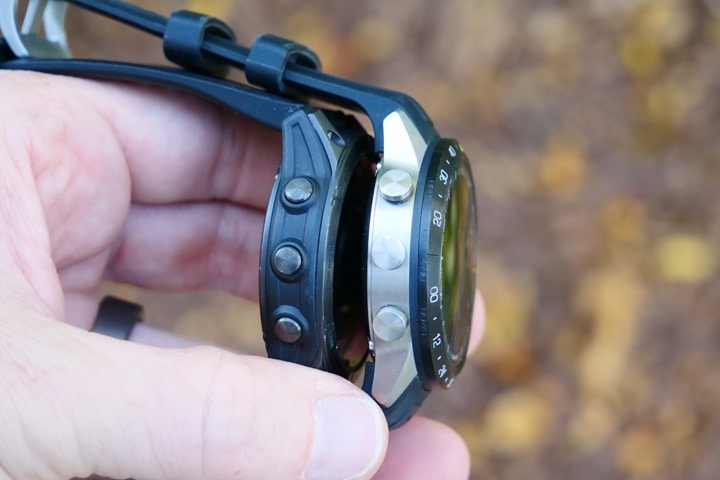 Then there's the right-side buttons: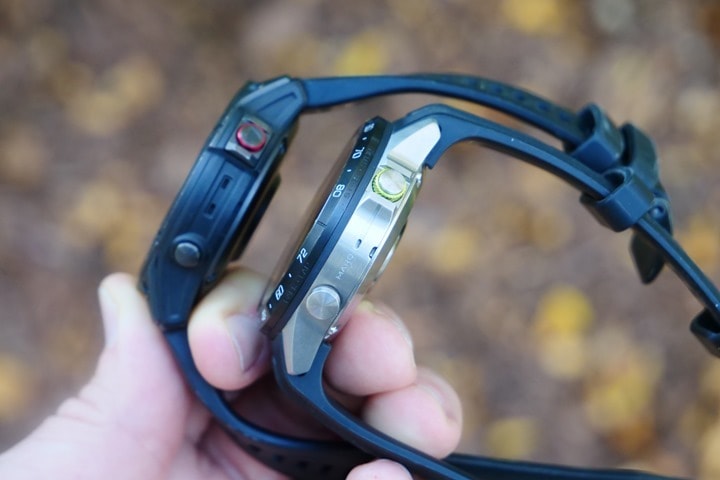 Here's the strap connecting point, which somewhat interestingly keeps the harder strap material that means the watch won't sit flush/flat on a table/surface. It also means it tends to feel more bulky on a wrist (for better or worse).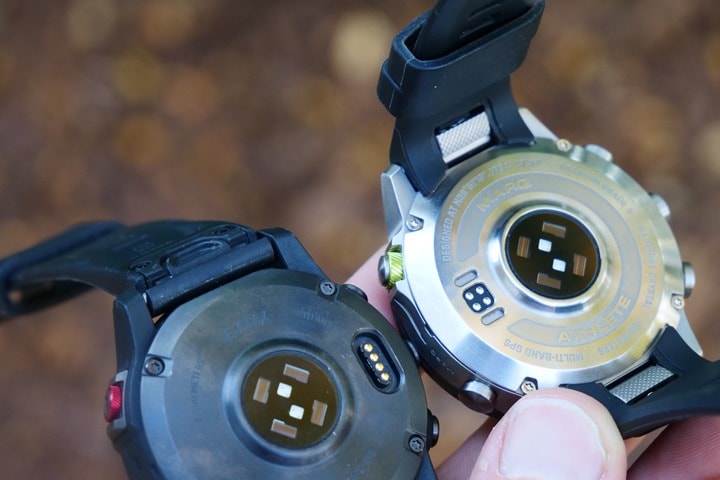 The strap itself on the MARQ Athlete is pretty blah to be honest, a stiff material that isn't anywhere as nice as the other MARQ units. I've yet to understand why Garmin seems to put more emphasis on the design elements of the other units in the series over the Athlete edition. Let's be clear: If you're spending $ 1,900 for a watch, then it doesn't matter if it's $ 2,100 instead to make it look better.
As for the top bezel/display, here's that side-by-side.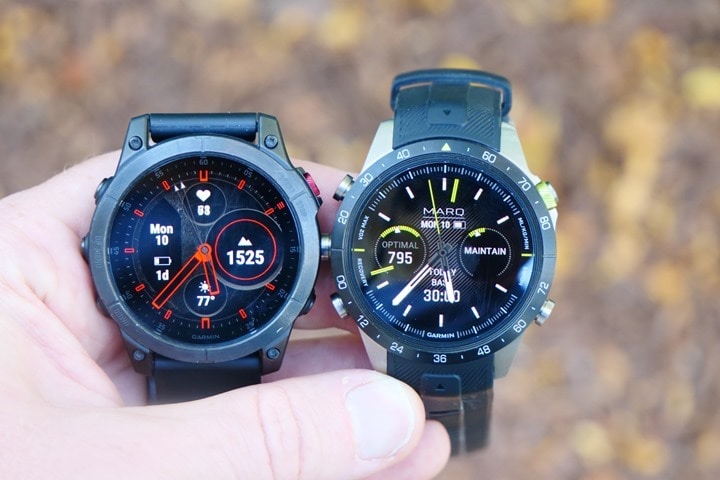 Notably, there are a number of areas in the watch UI that are nicer on the MARQ. The startup screen for example is different: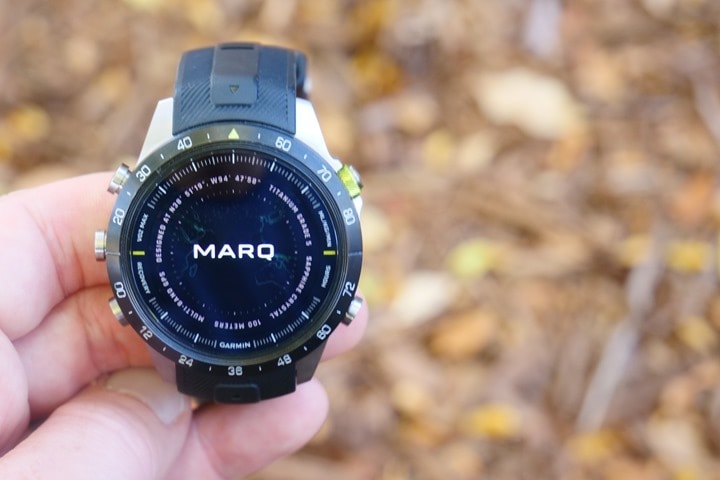 But also when you go to select a sport profile, the an etched map of the earth slowly rotates behind the sport modes, the continental outlines shimmering slightly, as if being illuminated by the sun rising.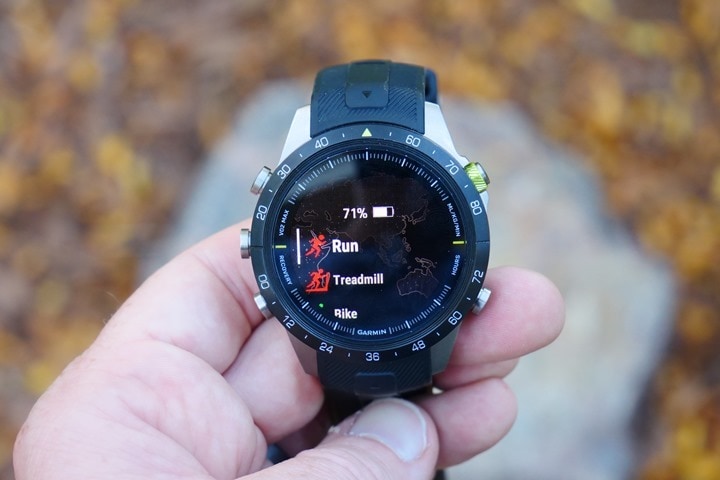 Finally, for lack of anywhere else to stash it, the MARQ Athlete is part of five different MARQ watches that make up the 2nd Gen edition. As with before, the Athlete edition is the 'budget' option, costing the least. Though interestingly, there is no 'Driver' edition this go around, instead, we get a MARQ Golfer. I can only presume golfers turned out to be more profitable.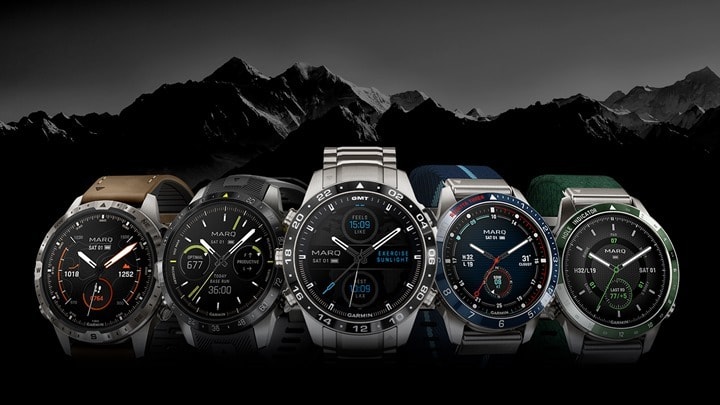 All MARQ editions have the same features as the Epix base watch, with these exceptions:
Athlete ($ 1,900): Same as base Epix, plus Jetlag (like all MARQ units)
Adventurer ($ 2,100): Orienteering feature
Aviator ($ 2,400): Adds D2 aviation features
Captain ($ 2,200): Adds Quatix marine features
Golfer ($ 2,300): Adds Approach S62 features (pairs with Garmin Golf App)
With that, let's crack open the box.
In the Box…Err…Case: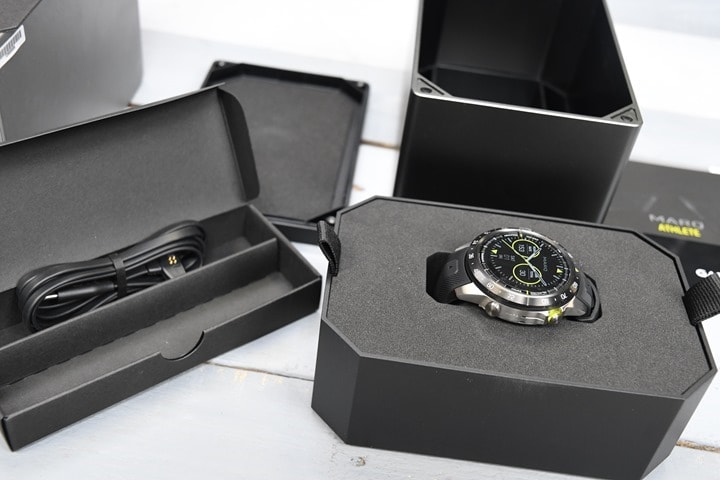 As with the first edition MARQ Athlete, this unit comes in a metal case, like a tin of cookies – regrettably minus the cookies. Instead, you'll find the watch, a ton of foam, and some paper stuff. Also, the new charging cable and a fancy card that certifies you as the owner of a fancy watch.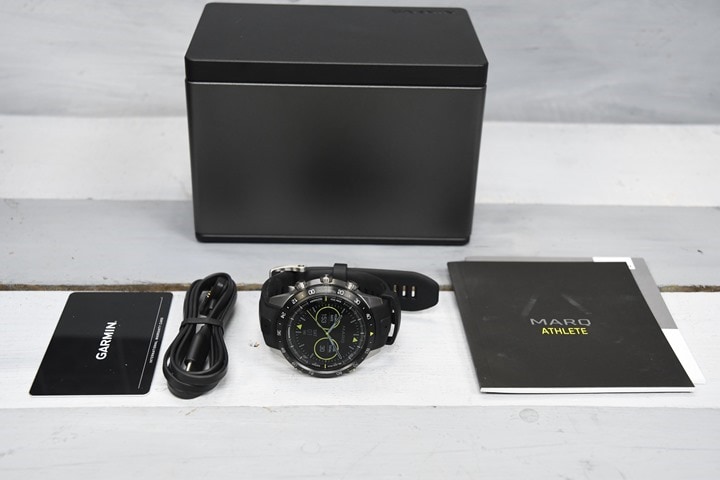 The plastic frequent-flyer-like card that demonstrates you bought the unit is something that most regular people have zero use for, but in fancy watch circles this makes the whole thing legit. Without it, you've just got some generic watch.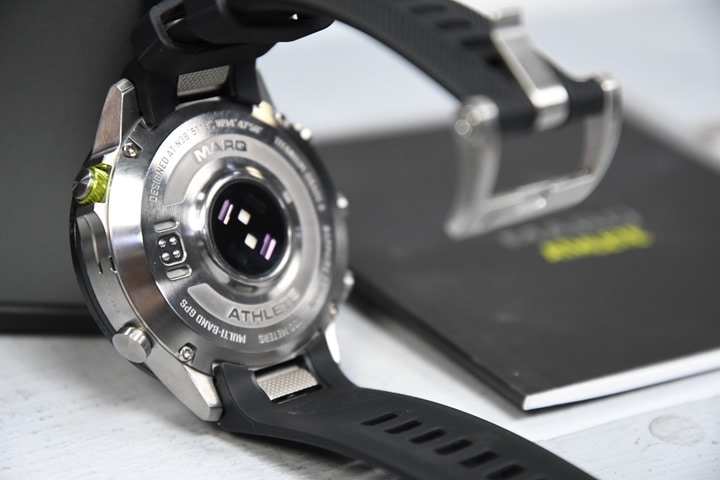 I've already shown you a bunch of photos of the watch close-up, so duplicating that would be kinda silly. However, one of those trays contains the new USB-C charging cable in a cardboard box: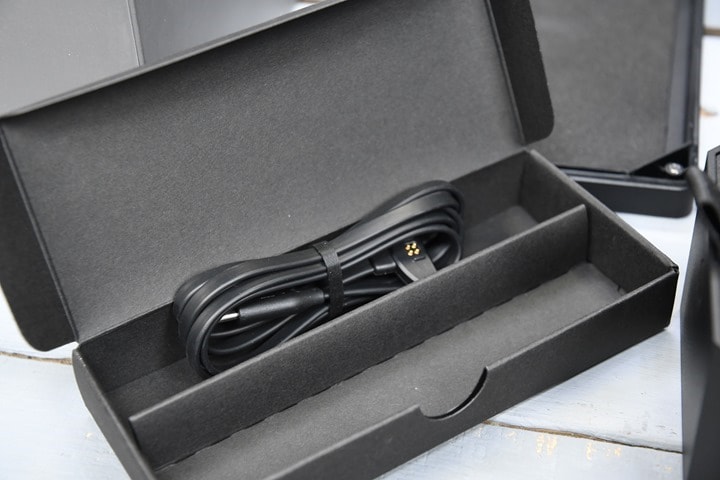 Now like I said with the COROS Vertix 2 case situation, having a case of this magnitude is kinda a waste. The weight of this case is a significant multiple over the watch itself. And like with the Vertix 2, there's no use for this case beyond delivering the watch to you. Whereas if you look at something like the GoPro soft-shell case they include with every GoPro Hero 10/11, you can stash the GoPro and accessories in it. On the bright side, it does still hold a large quantity of cookies for the long-haul flight, whereas the COROS Vertix 2 case simply wasn't big enough to hold any meaningful amount of cookies for even a bus ride across town.
The Basics: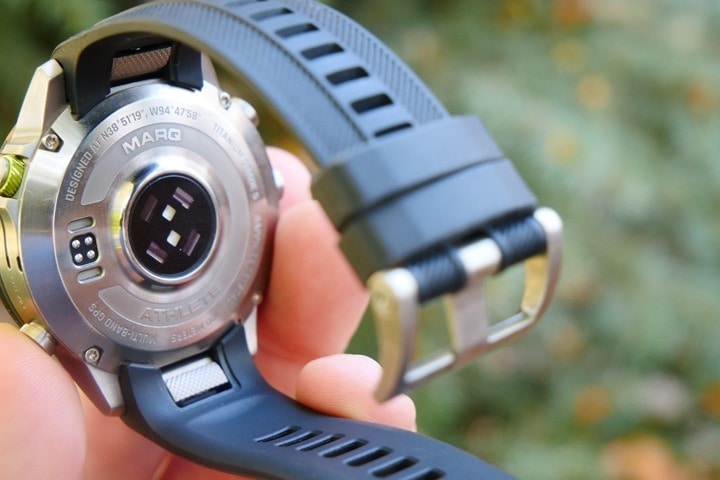 This section is all about the daily usage of the Garmin MARQ Athlete, focused mostly on areas like basic usability, 24×7 activity/health tracking, and integration with the Garmin Connect smartphone app. While I cover a lot here, you can also check out my complete Garmin Epix beginners guide here, which covers all these features in way more depth that I can do in this one section (since the software side of Epix & MARQ are the same).
To start, the Garmin MARQ Athlete has both an AMOLED touchscreen and five dedicated buttons. There's three buttons on the left, and two on the right. In general, the upper right button is your confirmation button, and the lower right is your back/escape button. The left buttons are for navigating in the menu. And you can long-hold any of the buttons to either access different menu items, or assign quick-access buttons.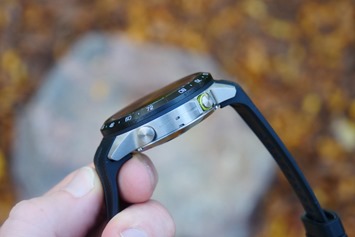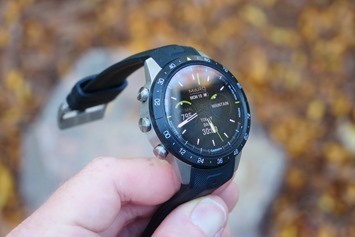 One of the core tenants of the Fenix 7/Epix/MARQ 2 series is that you don't have to use the touchscreen at all if you don't want to (whereas for something like the Apple Watch units, you have to use the touchscreen for most functions). Inversely, you can also do the vast majority of functions on the Garmin watch via touchscreen if you want. However, some functions are limited specifically to buttons (like starting/stopping a workout). I've had no meaningful problems with the touchscreen on the MARQ 2. It's worked mostly fine during rainy workouts, as well as sweaty indoor trainer workouts. As with any other touchscreen device, you tend to lose a little bit of precision when it gets wet – but not enough to be a big deal here. And most notably, it doesn't get upset in the shower either.
Still, you can use it when you want, or not use it at all. In my case, I mostly use buttons, except only occasionally touch in mapping (and I turn it on per-sport profile). It's just a personal preference in that I find button usage so much faster. But to each their own.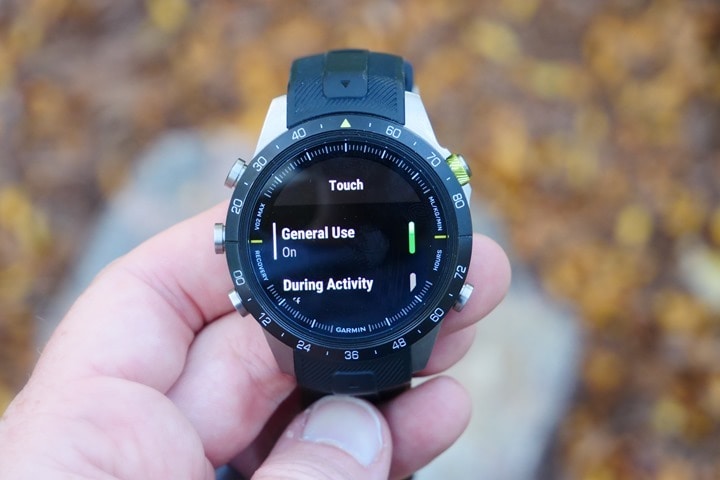 In Garmin's approach, virtually all of the sport profiles have touch disabled by default. This means you enable it on a per sport profile basis, or, across the board on all sports on the watch. Additionally, you can enable/disable it for sleep as well, though I've never had any errant sleep-induced touchscreen fails on the MARQ 2. As with the Fenix 7/Epix/Enduro 2, there appears to be some clever coding that basically requires slightly more force to get 'away' from the watch face into the widgets/other areas, so that errant touches are ignored.
In any event, the watch face is fully customizable. Like most Garmin watches, the MARQ 2 has a specific 'unique' watch face that launches with it. But there are piles of stock ones to choose from, and each of them allows you to customize the specific complications on it.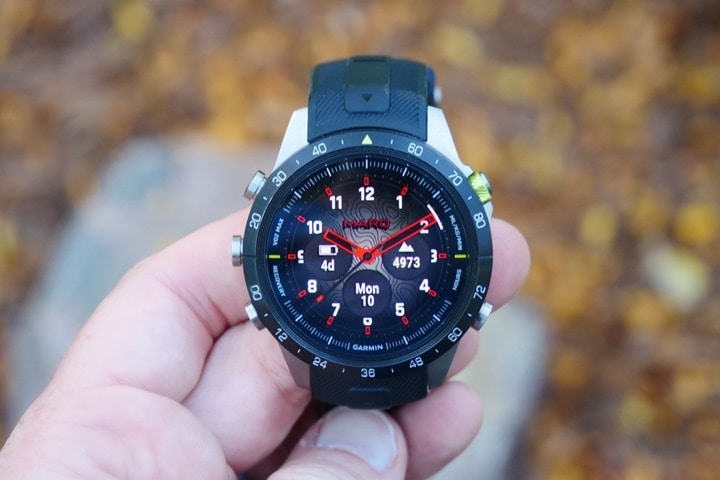 Alternately, you can grab watch faces from the Connect IQ Store, or create your own within that using the 'Face It' tab. That allows you to upload your own photo to the watch as a watch face.
Swiping down from the watch face there's the widgets, or more specifically the widget glances. These glances cover a range of stats from health (like sleep), to activity tracking (steps/workouts/etc…), to general day to day stuff like calendars, notifications, and the new Jetlag Advisor. With the recent summer updates you can even categorize these into folders now, making it easier to find what you want. You can still customize the entire list and order with or without folders, deciding what you want shown. Additionally, there are also 3rd party Connect IQ widgets too.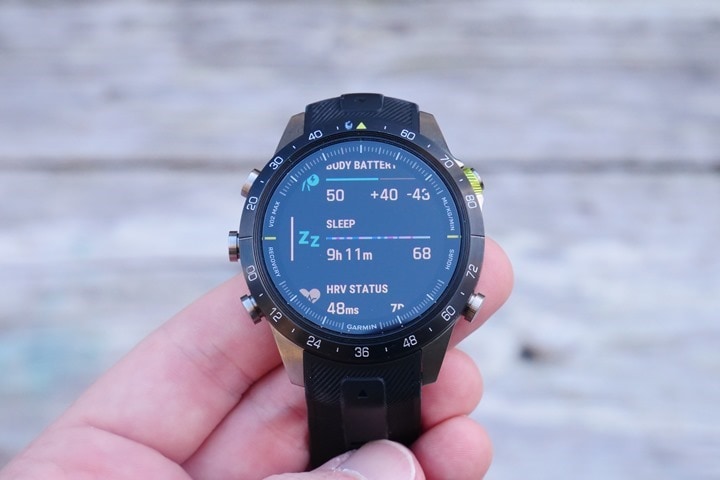 Each of these widget glances though is really a tap away from deeper and full screen information about that particular item. For example, if we crack open the steps one, we can see more information about steps, including our steps over the last 12 hours, last 7 days, ad distance options too.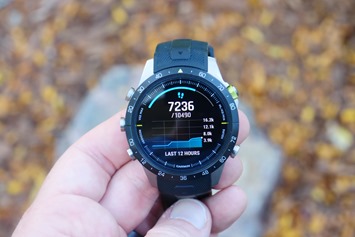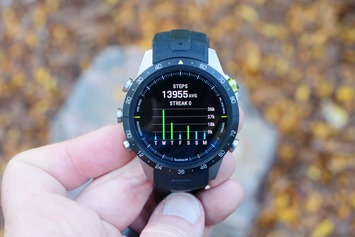 Of course, all of this is also synced to Garmin Connect too, both the smartphone app (Garmin Connect Mobile), as well as the greater web-based platform. You can access all of your information in either location. The sync automatically occurs in the background via your smartphone over Bluetooth. However, it can also occur via WiFi as well as USB-cable if you prefer. Here's a look at the steps page, this time from the Garmin Connect Mobile smartphone app: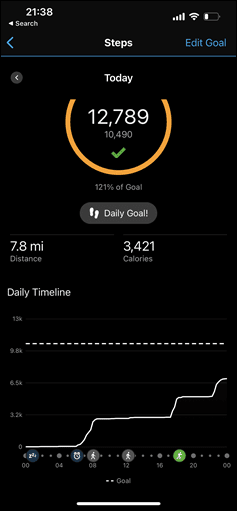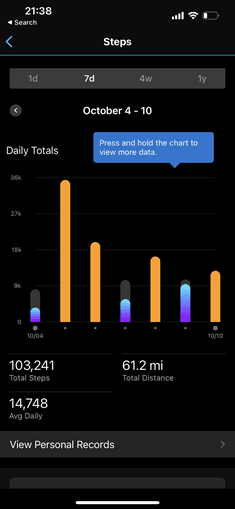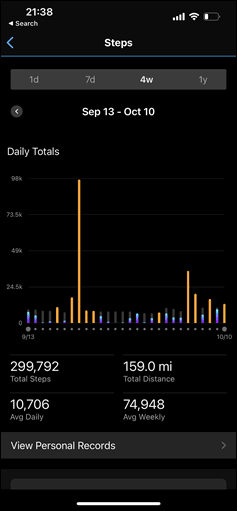 These types of pages are available for virtually every metric that the Garmin watch tracks. From steps, to heart rate, to Vo2max, to breathing rate, to stairs, PulseOx and on and on. There's a mind-boggling array of metrics that Garmin watches trac behind the scenes. While some can find it too much, the idea is that it's available if you want it, but otherwise doesn't get in the way. And I think Garmin continues to do a better job in recent times in trying to keep things easy to understand for those that don't want the complexity.
Many of these data metrics are driven by the optical HR sensor found on the underside of the watch. That sensor operates 24×7, capturing data at 1-second intervals. During workouts, Garmin actually increases power to this sensor to improve accuracy of the data (since a watch will jostle around more, so virtually every company increases power to the sensor to improve accuracy). This sensor is responsible for heart rate, breathing rate, blood oxygen levels, heart rate variability (HRV), and countless other metrics that are downstream variants of that (such as stress). For example, the training load and recovery metrics are dependent on the aforementioned heart-rate components including HRV.
The Garmin MARQ Athlete 2 uses the Garmin Elevate V4 optical HR sensor, which is the same as on the Fenix 7/Epix/Forerunner 955/945, and Venu 2 flavors – among many other Garmin watches in the last 18 months or so. The green light is for regular heart rate recordings, while the red light is for blood oxygenation levels (Garmin calls this Pulse Ox):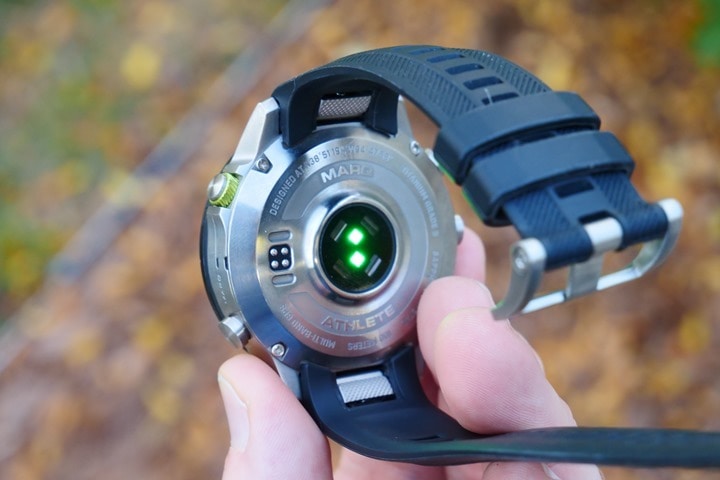 Beyond obvious metrics like heart rate or breathing rate, there's a slew of algorithmic metrics. These are things that are unique to Garmin (or, at least Firstbeat, the company which Garmin acquired that develops algorithms but still licenses them to other companies). For example, one is Body Battery. Body Battery is basically your energy level. You recharge it every night, and then decrease it during the day, or during periods of relaxation (like sitting on the couch watching TV). However, with the MARQ Athlete there's also Training Readiness, which is aimed at figuring out if you should train (or, to what intensity). I'll cover that later in the sports section, first, the body battery: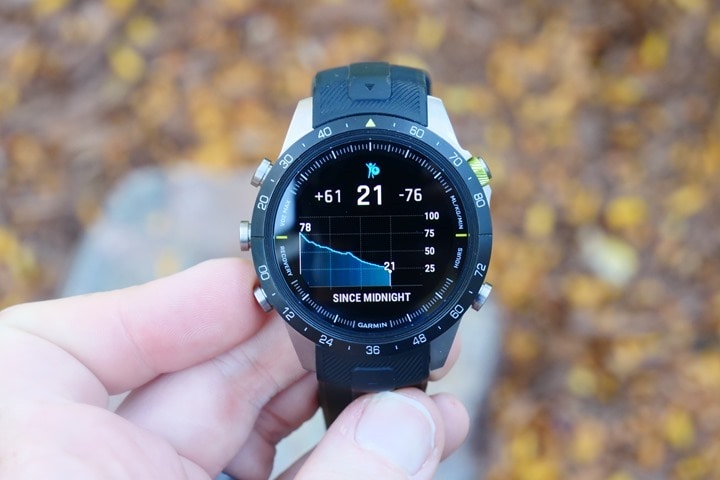 Think of it like this: Use Body Battery on vacation to see the impacts of your day when you don't care about training. Whereas, use Training Readiness when you are trying to get workouts in. Again, tons more later on this in the sports section.
I've found Body Battery pretty solid at matching how I feel. Do note that it'll take a few weeks to nail your exact body (in fact, most of these metrics do), but once it does, it's pretty good at it. Of course, just because you go to sleep doesn't mean you refill the tank every day. As you can see above, some nights I get good sleep, and other nights less so. Like trying to charge an electric car, if you unplug it too soon, the battery isn't full. The areas where Body Battery tends to struggle is exceptionally long/hard days, like traveling overnight on a redeye without sleep – or simply working through the night. In those cases, usually Body Battery gets down to the single-digit numbers and just kinda creeps to a stop. It knows you are screwed, you know you are screwed, and everyone just looks at each other and says 'It is what it is'.
When it comes to sleep tracking, the MARQ Athlete 2 automatically tracks your sleep each night, which can be viewed both on the watch as well as on the app/site. This includes your exact sleep times, your sleep score, and then a guess at sleep phases.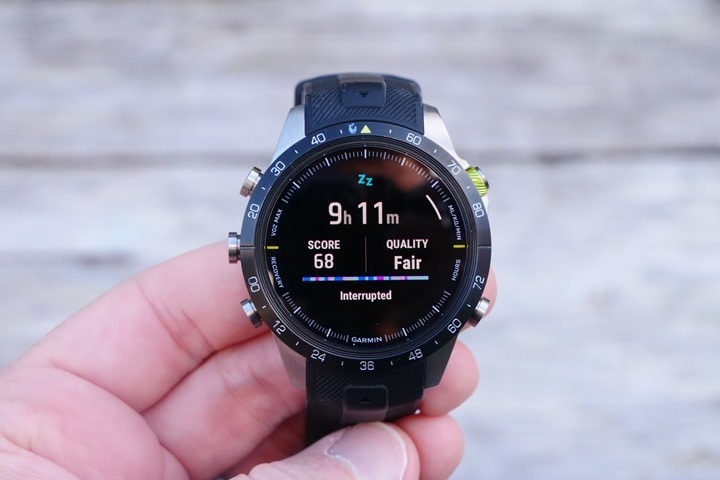 You can tap into that widget to see more details of your sleep: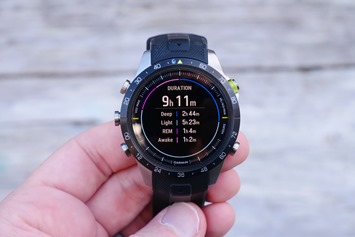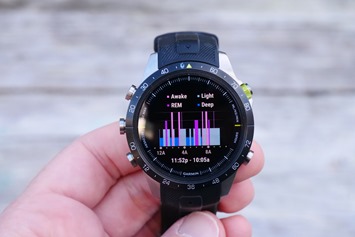 As is usually the case with Garmin watches, it's pretty solid for me in terms of identifying the times I woke up/fell asleep (and was awake at night). These were all spot-on. However, I'm not evaluating sleep phases. If I look at the viable home options to compare sleep stages/phases in terms of accuracy, those devices aren't that accurate by themselves (only about 80% accurate). We'd never accept comparing other features like optical HR accuracy to an "80% accurate chest strap", so I won't accept doing so here. However, I also don't put much stock in the sleep phase/stage details anyways, so, I'm not too worried about it. I've found in general, if you're getting enough hours of sleep, and that's uninterrupted sleep, then that's the main thing to focus on. And the watch can/does at least tell you that correctly.
As part of your sleep-related information, you'll also see the new HRV Status widget. HRV is Heart Rate Variability. HRV is measured on the Enduro 2 constantly through the night, and then Garmin displays that in 5-minute increments within the HRV timeline graph shown. That chart also shows your max values for the night. It's 100% normal that there's this much fluctuation in it, as your values are often tied to different sleep phases.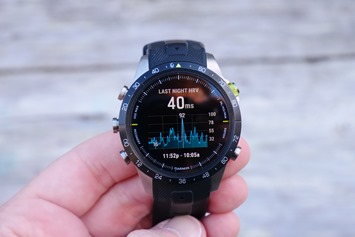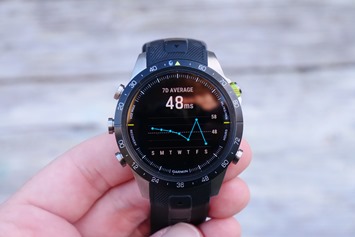 Note that the MARQ Athlete doesn't quite yet have the new Morning Report feature. That launched in beta for the rest of the Fenix 7/Epix series last week in beta, and I'd expect it'll probably be a few days before MARQ 2 Athlete is added to that same beta program (assuming it follows the pattern for the Enduro 2 back in August).
As with all Garmin watches that support HRV status, it takes 19 nights have wearing it before it generates the color-coded HRV status ranges. Prior to that, you'll 7-day trends and a get a non-color coded chart that doesn't show your 'status' yet (e.g. balanced/etc…). Unfortunately, at this time HRV Status is not part of the Physio True-Up components, but Garmin has been aiming to have that included later this year as part of a larger Physio True-Up backend revamp. As example of the differences in that page, you can see at left (below) the Enduro 2 with HRV Status fully populated, whereas the MARQ 2 at right is still short a few more days. Note: These two images are not of the same timeframe.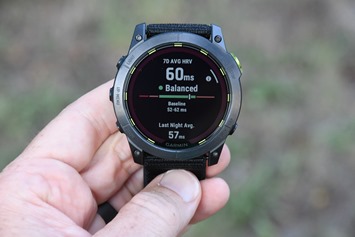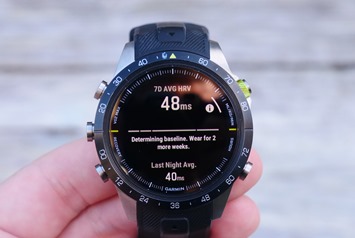 Note that everything I've talked about thus far has been using the green lights on the optical HR sensor. But there's also the red light in there too, which is for blood oxygenation measurements (SpO2). Garmin calls this PulseOx. You can configure this to be off, during sleep only, or 24×7. It has two basic purposes in a Garmin wearable, one is around sleep (as potentially an indicator of sleep-related issues), and two in high-altitude environments as an indicator that something is about to go horribly wrong. Two totally different use cases (note: medical folks and such also monitor blood oxygen levels too for other reasons). For the first one – sleep – you can track your Pulse Ox readings each night. It's the red LEDs that'll light up on the back of the watch.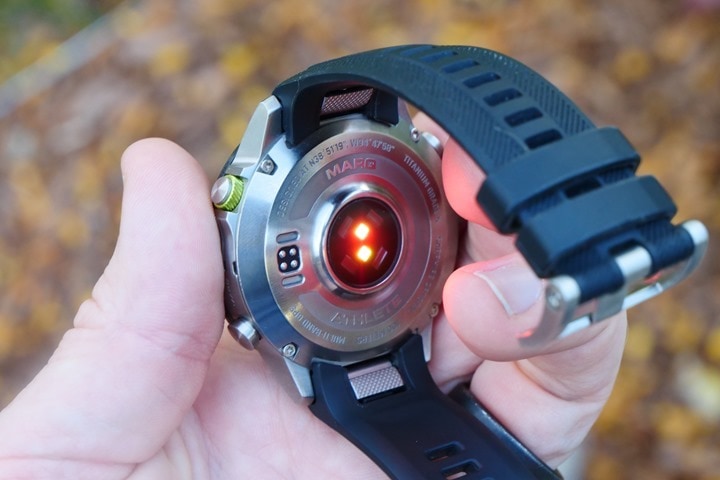 This will consume additional battery, lowering your overall battery a fair bit. Though, not as much as the 24×7 mode, which consumes a crapton of battery. I don't use either due to battery draw, but only utilize it in spot-checks with respect to Health Snapshot. However, in terms of accuracy, I find that if you treat it the same way you'd do an actual blood oxygen test with an approved/medical-grade device, you'll get good results. Which is to say, sit still. And that's the exact same way the FDA certifies blood oxygen medical-grade devices: Sitting still. If you swing your arms around, you'll either not get good results, or Garmin these days won't even give a reading. They (and others) have gotten smarter with just giving you a warning that there's too much movement for a valid result.
Next, as we round home we've got the smartphone notifications. These show up on the watch based on however you've configured your phone's notification settings. So if you've got Twitter set to notify you, you'll get notifications here as well. Aside from an all or nothing toggle on the watch, everything is otherwise configured within your iOS or Android control panel settings. In any case, once notifications come in, you can open them up to view the full message, as well as dismiss. There isn't support for things like photos, but you do get emoji and the app logos of the app that sent the notification (e.g. Strava, etc…). Here's a simple text message: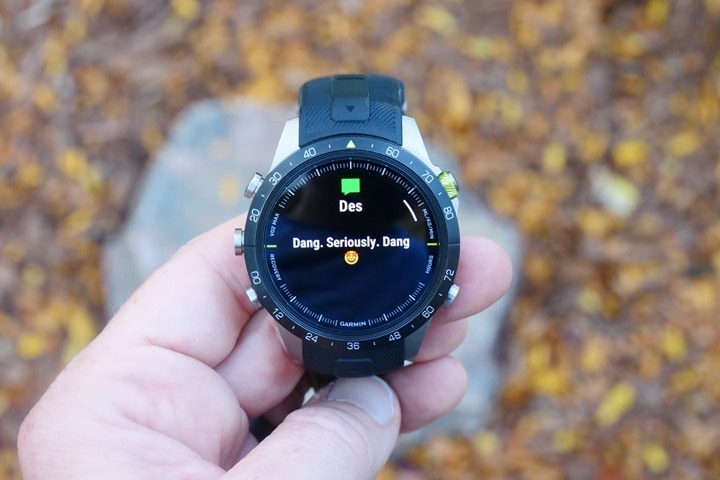 Note that you can't reply to any of these messages, at least not on iOS, because of limitations imposed by Apple and letting text message apps reply. But, you can dismiss them, which dismisses them on your phone as well.
Changing topics entirely before wrapping up, is the new charging cable. As with any charging cable on a watch, they're proprietary in some manner as they attempt to maintain the higher waterproofing level of the watch, which isn't possible using a standard USB-C port on the watch (which would also eventually get clogged with salt/mud/gunk). In Garmin's case, this new connector is magnet, and sorta snaps onto the watch. Though, I don't find it as strong a connection as the older standard Garmin Connector, though, I suppose that assumes the port in question on the older connector (or cable) was new/crispy enough (over time they seemed to fade). For regular desk usage, this has been working great, connection-wise.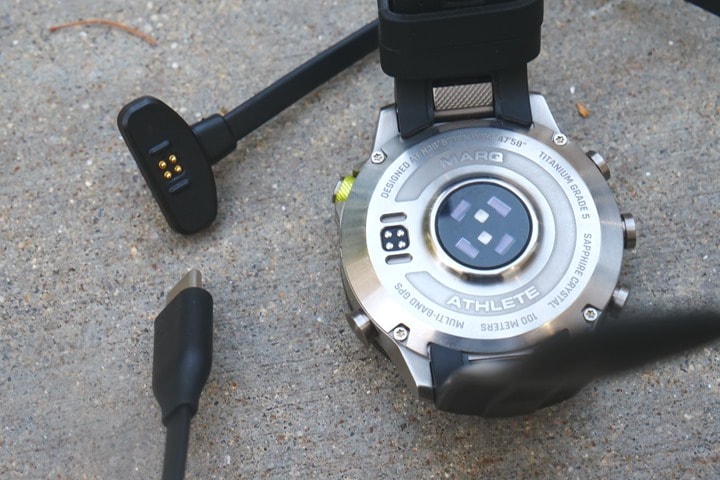 But far more important than the connection is the battery charging aspect. It's charging in basically an hour, or just slightly faster. That's a massive increase in speed over the existing Epix unit, which charges in about 2 hours 30 minutes. Seriously.
In terms of battery usage/burn, it's the same as the Epix – sitting at a claim of 16 days in gesture-based display (meaning it turns off the display unless our wrist is raised), or up to 6 days in always-on mode. I find I'm getting about 3-5 days per battery charge in always-on mode (my preference), depending on how the split is between GPS workouts or not.
Lastly, while it probably won't matter to many people, do note that in general, virtually all of the functions that involve the smartphone app require internet to function. Meaning that while the watch will happily collect data without internet (as I tested with the Enduro 2 this summer for 8 days), and do so for a very long time (days/weeks/etc…), it won't sync that data to the phone/app without internet. That's because the Garmin Connect smartphone app itself is merely showing data from the Garmin Connect online platform.
The exception to this would be if you use the Garmin Explore app (also free), which then does allow syncing of data (namely tracks/routes) back and forth to a phone that doesn't have internet. And again, this has no impact on viewing any of these stats on your watch itself, but only if you were spending extended periods of time without internet, analyzing your stats on the smartphone Garmin Connect app would not be possible. You can however still plug in your watch to a computer, and download the workout file and analyze that.
The Jetlag Advisor: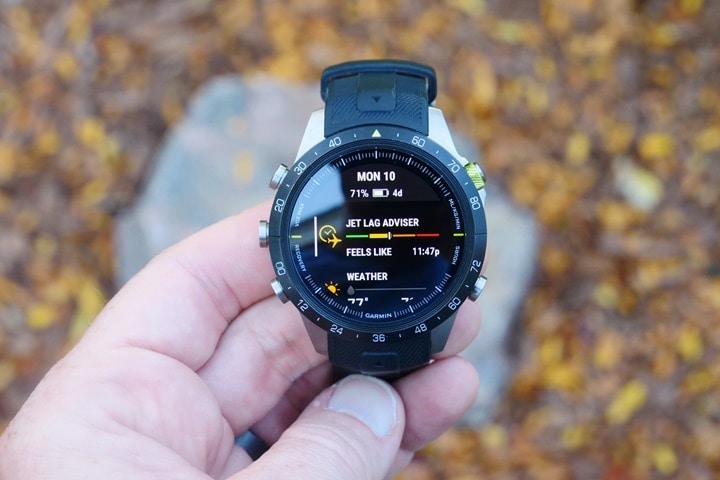 This feature isn't quite ready yet for launch, but I figured I'd give a quick look at what it does and how it works. Garmin says it'll be pushed out in a future update, but didn't specify the exact timeframes. It sounds like this was more of a last second decision to pull it from launch-day firmware.
In any case, the idea behind this is to provide guidance on how to deal with jetlag, notably across time zones. At present this feature is largely about providing guidance based on flight plans, rather than looking at data the watch is recording (e.g. your actual sleep, actual workouts, HRV, etc…). Yet, Garmin says that when they built out this feature, the groundwork was laid for that 'your data' driven approach, allowing them to have it start impacting components like Recovery Time, Training Readiness, etc… down the road. As noted earlier, this feature comes from their Firstbeat division, which is the same division that's in charge of all those training load/recovery type metrics.
To begin, you'll start on Garmin Connect Mobile to create your trip. You'll go through and add your starting city and destination city, as well as the exact date/times of your flight departure/arrival. You'll skip any connection data, since that doesn't really matter here – it's, well…more about the destination. You can add multiple legs though. For example, my trip I'm on as I write this has three legs covering 12 times-zones worth of travel, over the course of two weeks.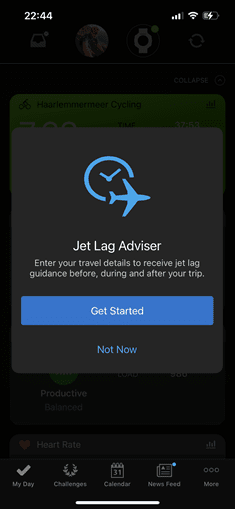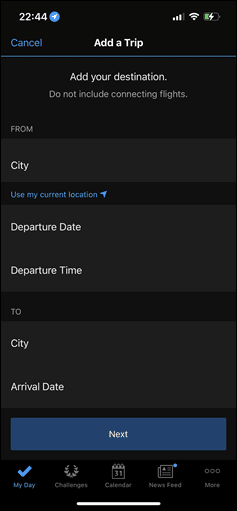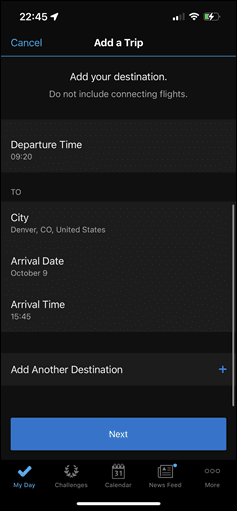 Once that's done, you'll start seeing data on the watch two days prior to your trip. This is under the new Jetlag Advisor widget, though, you can also view this information the Garmin Connect Mobile app. Once your trip has started and you've arrived at your destination it'll show you what your body should feel like: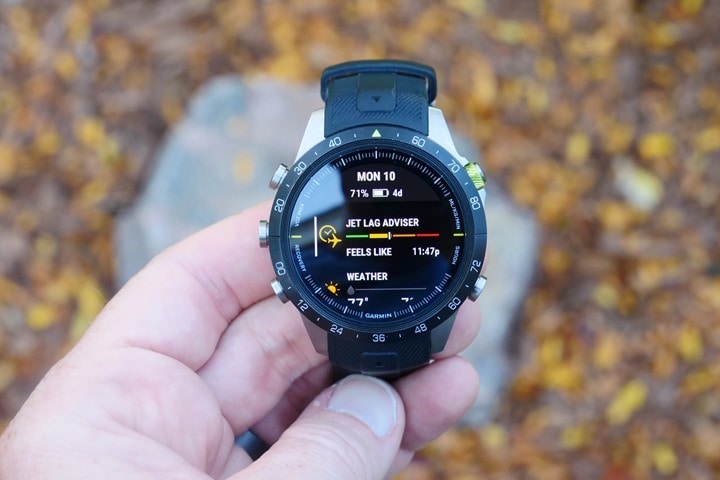 The Jetlag Advisor is going to show you details about the trip in a bit of a ticker-style timeline as the day goes on. It includes the transit timeframe, as well as showing the current time at the destination. However, the main thing it's doing is providing constantly updated guidance as your day goes along in different categories. These categories are:
– Light Exposure
– Light Avoidance
– Sleep
– Activity & Exercise
– Naps
– Caffeine
– Melatonin
– Nutrition
Within each of these it's going to give both general advise that's not time sensitive (e.g. staging of meals), and some that's very time sensitive (light exposure, sleep, and exercise). For the light sensitive ones, a message will pop-up on the watch letting me know what I should be doing. For example, I'm over the Atlantic right now writing this, heading towards the States from Europe. A short bit ago I got this notice that I could stop trying to avoid light exposure.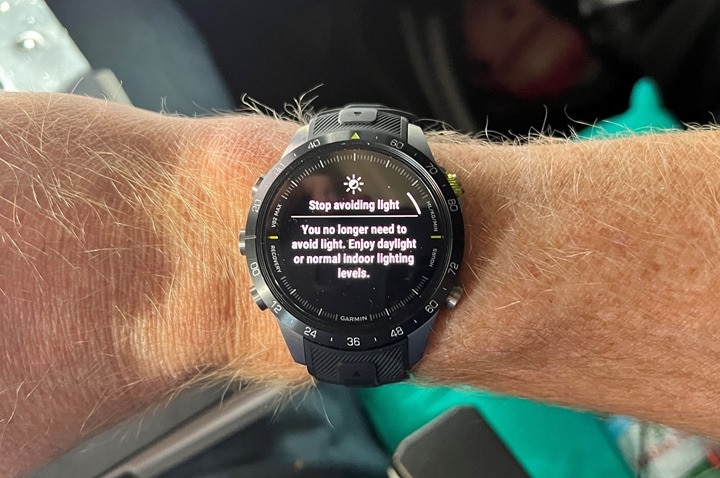 If I look at later in the day, around 4-7PM when I land in Denver, it says I should aim for some exercise then, which is what I had planned anyway. It then also shows to seek light between 7-9PM, in aims of staying awake before falling asleep. You can skim ahead within the Jetlag Advisor and see what's coming up.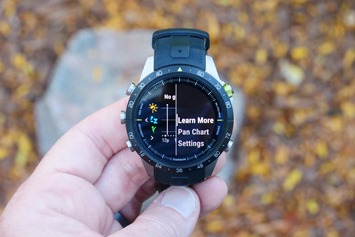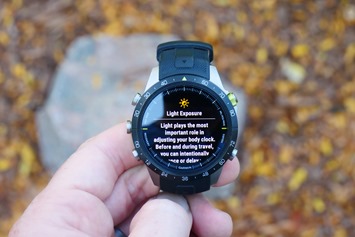 In my case, I'm a bit of an outlier – I've got literally millions of miles flown, largely for work, and largely crossing oceans or continents. So in my case I'm looking at most of these suggestions as things I already know. But I suspect for someone who doesn't have a schedule consisting of five trans-oceanic trips flights in 6 weeks, this is actually reasonably good and well thought through advice. It largely mirrors what I'd do in most cases based on what I'm seeing thus far.
You can change which features you want advice for. For example, if you don't care to take Melatonin, you can turn off that guidance section. Obviously, you could turn off all the sections, but frankly the only way any of these sections show up is if you add a trip. Otherwise it won't appear at all.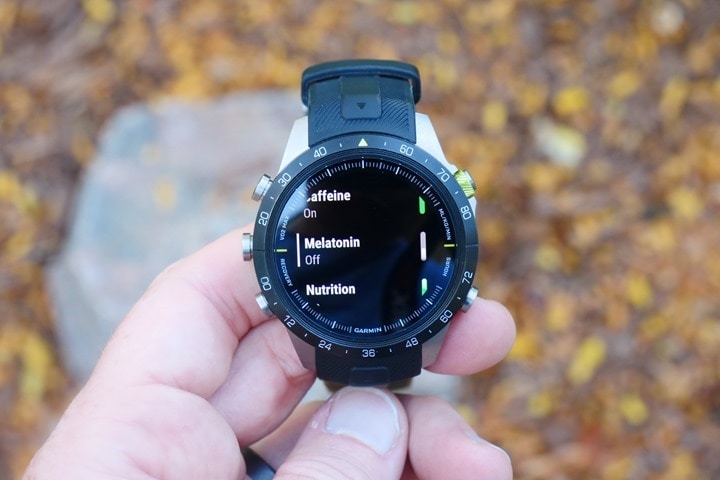 As noted earlier in the review, this feature is slated to come to the Forerunner, Fenix, Epix, and Venu series watches. But which watches exactly and the timeframe for that isn't solidified yet.
Sports Usage:
This section is focused on the sports usage, everything from indoor to outdoor sports, and with or without sensors. I'll dive into it all here. The MARQ Athlete 2 contains all the Epix sports, plus those gained by the Enduro 2 a few months ago. And shortly, it'll also gather those gained from the newly added sport profiles in the most recent beta. However, this section is more than just starting a workout, I'll also cover the various training load and recovery aspects. The section afterwards covers navigation, maps, and routing.
Keep in mind, that within these sporting areas there are literally hundreds, if not thousands, of features. And there's a strong likelihood you'll never use 95% of them. But the reality is you'll use 1-5% of them, every single day. And which 1-5% you'll use will vary wildly from person to person. I use sports features every day that others never use, and vice versa. It's fundamentally why Garmin leads this category. And perhaps more importantly, over the last few years, the software quality has increased substantially, largely through open firmware beta programs that go on for months.
To get started on a workout, you'll tap the upper right button, which opens up the sports list (including the fancy rotating globe behind it):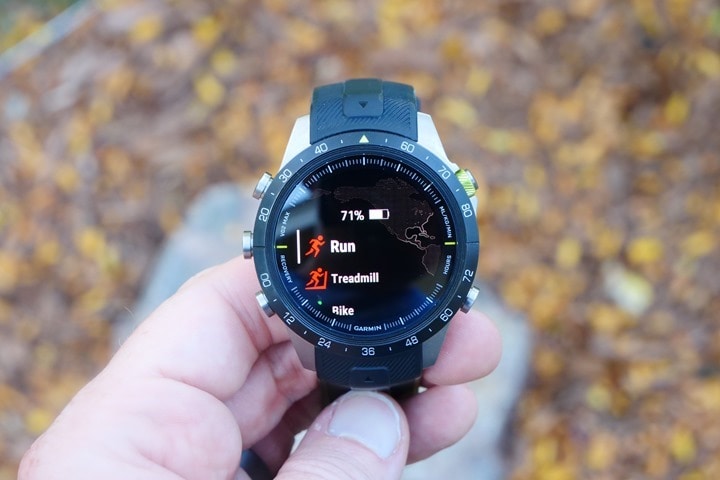 The sports modes available on the MARQ Athlete are as listed below, albeit some of these aren't really sports per se, but fall under the sport mode section in the Garmin world, like the Map Manager or Connect IQ Store. Also, keep in mind this keeps expanding – notably including those launched in beta just last week that I didn't included below:
Run, Hike, HRV Stress, Health Snapshot, Bike Indoor, Treadmill, Bike, Open Water, Navigate, Expedition, Track Me, Map, Map Manager, Connect IQ Store, Multisport, Trail Run, Ultra Run, Virtual Run, Track Run, Indoor Track, Climb, MTB, eBike, eMTB, CycloCross, Gravel Bike, Bike Commute, Bike Tour, Road Bike, Pool Swim, Triathlon, Duathlon, Swimrun, Adventure Race, Strength, Climb Indoor, Bouldering, Ski, Snowboard, Backcountry Ski, XC Classic Ski, XC Skate Ski, Snowshoe, SUP, Surf, Kiteboard, Windsurf, Row, Row Indoor, Kayak, Golf, Tempo Training (Golf), Tennis, Pickleball, Padel, Project Waypoint, Walk, Cardio, HIIT, Yoga, Breathwork, Pilates, Floor Climb, Elliptical, Stair Stepper, Jumpmaster, Hunt, Fish, Tactical, Boat, Sail, Sail Race, Horseback, Tides, Reference Point, Clocks, Other
Each of these sport profiles are fully customizable, be it things like the data pages and data fields, or the aspects like auto-lap or auto-pause, or even ancillary settings like ClimbPro (for hiking/running/cycling in the mountains/hills) or alert settings. Every sport has a slate of these that can be tweaked, and you've got two main ways you can tweak them. First, is on the watch itself, and second is on your smartphone.
The MARQ Athlete now allows phone-based configuration for virtually every setting on the watch, including not just sport modes, but all the watch settings too. From GPS/GNSS satellite modes to widgets, even generic settings – all can be configured from the phone. About the only thing that can be viewed but not configured on your phone is downloading maps or adding new sensors. Those you'll need to do from the watch itself.
If you crack open the Garmin Connect Mobile app, and then go into the settings, here's a tiny sampling of what you can tweak. This also includes built-in sensors like the altimeter, barometer, and optical HR sensor, but you can't add external sensors here (like a power meter):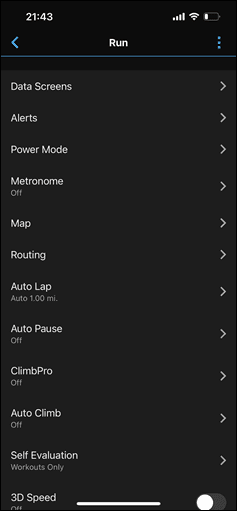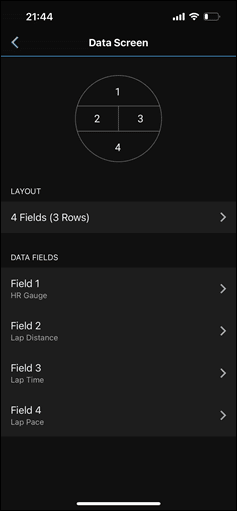 The MARQ Athlete 2 allows up to up to 8 custom data fields per page, and then allows basically a limitless number of data pages you can create. Undoubtedly, there's a limit somewhere, but frankly if you find said limit, you need to take a moment and think about your life choices. All of them. Beyond that, there's also the ability to customize stock data pages with things like power gauges, heart rate graphs, and elevation pages. Plus there's data pages like ClimbPro, maps, and so on.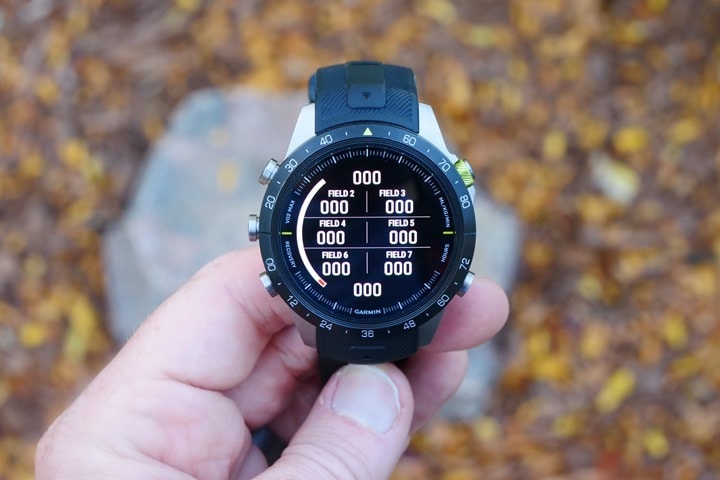 And again, remember each sport profile has its own data pages, that can also be specific to a sport profile. For example, cycling has cycling power, whereas something like swimming has stroke rate, and so on. By and large Garmin has done a good job at just making the defaults for all of these pretty solid, so it's not like you have to start from scratch on these.
Now before we start, it's worthwhile nothing that the MARQ Athlete 2 will automatically default to using a new GPS mode called 'Sat IQ', also confusingly known as 'Auto Select'. This means that it'll switch automatically between the higher power multi-band/dual-frequency GPS mode that is really good in tough conditions (cities/mountains/etc…), but then reduce power to save battery life in more mundane conditions (farm roads, suburban neighborhoods, etc…). This new mode makes a massive difference in battery life, while in my testing also doing a great job at quickly scaling up to deal with tough environmental conditions for GPS. You can change this though within the GPS settings for both the entire watch, as well as on a per sport mode basis: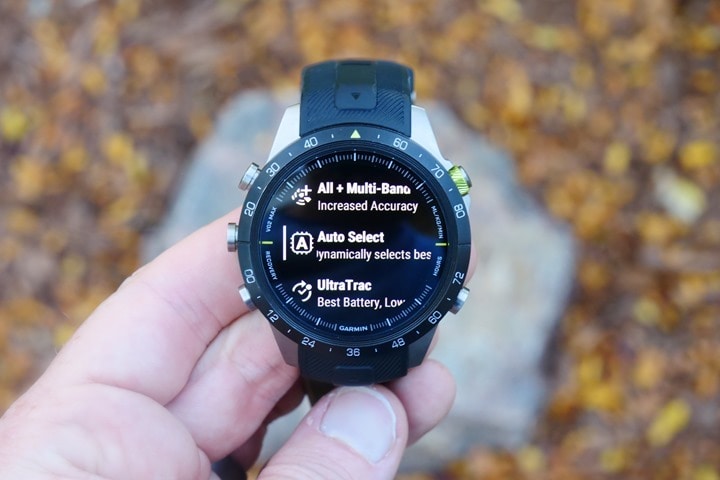 With everything all set, it's time to start the activity. If it's an outdoor sport profile, it'll go off and find GPS, which usually only takes a second or two. If it's an indoor profile, then it only needs to lock your heart rate in (it'll largely have already done this). And then if you've got any external sensors, it'll connect to those automatically.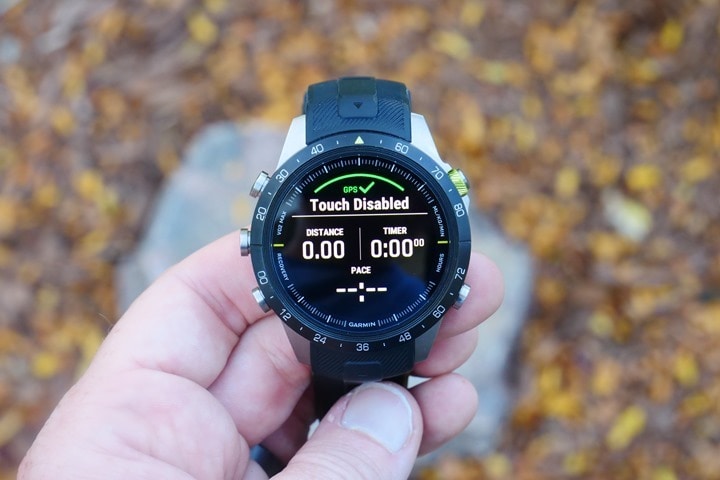 Once our activity is started (they all act roughly the same), then you'll see the data pages you've setup. You can tap the buttons to change data pages, and here's a smattering of them mid-run: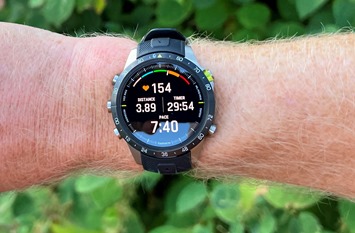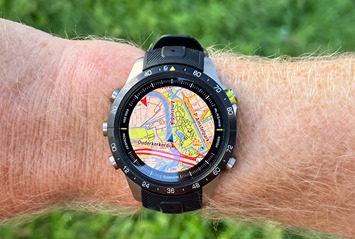 This past summer Garmin launched native running power on their watches. At the time though, it required a Garmin accessory such as an HRM-PRO/PRO-PLUS, HRM-RUN, HRM-TRI, or RD-POD, in order to display said power. However, last week in beta they launched the running power using just the sensors inside your watch (so-called wrist-based power). Thus, no more accessories required. That feature isn't yet on the MARQ Athlete 2 in the production builds, but I'd expect you'll see it in a matter of days in the beta builds, likely with a late October or early November target to production. Though, from a practical standpoint, the numbers will basically look the same on the watch to you.
Further, for running and cycling modes (but not hiking), you'll get Stamina, if you've enabled that, which will show how much time/distance your body theoretically has left at the current intensity. You can also view this after the fact in Garmin Connect. This can be used for pacing in both training and racing, but mainly racing – and mainly long-distance racing. But you can also use this even in shorter interval workouts – last week a 10-miler: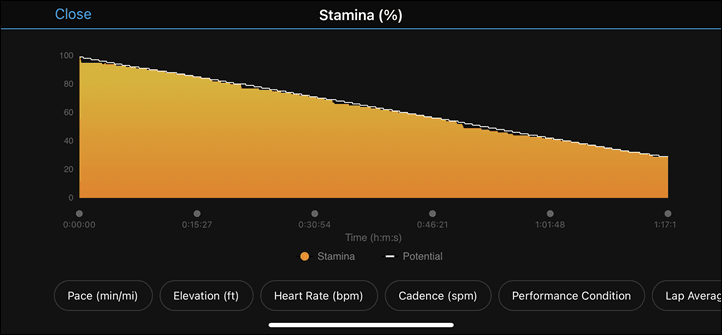 And here's one from this weekend – nothing crazy, but you can see the ups and downs of it.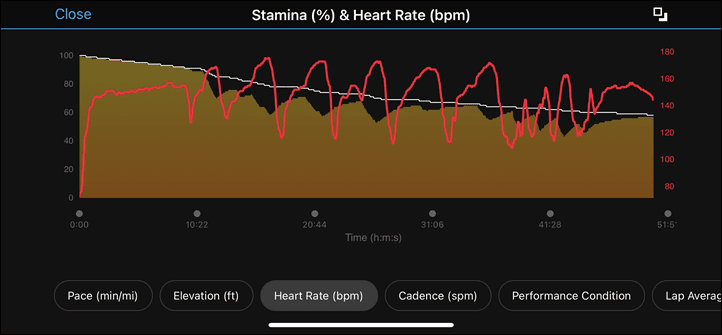 I dive into this in more depth in my Forerunner 955 In-Depth Review, within the sports section – showing how it works for both interval workouts as well as longer steady-state workouts and multi-hour efforts. Overall, I've found it reasonably close for most longer efforts, though a bit more wobbly for shorter efforts.
Any data that you have from any paired sensors will also appear on the watch in real-time, as well as afterwards. These can be a blend of both ANT+ & Bluetooth Smart sensors. These sensors are used across a number of different sports. Here's the full listing at present:
Club Sensors, Headphones, Heart Rate, Speed/Cadence, Foot Pod, Tempe, Lights, Radar, Power, VIRB, Shimano Di2, Shifting (e.g. eTAP), Extended Display, RD Pod, Muscle O2, Xero Laser Locations, inReach, DogTrack, Smart Trainer
Note that you can have multiple sensors of the same type, and give them names. Such as multiple power meters for multiple bikes, or perhaps multiple chest straps floating around.
Additionally, the MARQ Athlete 2 can broadcast your heart rate (and even running pace/cadence) to 3rd party apps and devices. This means you can broadcast your watch's heart rate (from the optical HR sensor) to your bike computer, or to apps like Peloton or Zwift. It does this on both ANT+ & Bluetooth Smart. You can configure this within the sensor settings, including to automatically broadcast when you open up/start a sport profile: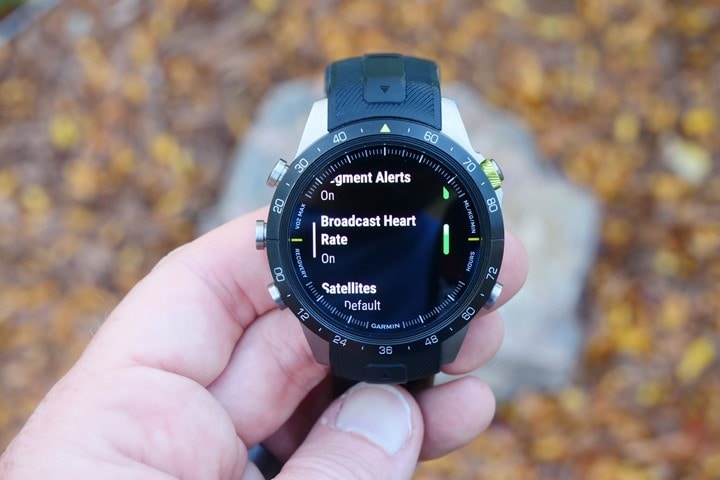 I find this useful in cases where the accuracy of the optical HR sensor is perfectly fine (such as indoor cycling), and I just need to broadcast it to Zwift or Peloton.
Once your workout is complete, you'll get a full slate of metrics on a summary page. This includes charts and graphs in areas like heart rate, pace, power, speed, and more. Plus, there's further deep-dive pages for things like zones, as well as just a giant list of summary info. Here's a quick gallery of some of that:
xxxGalleryEndWorkout
Then, there's even more information displayed on Garmin Connect (both mobile and website). Not just in terms of way more graphs, but also other data points that just aren't shown on the watch post-workout (for example, Stamina trends or more detailed Running Dynamics).
Now completing a workout and viewing the summary pages is essentially just the starting point for the amount of data coming out of that workout. The next most logical place to look from a training standpoint is the Training Status and Training Readiness pages. These were fully revamped this past summer on the across all of Garmin's most recent watches, which significantly changes how you look at this data. I dive into the Training Readiness and Training Status features here in more depth, but let's quickly go through the general gist of it here:
Training Readiness: This new metric aims to be your one-stop shop to decide whether or not to train that day. It blends Sleep (vs both short and long-term history), Recovery Time, HRV Status, Acute Load, and Stress. In short, you can spike one category (badly) without necessarily killing your next training day. But all categories aren't created equal.
Training Status: This is looking at your acute load, HRV status, load focus, and VO2Max trends. This one is less about should you train, and more about how you're training. Meaning, are you doing too much high intensity, or too much low intensity? That's what'll give you an unproductive status. In other words, how would a coach look at your training log, ignoring most other life/feeling type metrics.
Now, those two top-level things get intertwined in a few different ways, but they are effectively umbrellas over a slate of additional components, most notably:
HRV Status: This is measuring your HRV values constantly while you sleep, and then comparing it against your 3-week baseline, up to a 90-day rolling window baseline. A single night of drinking doesn't tank this score, but three nights of partying won't keep you in the green.
Acute Load: This is looking at your last 7 days of load, except the load now burns off dynamically. Meaning, a hard training day 7 days ago is far less impactful to the score than a hard training day yesterday. Previously this was called 7-Day Load, now it's Acute Load.
Load Focus: This shows which categories your training efforts have fallen into, over the last 4 weeks. These include Anaerobic, High Aerobic, and Low Aerobic. Basically, you need to have an even training diet to get faster. Simply running hard/all-out every day won't make you faster. It'll just get you injured and slower.
Recovery Time: This calculates how much time you need till your next hard intensity workout. As is often misconstrued, this isn't till your next workout, just your next hard one. This is largely the same as before. Exceptionally good sleep can speed this up, and inversely, a high-stress day can slow this down.
So, how does this all look? Well, let's start with Training Readiness, which I'd argue is the most useful one to keep an eye on. That's basically looking at everything holistically and whether or not you should train at that moment in the day. You'll notice this score will rise over the course of the day, because naturally you're recovering from the last workout. But, if you go out and do a hard/long workout, this number will slam back to reality (single digits). Here's my score, after a modest interval run two days ago and then a shortish interval trainer ride last night. While then spending the day thus far sitting on a plane: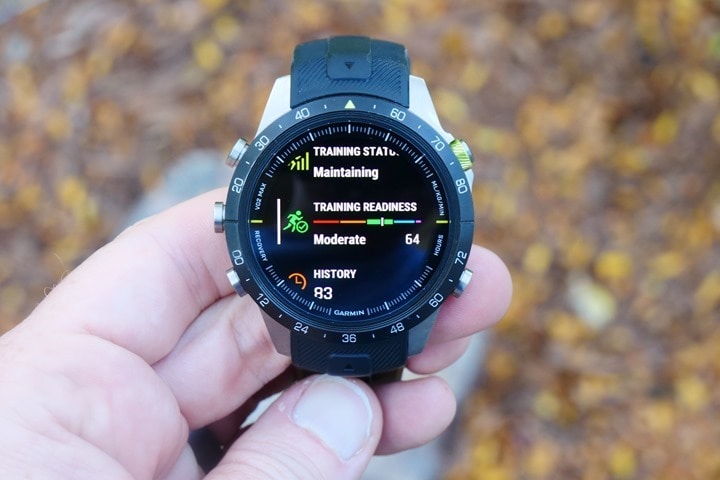 If I scroll down, you'll find the components that make up the constantly shifting Training Readiness score:
– Sleep: This one is specifically looking at last night's sleep
– Recovery time: This looks at your Recovery time from last workout, in hours
– HRV Status: This is comparing your 7-day trend versus historical trend
– Acute Load: This is looking at your 7-day trend
– Sleep History: This is looking at last night versus your prior 2 nights of sleep history
– Stress History: This is looking at the 3 days of daytime data (excluding overnight readings)
The most heavily weighted components are Sleep and Recovery Time (and in turn, recovery time is based on your recent workout efforts). Here's what mine looks like right now: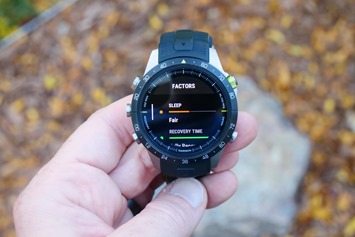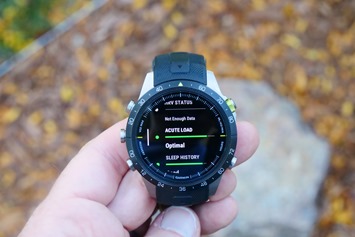 As you can see, my sleep last night wasn't awesome – hence being orange (only about 4 hours, up late packing, and then had to be at the airport early). However, my other recent sleep is reasonably good (woot to the weekend!), thus, I'm holding the fort down. Because HRV status hasn't finished its 19 days yet, that's showing as grey. HRV status is used as a bit of a counterweight here given it's more stable than regular swings.
In using Training Readiness now for about 5 months, I find it fascinatingly good at predicting whether or not I should be heading out for that hard run, or just taking a nap. It's goal in life is generally not to judge you with giving you a 'Unproductive' score like Training Status might, but rather, to simply and factually state that you've either got too much on the plate in your body right now, or, you're ready to go out and throw down some hard efforts.
Then you've got Training Status. The purpose of Training Status is to figure out whether or not your training load is appropriate to minimizing injury, as well as whether or not that load type is best to make you faster. In other words, it tracks how quickly your ramping up training load, while also looking at the breakdown of the types of training your doing (e.g. interval workouts vs longer easy workouts), and whether you've got the right balance of that.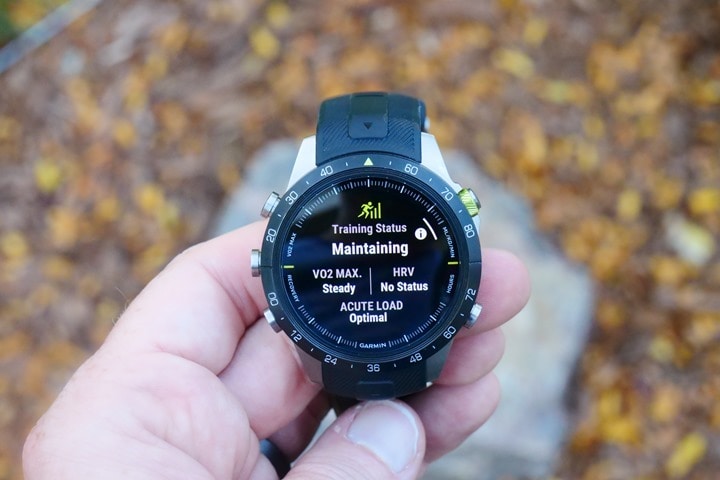 Training Status is in turn broken into the following components:
– Acute Load: What have you done in the last 7 days, weighted towards more recent activities impacting things
– Load Focus: How has your last 4 weeks of training allocation been?
– VO2max: Which way is this trending?
– HRV Status: Like above, how balanced is this?
– Recovery time: This is in hours, and is the same as in Training Readiness.
Here's how this looks broken out into those components. The main one I'm mostly looking at is my Acute Load. I'm aiming to keep it in the green tunnel, which is basically the 'healthy' realm for me, based on my recent historical load.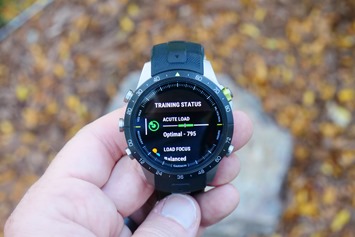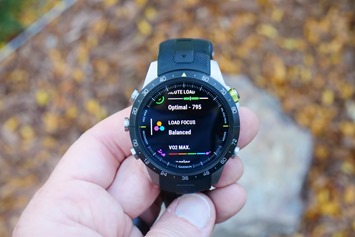 So for example, if I have an offseason for Nov/Dec and dramatically reduce my training load, you'll slowly see this green tunnel shift downwards. Likewise, if I start a big training block in January, then you'll probably see me spike over the top of it. That's fine if managed well, but as any coach can tell you, that's also how you get injured.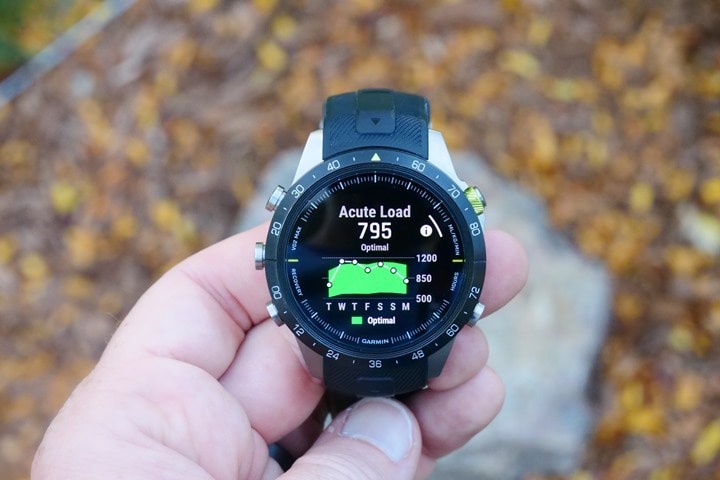 I've found that once Garmin split these pieces out this past spring (Training Readiness vs Training Status), it's started to be much more reliable, and much more clear on why it's either upset at you, or, happy with you. Previously, a single training camp style week of heavy load would get the dreaded 'Unproductive' message. Whereas now, it's more willing to tolerate that (up to a point anyway). The challenge Garmin has is that while you can now put in planned races/goals, these components don't really take that into consideration – especially if it's incorrectly predicting your VO2Max (which can take time to correctly update). Nonetheless, the Training Readiness and Training Load metrics are easily the most advanced ones out there today, surpassing what Polar has done in recent years (and far beyond what Whoop has too).
Maps & Navigation: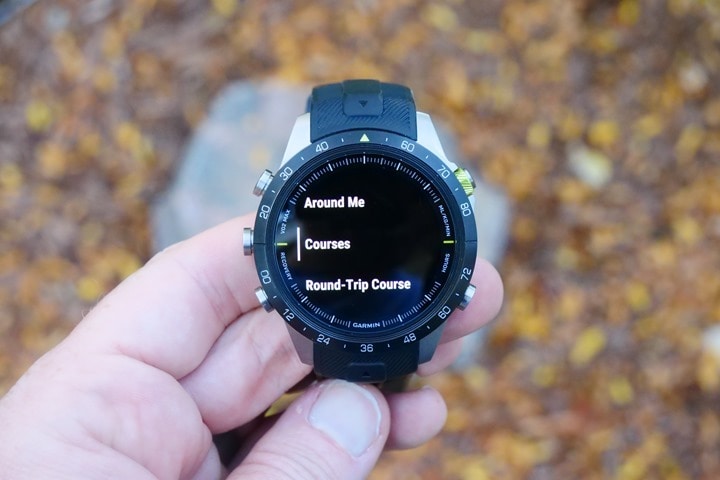 Finally, before we wrap things up, let's briefly talk maps and navigation. As noted earlier, this is identical to what you'd find on the Enduro 2 series in terms of the new features like Next Fork. I explain all the options in much more detail there in that Navigation section. However, at a high level, you've got a few core options for navigation on the MARQ Athlete2 , which are:
– Point of Interest: Pick an item from the built-in POI database, such as a town/monument/service/etc…
– 'Around me': This lets you look at the map around you, and visually pick out where you want to go
– Back to Start: This will navigate back to the starting location using the route you came on
– Navigate Activities: This will treat a past activity as a course, basically repeating it
– Saved Locations: This lets you navigate to locations you've previously saved
– Sight 'N Go: This lets you utilize the compass and then lock a direction and have it keep you navigating in that direction
– Coordinates: You can manually enter in the exact GPS coordinates you want to go to
– Use Map: You can zoom in/out/around on the map, and pick the exact point you want to go to (such as the top of a mountain)
Some of these, such as POI, Around Me, and Use Map, depend on the included maps. As with all of the Fenix 7/Epix/Enduro 2 series watches, maps are included, either pre-loaded or freely downloadable. You can see which maps are pre-downloaded on your unit under the Map Manager feature, as well as add other regions. You can also do this from a computer using a USB cable and Garmin Express. Within the Map Manager you can see/manage how much space you have, and how much space each map requires.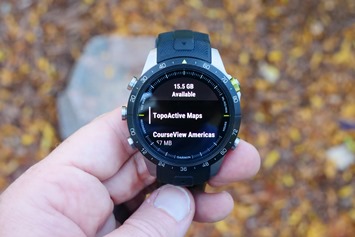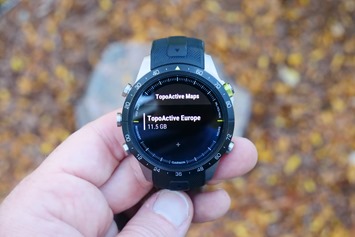 You can see above that the TopoActive Europe Maps about 11.5GB. And on the previous page it showed I had 15.5GB available (the watch has 32GB of space internally, but some of that is used for both other maps as well as internal stuffs). Remember, maps download sizes here are less about landmass size, and more about the amount of trails/roads/points of interest/etc… since that requires more data space.
For context, here's the current sizes of these maps. These will undoubtedly change slightly over time, but shouldn't change too dramatically over the years:
TopoActive North America: 9.4GB
TopoActive Europe: 11.5GB (*See update below for added Europe breakout)
TopoActive THID: 1.9GB
TopoActive MENA: 1.4GB
TopoActive Australia & New Zealand: 1.8GB
TopoActive Africa: 4.4GB
TopoActive Japan: 3.9GB
TopoActive Hong Kong & Macau: 17MB (yes, megabytes)
TopoActive South America: 6.1GB
TopoActive Taiwan: 96MB
TopoActive Korea: 213MB
TopoActive SGMYVNPH: 1.2GB
TopoActive China Mainland: 6.5GB
In addition, for Europe, Garmin has added the ability to download specific regions when you connect via computer instead. This is super helpful if you're a bit tight on space. They are as follows:
Europe Whole: 11.5GB
Europe West: 6.3GB
Europe Central: 6.4GB
Europe East: 6.2GB
In the case of the Europe map sub-regions, they overlap a bit, which is why if you add each component individually, it's far more than just downloading the main Europe one. I've added all of these regions below in a gallery, so you can see exactly which countries are part of which regions:

Note you can only toggle one of the Europe regions, or all of Europe. So it's either all of Europe, or just a single region, since the regions overlap a bit such that doing two regions is generally the same as doing all three as one consolidated download.
In my case, I'm mostly using the pre-loaded courses option for all my navigation needs. I'm creating these courses on either Strava Routes or Komoot, and then they automatically sync to Garmin Connect and onwards to my watch. It all works pretty much instantly. You can also create routes in Garmin Connect (web or smartphone app), including adding things like waypoints. Once a route is synced to the watch, you'll see it listed under navigation (for the applicable sport):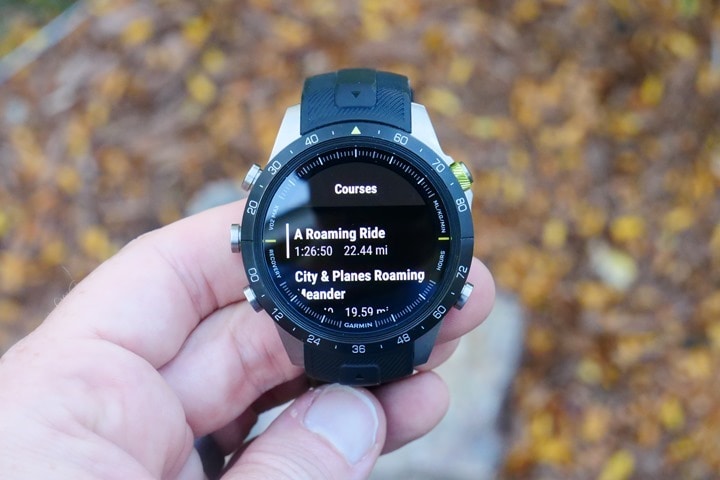 From here you can see the course details, including a map, elevation stats, and more.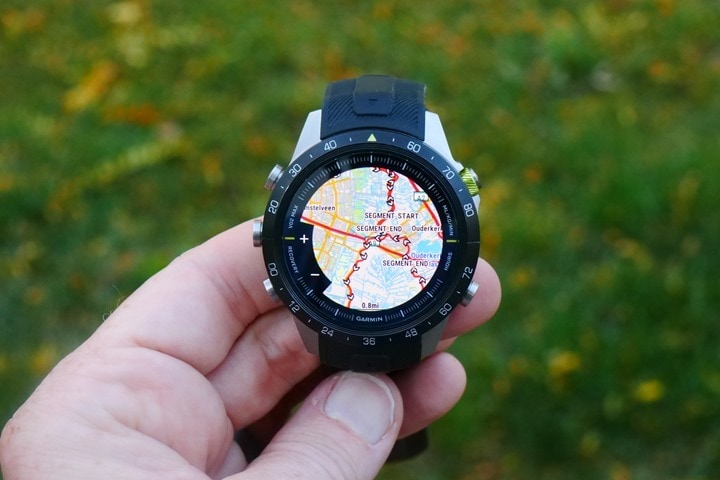 Once you've started the course, you can then get turn by turn directions, ClimbPro climb data, as well as see the full map and trail as you progress. This includes the newish Next Fork, which shows the upcoming trail junctions automatically. That feature actually doesn't require any route loaded at all. It just uses the map data to figure out what trail you're on and how long till there's a junction.
Again, I dive into this and all the mapping/navigation components in far more detail here in this section.
GPS & HR Accuracy: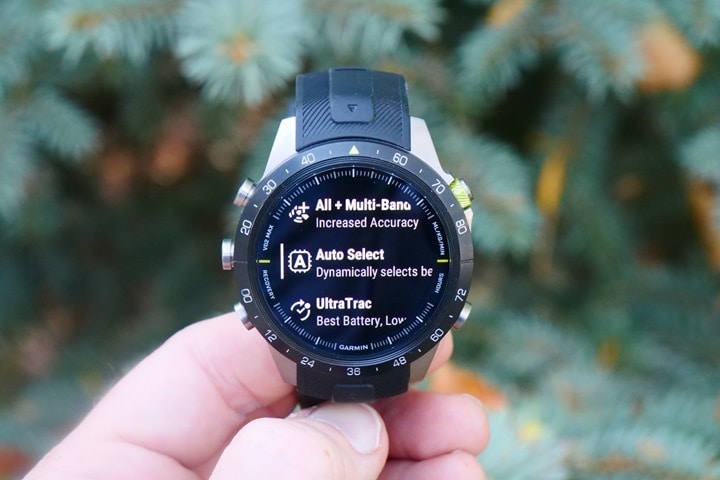 For this section I'm going to take a look at accuracy in three core areas: GPS (or GNSS), Heart Rate (optical), and barometric altimeter (elevation). I'll do this compared to either known-good data sources (a sign-post for elevation), or other chest straps (Polar H10 or Garmin HRM-PRO Plus). And for GPS tracks, I'll be looking primarily at where I actually went, or where the trail went on the map. Meaning, if a unit has me floating across a river and I didn't swim across it, then I'm reasonably confident it's incorrect.
First up, we've got an indoor ride with some solid intensity. As you can see, this pretty much nails it against the chest strap. There's a tiny bit of delay for a few seconds in one sprint interval, but otherwise spot-on.

So then heading outside for some rides, we've first got a warm-up, and then sustained loops around a cycling-only route. Following-which a cool-down. You can see it handles pretty darn well, far better than the Fitbit Sense 2:

For that same ride, if we look at the GPS track, at first I was a bit concerned, as there as quite a bit of variability in the colors on the map. But then I realized the yellow track was the most precise, one, and all the blackness was the Fitbit Sense 2 doing the Fitbit Sense 2 thing: Which is not being accurate. The multiband units of the Edge 1040, Wahoo ROAM V2, and MARQ were all basically spot-on.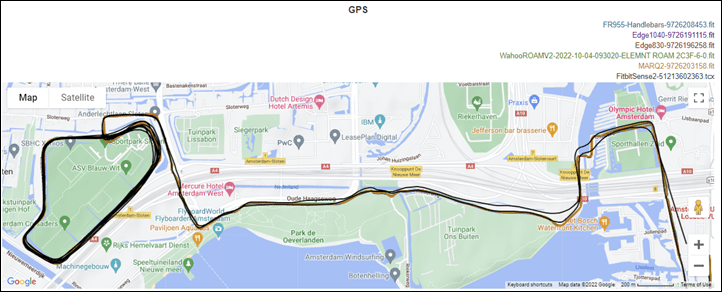 You can see this within the entry/exit points to the loop, as well as simply the loop itself: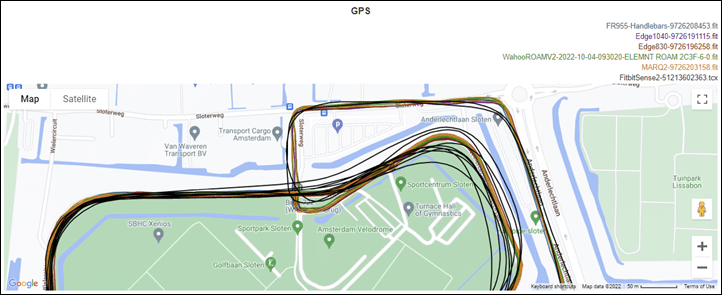 Next, another outside ride. This time with some gravel mixed in. On this ride, which was relatively straight, there was nothing of note here.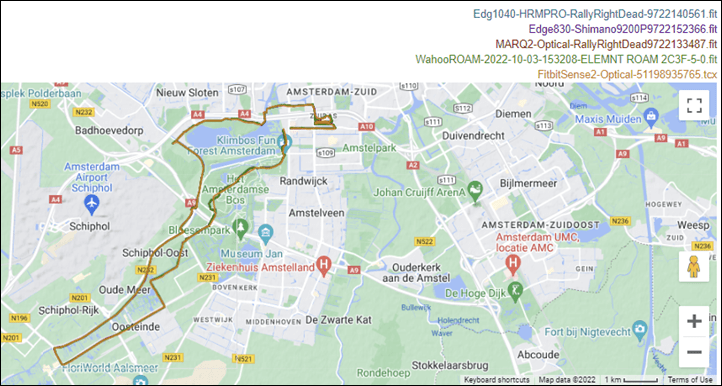 Even in the forested sections, it was spot-on the path. Something that can't be said by some of the other units.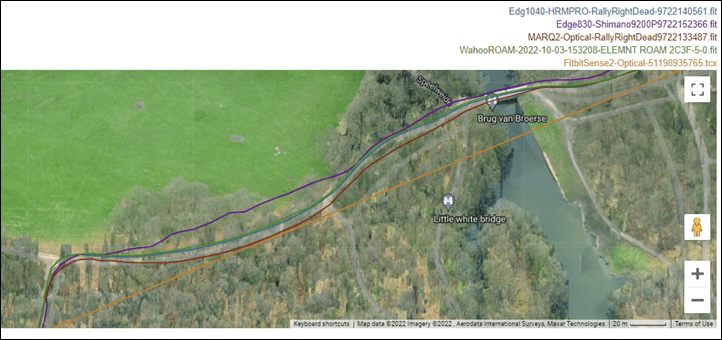 And likewise, the HR was generally acceptable, but as is often the case you see the limits of wrist-based heart rate while riding with strained wrists on handlebars.

Finally, let's look at a city run. For this data set, I'm just gonna focus on Epix vs MARQ 2. A portion of this is in a complex downtown section with 20-30 story buildings barely 2 lanes apart. Outside of this area, things looked virtually identical, including under some bridges and next to other tall buildings.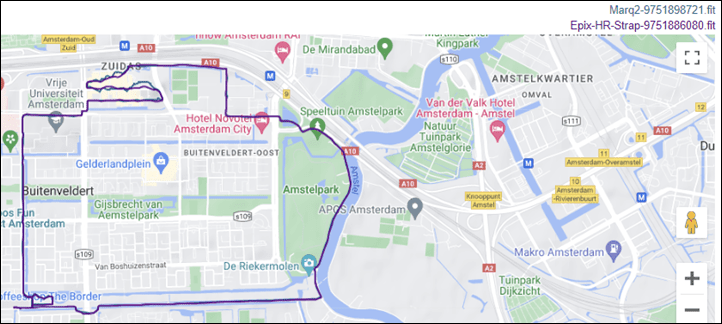 However, in the downtown core, it was a bit messier. On this particular run the MARQ didn't quite perform as well as the Epix. Both were forced into multiband configuration. I had changed the direction with each pass, as to provide equal opportunity for signal.

Likewise, on this run I did longer intervals, followed by shorter intervals. For the long intervals, the wrist-based data from the MARQ 2 was very close to the chest strap. However, on the shorter intervals at the end (basically 200m intervals), the MARQ did struggle quite a bit. I haven't seen this level of struggle from this sensor in other workouts on other devices, but…such is life.

Ultimately, GPS performance in the majority of conditions is looking very strong, with a few minor quibbles in the buildings, as well as one workout with very short duration intervals where it struggled. Other indoor trainer as well as shorter duration runs with equally short intervals have been fine.
(Note: All of the charts in these accuracy sections were created using the DCR Analyzer tool. It allows you to compare power meters/trainers, heart rate, cadence, speed/pace, GPS tracks, and plenty more. You can use it as well, more details here.)
Wrap-Up: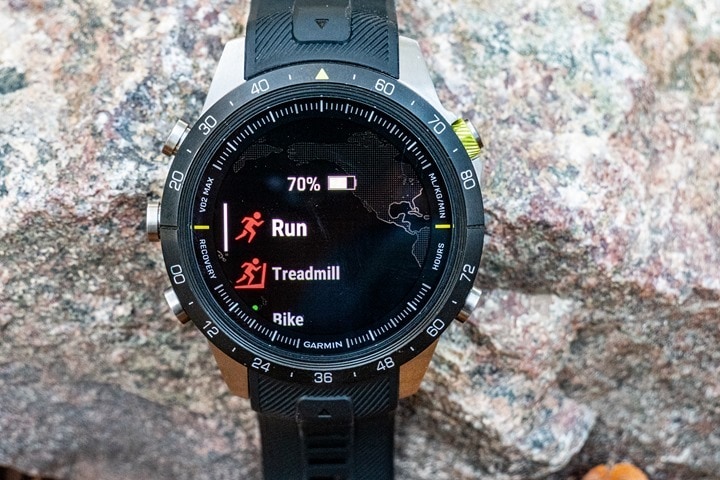 Here's the thing: This watch isn't designed to be a timepiece passed down from generation to generation. Just like a fancy digital camera isn't. It has a purpose for a given time period, and then it becomes more or less obsolete. As with any other product category, sometimes you pay more for features and sometimes you pay more for materials or branding. In the case of smart watches from Garmin, these will physically last a decade or two, but practically speaking Garmin stops giving meaningful new features after 2-3 years. The 1st gen MARQ Athlete series, now 3 years old, has stopped receiving meaningful updates, only receiving relatively minor updates alongside the rest of the Fenix 6 series. Rightly or wrongly, that's simply the cycle of life for Garmin watches. But again, my Garmin Forerunner 305 GPS watch from nearly 17 years ago continues to work.
But that likely won't matter for most people buying this watch. Instead, those people want the features and functions of an Epix watch, but with the looks of a higher end timepiece. Something that doesn't look out of place in more formal settings. And the MARQ series delivers that – even if it costs a pretty penny. Or, at lot of pennies.
With that, thanks for reading!