Garmin has just announced two new watches – the Forerunner 965 (this review), and the Forerunner 265/265S (full review up in the next hour or so!), both multisport watches and both equipped with swanky AMOLED displays. This nearly completes Garmin's equipping of different watch lineups with fancier AMOLED displays, as last year we saw them introduce the Epix series (a Fenix 7 variant), and the year prior the Venu 2 series (a more mass market watch). Of course, the key difference between what Garmin does here and what other companies have done with AMOLED displays comes down to battery life – with Garmin's variants typically lasting orders of magnitude longer than most. But more on that later in the review.
In addition to the display, the new Forerunner 965 adds wrist-based native running dynamics (plus the wrist-based running power recently introduced on the Forerunner 955), a well as new training load metrics around Chronic Training Load and Training Load Ratio. These metrics essentially compare your recent training load to your longer-term training load. And the best new feature? Perhaps just the new Garmin USB-C charging cable. Sure, it's still using the same tried and trueish Garmin charging connector on the watch side, but at least the box now includes the USB-C variant of it.
As usual, I've been putting the Forerunner 965 (and Forerunner 265) through their paces – with swims, runs, rides – all indoors and outdoors, and then daily 24×7 usage as well. All in the pursuit of seeing how well these watches actually work for both daily endurance sports training and day-to-day usage.
Garmin sent over media loaners to test out. As usual, this review is not sponsored (nor does any company get to preview anything I review), and I don't take any advertiser money from any companies I review. Once this unit goes back, I'll go out and buy my own for any future testing needs. If you found this review useful, you can use the links at the bottom, or consider becoming a DCR Supporter which makes the site ad-free, while also getting access to a mostly weekly video series behind the scenes of the DCR Cave. And of course, it makes you awesome.
What's New: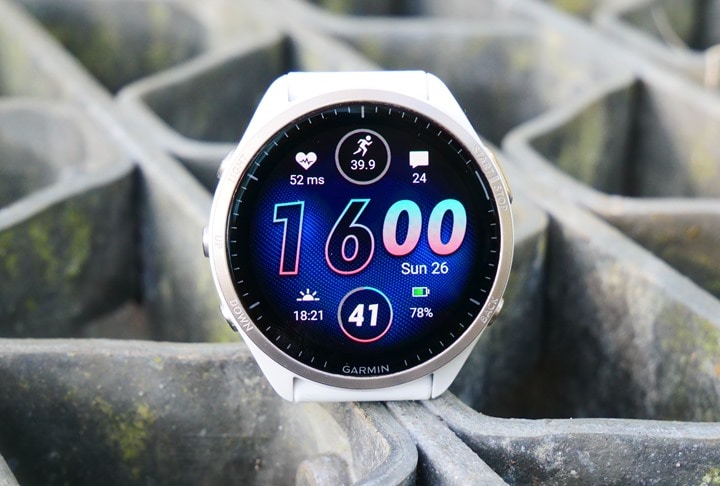 In most ways, the Forerunner 965 is essentially an AMOLED display version of the Garmin Forerunner 955 (released just 9 months ago). In fact, even some of the new software features of the Forerunner 965 are already slated to arrive on the Forerunner 955 (and some have somewhat accidentally already arrived in the past few weeks via Garmin Connect online). In other words, the Forerunner 965 and Forerunner 955 will reach parity within the next quarter, but, when asked whether that would remain the case going forward (in effect having an AMOLED and non-AMOLED version of the same watch), Garmin was less confident. They said that for the meantime that was going to be the case, but longer term they'd probably diverge.
In any event, here's what's new/different on the Forerunner 965 compared to the Forerunner 955 series:
– Changed to always-on AMOLED display (more vibrant colors/brightness/etc)
– Increased size of display from 1.3" to 1.4" (case size remains the same, as bezel thickness decreases)
– Case size remains the same as 47mm for both FR955 and FR965
– Watch thickness decreases by 1.2mm (from 14.4mm to 13.2mm)
– Display resolution increases from 260x260px to 454x454px
– Increased detail in maps at higher zoom levels
– Weight is 53g for FR965 vs 52g for FR955 Solar
– Lens material is Gorilla Glass 3 (previously was Corning Gorilla Glass DX)
– Added Titanium bezel (previously was plastic)
– Switched to USB-C Garmin charging cable (same watch port design as previous)
– Added new Training Load Ratio feature (coming to FR955/Fenix 7 series shortly)
– Added Chronic Training Load feature (also now available for FR955/Fenix 7 series on Garmin Connect app)
– Added built-in Running Dynamics (e.g. Vertical Ratio, Ground Contact time, etc…) without any sensor
– Revamped user interface to sorta-match the Garmin Epix AMOLED units
– Fully supports Physio TrueUp 2.0 (Unified Training Status, albeit now so does Forerunner 955)
– Price is $ 599 vs $ 499 for Forerunner 955 base and $ 599 for Forerunner 955 Solar
– Battery life changes per below
– No solar edition of FR965
– No ECG hardware internally
Now, in addition to this Garmin also announced the new Forerunner 265, which is also am AMOLED display version of the existing Forerunner 255. That in and of itself is a major update, but most notable is that the Forerunner 265 now gets Training Readiness, which is essentially Garmin's top-end umbrella training load/recovery/status feature that pulls in components like sleep, stress, training load, recovery, HRV status, and more into one cohesive picture. It was first rolled out last June with the Forerunner 955, then became available on the Fenix 7/etc series. The Forerunner 265 having it makes it the 'least expensive' watch to get it. The Forerunner 265 (like the FR255) is a full multisport watch, complete with power meter sensor compatibility and more.
This then invariably brings up the question of how does the Forerunner 265 vs Forerunner 965 differ? Here are the high-level differences (keep in mind that there are a ton of minor differences, for example courses/routing itself has a massive number of sub-features):
– Forerunner 955/965 has full maps, the Forerunner 255/265 does not (both can follow courses)
– Forerunner 965 has a 1.4" AMOLED display, whereas Forerunner 265 has a 1.3" display with 1.1" for 265S
– Forerunner 955/965 supports recording Garmin Cycling Dynamics power meter metrics, the Forerunner 255/265 does not (oddly Instinct 2 does record these…)
– Forerunner 955/965 has 'Stamina' data field during workouts for longer-duration pacing, FR255/265 does not
– Forerunner 955/965 have ClimbPro features, the Forerunner 255/265 do not
– Forerunner 955/965 have a slate of map-dependent navigation/routing features the Forerunner 255/265 do not
– Forerunner 955/965 have navigation Next Fork feature, the Forerunner 255/265 do not
– Forerunner 965 has Training Load Ratio and Chronic Load, the Forerunner 255/265 does not
– Both the Forerunner 965 and Forerunner 265 have built-in wrist-based Running Dynamics (the FR955/FR255 will get via firmware update)
– Both have multiband GPS, including new 'AutoSelect' SatIQ mode
– Both have WiFi (assuming you get FR255 Music edition)
– Both have downloadable music (including Spotify/Deezer, and Amazon Music, plus MP3's).
– Both have HRV status, SpO2 sensor, and all the same other daily activity tracking metrics
– Both have morning report, race widget, and daily suggested workouts
– Both have Garmin Pay, incident detection, LiveTrack (with phone nearby)
– Both use the same standard Garmin charging port cable
– GPS mode battery life of FR965 is stated as up to 31 hours, FR265 GPS mode life is stated as up 24 hours and FR265S at 20 hours
– Smartwatch battery life is of FR965 is stated as 23 days, FR265 smartwatch mode is 15 days and FR265S at 13 days
– Forerunner 965 is priced at $ 599, Forerunner 265 is priced at $ 449
Phew, got all that? Let's start using the watch.
The Basics: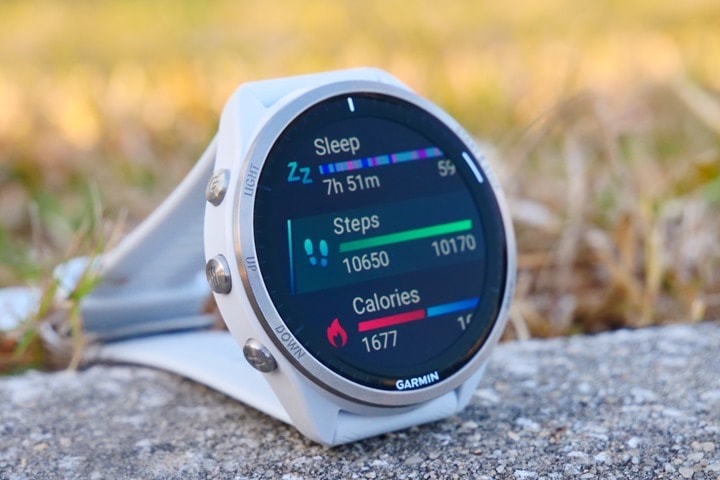 In this section, I'm going to dive into all of the basic features of the watch. This includes things like the display (battery life, touchscreen, etc…), as well as all the daily fitness aspects like sleep tracking, activity tracking, other health metrics, etc… Further, I'll dive into bits like smartphone integration (notifications), and more. Whereas the next section (Sports Usage) covers all the workout bits, and then the section after that (Training Metrics) dives into pieces like Training Readiness, Load Ratio, and more.
Further, I also cover all of this in the complete beginners guide video you should shortly find just above. That's a long-form video where I slowly iterate through each of the features of the Forerunner 965, one piece after another.
With that, let's being with the hardware. The Forerunner 965 has five buttons like most Garmin sport watches. Three buttons on the left side, which are mainly used for navigating menus. And then two more buttons on the right side, which are mainly used for confirmation and back/escape (plus starting/stopping). You can also long-hold any of these buttons for further functions, including the ability to assign quick-access buttons.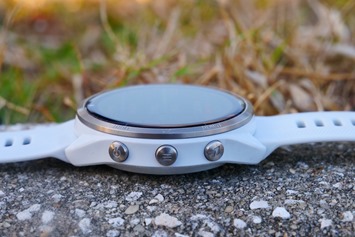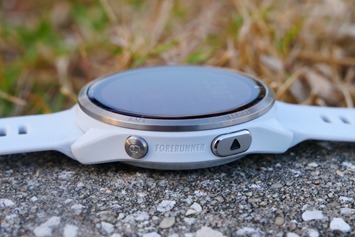 As a general rule of thumb when comparing the Forerunner 955 and Forerunner 965, the answer is almost always gonna be the same. About the only software feature area these two watches differ is around the display. At least for now. Both have touchscreens, and when it comes to touchscreen usage, the Forerunner 965 keeps the Garmin sports watch mantra of "Use it if you want, don't if you don't". Meaning, every single function on the Forerunner 965 can be completed via buttons instead of the touchscreen. You can literally disable the touchscreen if you want – with no impact to features. Inversely, if you're all about touch, you can do almost everything via touch (except starting/stopping a workout and hitting the lap button).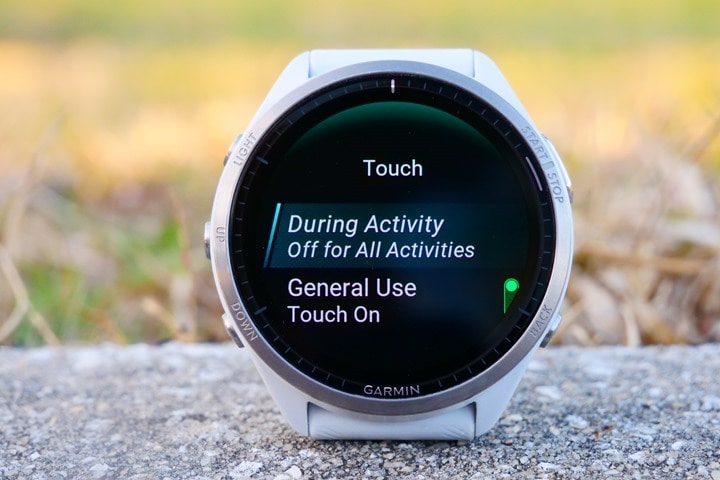 By default, virtually all sport profiles have touch disabled (during a workout). This means you can either enable it across the board during workouts, or, you can individually enable it on a specific sport profile. There's a minor nuance in differences in that on the Fenix 7/Epix series you can also disable it within just sleep too, but that doesn't appear to be an option here at this time (a trait carried over from the FR955). To be clear, there's still nightly do-not-disturb mode and such, just not the more advanced sleep-related display settings as found on the Fenix 7/Epix. I don't know why – it's one of the many inconsistencies/differences between the platforms. Practically speaking though, it just didn't matter to me, as once in sleep-mode, your touches won't trigger it anyway (sleep mode can be automatically triggered based on time, or manually – the point is to reduce brightness – just like other watch companies do.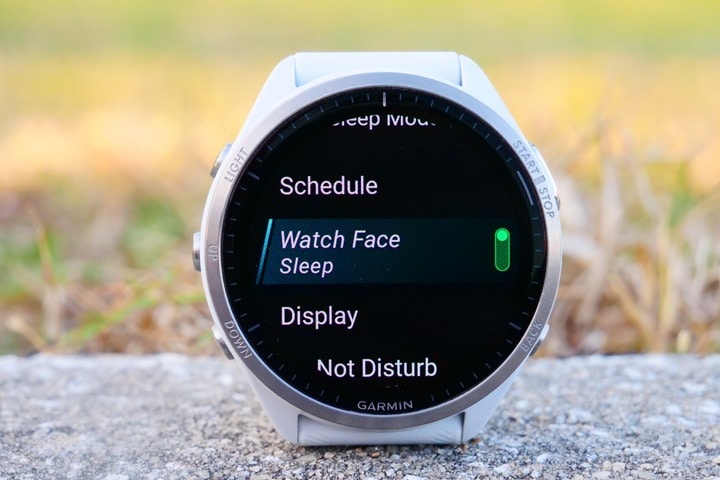 Just to see side by side the differences in display quality, here's the Forerunner 955 Solar at left, and Forerunner 965 AMOLED at right: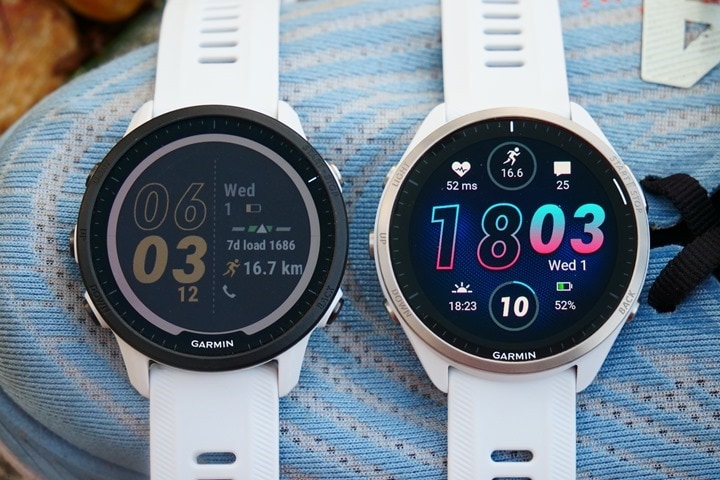 And for better or worst, my testing this last week has been in a bright/sunny/hot locale – and I can say there's absolutely zero issues seeing the display using the default settings in bright sun conditions (once you turn/raise your wrist). Just as there were no issues with Epix either for the past year and that AMOLED display, in either bright or dark conditions. The single exception to this is if your wrist is off-axis (such as lower on the handlebars), it can be trickier to see, though frankly, that's also true of MIPS watches.
But let's not get ahead of ourselves here. First up is the watch face. As with all Garmin watches, this is fully customizable – in two rough categories. First is a bunch of stock watch faces on the unit that you can choose from, and then individually customize each component (e.g. data fields/complications, coloring, styling, etc…). And then the second way is via Garmin's Connect IQ app store, which includes boatloads of watch faces. You can also create your own watch face with pictures/photos if you want to.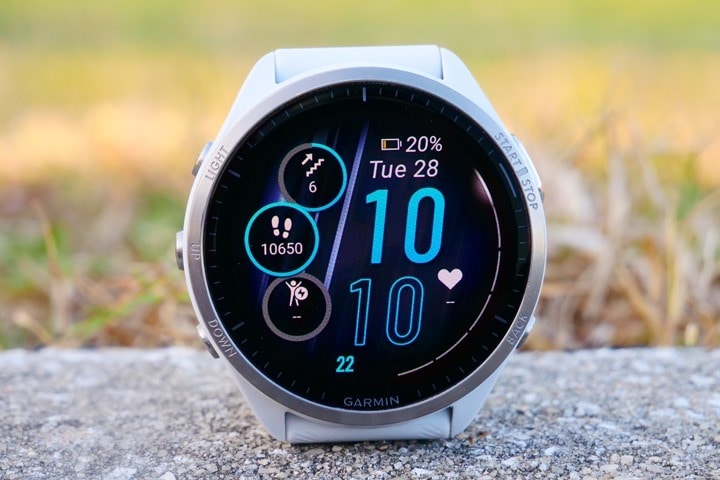 Here's the Garmin Connect IQ app store, which has a variety of watch faces you can choose from. Typically speaking on launch day, the number of watch faces that are marked as compatible with the new watch is low, and then over the coming days and weeks it balloons and developers mark their watch face as compatible/compliant. You can also create your own watch faces using photos from your phone album.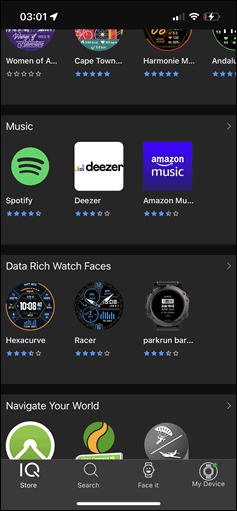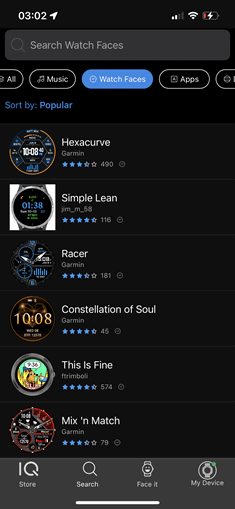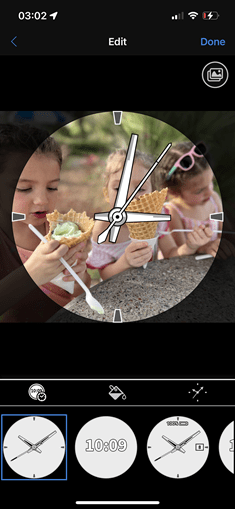 Next, we'll swipe or button down to the widget glances. These are basically little snippets of data from umpteen different categories. You can customize which widgets are shown, the order they're shown, and even download 3rd party widgets. You can also create folders for them too, of your own naming accord. The idea is glanceable bits of information that you can then tap into (or button into) to see more data about that particular item.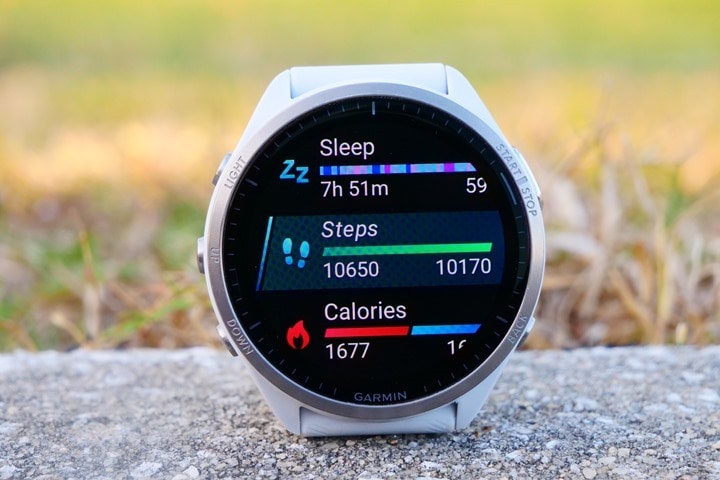 For example, if you tap on the steps one you'll see more details about steps, including 7 day distance and total trends: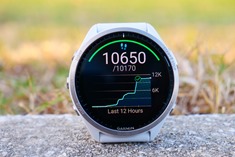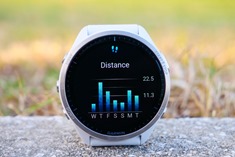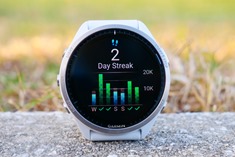 All of this data is concurrently synced to the Garmin Connect platform (which is both a website and the Garmin Connect Mobile app). Here you can analyze it even further, digging into whatever granularity level you want. Sure, sometimes the app is a bit confusing when you're first starting given the amount of data that's there, but in most ways it's only as complex as you make it. There's no watch app out there that provides anywhere near as much data as Garmin does (or any watch that provides that much data). Whether or not that can be overwhelming is a different story.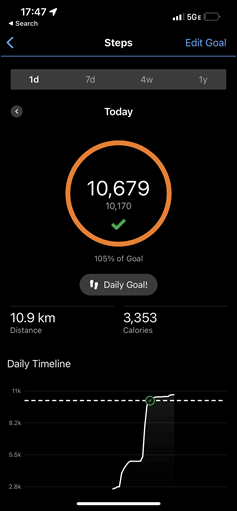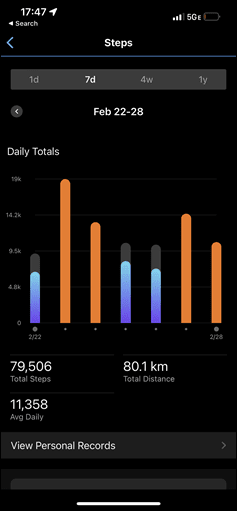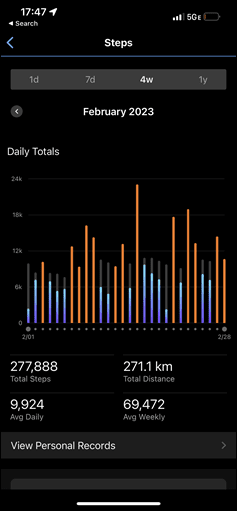 For literally every metric that you can imagine, Garmin lets you dive into the details of it. From heart rate tracking to breathing rate, to functional threshold power and chronic training load. There are still occasional inconsistencies though. For example, why can I only plot my sleep in 1-day/7-day chunks, yet every other metric in 1-day/7-day/4-week/1-year chunks (including the related Sleep Score)? But these quirks are minor in the grand scheme of things.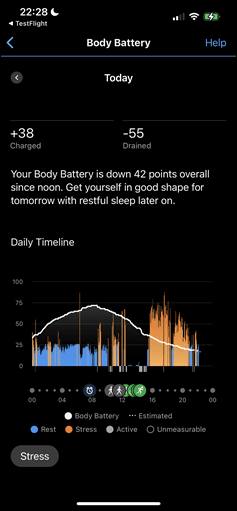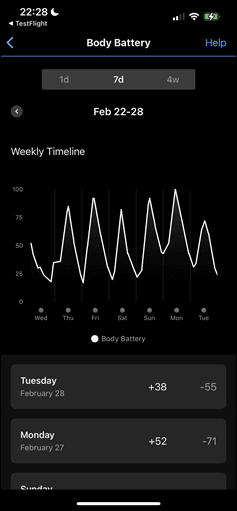 Many of these metrics are derived from data captured by the optical heart rate sensor located on the bottom of the Forerunner 965. This optical HR sensor is powered on 24×7, constantly logging data well beyond just your heart rate. This includes things like calculating breathing rate, HRV, or even blood oxygenation levels (if enabled). The Forerunner 965 uses the Garmin's Elevate V4 sensor (same as on the Fenix 7/Epix/FR955/FR265/FR255/Venu 2 series).  The green light is for regular heart rate recordings, while the red light is for blood oxygenation levels (Garmin calls this Pulse Ox):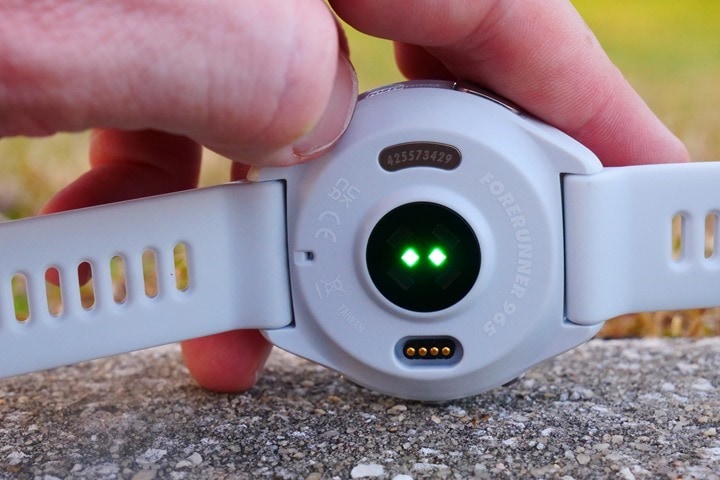 Unfortunately, despite Garmin introducing ECG on the Venu 2 Plus series a few weeks ago, there is no ECG hardware in the Forerunner 965. This is both confirmed by Garmin, as well as simply obvious by looking at the bottom of the unit. It lacks the isolating ring around the optical HR sensor, which is required for an ECG.
Beyond obvious metrics like heart rate or breathing rate, there's a slew of algorithmic metrics. These are things that are unique to Garmin (or, at least Firstbeat, the company which Garmin acquired that develops algorithms but still licenses them to other companies). For example, one is Body Battery. Body Battery is basically your energy level. You recharge it every night, and then decrease it during the day, or during periods of relaxation (like sitting on the couch watching TV). However, with the Forerunner 965 there's also Training Readiness, which is aimed at figuring out if you should train (or, to what intensity).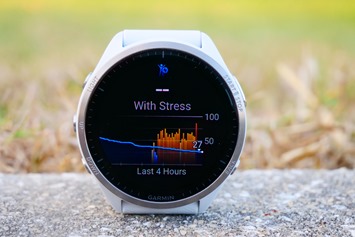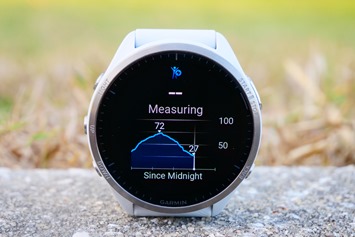 Here's a better way to think of it: Use Body Battery on vacation to see the impacts of your day when you don't care about training. Whereas, use Training Readiness when you are trying to get workouts in. Training Readiness is much broader in the inputs it accounts for (sleep/workouts/stress), whereas Body Battery really only cares about that single day time slice. Again, tons more later on this in the 'Training Metrics' section.
Speaking of sleep, the Forerunner 965 will automatically track your sleep metrics each night. This is roughly grouped into three camps. First is how much time you sleep, the second is your sleep phases (e.g. REM/Deep/Light/Awake), and the third is your Sleep Score. That Sleep score attempts to take those first two camps and give you a graded score for your night (1-100).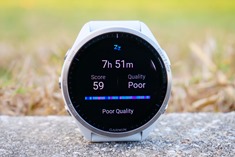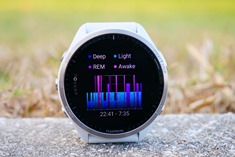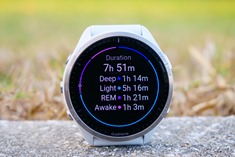 In my testing, the sleep times are usually quite accurate (within a few mins of when I fell asleep/woke up). However, the sleep phases and sleep scores are kinda all over the map. For example, when wearing the Forerunner 965 on one wrist, and the Forerunner 265 on the other wrist, I've gotten vastly different sleep scores and sleep phases. That's because the sleep phases are different, which throws off the sleep scores. And while this might sound like a Garmin-only problem, the reality is most wearables suck at sleep phases. Complicating matters is there isn't even a reliable way to validate this data. If I look at the viable home options to compare sleep stages/phases in terms of accuracy, those devices aren't that accurate by themselves (only about 80% accurate). We'd never accept comparing other features like optical HR accuracy to an "80% accurate chest strap", so I won't accept doing so here.
Meanwhile, the Forerunner 965 includes HRV tracking, like the Forerunner 955 before it. HRV is measured constantly through the night. Garmin takes constant readings, and then displays them in 5-minute increments within the HRV timeline graph shown. That chart also shows your max values for the night. It's 100% normal that there's this much fluctuation in it, as your values are often tied to different sleep phases.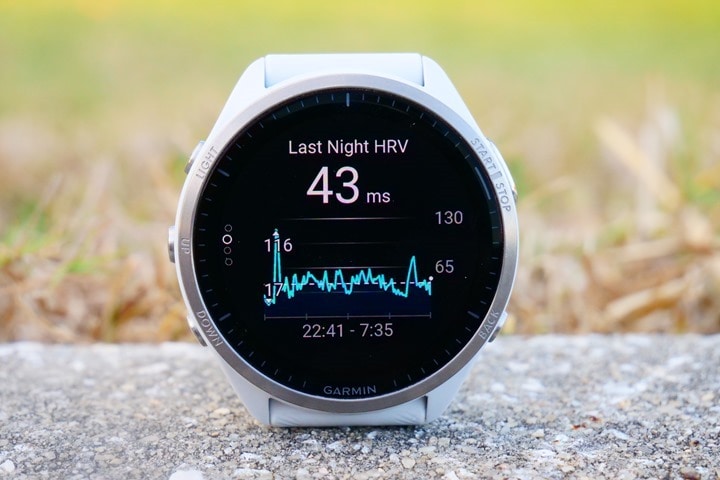 (Fun Tidbit: That crazy 116 spike? Likely an artifact when the world's loudest fire alarm went off in the middle of the night and I nearly crapped the bed.)
However, this is just the first snippet – and is the nightly HRV values. These are interesting, but not as useful as plotting it over time. So that's where Garmin's HRV Status feature comes in. This requires 19 nights of data before it starts tracking, as it'll establish your baseline. That baseline is unique to you, and will shift slowly over time on a 90-day rolling window. The general gist is that if you're within your green zone, it'll show 'Balanced', but then you can become unbalanced over time (either high or low).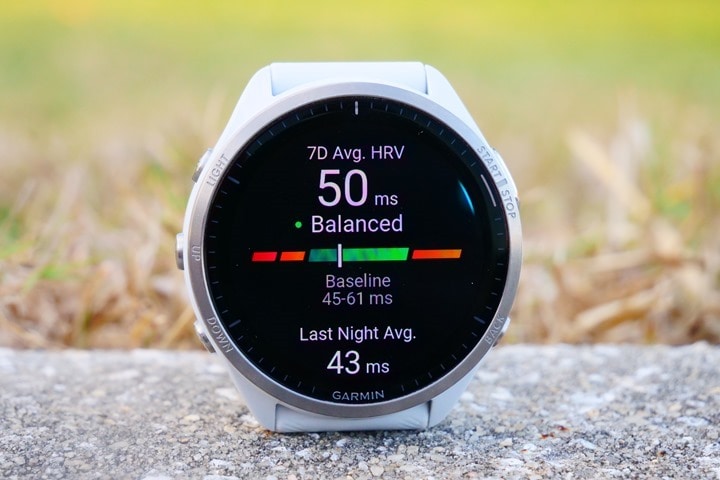 Keep in mind that a single 'bad night of data (such as after heavy drinking), won't immediately impact your HRV Status. It's not supposed to. Neither should a heavy training weekend. Instead, you'll see the dip reflected on your trending charts. But sick for a week with a low HRV value? That'll probably do the trick. But again, that's kinda the point. As for the accuracy of the underlying data, back in my Forerunner 955 review, I compared the HRV data to a Polar H10 chest strap, and found it very similar: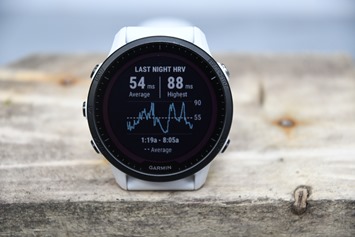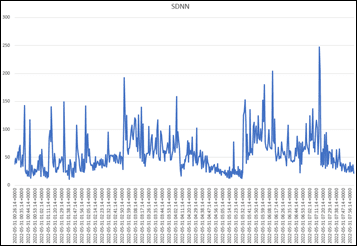 (Above is a very rough visual comparison between a Polar H10 worn throughout the night and the Garmin FR955. I say 'rough' because to begin, the SDNN isn't exactly the same as what Garmin records as SDRR, as Garmin's is error corrected. Second, the scales aren't the same here. Further, trying to get a chest strap to have good connectivity the entire night isn't actually super easy. So in the same way that sleeping on your side/wrist can impact wrist values, so can movement where the strap might not be perfectly placed at some random point in the morning. Nonetheless, the averages recorded are within 2ms. The Polar's average for the night was 52, while the Garmin's was 54ms. If I can find better ways to get the data out of Garmin's platform, I can look to do other comparisons.)
The Forerunner 965 uses the same exact sensor/algorithms/etc as the Forerunner 955.
Moving along, one favored feature introduced last year is Garmin's Morning Report. This watch overlay appears when you wakeup each morning, and shows a small collection of relevant data for the day ahead. It includes HRV Status, Training Readiness, Sleep, planned workouts, the weather, and more. You can customize this with which data you want, or disable it entirely. Though, it's probably one of my favorite features: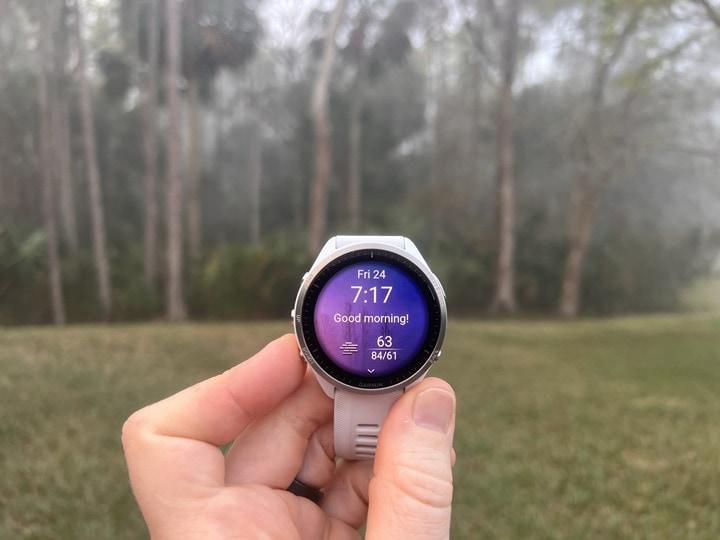 You can start to see little bits of the UI redesign here in the Morning Report. Even clever things like on a foggy morning, actually showing fog on the back of the morning report 'welcome' screen. Here above a photo taken outside showing the fog in the trees matching the fog on the watch.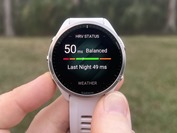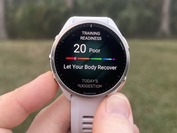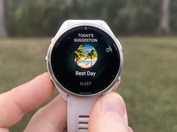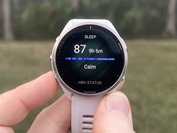 It'll also do things like wish you a happy birthday, good luck for a planned race, and a number of other things throughout the year. In fact, notably, if you do have a planned race, it'll hide Training Status/Readiness components from you that morning (in the morning report). The idea being that seeing that data (if bad) won't change your race any – it'll just potentially discourage you.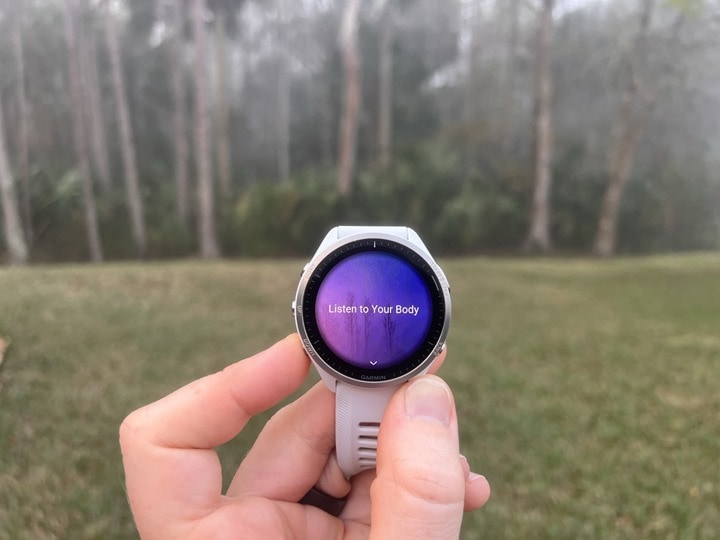 Now, we're gonna start to round home here on a few features and go back towards more the smartphone related features. First up is smartphone notifications. These show incoming notifications from your phone, as you've configured by your phone. Garmin has gotten much better in the last year or two with emoji, now showing most of them. Note that with an iOS device, you can't reply to these notifications, due to limitations imposed by Apple. You can dismiss them though.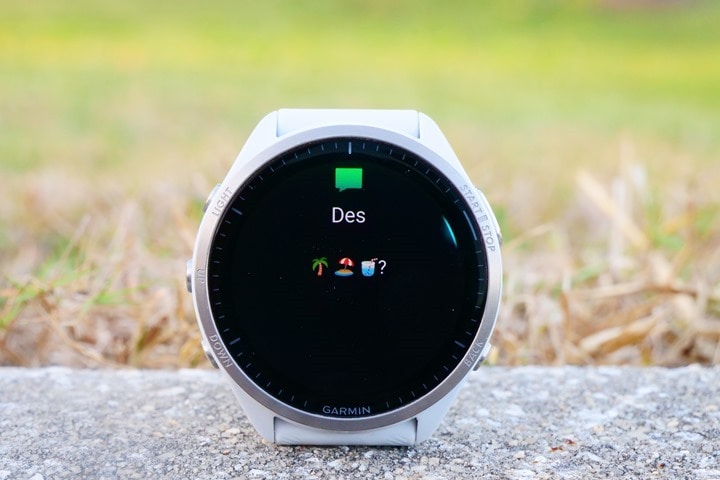 Meanwhile, the watch supports both Garmin Pay & offline music. At this point both of these features are pretty much mainstream across many of Garmin's watches. For the music side, you can add offline music from Spotify, Amazon Music, and Deezer – as well as MP3's and podcasts (though frankly, it's way easier/faster to do podcasts via Spotify offline on the Garmin watches).
Whereas for the Garmin Pay contactless payments, you can load credit cards from any number of different banks. There's a huge list of them here. In short though, for the US you're pretty well covered, whereas for the rest of the world, it'll vary quite a bit. It's kinda hit or miss. Once you've got it loaded though, you can simply tap the watch against a NFC/contactless payment terminal to pay wirelessly:
Lastly, we get to the charging/battery elements. In this case, you'll charge via the new USB-C Garmin charging cable included in the box. This is the same Garmin charging connector as before, except the other end of the cable is USB-C. There is no wireless charging here.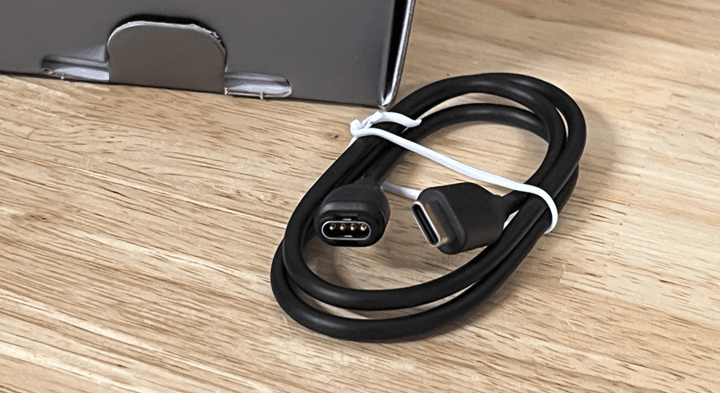 Charging times for me last night before bed from 10% to 90% were about an hour, which is on-par with the Garmin Forerunner 955 – and pretty much in the better side of of things (compare that to a Garmin Fenix/Epix unit that takes nearly two hours).
Inversely, when it comes to real-world battery life, things are a bit messy depending on whether or not you have always-on display enabled. In my case, all of my testing was with the always-on display enabled. First though, here's the official battery specs:
Forerunner 965 Official Battery Specs:

Smartwatch mode: Up to 23 days
GPS-only mode without music: Up to 31 hours
SatIQ (AutoSelect) GNSS mode: Up to 22 hours
All-Systems GNSS mode + Multi-Band: Up to 19 hours
GPS-Only GNSS mode with music: Up to 10.5 hours
SatIQ (AutoSelect) GNSS mode with music: Up to 9.5 hours
All-Systems GNSS mode + Multi-Band with music: Up to 8.5 hours
As you can see, there is no always-on display battery spec/metric at this time for the Forerunner 965. Instead, a rough guide would be 1/3rd to 1/2 of the smartwatch mode metric. Unfortunately, I wasn't getting anywhere near that for smartwatch usage. GPS-usage was more than fine, equaling or exceeding the run times for the SatIQ option I was using.
But that didn't explain why I was burning through battery in less than three days with always-on enabled (and also sleep-mode enabled at night). In doing a bunch of digging, Garmin decided something was dorked-up with my first unit, and so they sent over another unit. I just received that earlier today, so I haven't had time to gather much data yet. However, in place of that, my friend and fellow reviewer DesFit has had far better luck using near identical settings to me. In this case, with always-on display enabled, and about 6 hours of outdoor GPS time (including power meter sensor connectivity), he's seeing about 6.5-7 days of battery life. That's more inline with what I'd expect, and Garmin would expect. And would be in the rough ballpark of what I've seen on the Garmin Epix (closer to 5ish days), which is of course now year-old tech, but to give a general gist of things. Meanwhile, the FR265 unit I'm using seems in the ballpark of what Garmin would expect for always-on display usage, and on the GPS side, I'm actually well above spec (in a good way), which is nice to see.
I'll keep testing and report back/update here once I've got a few more days on the replacement unit.
Sports Usage: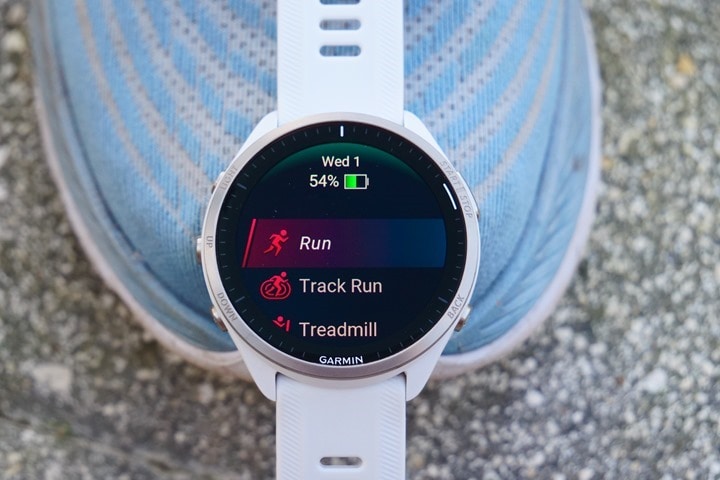 Undoubtedly, if you're buying a Garmin Forerunner watch, it's for the sporting side. And if you're buying this higher end FR965, it's likely for endurance sports. In the case of the Forerunner 965, it has almost identical sports to the Fenix 7/Epix series, but there are a few exceptions. For example, you won't find Windsurfing here (despite the lower-priced Instinct 2 series getting it a few weeks ago). But beyond that, almost everything is identical software-wise when it comes to sports. On the Fenix/Epix lineups there are some slight differences in the mapping/navigation department, but more on that later on in the Mapping/Navigation Section.
The bigger aspect to understand is how many sport-related features tie it all together. Things like recovery and training load features, or functions like custom workouts or deep navigation options. And within all these areas, there are literally hundreds, if not thousands, of features. And there's a strong likelihood you'll never use 95% of them.
But the reality is you'll use 1-5% of them, every single day. And which 1-5% you'll use will vary wildly from person to person. I use sports features every day that others never use, and vice versa. It's fundamentally why they lead this category. And perhaps more importantly, over the last few years, the software quality has increased substantially, largely through open firmware beta programs that go on for months.
In any case, to start a workout, you'll go ahead and tap the upper right button, which brings up a list of sports. You can pin your favorite sports to the top of the list, making it easier to get to: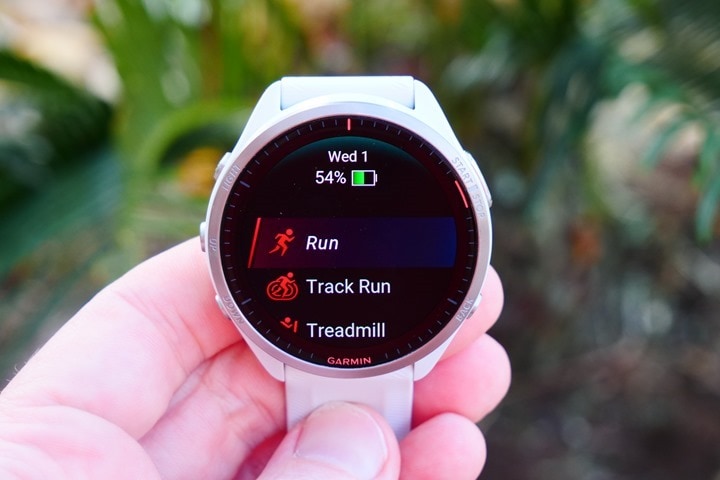 Here's a complete list of the sport modes currently listed on the Forerunner 965 (some are technically not sports, but fall under sports modes in the Garmin world, like Map Manager):
Run, Track Run, Treadmill, Hike, Bike, Bike Indoor, Pool Swim, Open Water, Triathlon, Multisport, Virtual Run, Indoor Track, Trail Run, Ultra Run, MTB, eMTB, Cyclocross, Gravel Bike, Bike Commute, Bike Tour, eBike, Road Bike, Disc Golf, Climb, Golf, Swimrun, Ski, Snowboard, Backcountry Snowboard, Backcountry Ski, XC Classic Ski, XC Skate Ski, Snowshoe, SUP, Kayak, Row, Row Indoor, Tennis, Pickleball, Padel, Walk, Yoga, Pilates, Breathwork, Strength, Climb Indoor, Bouldering, Cardio, HIIT, Floor Climb, Elliptical, Stair Stepper, Health Snapshot, Navigate, Map, Track Me, Project Waypoint, Clocks, Other, Connect IQ App Store
Each of these sport profiles are customizable, be it things like the data pages and data fields, or the aspects like auto-lap or auto-pause, or even ancillary settings like ClimbPro (for hiking/running/cycling in the mountains/hills) or alert settings. Every sport has a slate of these that can be tweaked, and you've got two main ways you can tweak them. First, is on the watch itself, and second is on your smartphone.
The Forerunner 965 allows you to customize each of these from both the watch itself, as well as from the Garmin Connect Mobile smartphone app. About the only feature you can't customize from the Garmin Connect Mobile app is the downloaded maps, or sensors. You have to do that either from the watch itself (maps & sensors), or from a computer (maps). But everything else is covered. You can do this via the device settings and then the activity type: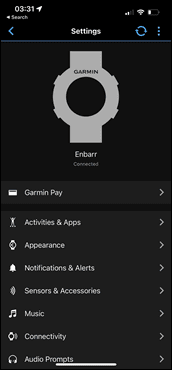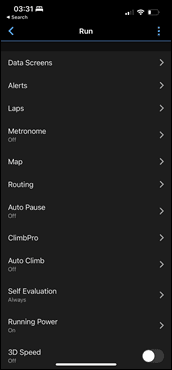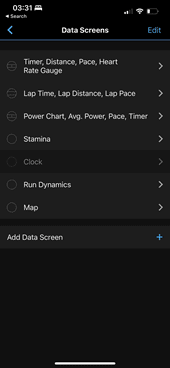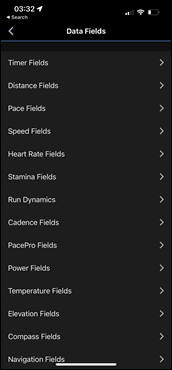 The depth that you can go into here is just like on the watch, and the menu system loosely follows that too. Again, this is sorta Garmin's thing in life – a million options. 99% of them you'll never touch, but if that 1% feature is your favorite feature, then it's the most important thing to you. That's fundamentally why Garmin has done so well over the years – even if it's sometimes at the expense of ease of use.
The Forerunner 965 supports 6 custom data fields per page, and has no meaningful limit on the number of custom pages you can create per sport profile. There are additionally various stock graphical pages and gauge pages, like heart rate gauges or Stamina data pages, or a run power data gauge. It's somewhat interesting that the slightly smaller display Epix (1.3" vs 1.4" on the FR965) allows 8 data fields per page. Again, another example of seemingly unnecessary inconsistencies between the Forerunner and Epix/Fenix product lineups.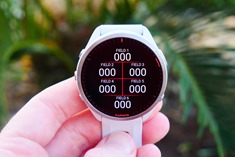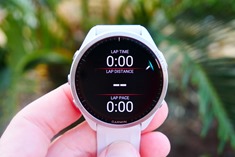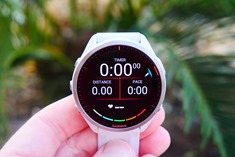 After you've spent half your day customizing your data pages (really, you don't actually need to customize anything – you can just start a workout with the default pages Garmin has setup for each sport), you'll see the GPS waiting screen. This screen shows the status of not just the GPS signal, but also any sensors you've got paired, as well as things LiveTrack status (if your phone is nearby). Regular Garmin users probably are noticing this is a completely redesigned page.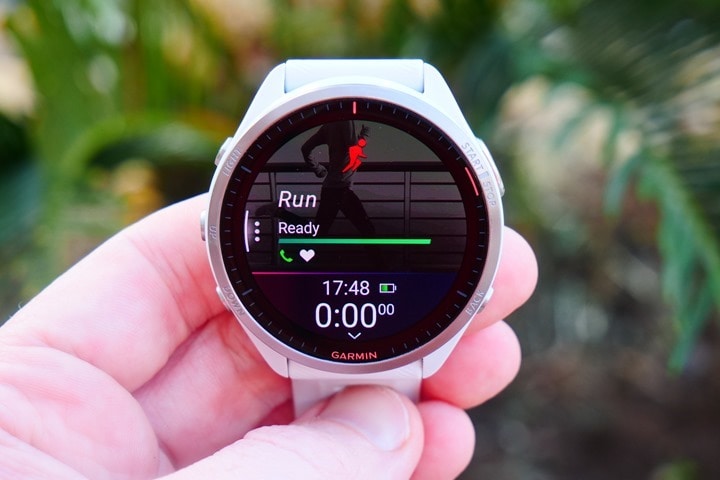 At this point it may have offered you a Daily Suggested Workout (for Running/Cycling), or, if you had a structured workout pushed to it from platforms like Training Peaks, TrainerRoad, Garmin Connect Calendar, etc… it'll show you those. The built-in daily suggested workouts are driven by the goal of making you faster via figuring out your current training load baseline. Alternatively, if you had loaded a race onto your calendar (running/cycling), it'll give you a training schedule aimed towards that goal.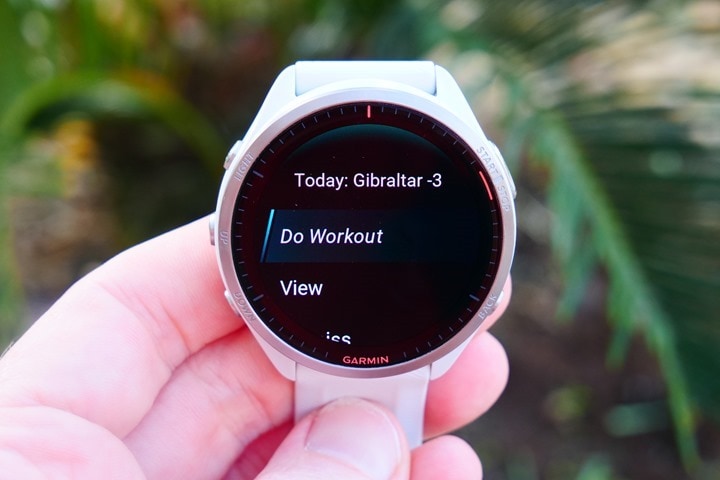 Once you either select one of those (or not, or create a manual interval workout, PacePro race plan, etc…), you'll be off to the races. You can iterate through the data pages you've configured, such as those seen below with the Running Dynamics natively via the wrist: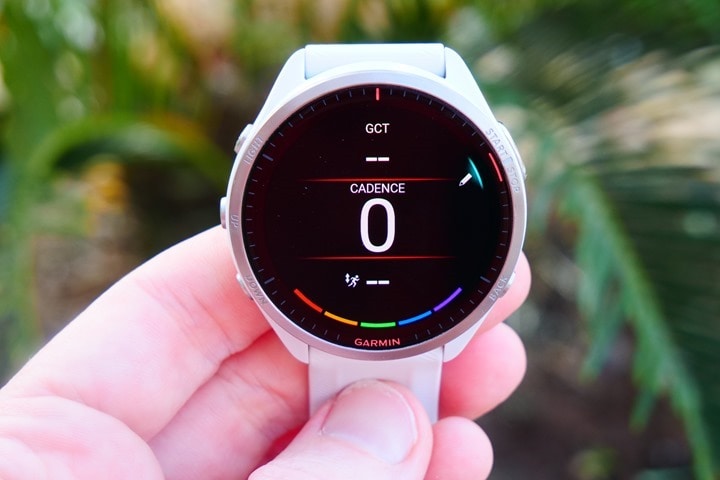 One of those is the newish 'Stamina' data page. This was introduced last year with the Fenix 7/Epix units, and also was seen on the Forerunner 955. The general gist of it is that it aims to tell you how much juice you have left in the tank for this workout at this specific intensity. If you increase intensity, it'll decrease your duration till death (in either distance or time). And if you decrease intensity, it'll increase your duration till collapse.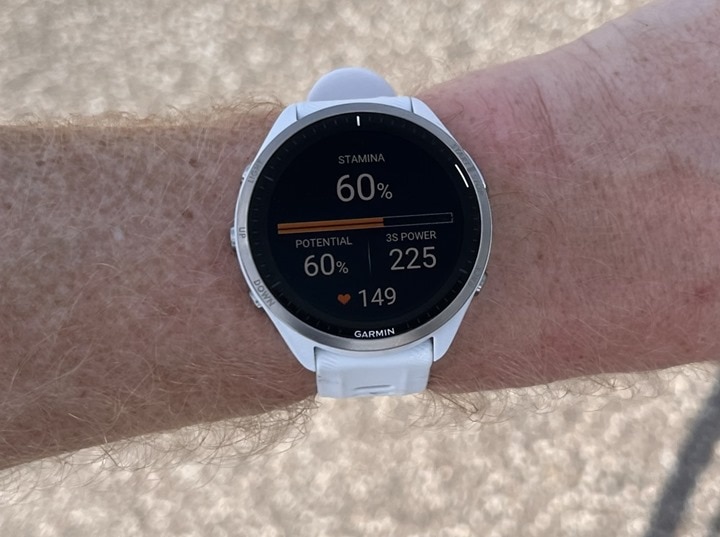 Using the default Stamina page, the top portion of the page, titled Stamina, is your short-term potential. In other words, how much can you give right now at this second. This is the most notable one for intervals, because it's going to go up and down. Whereas the middle-left one is your Potential, which is your long-term potential. How long can you maintain this interval workout for, or in an endurance event – how much gas is in the tank for the entire day. This will steadily decrease over the course of the workout.
But I actually prefer creating a new custom Stamina page that shows me the metrics in a more logical format, specifying exactly how much time/distance I have left, along with my current pace/HR (or power in cycling). Here you can see earlier in the workout: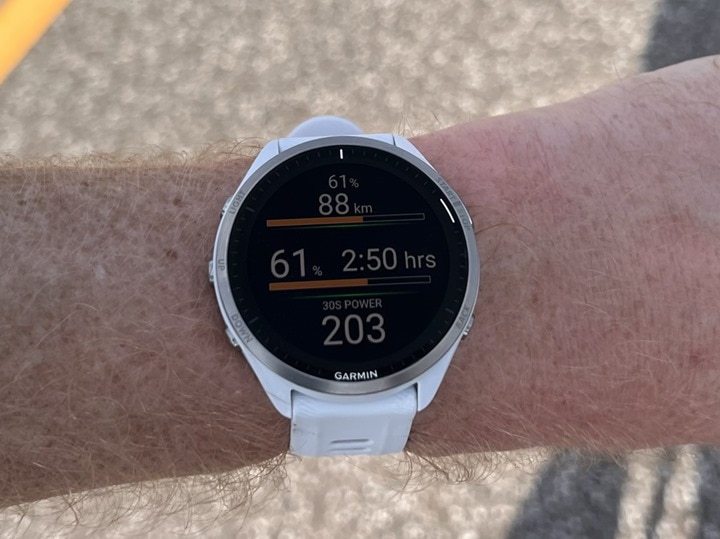 You can also see this data afterwards in Garmin Connect as well:

In the case of steady-state workouts like above, the line tends to be pretty linear and slow-moving downwards. Whereas in interval workouts, you'll see more fluctuations as you recover. However, only your short-term stamina recovers, not your long-term. That's logical, because that's how intervals work. You slow down to recover for the next one, but eventually you'll run out of gas to do more repeats.
All of this is based off of a blend of your estimated VO2Max in conjunction with aspects of Body Battery and recovery from the previous night.  As such, it's moderately important to get at least a few good hard workouts in on the watch, so that it can approximate your VO2Max. Else, the data will mostly fall apart.
Overall in my usage of the Stamina feature over the last 14 months or so, I find it generally pretty darn accurate. I've done 7 hour rides over the top of mountains and it's ended up at exactly 1% at the end when I felt pretty exhausted/shot. And inversely, for even 60-90 minute sessions it's done well at that range. I find it's a bit trickier though at the shorter end (like 20-40 mins). I wouldn't try and use it to pace a 5KM race, but you might be able to get away with pacing a 10KM effort with it.
Now, switching topics a bit is running power. I'm not going to rehash running power here, or Garmin's implementation of it. I've done that many times. All you really need to know is there is no standard in running power (across the industry), specifically in what is or isn't included, and thus, different watch companies do it differently and arrive at different levels. Likewise, there's no physiological reason for cycling power and running power to 'match'. In fact, there's a lot of good reason for them not to match. But all that's neither here nor there. What is here though is that the Forerunner 965 includes native wrist-based running power, which means no extra sensor is required. You just run, and it displays/records it:

If you want to turn this off, you can. Alternatively, if you want to use an external Garmin sensor, you can. Both of these are options in the settings. At this time it still doesn't support external non-Garmin running power sources (such as Stryd), though Garmin has previously said they aren't opposed to it (as they do so for cycling power just fine). You can still of course add the Stryd data field/app to it as you see fit, just like with past Garmin devices.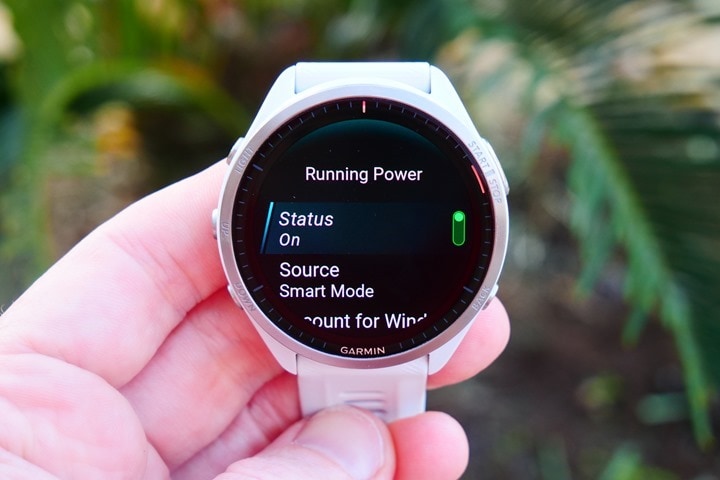 The main appeal to the Garmin native implementation is that it's fully supported across things like structured workouts, data fields, and various other charts. That includes the following data fields you can add:
– Power
– Power Gauge
– Avg. Power
– Lap Power
– Last Lap Power
– Max. Power
– Power Zone
However, new to the Forerunner 965 is wrist-based Running Dynamics. Running Dynamics are things like Ground Contact Time and Vertical Oscillation. This previously required a Garmin external sensor like the HRM-PRO, HRM-RUN, HRM-TRI, or RD-POD. None of those are required anymore (though, you can still continue to use them as a data source). Instead, you'll see the Running Dynamics data on the watch, as well as on Garmin Connect, without any such sensors – like below: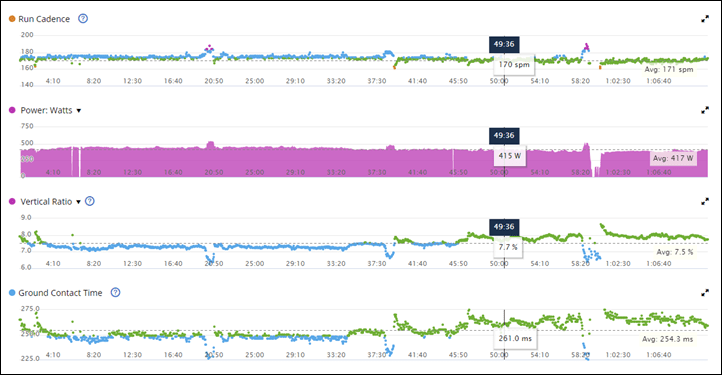 Down in the heart rate accuracy section, I dive into some comparison charts of how the wrist-based Running Dynamics looks versus the chest strap provided data sets (I stuck in the HR accuracy section, as to not clutter up this section with more charts).
Frankly, all these years later and I'm still not super clear what I'm supposed to do with this data in terms of training or racing. But hey, at least it's here now without needing to buy any external sensors. Undoubtedly Apple adding this natively to their watches last summer/fall played a (massive) hand in Garmin doing the same. There are still reasons to buy an HRM-PRO Plus HR strap, such as better swim heart rate tracking, or other metrics without a watch on your wrist. But for most people, those will be edge cases.
Speaking of sensors, the Forerunner 965 maintains the same list of sensors as the Forerunner 955, which is basically every ANT+ or Bluetooth Smart sensor type you'd ever want to pair to it. And even those that aren't supported natively are supported via Connect IQ apps on the watch. For example, you can add Core body temperature sensor data field apps, or NIX hydration sensing apps, or aerodynamic cycling sensor apps, and so on. It's again, a huge strength of the Garmin platform these days. But as for the native sensor list, here ya go:
eBike (ANT+), Extended Display (ANT+), External HR (ANT+ & Bluetooth Smart), Footpod (ANT+ & Bluetooth Smart), Headphones (Bluetooth), inReach (ANT+), Cycling Lights (ANT+), Muscle O2 (ANT+), Power (ANT+ & Bluetooth Smart), Cycling Radar (ANT+), RD Pod (ANT+), Shifting (ANT+), Shimano Di2 (Propriety ANT), Smart Trainer (ANT+), Speed/Cadence (ANT+ & Bluetooth Smart), Tempe (ANT+), VIRB (ANT+), Golf Club Sensors (Garmin)
As with before you can save multiple sensors of the same type, and give them custom names if you want. For example I'll name one bike's power one thing, and another bike's another thing, and so on.
Inversely, you can also broadcast your heart rate from the Forerunner 965 to 3rd party apps/devices, using standard ANT+ & Bluetooth Smart. For example, if you want to broadcast it to Zwift or Peloton, you can do that with the touch of a button. Likewise, you can broadcast it to your Garmin Edge device (or any bike computer). I've setup certain profiles (indoor cycling) for example to automatically broadcast my HR, so I can pick it up on Zwift if I want to.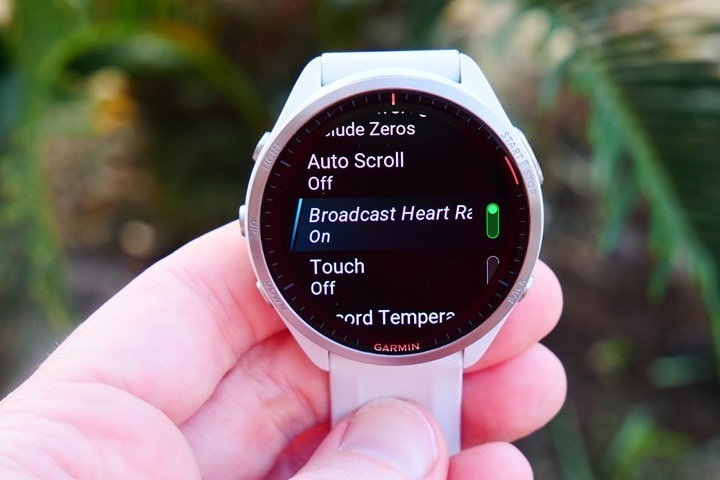 And in the case of running, you can also broadcast your running pace for indoor treadmill running (again, with Zwift).
Now, with all that working out done, you can save your workout. You'll get a summary of the workout on the watch as a starting point, in a bunch of graphical pages: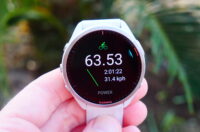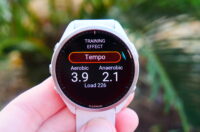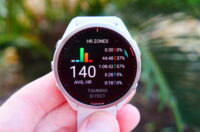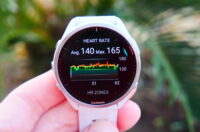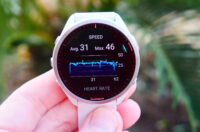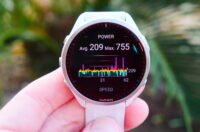 Additionally, you can see even more data afterwards on Garmin Connect (app or website), like so: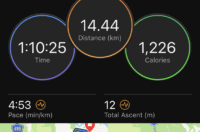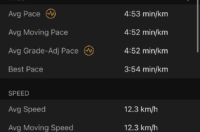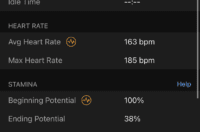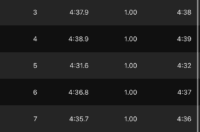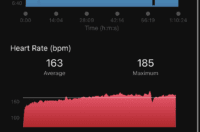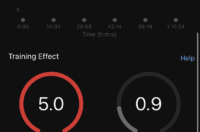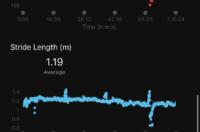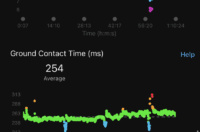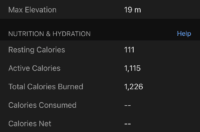 Further, if you've got 3rd party apps like Strava or TrainingPeaks, you can configure your account to automatically forward the workout files to those apps, which shows about 1-2 seconds later (for real). It's super easy, and is how I configure my accounts (in my case though, I also set my Strava to be 'Private' by default for all new activities, so I can update them later as I see fit).
So with our workout complete, let's dive into the training load and recovery metrics – as that's an entirely different ball of wax to deal with.
Training Load/Recovery Metrics: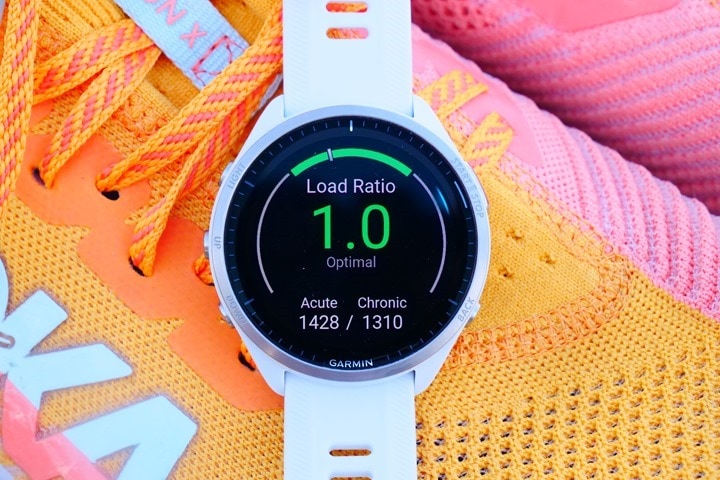 With each successive Garmin device, the number of training load related metrics has increased. And the Forerunner 965 is no different, as it adds Training Load Ratio and Chronic Training Load. Thankfully, those two are relatively easy to explain. This is all atop the existing Training Readiness and Training Status (2.0) pieces that were added last year to the Forerunner 955.
There's a lot to take in here, but in a nutshell, last year Garmin significantly revamped how Training Status, Training Load, and a slew of metrics related work. At first glance, you'd likely just see the new Training Readiness & HRV Status metrics and assume everything else was the same. But there were fundamental shifts to those metrics that try to lessen the chance you're going to get an Unproductive message when you're simply in a hard training block. And if we look at the success of that some 8 months or so later, most people would agree Training Readiness is a massive step forward, and arguably leads the industry in how to present endurance sports load/recovery data.
As with all training load/recovery algorithms or concepts, there are still edge cases and quirks. There always will be. This is no different than a coaching philosophy, there's different opinions on how to train.
First, though, we've got a couple of core concepts to explain briefly, and then in more depth in the rest of this section:
Training Readiness: This metric aims to be your one-stop shop to decide whether or not to train that day. It blends Sleep (vs both short and long-term history), Recovery Time, HRV Status, Acute Load, and Stress. In short, you can spike one category (badly) without necessarily killing your next training day. But all categories aren't created equal.
Training Status: This is looking at your acute load, HRV status, load focus, and VO2Max trends. This one is less about should you train, and more about how you're training. Meaning, are you doing too much high intensity, or too much low intensity? That's what'll give you an unproductive status. In other words, how would a coach look at your training log, ignoring most other life/feeling type metrics.
HRV Status: This is measuring your HRV values constantly while you sleep, and then comparing it against your 3-week baseline, up to a 90-day rolling window baseline. A single night of drinking doesn't tank this score, but three nights of partying won't keep you in the green.
Acute Load: This is looking at your last 7 days of load, except the load now burns off dynamically. Meaning, a hard training day 7 days ago is far less impactful to the score than a hard training day yesterday. Previously this was called 7-Day Load, now it's Acute Load.
Chronic Load: This is looking at the last 28 days of history, albeit like Acute Load, it's weighted too within the 7-day chunks. The easiest way to think of it is essentially looking at the averaging of those Acute Load pieces for each of the last 4 weeks individually.
Load Focus: This shows which categories your training efforts have fallen into, over the last 4 weeks. These include Anaerobic, High Aerobic, and Low Aerobic. Basically, you need to have an even training diet to get faster. Simply running hard/all-out every day won't make you faster. It'll just get you injured and slower.
Recovery Time: This calculates how much time you need till your next hard intensity workout. As is often misconstrued, this isn't till your next workout, just your next hard one. This is largely the same as before. Exceptionally good sleep can speed this up, and inversely, a high-stress day can slow this down.
There are many metrics here, arguably, too many. But setting aside the quantity of them, most of them do actually have a purpose, even if confusing. If I were stepping back and looking at which ones to focus on, it'd essentially just be the new Training Readiness status. Before dive into that though, I've previously covered HRV Status components in my Forerunner 955 review here, so that's a good place to dive into that component.
The idea with Training Readiness is to take a bunch of components under one umbrella, and figure out how 'ready' you are to 'train' at that very second in the day. The value will shift throughout the day (higher if you do nothing, lower if you do a workout). The score is comprised of all the fellows you've seen before: Sleep, Recovery Time, HRV Status, Acute Load, Sleep History, Stress History: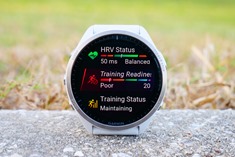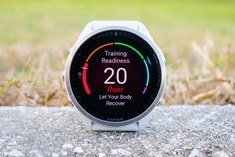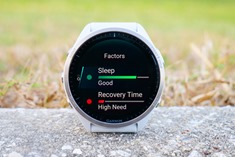 Each of the components are weighted in varying ways, and against varying timeframes. Here's the run-down:
– Sleep: This one is specifically looking at last night's sleep
– Recovery time: This looks at your Recovery time in hours (based on workouts, but can be sped-up with good recovery)
– HRV Status: This is comparing your 7-day trend versus historical trend
– Acute Load: This is looking at your 7-day trend, weighted towards newness
– Sleep History: This is looking at last night versus your prior 2 nights of sleep history
– Stress History: This is looking at the recent daytime data (excluding overnight readings)
Again, the idea here is that you can figure out what's impacting your training readiness, and whether it's expected. If you're at a training camp, you'll expect high Acute Load and likely high recovery time too. But hopefully, the other stats are normal/good. Thus, you can try and figure out whether to proceed or not. Whereas if everything is looking like a red dumpster fire, then you should probably train on the couch.
Now outside of sleep, the one I tend to look at the most is Acute Load. At first glance, you might think this is just 7-day Load renamed, but that doesn't really cover what it actually does. Yes, it shows your 7-day load, but load burns off dynamically. In years past, if you had a big ride 6 days ago, that load would be factored into your total 7-day load duration as if it just happened yesterday. Versus with Acute Load, it's weighted to burn-off within a few days, as logical. That's because a week later it's unlikely that big ride is still impacting you. The point of this is to reduce the massive swings that used to occur in the Training Status panel when a big workout from a week ago disappears, making you go instantly from Productive to Unproductive in a matter of seconds.
Here's my acute load, and you can see how last week was an easy week, and this week is already higher as my workouts are longer/tougher. The green portion is my 'tunnel', which is basically my safe training load zone (high and low). Garmin's UI rendering is a bit hard to see here, because my tunnel is so wide.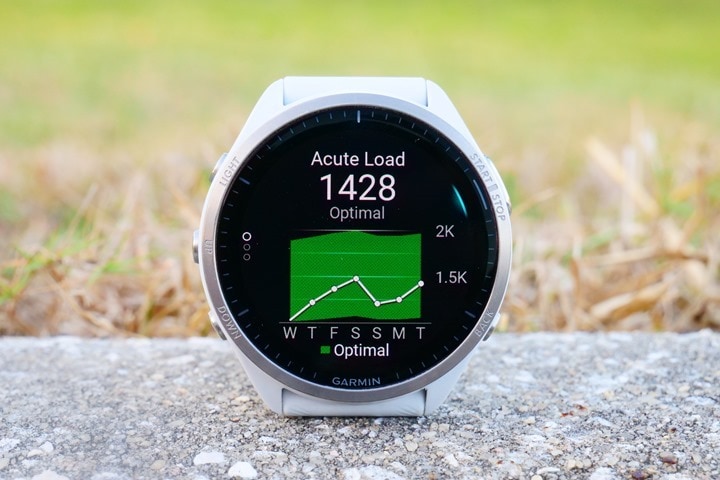 Now, that then plays into the new Forerunner 965 Chronic Load and Training Load Ratio. Your Chronic Load is simply the average of those 7-day chunks, but for the last 28 days. It helps figure out whether you're ramping up too fast or not. Previously this was somewhat visible in a different way via the '4 Week Load Focus' page, but in a different categorization of load types. Now it's a simple gauge: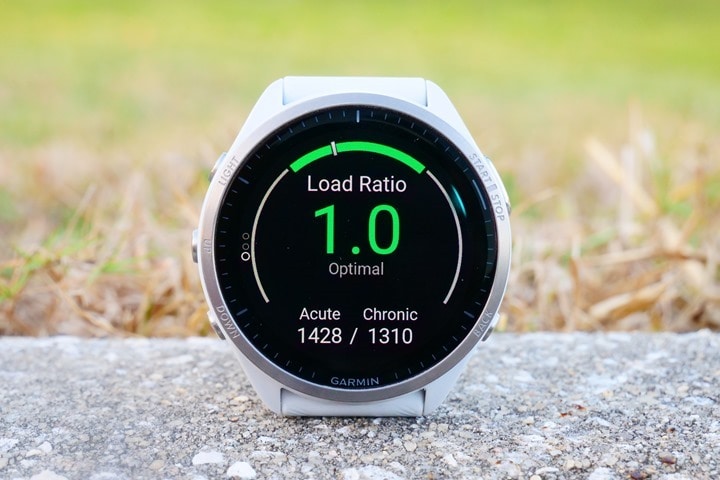 If the two numbers (Acute and Chronic) matched exactly, that'd be 1.0. In my case, they don't, and in theory this number above should be 1.091 – but Garmin says they round down, so it becomes 1.0 instead of 1.0. Either way, it's still in the 'green' as the green range is 0.8 to 1.5 (hence why my gauge marker is to the left as opposed to being centered). This is also viewable in Garmin Connect Mobile, though, mine is somewhat broken at the moment on iOS, and doesn't show the numerical values below it. Garmin says they're running that bug down.
You can see how the above total Acute Load matches that I have for my 4-week Load Focus, which categorizes the training type: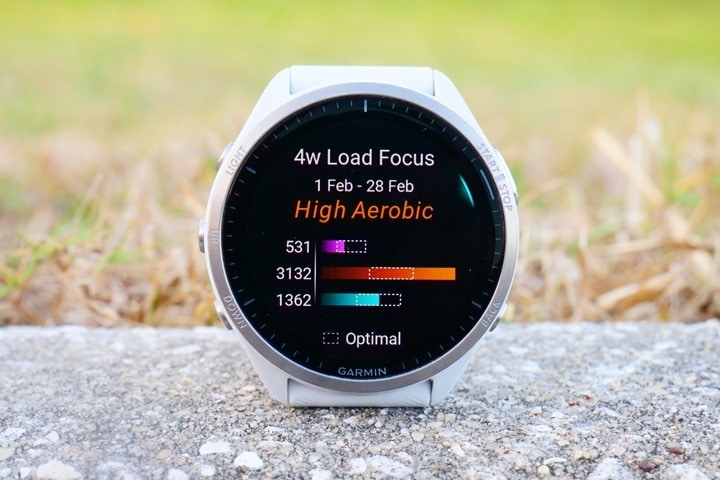 Then fast-forward a day and a few more workouts and you can see my load ratio has gone up, given the big day today with a bike/run/swim: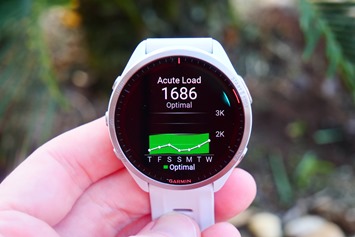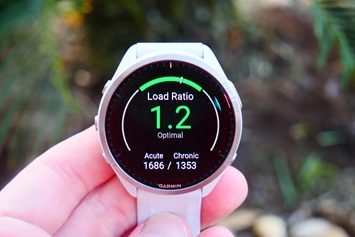 Now, all of this rolls back up into the Training Status page. This page aims to show whether or not the type of training I'm doing is beneficial to me getting faster. It'll have messages like Productive, Unproductive, Maintaining, etc… Right now, I'm 'Maintaining', because apparently my VO2Max value is 'Steady' (meaning, neither going up nor down). So even though my HRV Status is good, my Load Focus is good, and all the other things are fine, since it thinks my VO2Max value isn't going somewhere, I'm not 'Productive'.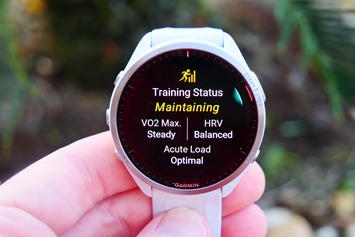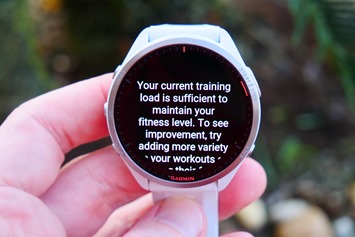 And this is where things can fall apart a bit. In my case, I'm definitely getting faster over the last two months. Both FTP tests and Garmin's own race predictor show that quite easily. My training load the past two months has been substantial, yet measured. But my VO2Max values have been 'stuck' according to Garmin Connect since November (4 months ago). I'm not the only one. And as such, the Training Status is kinda broken. That's largely why I've ignored it and instead focus on Acute Load and Training Readiness, which are more tangible. And all of this sets aside the fact that the actual VO2max values it has for me right now are rather low, compared to my running paces and FTP values (or just low compared to what it previously had till November, which was on low training fall training volume).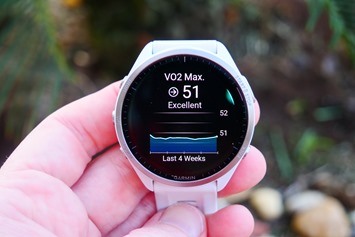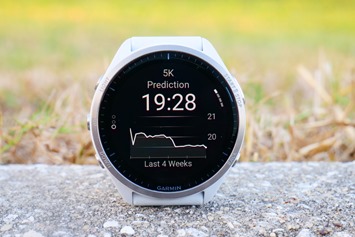 One last area to mention is Recovery Time. This largely hasn't changed from before, but I need to briefly highlight it, because it's now far more important in the Training Readiness score. Recovery time is showing your recovery time based on workouts. This is basically showing your recovery time till your next hard workout, in hours. This can speed up with a good night's sleep, or slow down with crappy sleep or a very stressful day: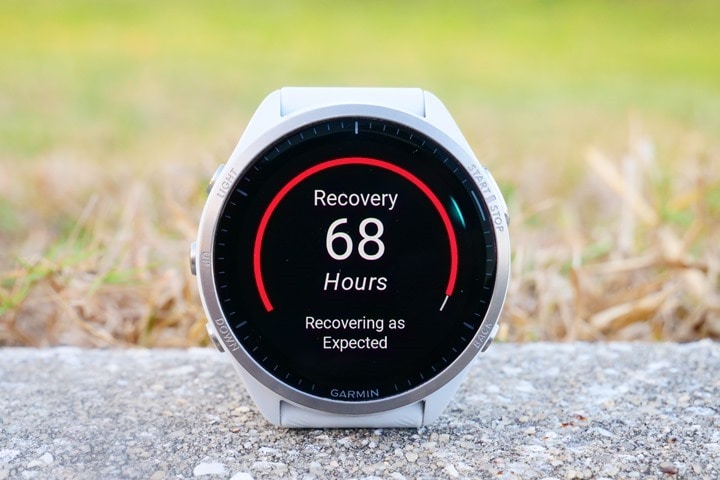 Now, all that said, setting aside from my current VO2Max bugs, Training Readiness and Acute Load is fairly valuable for me day to day. I look at Training Readiness each morning as a rough gut check of where I am in terms of recovery and preparation for the next big workout. However, I'm also not using it as the singular source to decide whether or not to train. It's just one data input – I then use my own 15+ years of training/racing knowledge to layer atop that.
But I do find that it's often good at reminding me when my body really is shot, or inversely, when I'm truly recovered (mostly after taking a few days off). The only downside? Somehow on the Forerunner 965, neither Training Readiness, nor Acute Load, nor Training Load Ratio, or any other Training Status metric is available as a watch-face data component. It's previously been on the Forerunner 955 and other watches, but not here. Hopefully they change that.
Mapping and Navigation: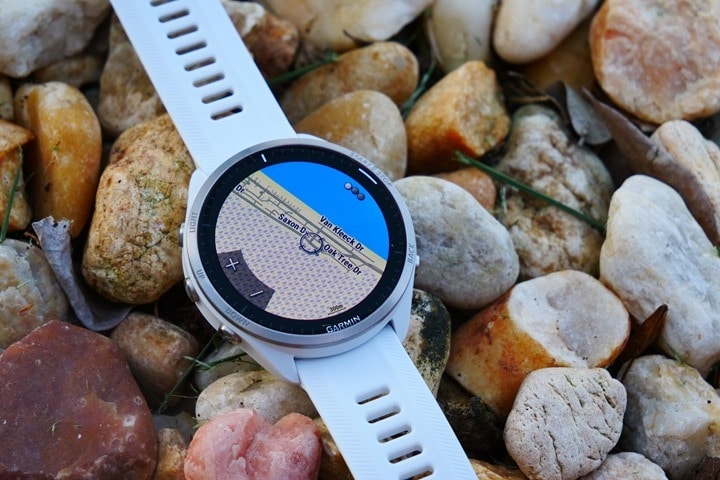 The Forerunner 965 carries with it the same built-in mapping features as the Forerunner 955, including free downloadable maps (via WiFi/USB), for pretty much every region on earth. These maps are topographic trail maps, which include both topo terrain data as well as city/road data. Basically, it includes all the data you'd need for any non-boating/non-aviation adventures.
By default your unit will come preloaded with the maps for your particular region. The Forerunner 965 has 32GB of built-in storage, which is more than enough for maps, music, and a gazillion hours of activity recording. For context, here's the sizes of the main downloadable regions:
TopoActive North America: 9.1GB
TopoActive Europe: 10.4GB (*See update below for added Europe breakout)
TopoActive THID: 2.5GB
TopoActive MENA: 1.4GB
TopoActive Australia & New Zealand: 1.8GB
TopoActive Africa: 4.4GB
TopoActive Japan: 3.8GB
TopoActive Hong Kong & Macau: 17MB (yes, megabytes)
TopoActive South America: 6.0GB
TopoActive Taiwan: 96MB
TopoActive Korea: 213MB
TopoActive SGMYVNPH (Singapore/Malaysia/Vietnam/Philippines): 1.3GB
TopoActive China Mainland: 663MB
In addition, in Europe, Garmin has also broken things out further, if you want smaller chunks. These overlap somewhat, to make it a bit easier to get the region you want. Alternatively, you can just download all of Europe per above:
Europe Whole: 10.4GB
Europe West: 6.3GB
Europe Central: 6.4GB
Europe East: 6.2GB
Here's how the map region breakouts for Europe look: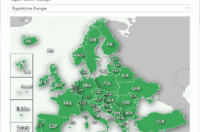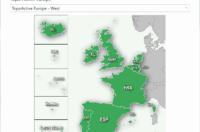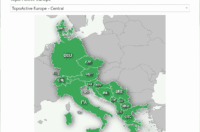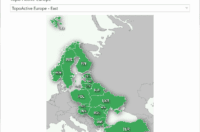 To change which maps are on your unit, you can go into settings > Maps > Map Manager. This lets you add/remove maps via WiFi. Alternatively, you can do this via USB and the Garmin Express app. All of these maps are free to download.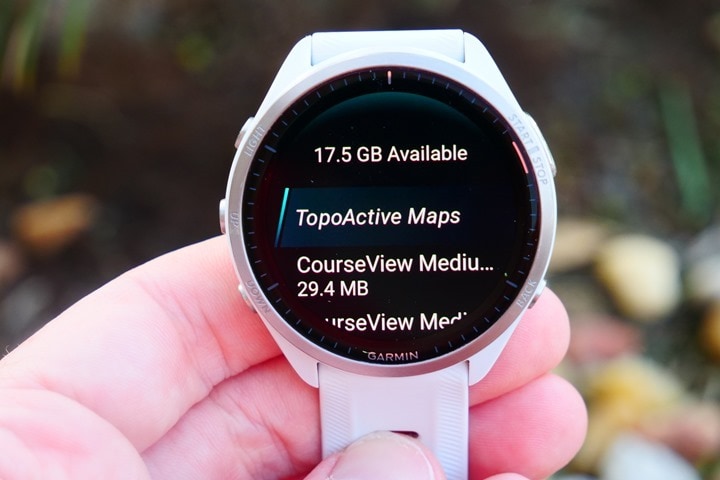 Once you select a map on the unit, it'll start downloading once connected to a charger. In general, this is not a fast operation. Whereas via USB with a computer, it goes far faster. Basically, the WiFi chipset/antenna on the watch isn't really designed for big-bandwidth operations (it's designed for power efficiency). Thus by using a computer you can download a ton faster.
Now, with all that set, let's look at the map options during an activity. Each sport/activity profile can have different mapping options. By default for example, the 'Run' sport profile doesn't show the map, but you can easily add/toggle it on so its always there. Whereas the Hiking one does show it by default. Further, by default the touchscreen isn't enabled on sport profiles unless you manually enable it on that profile (or, across the board for all profiles). However, in the case of the maps, you can tap that at any point to 'enable' the map data screen. Thus allowing you to move the map around with your finger as you see fit.
Now in the case of maps, the Forerunner 965 uses that higher resolution display to show more data at the same zoom level. Check out this below photo I took of the Forerunner 955 (upper left), Forerunner 965 (upper right), and Epix (bottom) – all set for the 300m zoom level. You can see there's virtually no detail on the Forerunner 955 at that level: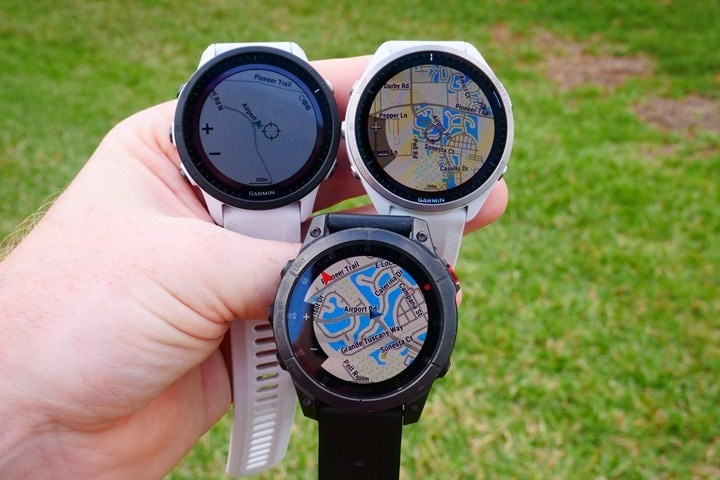 Yet, once I get down to the 200m level, then you start seeing more detail again on the Forerunner 955: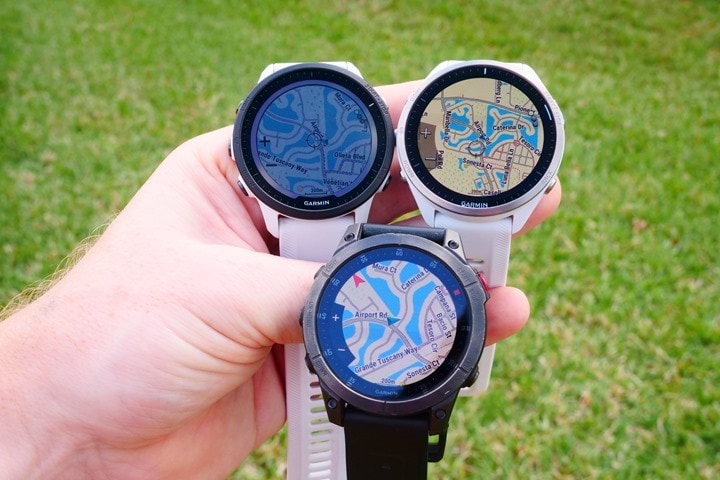 Again, these are small items, but worthwhile mentioning. Also worthwhile mentioning is that the Forerunner 965 at this time does not support Garmin's new Outdoor+ satellite maps. This new 'Outdoor+' is just simply Garmin renaming what used to be called their Birdseye maps, which have been around a decade or more. Back then they were a subscription service, and even now they still are. Garmin just added support to the Fenix 7/Epix series devices for those, but the Forerunner 965 doesn't have that at this point.
In any case, when it comes to courses/routing, you can create courses in a million different places/ways. Be it on Garmin Connect, Strava, Komoot, GPX creators, etc.. All of them ultimately end up with the course showing up under 'Navigation' on the Forerunner 965. This is the same spot where you can navigate to a Point of Interest (using the built-in database on the watch), create a round-trip course based on a preset distance using heat maps, route using a past activity, a saved location, specific GPS coordinates, Sight 'N Go, or just picking a random point on the map: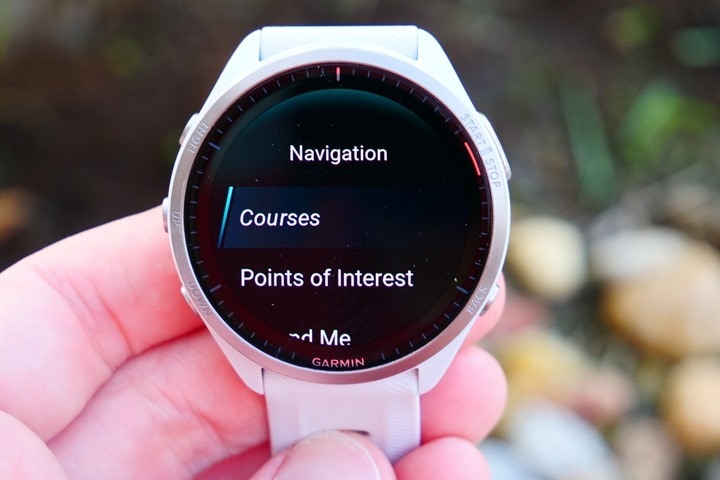 In my case I had created a course of this particular run through the jungle/woods: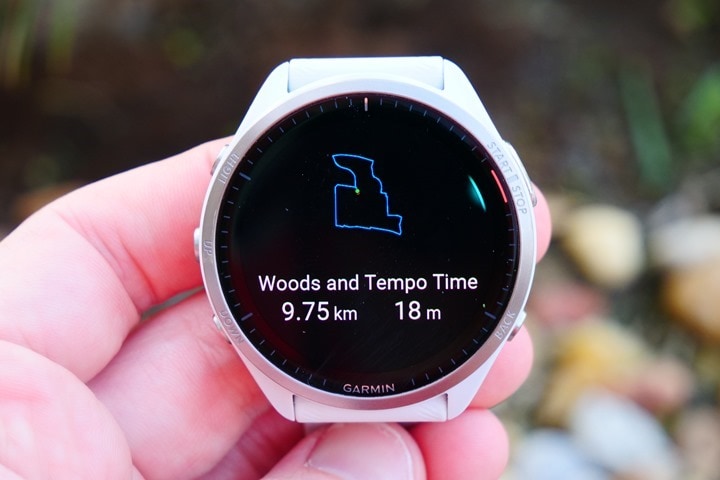 Once you've created that course you can load it up and then see details about it, such as the elevation profile, distance, Map, Climbs, and more: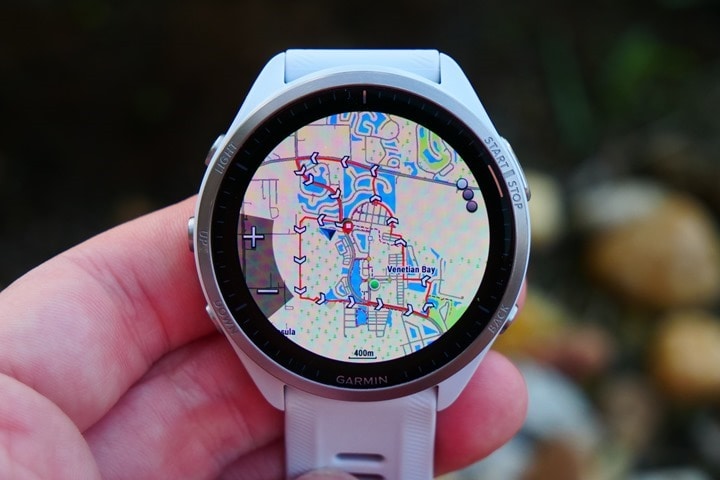 As you're navigating the course, you'll get prompts for each turn automatically as you approach them. The prompt distance will vary based on sport. For example, in running/hiking you'll get the prompt about 50 meters out, whereas in cycling it's about 150m out.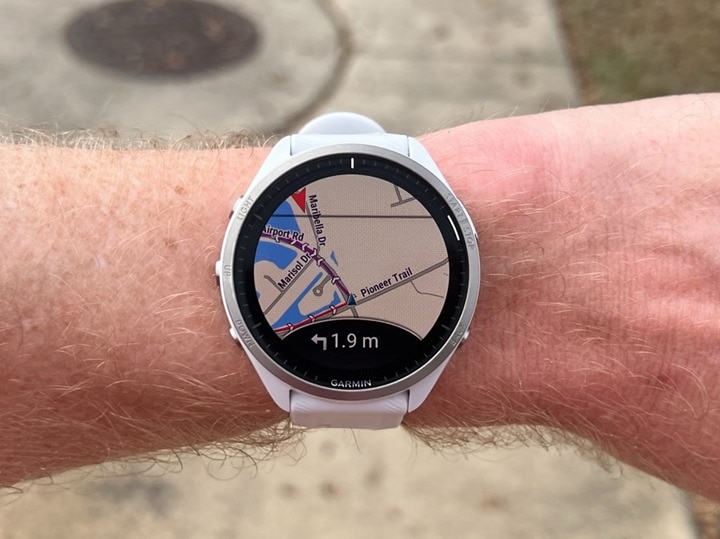 You can also see on the map the exact route as well, and here I've tapped to move around the map using my finger – including zooming in/out.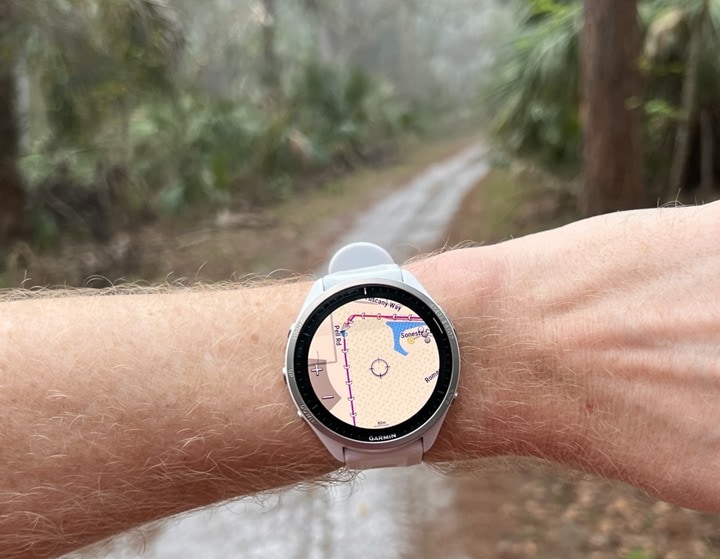 The Forerunner 965 supports Next Fork, which means it's automatically going to show you the distance till the next 'Fork' in the trail, even without a course/route loaded. This is useful just for awareness when you're hiking or trail running, so you don't go off-course. Albeit, if you had a course/route loaded, it'll alert you once you go too far off-course.
I've used a slate of different Garmin watches over the last year for some pretty epic hikes, rides, and trail runs. Including via mountain passes at night – including both the Garmin Forerunner 955, Epix, Fenix 7, and Enduro 2. All of them have slight differences in how they present information, but practically speaking, all of them are quite easy to use. Since last fall, Garmin says they've tried to get the two product lines (Fenix/Epix and Forerunner) closer in how some of these features work.
For example, the Forerunner 955/965 now correctly saves the map zoom level once you set it lower/higher. Last summer/fall, it didn't do that (whereas the Fenix 7/Epix/Enduro 2 did). That drove me crazy when I was trying to use maps deep in the Alps. Thankfully, that's fixed. But even before that, you can use any of these devices up till their battery potential for long treks in complex terrain.
GPS Accuracy: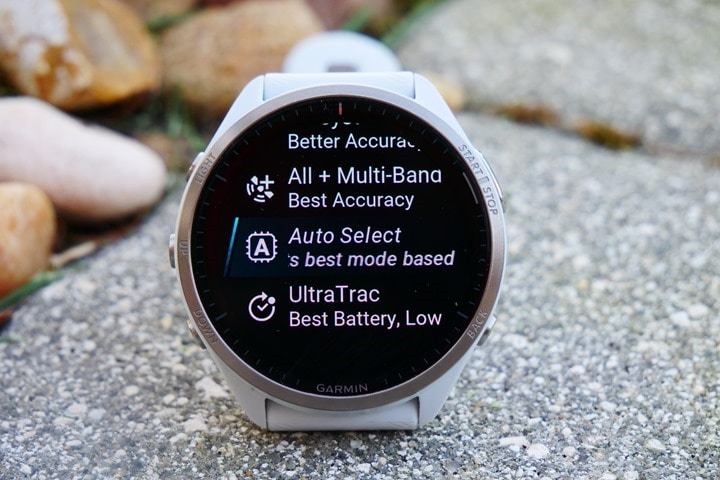 There's likely no topic that stirs as much discussion and passion as GPS or heart rate accuracy.  A watch could fall apart and give you dire electrical shocks while doing so, but if it shows you on the wrong side of the road?  Oh hell no, bring on the fury of the internet!
GPS accuracy can be looked at in a number of different ways, but I prefer to look at it using a number of devices in real-world scenarios across a vast number of activities.  I use 2-6 other devices at once, trying to get a clear picture of how a given set of devices handles conditions on a certain day.  Conditions include everything from tree/building cover to weather.
Over the years, I've continued to tweak my GPS testing methodology.  For example, I don't place two units next to each other on my wrists, as that can impact signal. Instead, I'll often carry other units by the straps, or attach them to the shoulder straps of my hydration pack or backpack.  Plus, wearing multiple watches on the same wrist is well known to impact optical HR accuracy.
Normally, I'd spend a lot of time showing you chart after chart of perfectly good runs/rides/hikes. But this time, I'm going to save you (and me), a boatload of time. Because frankly, they're all perfect. Nonetheless, if you want to look at data sets, you can. In the case of the Forerunner 965, I used Garmin's newish SatIQ feature. That means that it will use multiband/dual-frequency GNSS when it needs to, but then save power with less power-draining GPS when it doesn't. In all my testing since last summer of that feature, it's basically spot-on in scaling up/down. There's simply no need to force multiband GPS on Garmin devices. I've done mountain treks and deep city testing, and it nails both exactly in terms of scaling up/down.
Again, everything here is using SatIQ (which confusingly shows as 'AutoSelect' in the Garmin GPS menus), and as such it'll use multiband when it needs to, and save battery when it doesn't. I've got a lot of sets, from a lot of workouts – but to save you a bunch of time (and me), there's no issues here. Just like with the FR955, it's all spot-on. Still, I'll quickly show a few sets and link to more if you want to dive into it.
First, we've got a tempo run I did, starting off in forest/jungle for the first couple kilometers, before getting to more suburban settings. Here's the jungle: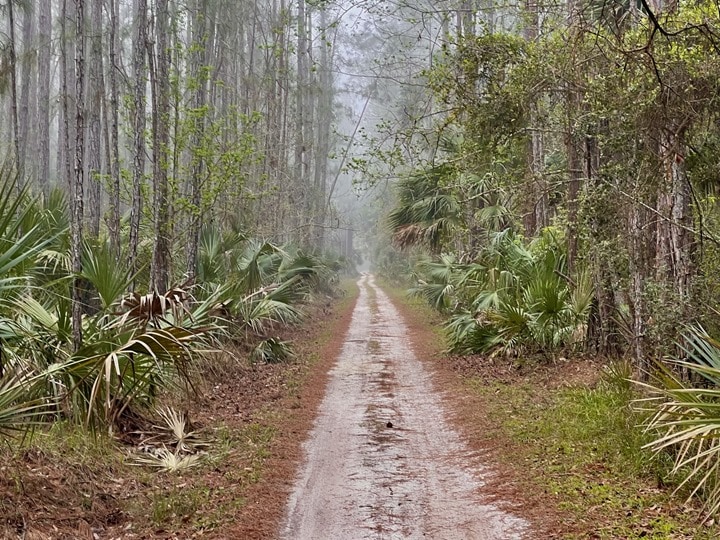 And then, you can see the high-level GPS track: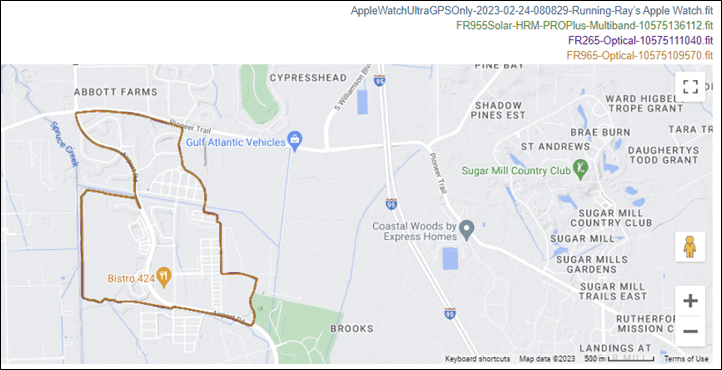 Then, in the jungle the units are only a couple meters apart, but all very very close – really nothing to complain about here:

As I transition to suburbia, you can see they largely even stick within the bounds of the sidewalk:

Again, I don't have any complaints here. Nor on this other data set on relatively similar/nearby roads/trails – all exactly where I'd expect.
Next, here's a ride I did. Practically speaking, this is a boring GPS track – since it's out and back and out and back and out and back on a slim road along the coast for a few hours. In theory, this should be easy. But hey – plenty of GPS units have screwed up easier things. The idea here though is to see just how perfect these 6 sweeps were (road cycling):

And if we look in on some random tidbits on the road – the answer is clear: Really darn perfect. It literally keeps all the tracks on the correct side of the small beach road in both directions: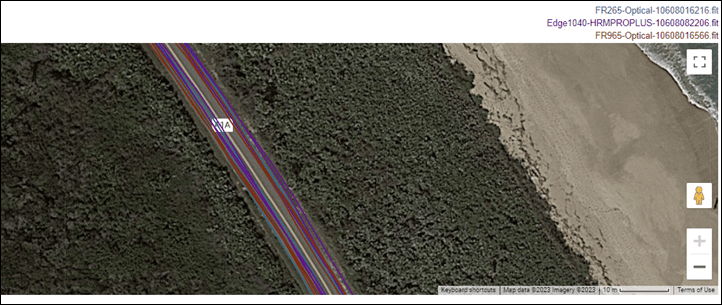 Even the tiny little turnaround at the end is perfect. Again, look at the size of the cars/parking spots for context on how small a space this is: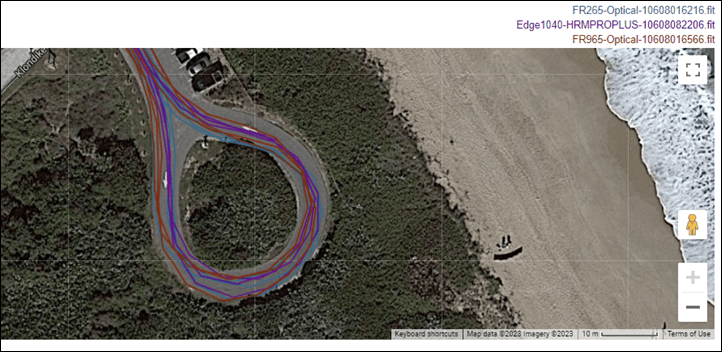 These results were also mirrored on another ride I did a week ago in the same location. Oh, and for fun, check out the battery graph here – showing about 20 hours estimated battery life (this includes LiveTracking enabled, as well as power meter sensors). This 20 hours is on-spec. Also, note when I turned up the brightness on the Edge 1040 to full blast, as it blows through the battery. I was taking pictures for a different review and wanted them easier to see on the camera:

Finally, I set out for an openwater swim, after my ride and run yesterday. In theory this would be about a 1,500m to 2,000m swim. In practice, it ended after a mere 90 meters: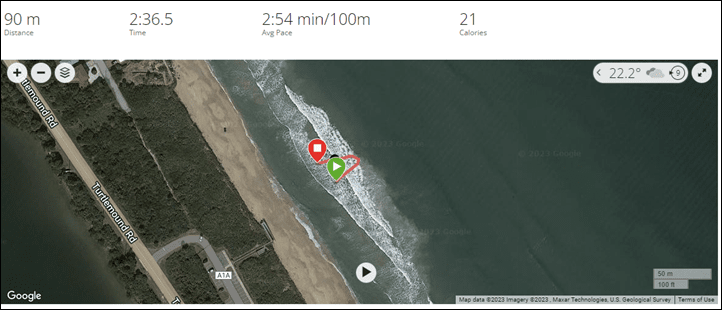 This was on account of a tiger shark being spotted less than 100 meters from me by some nearby beach goers, who caught my attention to come ashore. I decided to postpone that swim. I'll re-attempt this in a few days elsewhere without wildlife that wants to kill me, and update here accordingly.
I'll also add some more city sets when I get a chance here in the coming weeks.
(Note: All of the charts in these accuracy portions were created using the DCR Analyzer tool.  It allows you to compare power meters/trainers, heart rate, cadence, speed/pace, running power, GPS tracks and plenty more. You can use it as well for your own gadget comparisons, more details here.)
Heart Rate Accuracy: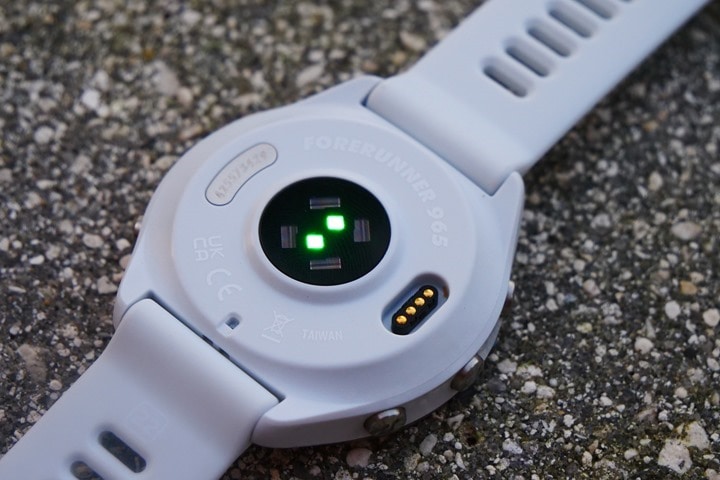 Before we move on to the test results, note that optical HR sensor accuracy is rather varied from individual to individual.  Aspects such as skin color, hair density, and position can impact accuracy.  Position and how the band is worn, are *the most important* pieces.  A unit with an optical HR sensor should be snug.  It doesn't need to leave marks, but you shouldn't be able to slide a finger under the band (at least during workouts).  You can wear it a tiny bit looser the rest of the day.
One of the things that'll help with the Forerunner 965 compared to something like a Fenix 7 series watch is that the Forerunner 965 is lighter. In general, heavier watches will bounce around more, and thus are more challenging to get optical HR accuracy. That said, in my Fenix 7/Epix testing, I saw pretty much equal results across the different sizes.
Meanwhile, for HR accuracy testing I'm typically wearing a chest strap (either the Polar H10 or the Garmin HRM-PRO Plus), as well as another optical HR sensor watch on the bicep (often the Whoop 4.0 band). Note that the numbers you see in the upper right corner of the charts below are *not* the averages, but rather just the exact point my mouse is sitting over.  Note all this data is analyzed using the DCR Analyzer, details here.
We'll start off with something relatively basic to get warmed up, in this case a 14KM relatively steady-state run (you can click on any of these data sets to dig in deeper if you want). Both the FR265 and FR965 are exactly the same as the chest strap:

The only sensor that wobbled a little bit was the Whoop 4.0 strap towards the end as I went into one of the intervals (I did short sprit intervals every few kilometers).
Next, we've got a tempo run. In this case I built-up speed before reducing it on the cool-down. As you can see, the heart rate plot is flawless here from both the Forerunner 265 & Forerunner 965:

Now, we've got one run which shows some solid optical HR failures (out of many runs that are perfectly fine). In this case I was doing 6x400m long intervals at a pretty high intensity (on pavement), followed by 4x200m intervals at a balls-to-wall speed. And you can see that the FR965 shows some latency on some of the 400m intervals, but then really struggled on some of the 200m intervals. Whereas the FR265 showed only very minor latency on a few intervals, but otherwise came out unscathed. My guess here is if I were to repeat this workout on a different day and flip which watch was on which wrist, I might see opposite results.

Remember that with optical HR sensors, when it fails it's typically locking onto your run cadence, and thus in this case my run cadence would be rather hard/high, and the difference between my left leg and right leg might just be enough to trip it up. Other slightly less painful intervals I did didn't show any differences. But I'll try some more of these in the coming days…just for you.
Then there's this VO2Max trainer interval ride, as you can see, it's also boringly perfect for both the FR265 and FR965:

Next, we've got a road cycling ride. This is surprisingly good. I guess in some ways I gotta stop being surprised by Garmin's optical HR sensor in road cycling. It's been pretty good in most cases for the last year, and this is no exception. I also threw in some hard sprints every 20 mins for fun (on an otherwise mostly steady-state ride):

There's a handful of tiny bobbles for a few seconds here and there, but frankly, this is really good for both the FR265 and FR965. You also see a couple seconds latency on the sprint, but again, most of their competitors would fail to put up anything like this for wrist-based optical HR.
Oh, finally, for lack of anywhere else to stick it, here's a quick comparison between the wrist-based Running Dynamics, and the HRM-PRO Plus chest strap running dynamics on the same run. First, here's GCT. You can see it's pretty close – with the exception of walking. During those two sections it fell apart for wrist-based:

And the same is true for vertical oscillation. Not exactly the same, but in the ballpark:

And finally, vertical ratio – again, very similar on the walking being tricky:

Again, I'm still not sure who exactly is actually using Running Dynamics – but if that's you, you can likely use wrist-based without much difference in most scenarios.
As for the heart rate accuracy, we continue to see Garmin improve here, to the point where for most of my workout where I'm not actually testing/comparison something, I'm using the optical HR sensor – even for most tough interval workouts (exempting this specific 400m set above, but I tend to do more 800m or longer intervals usually, I was just feeling spicy this day). Again, generally it's just good enough for my skin type/wrist that I'm seeing almost negligible differences between that and a chest strap. But obviously, it's not always perfect (just like chest straps aren't always perfect – especially in cooler weather).
Summary: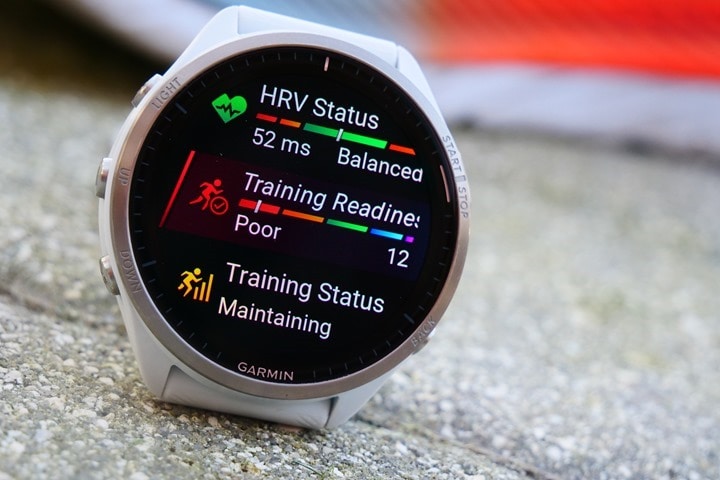 In many ways, the Forerunner 965 is a safe play for Garmin. They take the existing AMOLED screen tech from the Epix and related units, give it a slight size bump, and then combine it with the existing Forerunner 955 software. Of course, there's some added polish in the user interface to take advantage of that AMOLED display, but much of that existed on the Epix series units already. Garmin tossed in a few new very minor software features for the Forerunner 965 (e.g. load ratio and native running dynamics), but even those are being sent to the rest of the current-gen units in planned firmware updates.
Being a safe bet, it's no surprise all of this works well. Most of this has been perfected elsewhere. And while the sibling Forerunner 955 has had some slight firmware bumps in the last month or so, those haven't impacted my testing here (or even my existing Forerunner 955). As usual, with so many features, some people hit certain bugs that others don't – and vice versa. The handful of bugs I did hit were very minor (some missing chart labels on Load Ratio pages), or mostly related to the final puzzle pieces of the revamped Physio TrueUp.
What you don't see here is Garmin going out on a limb. There is no LTE functionality here, such as found on the Garmin Forerunner 945LTE or in more advanced form in the Garmin Bounce kids activity tracker. Nor is there ECG as recently launched in the Garmin Venu 2 Plus. Neither is there a speaker or microphone like the Venu 2 Plus. And there's not a flashlight like in the higher end Fenix 7X. Nor wireless charging like on the new Vivomove Trend. These are all puzzle pieces of the theoretical dream smartwatch that Garmin seems to be laying on the table, but not yet composited into a single unit. Undoubtedly, such a dream watch would probably land first as a Fenix, MARQ, or Epix series unit rather than Forerunner. But then again, a $ 149 kids activity tracker with LTE and AMOLED display throws some of that logic to the wind.
The point being, the Forerunner 965 is a safe option not just for Garmin, but for athletes as well. It's a modest if not minor update built on the combined platforms of two proven watches (Forerunner 955 and Epix), and in my testing thus far, has shown near identical results to those successful and favored watches. The GPS accuracy continues to be (easily) industry-leading, especially in the battery-friendly SatIQ mode. And heart rate accuracy also continues to be almost surprisingly strong.
So, for someone like me that see-sawed back and forth for the last year between the Garmin Epix for it's AMOLED display, and the Garmin Forerunner 955 for it's smaller size and lightweight design, the Forerunner 965 seems to fit the bill well.
With that – thanks for reading!