Garmin has just announced the availability of ECG (Electrocardiogram) functionality for the Garmin Fenix 7 Pro, Garmin Epix Pro, Garmin Tactix 7 AMOLED, and Garmin Venu 3/3S units/series. These four different sets of watches all share the same new Garmin ELEVATE V5 optical heart rate sensor package, which is hardware-capable of ECG. The only previous Garmin watch to have ECG functionality was the Garmin Venu 2 Plus.
Garmin's ECG feature will determine whether you have a normal sinus rhythm, or an Afib condition. It does this on-demand (when you request it), versus a 24×7 background process like some other smartwatches. Upon the conclusion of the 30-second test, it'll give you the result as well as let you export the full report as a PDF to give to a doctor. This feature does not detect heart attacks.
The functionality remains the same as the Venu 2 Plus, but given that Garmin changed the optical HR sensor package, they had to redo/re-fill portions of their FDA certification related to the ECG feature. Remember that Garmin, like Apple/Samsung/Fitbit/Google/etc, have all gone through the formal FDA certification process, which classifies the ECG app as a medical device. This includes doing a full study of 600+ participants and everything else that comes with proper medical device certification (I've outlined how that worked previously, here).
Setup & Usage:
With that backstory, let's quickly walk through how to set it up on your device. Here's what you'll need:
A) To be physically in the United States (just for initial setup)
B) Have one of the compatible watches noted above
C) Have updated your Garmin watch firmware
D) Have updated your Garmin Connect Mobile smartphone app firmware
Practically speaking, if you've got even halfway-recent Garmin watch/app firmware, it'll work. Garmin had effectively locked the functionality down until this morning, but it was already in the units until FDA approval had been completed. Likewise, for the location piece, as with the Garmin Venu 2 Plus, Garmin has not yet received approval in the EU/CE, or other regulatory bodies. Thus the requirement that you be physically in the United States for your first activation.
Once you've activated the ECG functionality on the watch once, you can use it anywhere in the world (as evidenced by me activating it in New York City a few weeks ago, and then flying back home to Amsterdam and using it there without issue).
To get started, you'll open up the Garmin Connect app, and then go into your device settings, where you'll see the option to 'Finish Setup'. Essentially, this is now enumerating a new option for ECG setup: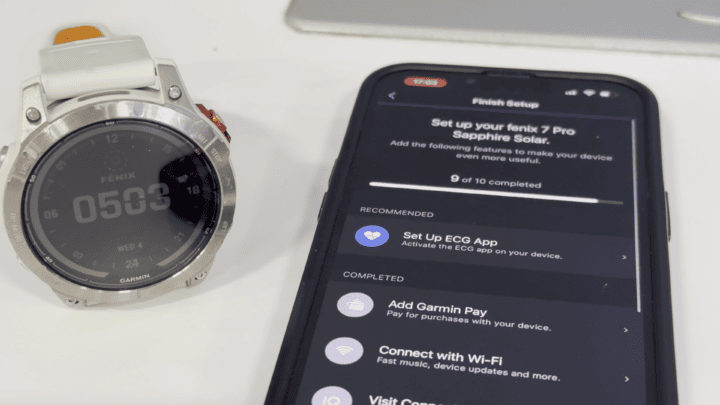 From there you'll confirm your birthday, as it's required to be 22 years or older for the ECG functionality.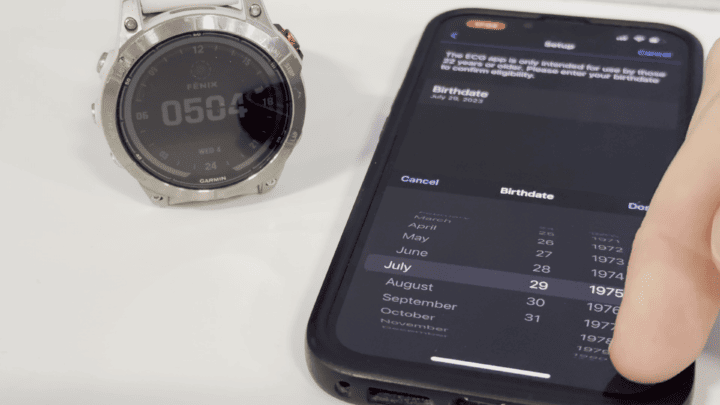 After which, you'll be given a few pages of information on what the ECG functionality does: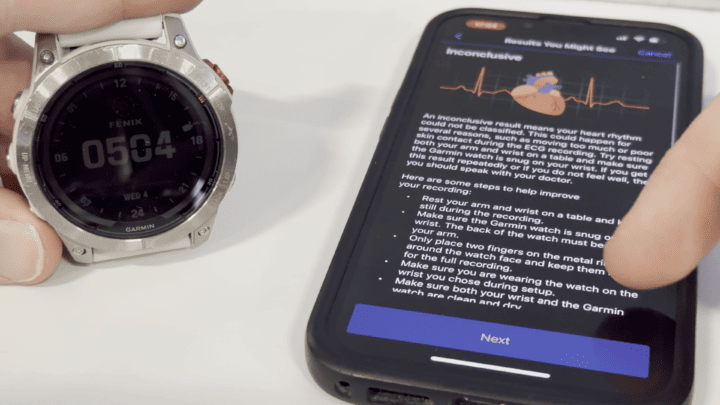 Upon the conclusion of your brief learning session, you'll do your first ECG trace. To do so, you'll put your opposite two fingers on the bezel of the watch, which completes the circuit in order to measure correctly: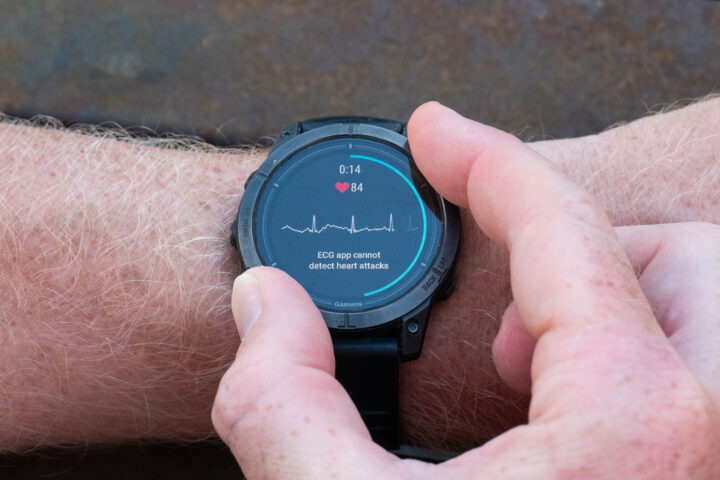 The process takes 30 seconds. If you move too much, it'll fail out. Likewise, if you remove your fingers, do the YMCA song dance, or anything else, it'll tell you to try again. It will again remind you that this does not detect heart attacks: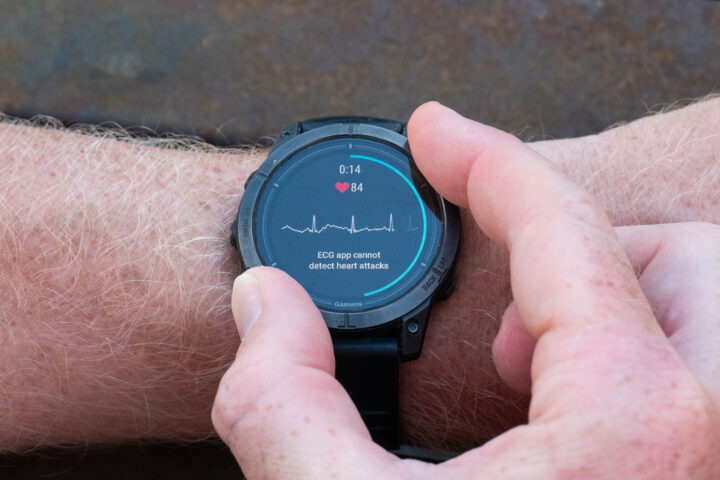 Once you've finished, it'll give you the results: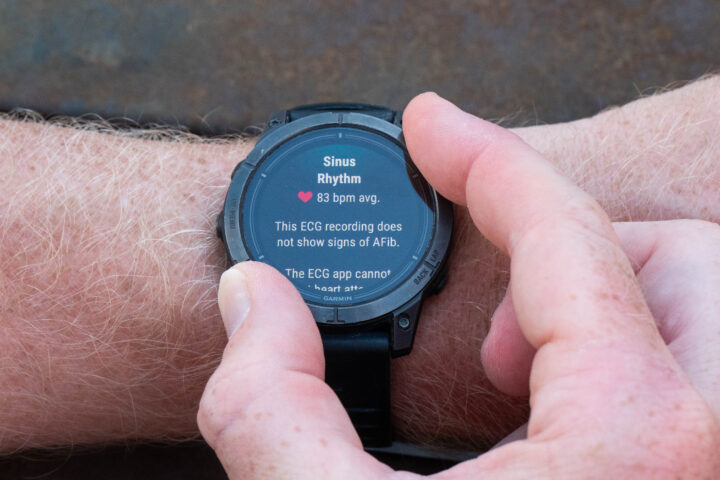 As you scroll down, it'll again remind you that it does not detect a heart attack: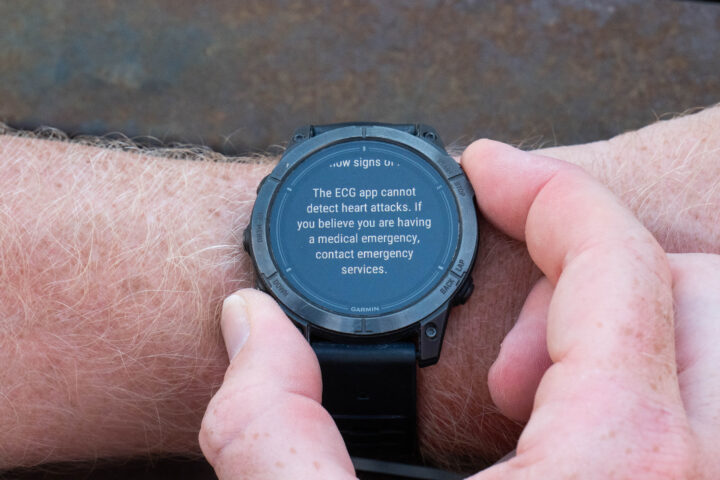 Additionally, you can log symptoms: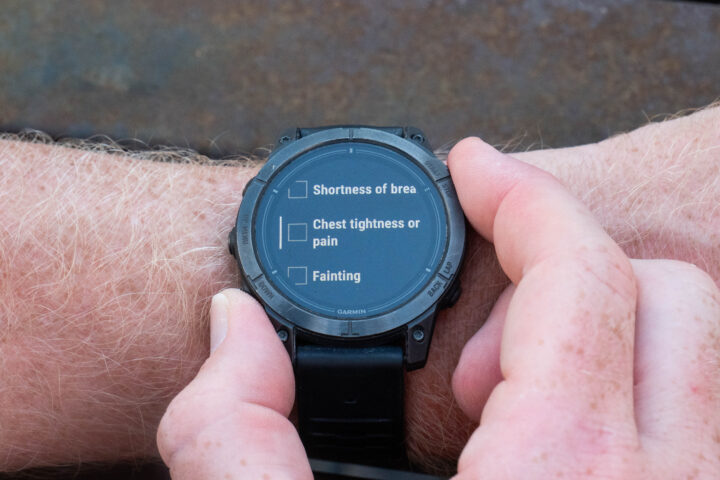 These are then saved alongside the data in your Garmin Connect account, and also shown on the ECG data export/PDF file: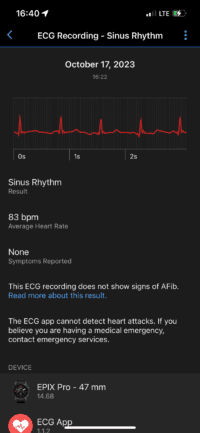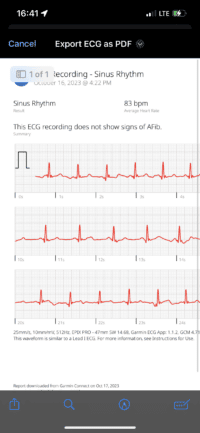 Upon the conclusion of your first ECG trace, the unit/app will note that you've now activated the ECG app on your watch. From here on out, you'll find the ECG app in the same general area as other sports apps (except on the Venu 3, where it's under the separate app section for non-sports apps). In my case, I moved it to the top of the list as a favorites, otherwise you'll scroll down a bunch:
Additionally, after completing this first ECG trace, you'll now be able to do an ECG anywhere on the planet without restriction. This is because the FDA views this roughly akin to take medicines while you travel, essentially considered self-care.
Again, all of this is exactly as it was on the Garmin Venu 2 Plus when it launched ECG functionality back this past January 2023.
Going Forward: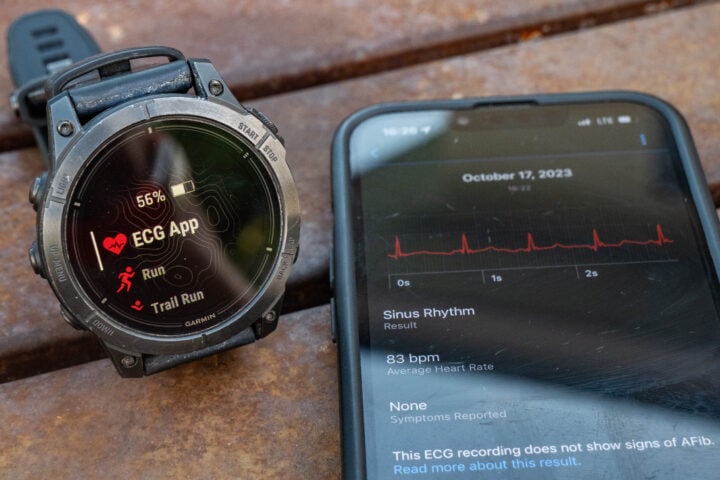 At this point, Garmin is positioned that virtually all watches with the Garmin ELEVATE V5 optical HR sensor (the one found in the Fenix 7 Pro, Epix Pro, Tactix 7 AMOLED, and Venu 3/3S), will likely have ECG enabled. Yet, there remains the chance that Garmin could continue to launch some lower-end models with the older Garmin ELEVATE V4 sensor (and lack of corresponding connecting lead needed for ECG). For example, Garmin recently launched the Garmin Vivoactive 5 watch with the ELEVATE V4 sensor. That watch does not have the required hardware to make this work.
In that case, that watch was essentially a cut-down version of the Garmin Venu 3 (which does have the required hardware). Of course, Garmin does have to keep in mind that Fitbit has ECG functionality on their Fitbit Charge 6 (and previous Charge 5) at the $ 159 price-point. Certainly, there's debate one can have about the differences in feature-sets between a Fitbit Charge 5/6 and a Garmin Vivoactive 5, but the simple fact remains that a unit half the cost has the feature the more expensive Garmin watch doesn't.
Additionally, Garmin still lacks ECG coverage outside the United States – such as in Europe. Last time I asked Garmin about this, they noted they were keenly aware of the worldwide demand for such a feature. But Garmin also noted they were in a pinch in terms of providing comment beyond that, in order to avoid running afoul of regulatory rules around declaring compatibility prior to actually having compatibility. Thus why Garmin was unable to say "ECG is coming!" to the watches it just launched it on today. That same logic would apply to other countries/regions as well.
In any case, I'm sure over time things will equalize and it'll become 'just another feature' that's on the watch/enabled in the same way it is for other watches and/or brands.
With that – thanks for reading!