With Garmin's introduction of the Edge 1040 Series they've become the first bike computer to not only add solar panels to it, but also add multiband GNSS, dramatically increasing the accuracy of the GPS tracks – especially in tougher conditions. Beyond that the company has added a slate of long-asked for upgrades, including things like USB-C support, metal mounting back/tabs, and dramatically faster route calculation and destination searching.
However, beyond that are the slate of new features we see anytime Garmin adds a new device. These include their new Power Guide function that creates race/training day plans/targets specific to a given course, while also adding in features that help identify your cycling ability and how that matches up to a given course's demands. All while also laying the groundwork for more cycling-specific dynamic training plans that we saw introduced and hinted at on the Forerunner 255/955 last week.
I've been using the Edge 1040 Solar for a while now, putting it through its paces on everything from everyday rides to epic rides, indoor training to commutes. All of which ultimately culminates in this review based on real-world usage  and not just reading a specs sheet).
As usual, this unit is a media loaner, and it'll go back to Garmin shortly. This review is not sponsored (nor does any company get to preview my review), furthermore I don't take any advertiser money from any companies I review. And as regular readers know, if something is crap, I'm gonna tell it brutally like it is – no matter the brand (as Garmin saw just a few weeks ago). Once this unit goes back, I'll go out and get my own for any future testing needs. If you found this review useful, you can use the links at the bottom, or consider becoming a DCR Supporter which makes the site ad-free, while also getting access to a mostly weekly video series behind the scenes of the DCR Cave. And of course, it makes you awesome.
What's New: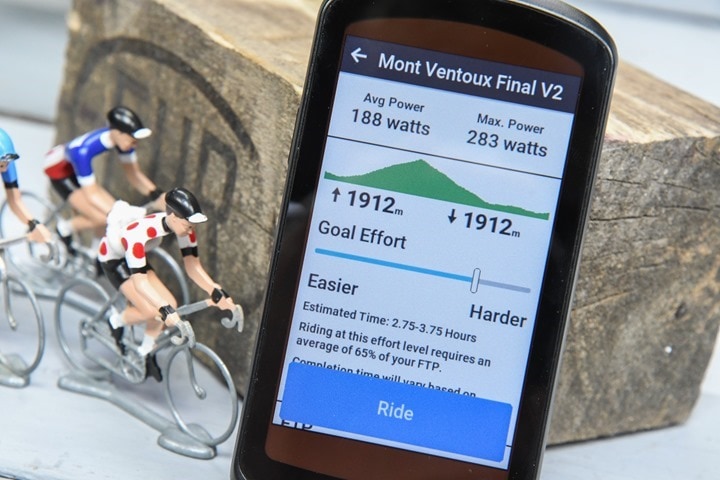 The Edge 1040 is largely an evolutionary upgrade rather than a revolutionary one. Still, because of a complete re-design of the user interface, it effectively represents a break from the past. A dividing line if you will, and as such we see a slate of new features taking advantage of that UI redesign, as well as a handful of features being killed off.
I've gone through side by side of both units (1040 vs 1030 Plus), and tried to find every nuanced feature that's different. Some of them are substantial (Power Guide or Multiband GNSS), and some of them less substantial (adding WiFi sync-all button). In any case, go forth:
– Added Solar ($ 749) and non-Solar model ($ 599)
– Added Power Glass specifically for Solar model only
– Increased storage from 32GB to 64GB for Solar model only
– Added pre-loaded North America, EMEA, AU/NZ Maps for Solar model only (base model has region of purchase maps)
– Added Multi-band/Dual Frequency GNSS/GPS
– Added USB-C connection
– Changed the back mount to be metal
– Completely revamped the user interface everywhere
– Changed lanyard attachment to not thread through the charging door
– Added Connect IQ Widget Glances to Homepage/Dashboard
– Added Power Guide for per-course training/racing guidance
– Added Up Ahead for distance to waypoints
– Added Cycling Ability to classify cyclist strengths/weaknesses
– Added Course Demands to compare course features to ride needs
– Added Real-Time Stamina to show energy/distance/duration left during workout
– Added Location Search Widget
– Added 'Recent Finds' from navigation panel (so things you recently searched for).
– Added new 'Bike Shops' & "Water Stops" categories for navigation search (and completely re-did other categories to mostly get rid of auto stuff)
– Added Post-Ride ClimbPro Splits on device
– Added re-scheduling of primary workouts
– Added support race/event driven Daily Suggested Workouts (subset of what was launched on FR255/955 last week)
– Added paired sensor information to summary page (even for non-Garmin sensors)
– Added support for Shimano STEPS sensor type (eBike component)
– Added new consolidated post-ride Highlights screen with PR's
– Added estimated battery remaining when toggling Battery Saver mode
– Added manual WiFi sync all button (a 'do it now' option, but removed single-ride upload option)
– Added phone-based config of data fields/data pages
– Added Garmin Connect IQ App Store on-device marketplace
– Changed nearby POI/Things search to be fast AF now. Holy crap.
– Far faster route calculation times
– Increased ClimbPro coloring to show more gradient definition
– Now automatically changes map popularity type to match activity (I.e. Road vs MTB)
– Removed horrifically unreliable duplicate Bluetooth pairing process for phones
– Removed Varia Vision sensor support
– Removed device transfer (sharing between units)
– Same screen resolution as before
– Same touchscreen as before
– Increased weight slight from 126g to 133g
– Nearly Doubled battery life from 24 hours up to 45 hours (in Multi-Band GPS mode with Solar)
As usual, it's common to ask whether any of these features will be added to any existing Edge units, and unfortunately this time the answer is no. While Garmin has added an insane number of features to the Edge 1030 since its release (including virtually all of the Edge 1030 Plus features), as well as a sizable number of features to the Edge 530/830/1030 Plus since their releases, this time around the new features aren't being added downstream.
Garmin didn't clarify why, though, I suspect it's largely tied to the new user interface on the Edge 1040. Bringing those features down to older units would have required either updating the UI on those older units, or, changing the code on the newer features to work in the older UI (which in turn has more developer time associated with it). Of course, that doesn't change the reality that the Edge 1030 Plus especially, as well as older units, are largely fully capable technically-speaking of receiving future firmware updates, they just won't from a business standpoint.
Meanwhile, we've seen both Wahoo & Hammerhead continue to add features updates to older units. Albeit even in those cases, that continuation for the oldest devices has somewhat faded. For Hammerhead, the majority but not all of the new features are both Karoo versions (of course, Hammerhead is releasing so many new features every two weeks it's insane), whereas in Wahoo's cases, their new feature train has mostly died.
Size Comparisons:
To begin, here's a quick look side by side at the Edge 1040 (base) vs the Edge 1040 Solar. As you can see, the units are the same size, it's just that the bezels on the Edge 1040 Solar are smaller. The displays are identical in size, but you'll notice the Edge 1040 Solar display is just a tiny bit dimmer, because of that solar panel layer atop it. At left is the Edge 1040 Base, at right is the Edge 1040 Solar.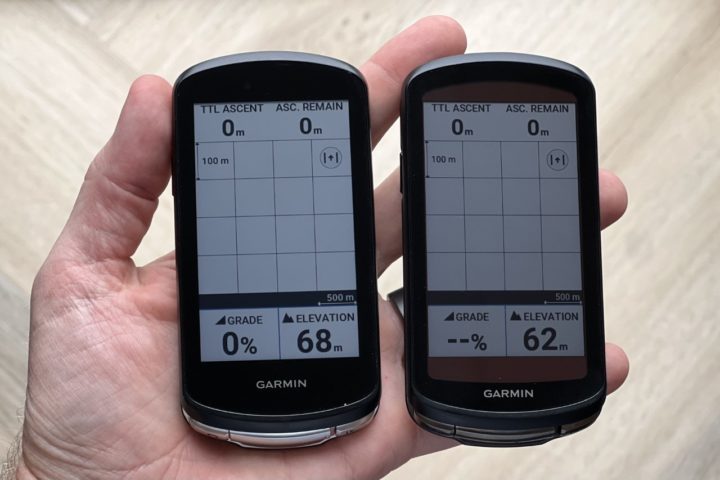 Next, here's a look at how the new Edge 1030 Plus (left) compares to the Edge 1040 (right):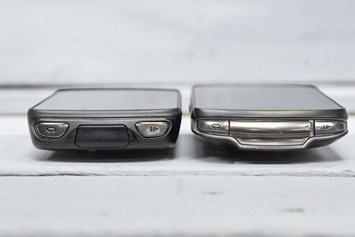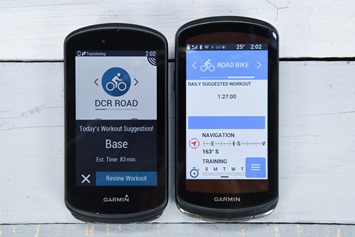 Then, here's a lineup against some popular units these days (Edge 830, Wahoo ROAM, Stages L200, Hammerhead Karoo 2, Garmin Edge 1030 Plus, Garmin Edge 1040 Solar):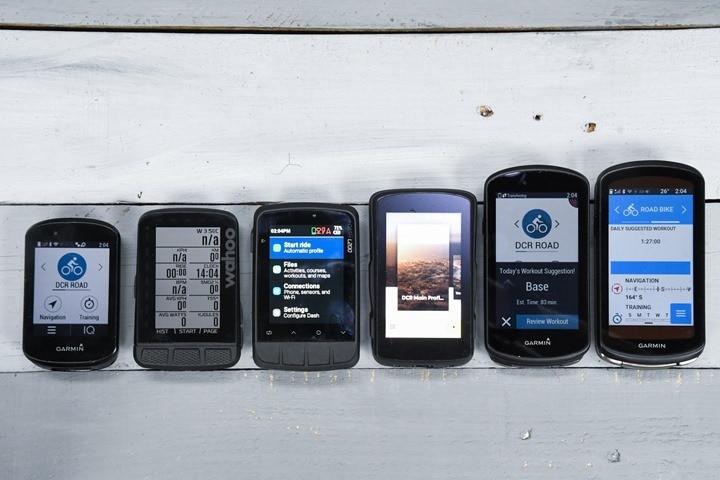 And finally, here's a weigh-in of all of them: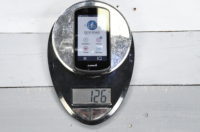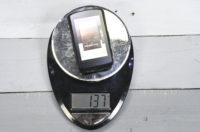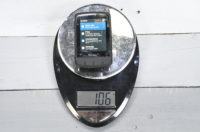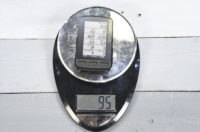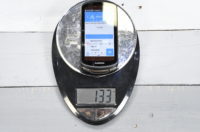 Got all that? Good, let's start using it.
The Basics: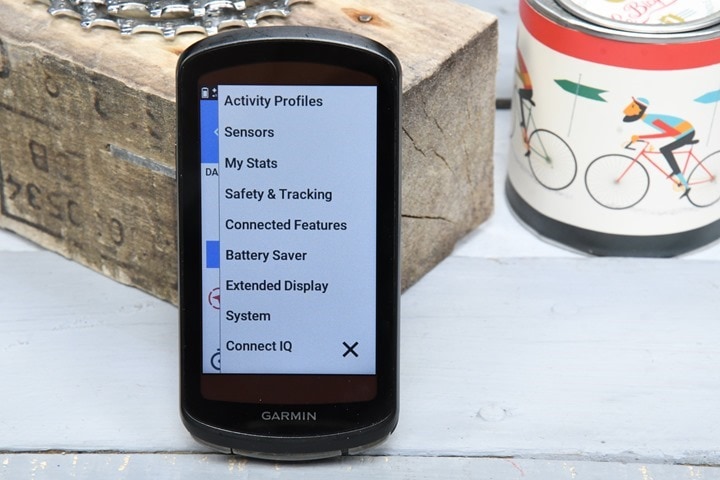 This section will start off with some basic aspects of using a Garmin Edge series device, but will cover newness in the Edge 1040 as I go along, getting deeper and deeper. Note that I've separated out the Solar, Mapping/Navigation, and new Training Load type features into separate sections after this. Everything in every section except the Solar unit, applies to both models.
Starting with the user interface, the Edge 1040 is a touchscreen interface, but also has three physical buttons for certain features. The buttons are used for starting/stopping an activity, as well as creating a lap. And powering on/off the unit. In other words, things that you generally do rarely or very purposefully. Meaning that while the touchscreen is pretty good, like any touchscreen, accidents can happen.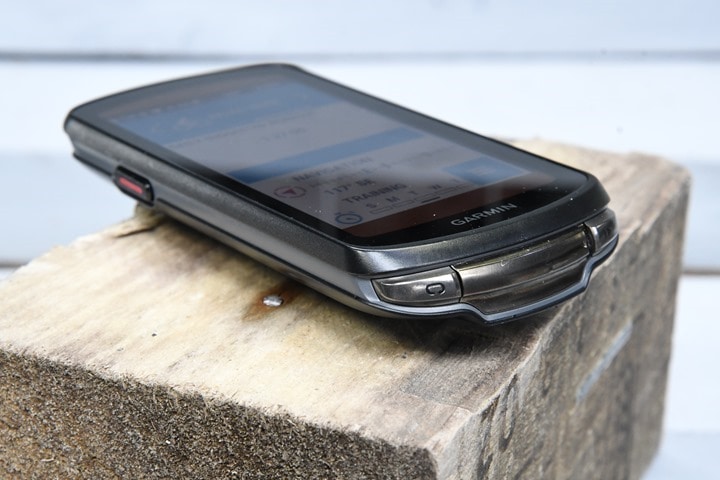 The touchscreen seems to work quite well in either sunny or rainy conditions, and with or without gloves. Even all-out dumping rain with standing water on the screen, and it still works just fine. The display resolution and touchscreen are the same as before, though the clarity will look better because of the new fonts (and inversely, also like the slightest bit darker on the Solar edition).
Next, and perhaps most importantly, Garmin switched to USB-C for the Edge 1040. Given they've been working their way through adding USB-C to other devices this year, this likely comes as no surprise. And is solidly on the "Flippin' finally!" realm.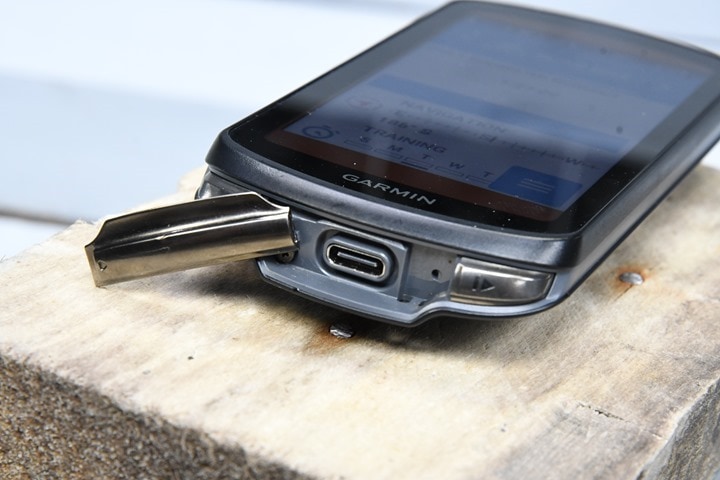 They also changed the mount on the back to be aluminum, as well as changed the location of the lanyard string to not be through the charging port door (much cleaner). The mount still supports Garmin's Extended Battery Pack, in the event 100 hours of battery life by itself still isn't enough for you.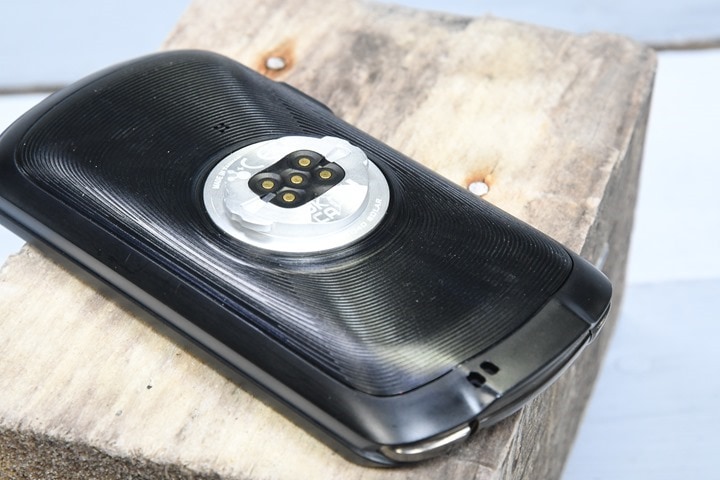 When you first unbox the Edge 1040 you'll likely pair it up with Garmin Connect Mobile on your smartphone. If you do so, and if you have an existing Garmin Edge device, it'll transfer over your sport profiles/data pages/settings, as well as all your paired sensors. In my case, due to a now-fixed bug, it did not transfer my sport profiles over, but did transfer over all my sensor profiles.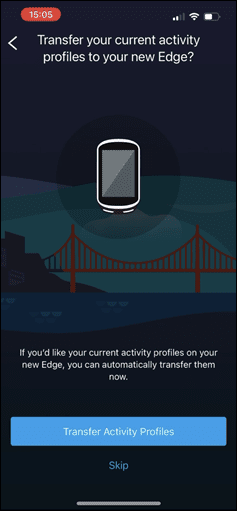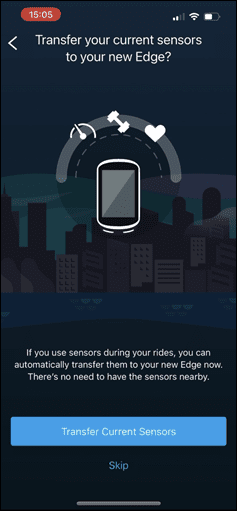 Most notably as part of that pairing process is they've done away with the frustrating dual-Bluetooth pairing they used to do, which paired both a legacy Bluetooth connection and a newer Bluetooth Smart connection, which was prone to connection issues. That's gone now.
Once turned on, you'll find the newly revamped interface on the Edge 1040. The main shift here is towards a homepage/dashboard that roughly matches the Widget Glances functionality that's been on their wearables a few years. The idea being you can customize this, download widgets to it for various things, and tweak it to however you like it.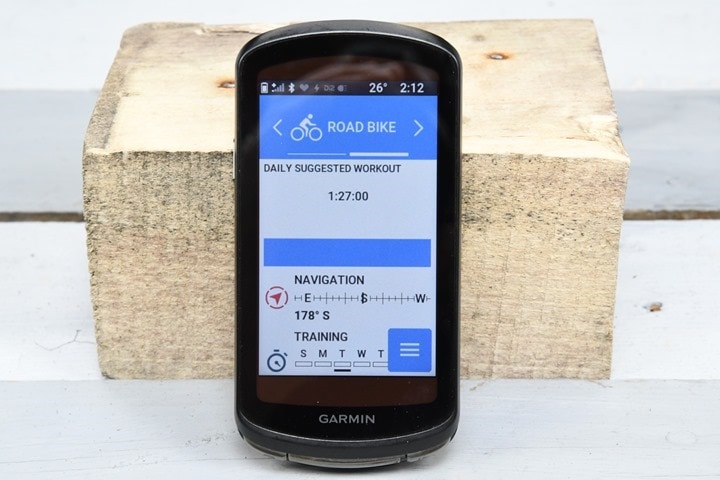 Up at the top you've got your activity/ride profiles. You might create one for road biking, one for mountain, one for commuting, and so on. Each of these can have vastly different settings, from map/navigation settings, to data pages and data fields, ClimbPro settings, timers/alerts, GPS configurations, etc…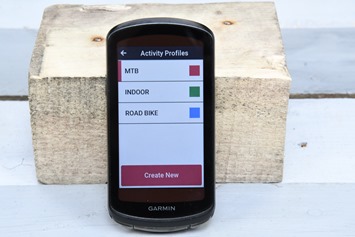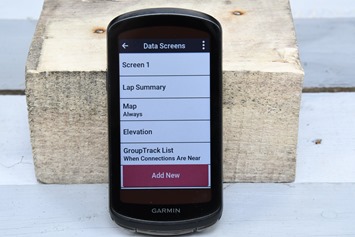 Looking at data pages for example, you've got a slate of predefined pages (including things like Strava Live Segments), and then you can create pretty much as many custom pages as you want. Custom pages can have up to 10 data fields per page, and there's likely hundreds of different data fields you can choose from. And that ignores all the Garmin Connect IQ data fields from 3rd parties you can add (for free).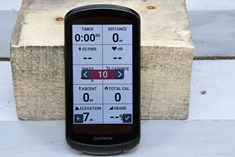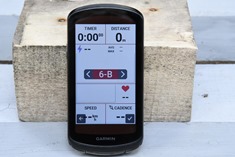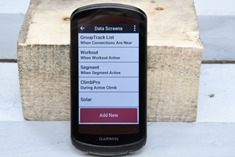 Notably, you can now manage and edit all data fields/pages/settings from your phone – just like recently seen on the Fenix 7, Forerunner 255/955, and Instinct 2 series.
Going back to the widget glances for a second, you'll find them customizable and covering everything from quick access to navigation, to your ride history, as well as your training plan (if one is created). If connected to your phone via Bluetooth, you'll get weather data and any smartphone notifications.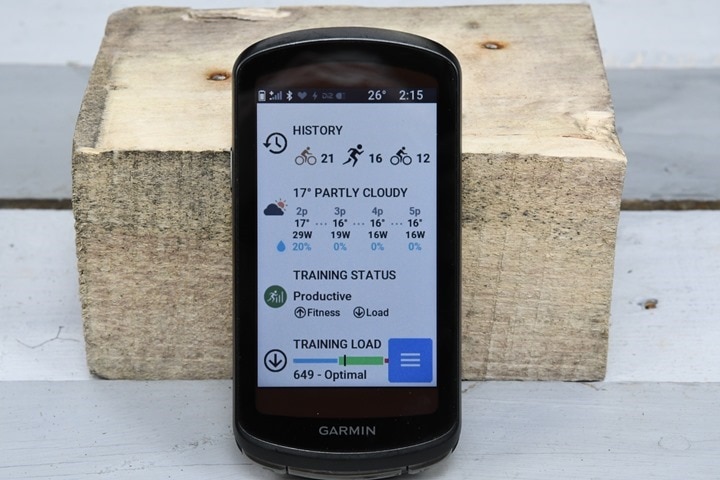 Next, there's sensor pairing. That's located within the sensors menu, and lets you pair up any ANT+ or Bluetooth Smart sensor: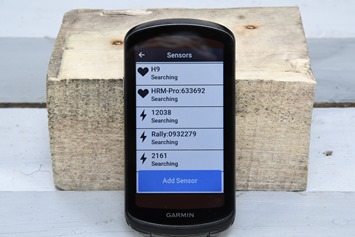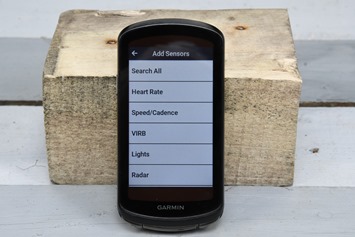 The Edge 1040 Series supports the following sensor types:
Heart Rate (ANT+ & Bluetooth Smart), Speed/Cadence (ANT+ & Bluetooth Smart), Garmin VIRB (ANT+), Cycling Lights (ANT+), Cycling Radar (ANT+), Cycling Power (ANT+ & Bluetooth Smart), Garmin inReach (ANT+), Garmin Edge Remote (ANT+), Shimano STEPS (Proprietary Shimano ANT), eBike (ANT+), Gear Shifting (ANT+), Shimano Di2 (Proprietary Shimano ANT), Smart Trainer (ANT+)
Notably, this adds Shimano STEPS sensors, which are eBike sensors, while concurrently removing Garmin Varia Vision sensor support. Speaking of removals, they also removed device transfers between units, which was previously used for sharing courses and such. While it sucks that they removed it, the feature hardly worked well to begin with. So I'm not sure it's a huge loss.
One cool thing that they added in the sensor realm is that at the end of the ride, it'll actually show you not only which sensors were paired in the summary screen, but the battery status for those sensors (including non-Garmin sensors when broadcast):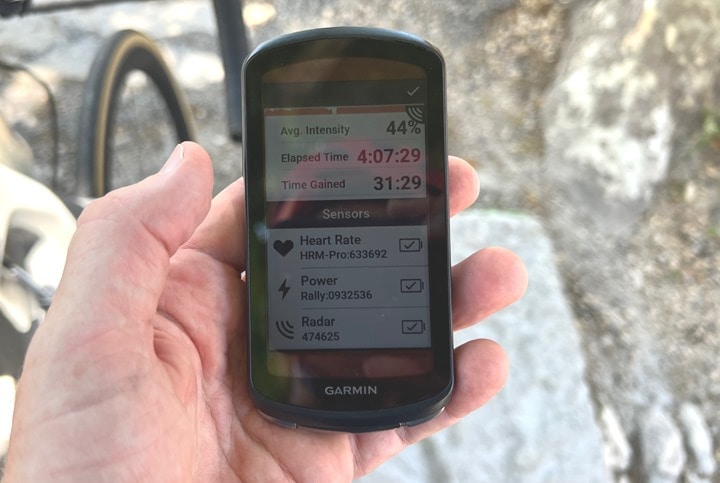 Next, there's the new multiband/dual-frequency GNSS/GPS. This is considered the holy-grail of GPS accuracy. You can quickly glance at the top settings to see which GPS mode it's in, as it'll show a small "+" when in multiband. You can change this on a per-activity profile basis: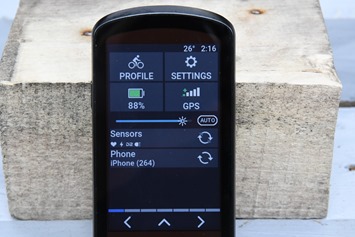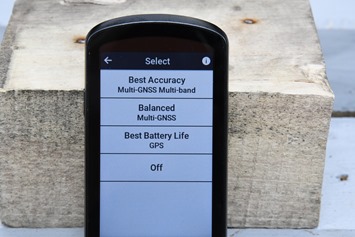 Multiband GPS can produce astonishing results in harder conditions like trees, mountains, buildings – as I've shown in my Fenix 7/Epix/Forerunner 955/Forerunner 255 reviews. At the same time, there's also a significant battery hit (roughly halves your battery). And for most on-road rides, you simply don't need multiband GPS. So you can go back to 'All Systems' or even 'Base' GPS, and still get results equal to or better anything you had on your existing Garmin Edge 1030/1030 Plus (and thus, double your battery). More on that in the accuracy section. Here's Garmin's official battery specs:
Demanding use (Multi-Band GPS)
– 35 hours / up to 45 hours with solar charging
– Solar charging adds up to 20 minutes per hour during daytime riding
– Demanding specifically means: Multiband GPS, 4 sensors connected, Live Track enabled, an on the map page with a course loaded

Battery Saver mode:
– 70 hours / up to 100 hours with solar charging
– Solar charging adds up to 42 minutes per hour during daytime riding
So at this point, with everything set, we'll just start a simple ride. It'll usually find GPS within a couple seconds, and find sensors once activated within a few seconds as well. You'll chose your activity profile and then press start. At which point you'll see real-time data on the screens, and it'll be recording in the background: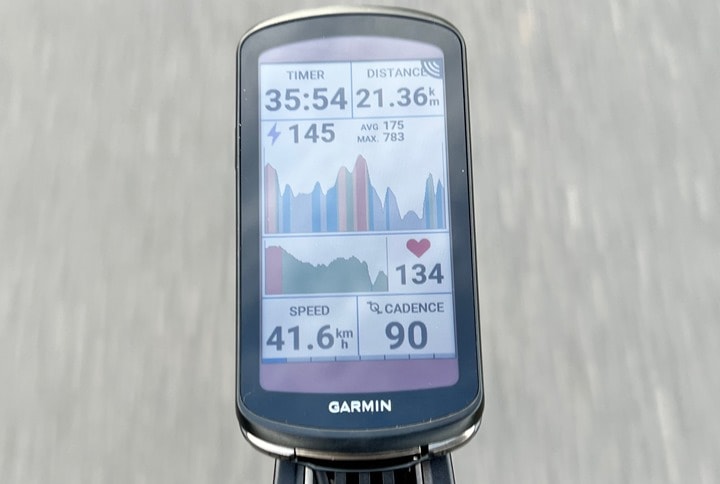 As you can see, all of this is pretty much like any other bike computer. The fonts are a bit different of course than before with the new user interface, but by and large, it's pretty much same-same. And, like before, it all works well.
Post-ride, there's a slew of changes however, starting with a new achievements summary page that outlines any PR's for the ride, as well as the training impact/load/recovery time, and then if on the solar model – the solar related bits.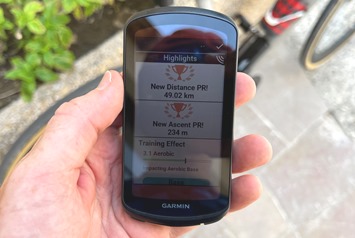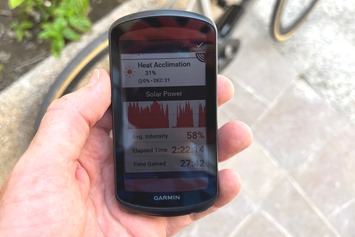 After that you've got a second more detailed post-ride page that gets into crazy-town on the detailed stats, broken out into different sections that are easier to digest. Here's a galley of all that: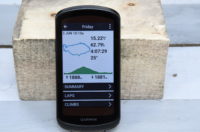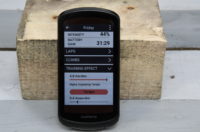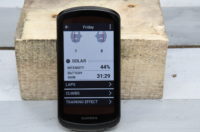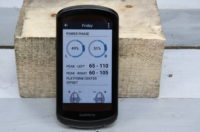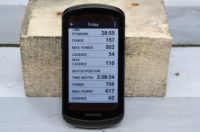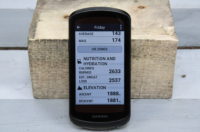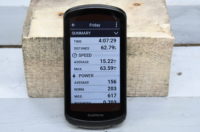 As usual, all this gets sent up to Garmin Connect via Bluetooth/WiFi (or even USB), and then is visible on Garmin Connect Mobile or the desktop site. And of course, if you've got any linked accounts like Strava, TrainingPeaks, Today's Plan, Final Surge, etc… it'll instantly send the data to them as well.
Finally, for lack of anywhere else to put it, the Edge 1040 does have WiFi connectivity. That's for syncing rides, courses, firmware, and everything except maps. Maps via WiFi would be logical, but I'll rant about that later in this post. However, what is cool is that Garmin added a new Sync Now button. I know this sounds trivial, but previously this didn't exist. You could sorta fake it by going deep into a single historical workout and triggering it there for a given ride, but this new button makes WiFi sync easy: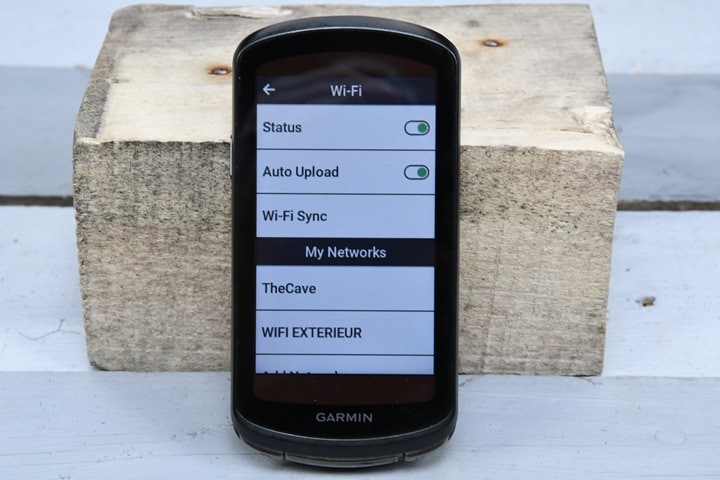 I find that generally speaking, WiFi sync just works more reliably than phone sync, especially for courses or such – or, if I've got other Garmin devices already doing syncs (like a watch or such). But perhaps that's just me.
Garmin has also added in a new Connect IQ app store for the Edge 1040, that's on-deice itself. This is prominently displayed in the lower right corner of the unit, and takes you to a list of recommended apps. Of which, there are basically just a couple (literally, three).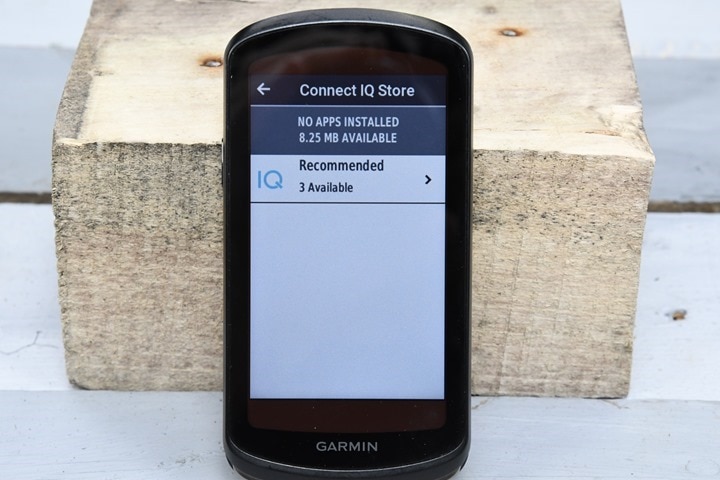 As I criticized last week in my Forerunner 255 & Forerunner 955 review, having just 2-6 specific Recommended Apps here (that don't change) is entirely useless and defeats the point of this concept. I should see weekly recommendations of cool new apps, ideally from a blend of big and smaller developers. There's countless new CIQ apps available, and showing me the same tired big-name apps that all of us have ignored for years isn't likely to get me to increase my usage of those apps. Either I already have them, or I didn't want them years ago. Showing me the same apps forever isn't going to change that.
With that, let's dive into Solar features next before circling back on navigation/routing and other training load features.
Solar Features: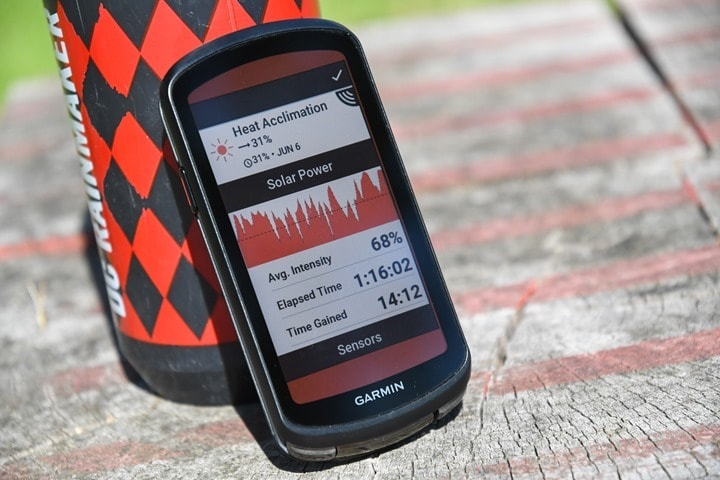 This section is focused entirely on the solar edition of the Edge 1040, which includes the solar panel technology. This solar panel (obviously) provides solar power for the unit, which increases the battery life both while you're riding, and also (in theory) while just chillin' on a table in the sun non-riding.
Starting with the Solar panel itself, it's divided into basically two types. The first is the most obvious portion of the panel at the top/bottom of the screen (the reddish portions above). This is the visible portion, and has a photovoltaic level of 100%. In the most simplified explanation, 100% of the sun's goodness that hits this portion of the panel gets converted to extra juice (there's a lot of technical nuances to that, but again, simplicity here).
However, over the entire display is another solar panel that has a 15% photovoltaic level (a notable increase over the Fenix 7 & Forerunner 955 panels which are 7% photovoltaic levels). This main panel is obviously far larger than the upper/lower panels, but harvests less energy since it's just 15% versus 100%. But, you can see though it, so it's essentially invisible to you. That's what Garmin calls 'Solar Glass', because it's actually glass.
Out in the sun while riding you've got a new Solar data page that shows you the exact solar power you've gained (in minutes:seconds), the average solar intensity for the ride, as well as a little graph showing the solar intensity throughout the ride: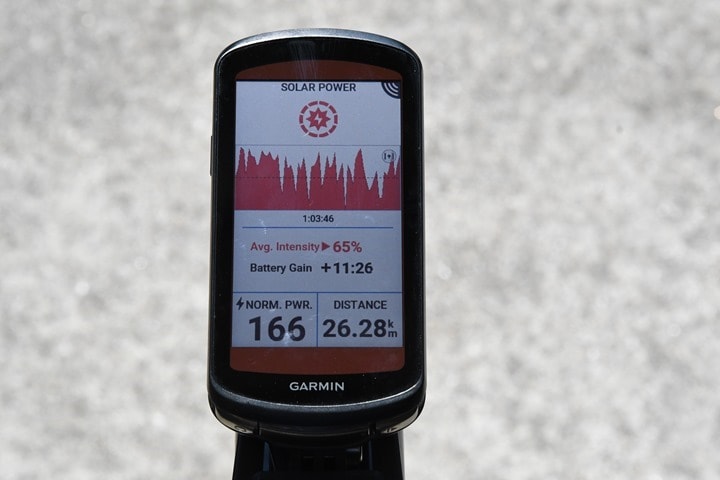 Then post-ride you'll see the same in a few different places, showing your ride totals:
This is also shown in Garmin Connect where you'll see your summary for the ride there displayed: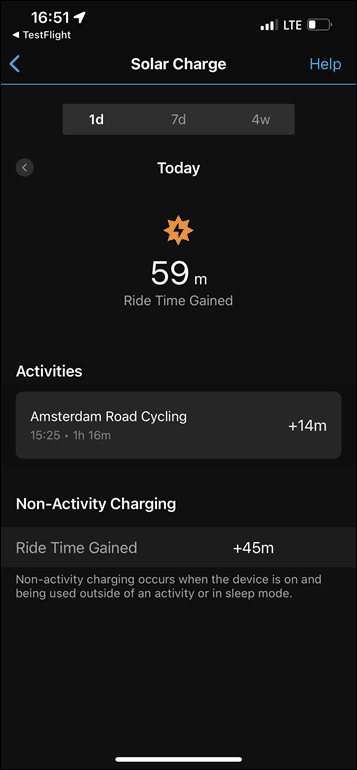 Garmin's solar battery claims are based on 75,000 lux conditions (a measure of brightness), which is another increase over their previous baseline claims of 50,000 lux conditions for their Fenix/Instinct/Forerunner units. This is actually a more useful change, because 50,000 lux conditions really aren't that high. Even in the winter, on a sunny day in the Netherlands I can hit 70,000 lux. Whereas in the summer in a warmer locale, I can hit 125-150,000 lux. Garmin will harvest any extra lux it gets, so it's not limited to 75,000 lux.
To put in context what this all means, check out this 4hr Mont Ventoux ride from a few days ago. This was a looped ride, and the bulk of the main climb was actually under cloudy/light rain conditions. However, as we neared the summit it got sunny and the solar harvesting estimates were jumping crazy high, I presume due to a combination of summer-sun and high altitude means even higher lux conditions.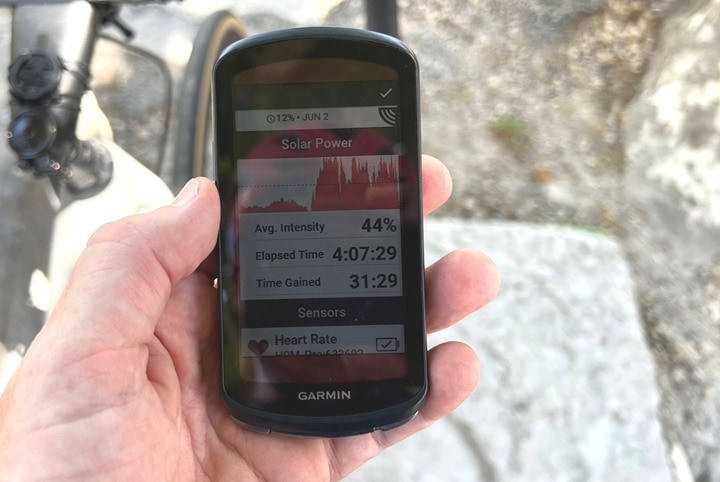 Ultimately, I ended the ride with 31 minutes gained. This means that my battery run rates put me at an estimated 46 hours of battery life (with Multi-Band GPS, course/navigation enabled, ClimbPro enabled, Power Guide enabled, ANT+ Power, Di2, Heart Rate, and Bluetooth LiveTrack to my phone.) And again, the first half of the ride it was raining/overcast.

Another shorter 2hr 21 minute ride the next day in very hot & sunny (but a bit hazy) conditions in the south of France gained me 27 minutes and DesFit 33 minutes. Interestingly, we decided to test whether the Edge 1040 would produce different battery estimates in different GPS modes. So he left his in multi-band configuration, and I put mine in 'All Systems' GPS configuration (the middle option), which is equivalent to an Edge 1030 Plus accuracy-wise. This would in theory improve my battery life compared to his, and thus, I'd get a higher Solar gain time. In reality, it doesn't appear that the time-gained Solar widget accounts for your GPS settings.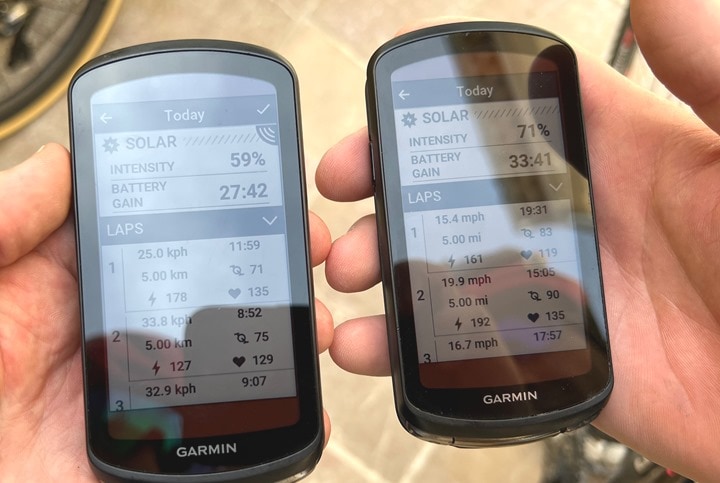 And it doesn't seem like this had any meaningful impact on battery life either, since both of our units had near-identical battery burn rates, with battery life projections of nearly 60 hours (and again, all the same things enabled).

Meanwhile, when the sun goes away, so does the extra juice. Here's an evening pre-sunset ride, where we only gained two minutes after 76 minutes of riding: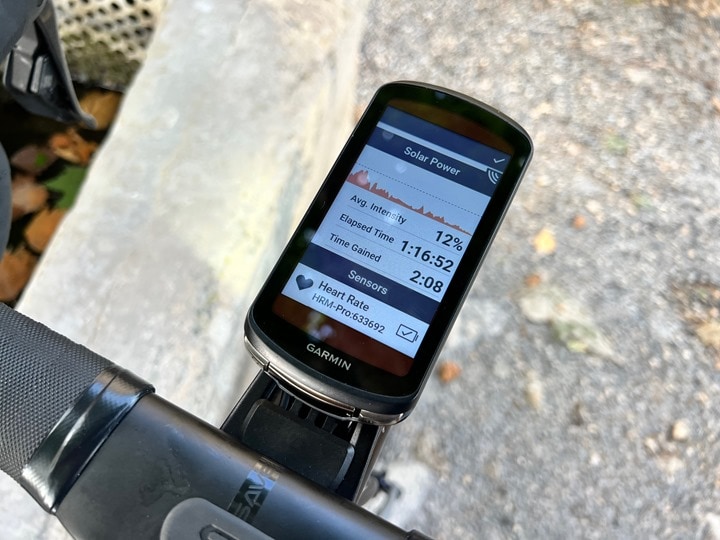 When you power off the Edge 1040 Plus, it actually gives you this screen which shows/explains to you the current solar intensity level, and how to place your unit on a surface for continued solar capture in the sun: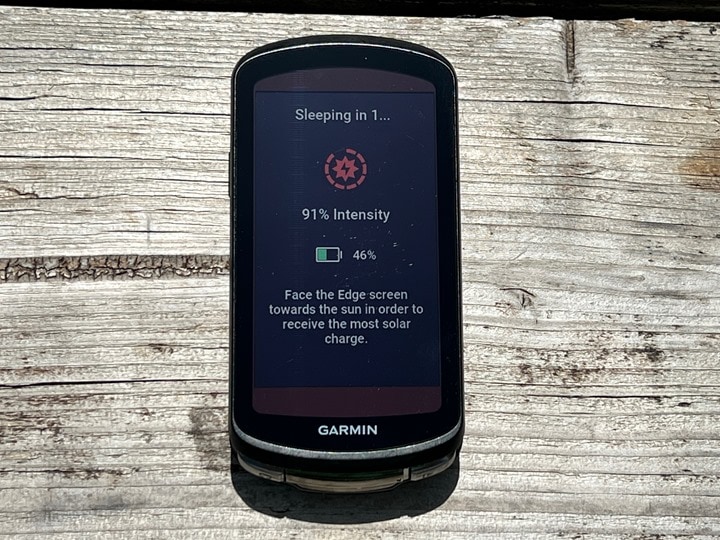 Those results can honestly be more impressive. Yesterday I just placed mine in the sun for about 2 hours, with 70,000 lux occasionally cloudy conditions, and it gained 49 minutes of battery life. Depending on your windows and sun, you could literally just leave your Edge 1040 Solar in the windows and have it charge itself back up most days.
Of course, you'd also gain that battery life in just a couple minutes plugged in. And while harvesting the sun is better for the environment, it's not entirely a zero sum game. Especially when that privilege costs you an extra $ 150.
Mapping & Navigation: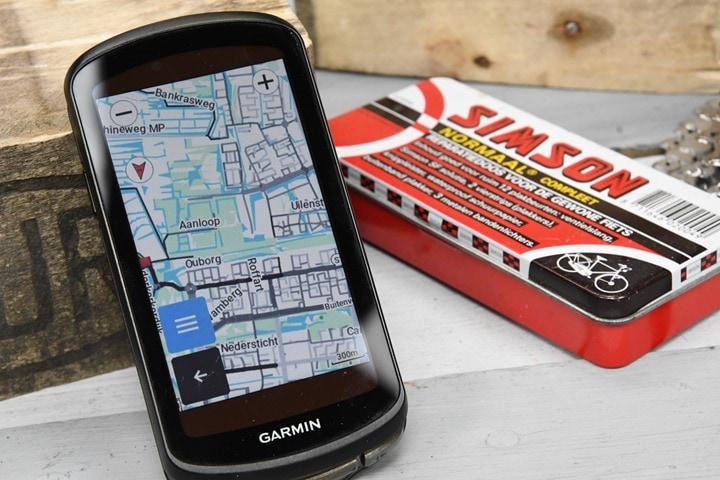 While one may buy the Edge 1040 due to its large screen, the most likely reason you'd buy such an expensive beast is for its navigation features. There's no bike computer on the market that comes close in terms of navigation related features, and the Edge 1040 extends that slightly in a couple of updated/new areas:
– Addition of "Up Ahead" Waypoint planning/display
– Dramatically faster calculation times
– Revamped categorization of POI groups (including adding bike shops & water stops)
– New location search & search history
– Power Guide on courses (more in next section)
– Included maps for more regions in Solar bundle
Of course, this is in addition to all the existing core mapping & navigation functions:
– Course routing (from files, Garmin Connect, or 3rd party sites)
– ClimbPro climb navigation/details
– Searching for points of interest nearby to navigate to
– Searching for specific addressees to navigate to
– Creating round-trip course on the fly based on desired distance
– Built-in heatmap/popularity map data
– MTB-specific trail data
– Routing to saved locations
Which isn't to say it's all perfect, or necessarily the leader in every part of every category. In fact, the first area that probably shows some of those cracks is the map loading. On the Edge 1040 it'll come with the maps for your region you bought it in, whereas the Edge 1040 Solar comes with maps for North America, EMEA (Europe/Middle East/Africa), and Australia/New Zealand. This is because the Edge 1040 base edition has 32GB of storage, whereas the Edge 1040 Solar has 64GB of storage. Fear not though, if you have an Edge 1040 base, you can still load fully detailed Garmin maps (for free), using Garmin Express on our computer via USB cable: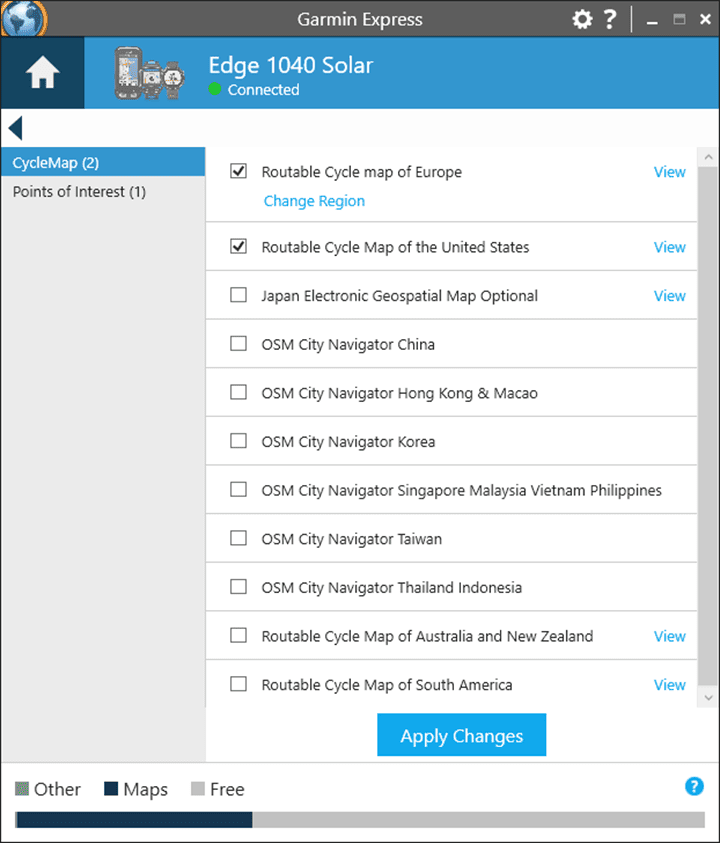 However, this falls short of what all their competitors have in terms of WiFi map downloads (Hammerhead/Wahoo/Stages/Sigma), and even their own wearables groups, which supports map downloads via WiFi on the Fenix 7/Epix/Tactix 7/Forerunner 955. I just don't understand how/why this isn't supported here. And this is just one of many clear disconnects between two groups within the same overall division (Fitness, covering Forerunner & Edge devices). More on those later.
No matter, the maps you'll get on the Garmin Edge series are very good, and include all of the so-called 'popularity' data, which is basically heatmap data on them. However, they won't show actual heatmaps like the Hammerhead Karoo does, which is tremendously useful when ad-hoc riding or changing a route, and want to just glanceable look at the roads around you to see where people actually ride.
Still, if you do specifically route somewhere, then the underlying data is there, and arguably, Garmin's underlying data is far more complete and detailed than Hammerhead's (which is based on Suunto's smaller data set).
In any case, for today's ride we're gonna load a course. In my case, I created the course in Strava, and it synced over automatically. However, you can also create the course on numerous platforms that support automatic sync, or simply manually create courses in Garmin Connect.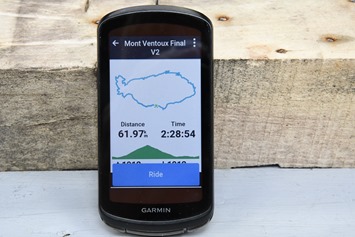 This course has a substantial climb in it, being Mont Ventoux, and as such, you'll see the climbs listed within ClimbPro.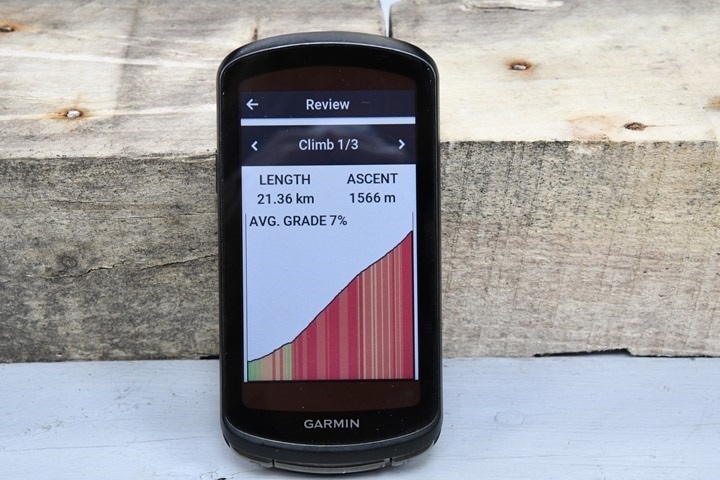 ClimbPro is by far my favorite Garmin feature, and lets you see the exact details of the climb as you ride it, including details on distance/ascent/grade remaining till the top, as well as your position on the climb. The Edge 1040 significantly increases the ClimbPro coloring to show more detail now, with different gradients more clearly shown on the climbs.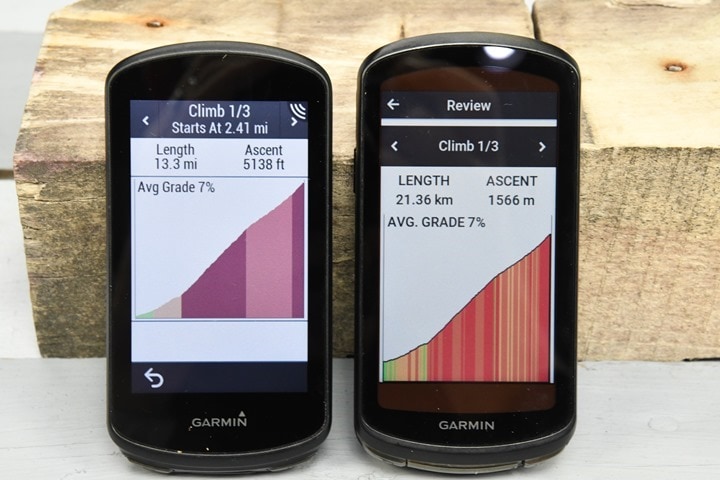 Now in the Garmin world, this still requires a course be loaded, whereas Hammerhead doesn't require any course loading. That's a huge point for Hammerhead, but inversely, Garmin's data is consistently more accurate. On Hammerhead I constantly get incorrect upcoming grade information (hugely incorrect), versus Garmin tends to smooth it a bit more and is ultimately actually accurate. Still, I don't see why Garmin can't add in ClimbPro on-demand like Hammerhead (or inversely, why Hammerhead can't do a better job at smoothing out inaccuracies).
While riding a route you'll get turn by turn notifications each time a turn is required. It'll display a little mini-amp that includes turn information as you approach each turn: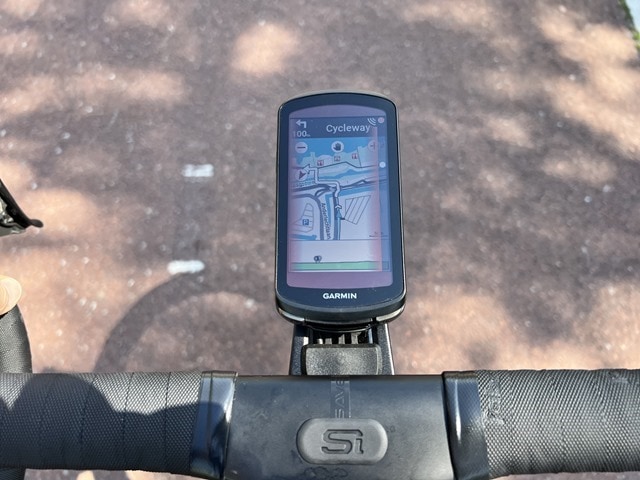 If you go off-course, it'll give you options for getting back on course (and if you ignore it, it'll just take care of it for you). This happened 3-4 weeks ago when I ran into some road closures that dramatically changed my route, and it sorted things out as I just rode along. If you're riding to a destination you've set on the Edge itself (as opposed to a course), it won't even bother you with re-route notifications, it just does it instantly and silently – making up for your mistakes.
The re-calculation times are virtually instant here. Whether or not that's because they've changed how they display recalculations is probably the better question. Previously, Garmin would show you the slow recalculation progress at the top, but in reality, you could always ride immediately. It was calculating the full route – miles before you ever got there. Realistically, you didn't need to know that. So whether it's actually faster, or they just hid the part you don't need to know – I don't know. But either way, it's instant gratification. For funsies: On the Edge 1030 Plus, the calculating route took 1 minute 58 seconds to complete a 55KM course, on the Edge 1040 it was instant.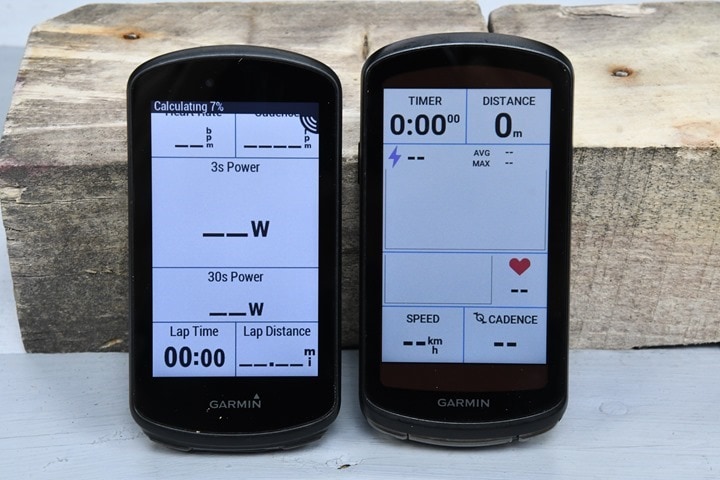 Speaking of instant gratification, there's the new search function, which allows you to search for pretty much anything. It's like Google on an Edge. Towns, cafe's, mountains, etc… Just search and it finds it – usually in under 5 seconds, sometimes instantly. And, it saves your search history too, making it easy to find perhaps foreign words that you painstakingly typed it slowly, only to previously have to type again.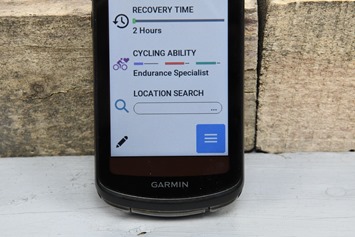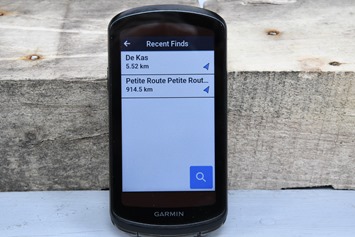 You can also search within point of interest (POI) categories. This includes a totally revamped category set, largely getting rid of automotive categories. Those things are still there, but they just aren't top of the list and prominent anymore. Instead, first on the list is bike shops, which even pulled open bike pumps and compressor locations.
All of these things are routable on-demand. So you can just tap them and route to it. And again, all of them are virtually instant to search for and route to. Riding along this past weekend I was searching for all sorts of things easily (on a closed bike path with zero people around because it was too stupid hot to be outside), without any delay. It was amazing.
A new feature on the Edge 1040 is the addition of Up Ahead waypoints. This allows you to add waypoints in Garmin Connect for items, along with custom icons. The idea being you can add potential café stops, sprint lines, race-specific climbs, or whatever the heck you want: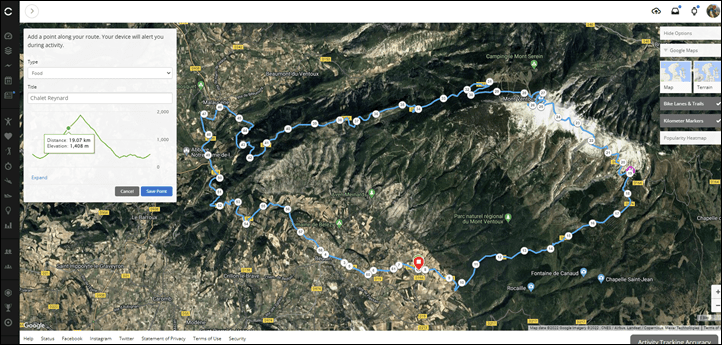 Then, out on the road there's a new Up Ahead page, that works in real-time to tell you how far (via route) that next point is.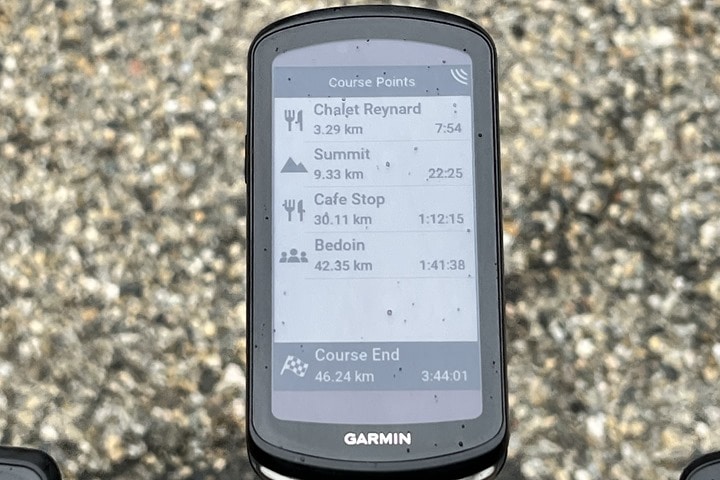 This is super helpful when you just want a glanceable look at how far that blueberry pie slice from Chalet Reynard might be.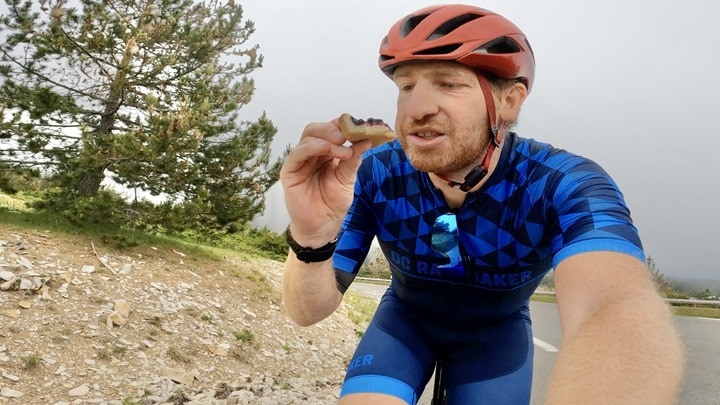 The only downside though, is that this feature doesn't appear to utilize either the known course grade or even Power Guide to figure out the estimated times. In the example above, it shows the top at only 22 minutes away, despite being 9% and 9KM away. Obviously, that ain't gonna happen. In talking with Garmin, the feature currently uses your average speed to date (on that activity). Obviously, if your route includes flats/descents beforehand, that'll adversely impact it (as it did for us).
Ultimately, the main changes on the Edge 1040 when it comes to mapping and navigation are around dramatic speed improvements, and cleanliness of the user interface, as well as increasing details on things like Climbs.  The ancillary major new feature I cover in the next section (Power Guide) depends on courses, but isn't really navigation per se. Thus, thing of most of the 1040 changes as incremental in terms of new features, but massively faster in terms of ability to use them
Power Guide & New Training Load Pieces: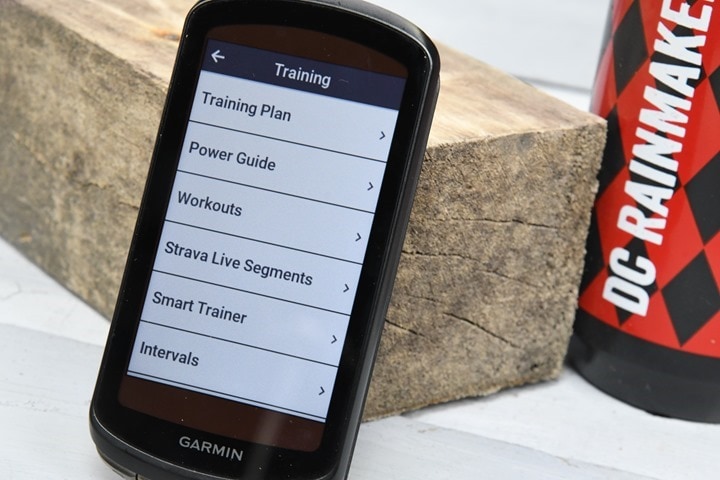 This section is a bit of a combo-dish of new features that have arrived on the Edge 1040 that are largely focused on training load, racing, structured workouts, or categorization of you or your courses. In other words, this section is all about the new Edge 1040 features that are trying to make you faster.
At the core of things are the following main new features:
– Power Guide: This creates a complete race or training plan for a given course
– Cycling Ability: This identifies your cycling strength areas
– Real-Time Stamina: This tells you how far you can ride at a given intensity level, and if that's sustainable
– Course Demands: This shows whether your cycling ability to handle this course well (or not)
There are more training load and recovery features of course from before, but the above are the main new ones. I'll cover those mixed in here though as we plod along.
Let's start with what is the most interesting of the group, which is Power Guide. Power Guide is akin to a race-plan for the power targets you need to hit, to achieve a certain time. This requires a power meter. In effect, it's like a highly detailed race plan (perhaps a bit too highly detailed). For those familiar with Best Bike Split, or Garmin's own running Pace Pro, it's sorta a blend between those two.
To begin, Power Guide requires you have a course/route planned. Once that's done, you'll create your Power Guide program on either Garmin Connect Mobile (smartphone app), or Garmin Connect web (online). You'll choose the course, and then from there you'll specify the terrain type (if not already listed), as well as your weight, bike, and gear weight (and can change your FTP):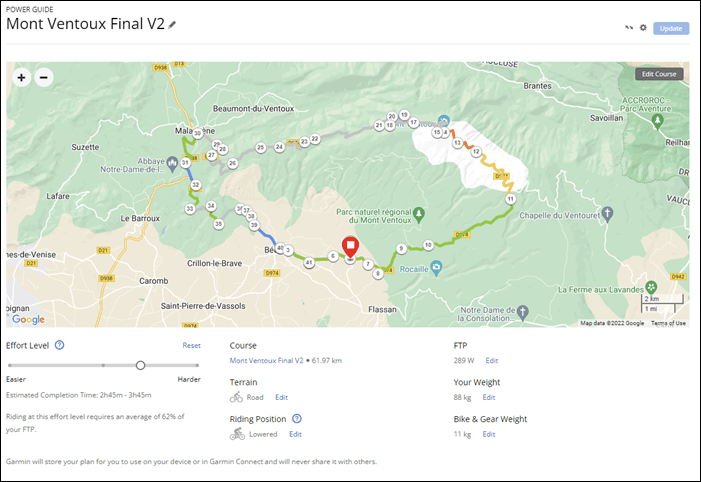 After that you've got a simple slider that goes from 'Easier' to 'Harder', which is divided up into 10 levels. As you change that slider, it increases your power levels (and decreases your estimated completed time).
Down below, it's subdivided the course into a million chunks. Each chunk is based on the specific terrain, so for example 4% vs 2% grade. The longer and more varying in terrain the course, the more chunks you've got. For example, compare this ~60KM route up Mont Ventoux and back down a different side with more rolling terrain. Garmin says the minimum segment (chunk) length is 200m. For Mont Ventoux and this ride I ended up with 40 segments.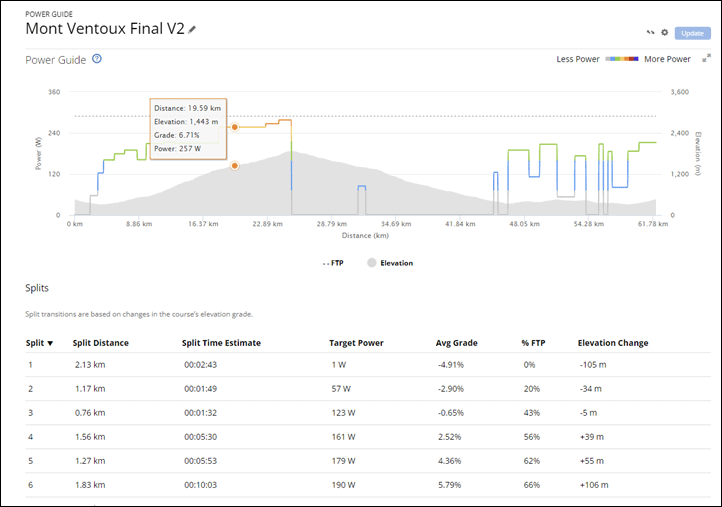 From there, you'll send this to the Edge 1040, where you can choose to enable it on the course you ride. Once a plan is created, you can also tweak this on the Edge 1040 too: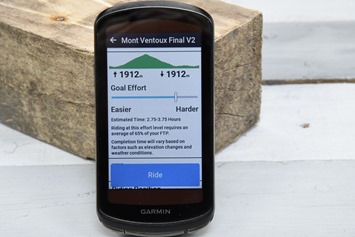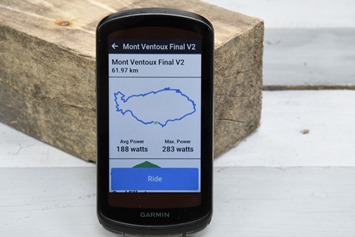 Once done, you'll see this new Power Guide screen, which handily also includes a built-in ClimbPro mini-screen if you have climbs within it.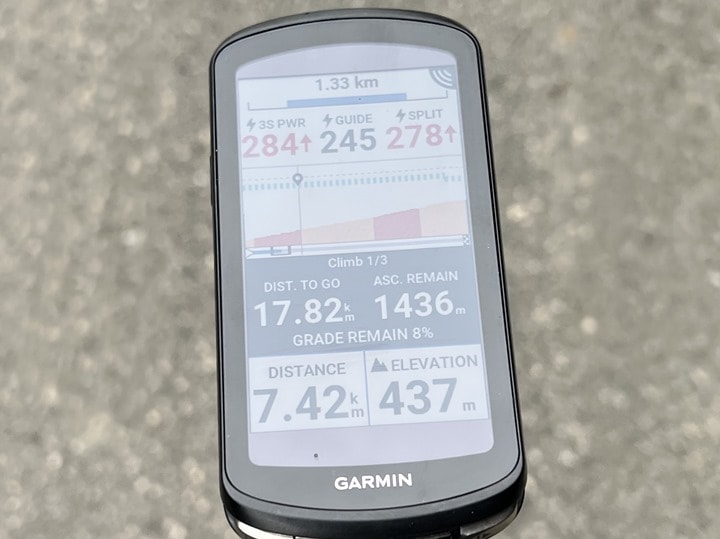 At the top of the screen you've got the current section, which you can kinda think of as a lap. Again, depending on the terrain this could be very short or very long. Then below that you've got your 3-second power, guide planned power for this section, and your power for this section.
Below that is a terrain map with little blue dots indicating ups and downs in the power. And then below that is either a mini ClimbPro chart, or, on flatter sections, this is replaced with a mini-map and a some summary stats on the right side. Below you see 21w for the Guide Average. That was a bug that was fixed since my ride on Friday.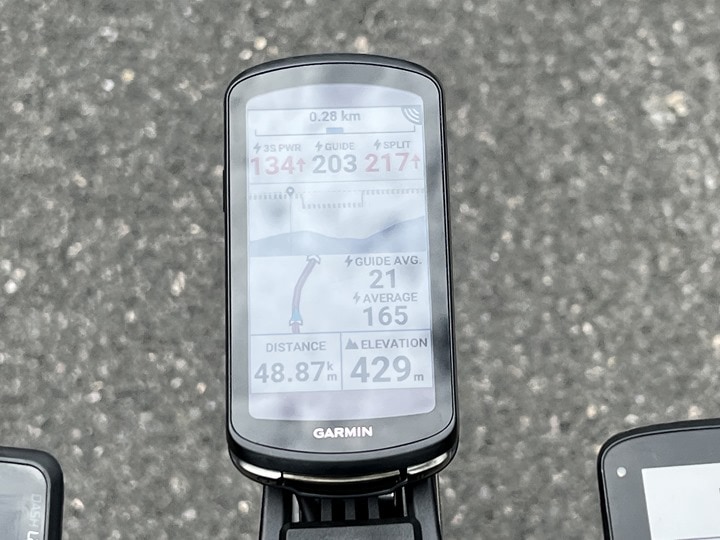 What's cool about this feature is that it's not as naggy as having a 'proper' structured workout loaded in the unit. Unlike a structured workout, this doesn't chirp/beep the entire time at each target change, or, if you're out of zone. Plus, unlike a structured workout, you can change your target easy/hardness level (1-10) mid-ride. That as useful for me on Mont Ventoux when I may have set it a wee bit high, and then reigned it in slightly as I got settled in on the climb.
Now while this feature works great for solo rides/races/training, it won't work so well in group rides or races with any sort of group/peloton. That's because your power levels will drop in the draft, which will confuse this. Further, the ranges it gives are pretty big – upwards of an hour.
Next, there's the new Course Demands feature. This allows you to load up any course and see what type of aerobic and anaerobic capacity you need to excel on this course, with the little marks noting the course demands relative to your capacity in colored sections: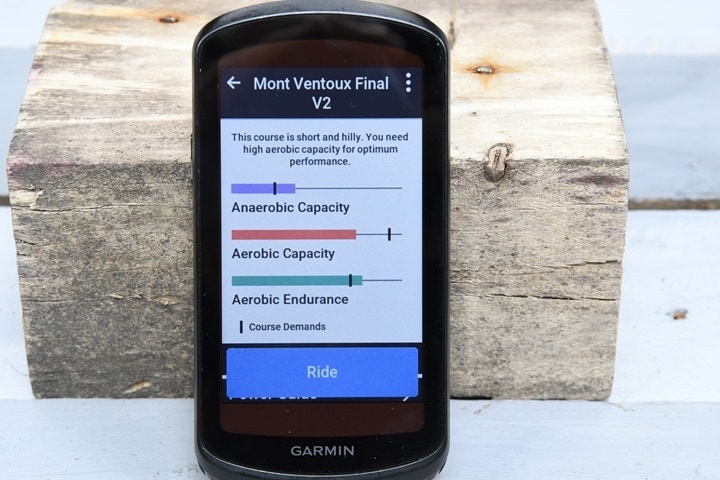 Practically speaking, I'm not sure this feature really adds much in its current iteration. I can't imagine anyone looking at this and going "Oh, this course needs more aerobic capacity, I'll skip it". I get what Garmin is going for here, in demonstrating your potential shortcomings, but this kinda comes across as noise.
Slightly more interesting is the new Cycling Ability widget, which shows you what type of cyclist you are. For me, it initially identified me as a Flat Specialist, though later changed that to Endurance Specialist. You can tap to see an analysis of that with a smidge more detail.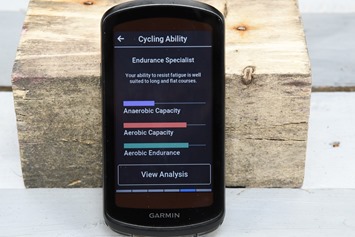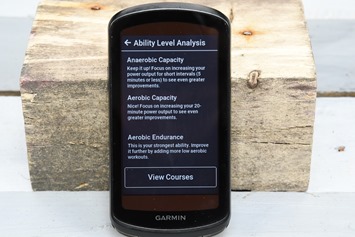 Much of this of course ties in with the training load and load focus components, which have been around the Garmin ecosystem previously. The Training Load piece shows your load over the last 7 days, and shows you whether that load is appropriate to what your recent history (last four weeks). It's a little wonky that Garmin doesn't match this with the revamped Acute Load launched last week on the Forerunner 255/955 and coming to the Fenix 7/Epix/FR945 LTE. It's very similar, but Acute load is better weighted, better named, and has better 'tunnel' guidance to help you more.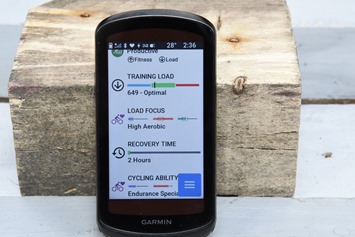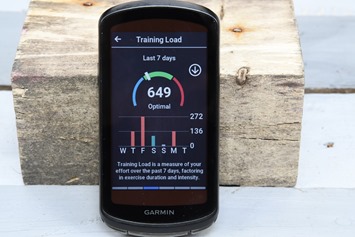 Meanwhile, your four week load shows up under Load Focus, which categorizes that training: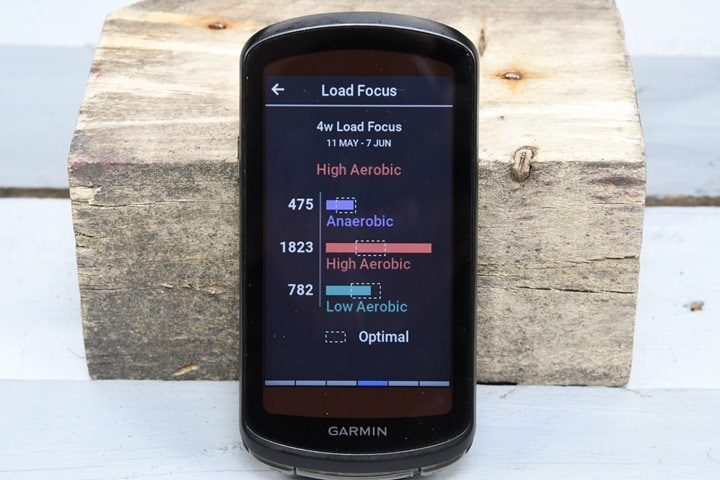 Now it's worthwhile nothing that post-ride you'll get an estimated recovery time until your next hard ride. If you have another Garmin device (mainly, wearables), this will contribute via Physio True-Up into that, to allow for recovery planning. However, by itself without other Garmin wearables, the recovery time metric probably isn't super useful, since it's not going to account for things like sleep or other sports.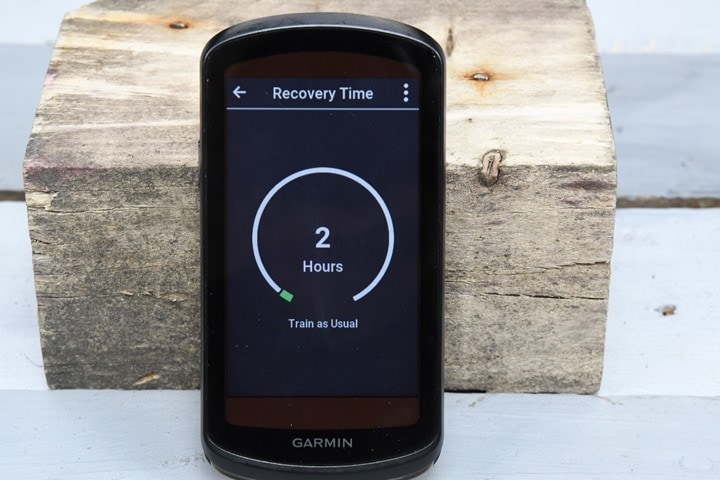 Now, we do need to circle back to Stamina. This feature gives you real-time pacing into how much time/distance you have left till you die. Or, at least until you collapse. The theory behind this is that it looks at your current recovery time (from previous workout), as well as your heart rate to power ratios, and figures out how long you can sustain a given effort for. This was introduced on the Fenix & Epix watches, and then carried through to the Garmin Forerunner 955 as well. This is a real-time metric that doesn't require having anything loaded. Here's an example of it on a ride as I just cruised along: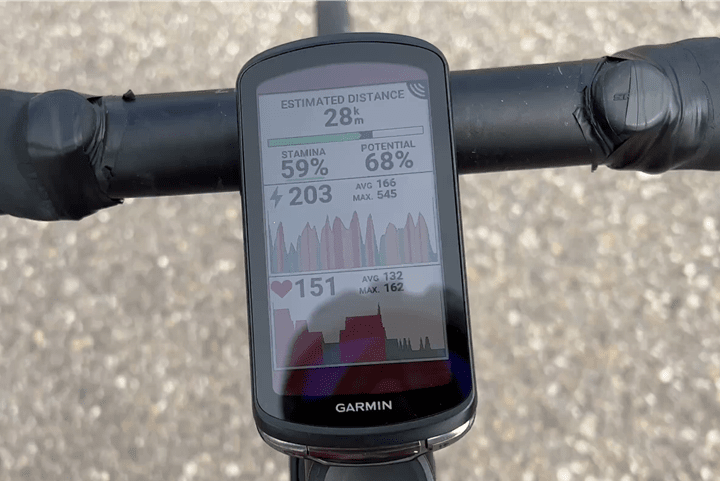 Now, as I kick up the power levels and heart rate, it instantly starts to reduce my viable distance/time. Basically, it's telling me how long/far I can go at that given intensity. Certainly, you can't sustain a sprint forever, and this illustrates that: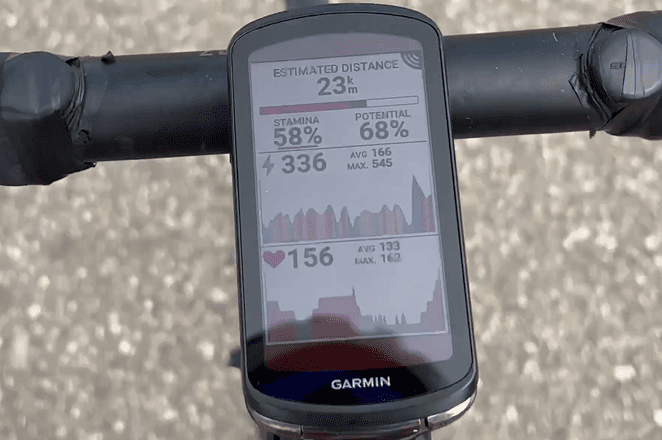 When the little bar is green, that means you're recovering or otherwise good. If it's red, that means you're burning the candle faster than you can likely recover.
Up until this past Friday, I've found Stamina incredibly accurate and on-point. Months of using it on the Fenix 7/Epix, and then Forerunner 955, it's surprisingly good at nailing rides and how I feel, and how much energy I have left. But this past Mont Ventoux ride I finally managed to kill Stamina on both the Edge 1040 and Forerunner 955. Or, it killed me.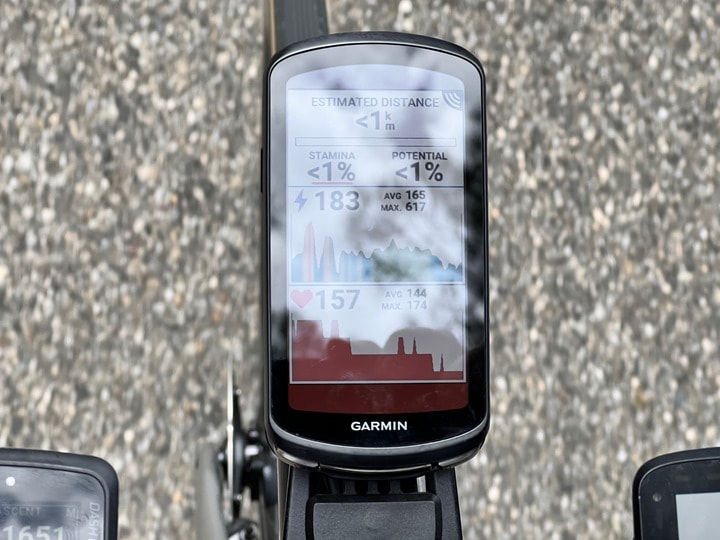 Going into it, my Recovery Time was high from not just a ride the night prior, but also previous workouts. Add to that, it was being impacted by poor/no sleep, travel, and everything else. Here we are, about 3hrs or so into the ride, you can see, I'm dead. Yet, I still then pedaled on another 15-20KM including climbs.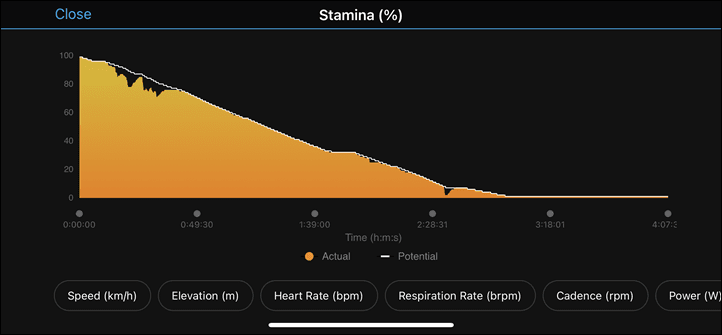 Now what's interesting, is looking at the data. One might argue I managed to pace this climb as perfectly as my ability allows, because I basically flat-lined just after the peak. Of course, the question then becomes – what is the definition of 0% Stamina? Is it "You cannot pedal anymore" or is it "You can uselessly continue pedaling, but you're shot"?
So in this case, I went back to Garmin (without any context on my question) and asked for the definition of Stamina and what happens when you reach 0%. Herman Bonner, one of Garmin's FirstBeat leads explained:
"When your Stamina and Potential Stamina are both zeroing out together, expect your ability to race in a meaningful way to be severely compromised.  It doesn't mean that you are unable to put one foot in front of the other, falling off your bike, or passed out on the ground.

And similarly: If your Stamina is zeroing and you have Potential Stamina remaining, expect your ability to sprint/climb hard to be severely compromised, but you can probably drop your intensity safely below your anaerobic threshold and keep going."
In this case, that's pretty much exactly what happened. I dropped below my threshold, and kept on chugging along slowly to get to the hotel where fresh French baguettes, fresh French cheeses, and cookies awaited. But, at the same time, I was shot. There was nothing left in the tank on the descent, and it shows in my power numbers.
And this ultimately matches the same experience in other times where I've managed to basically zero it out, including one 7-hour ride earlier this year on the Fenix 7, arriving back at the hotel with 1% remaining (and I was shot then too). So to that end, this feature seems to be working pretty well for me
GPS Accuracy: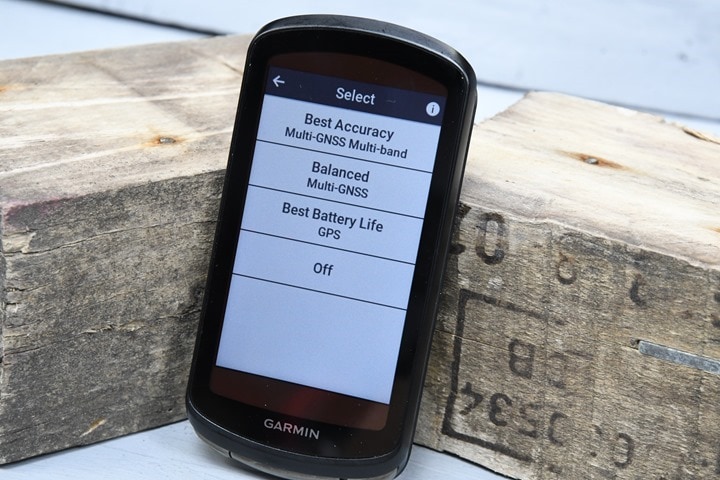 There's likely no topic that stirs as much discussion and passion as GPS or heart rate accuracy.  A watch could fall apart and give you dire electrical shocks while doing so, but if it shows you on the wrong side of the road?  Oh hell no, bring on the fury of the internet!
GPS accuracy can be looked at in a number of different ways, but I prefer to look at it using a number of devices in real-world scenarios across a vast number of activities.  I use 2-6 other devices at once, trying to get a clear picture of how a given set of devices handles conditions on a certain day.  Conditions include everything from tree/building cover to weather.
In almost all these tests, the Edge 1040 Solar was in the default multiband configuration, the highest GPS accuracy. Though, I also did some in regular GPS mode too, just out of curiosity to see how it'd do.
To spoil you bothering to read this section, I'll simply say upfront that there's no bike computer anywhere near the accuracy of the Edge 1040. Just like what we're seeing with Garmin's other new multiband GPS-enabled units, the accuracy continues to get better and better. And that's especially the case in more challenging terrain/conditions, where it really shows how impressive it is (see my recent Forerunner 955 review for that).
Nonetheless, here's a few samples, starting off with a 50KM ride through the French countryside, including some forested sections, but also some tiny villages where we purposefully 'explored' the tight buildings. And in this case, I had my unit on regular GPS, while Des had his 1040 on multi-band GPS. We rode side by side. Starting off the high level, things look pretty normal.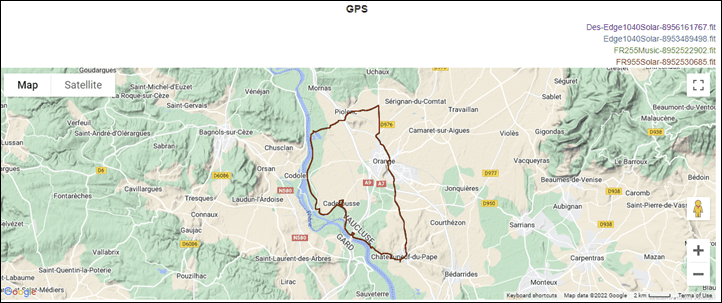 As we go around round-abouts, it's absolutely perfect tracks: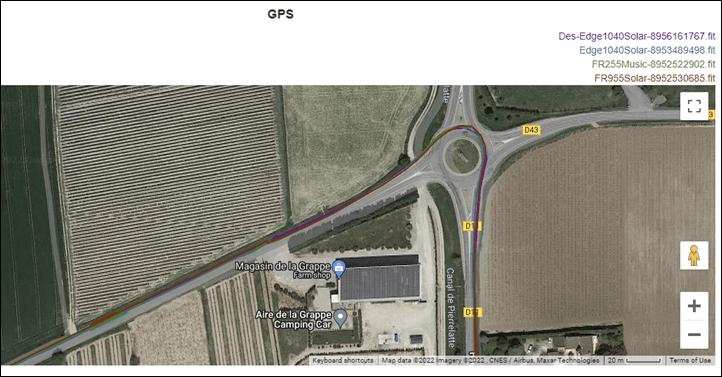 But check out this section here, inside this tiny town with some 'roads' barely 2 meters wide. You can see just how tight the two Edge 1040 tracks are, despite being blocked by 2-3 story buildings.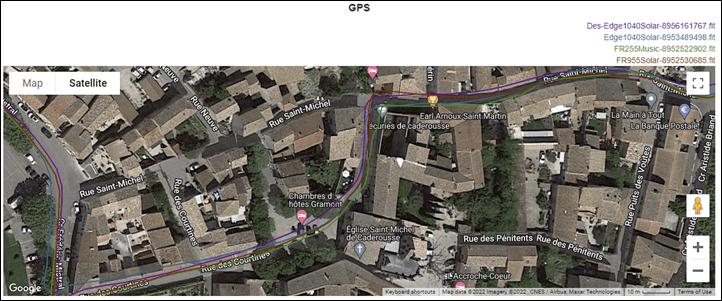 So let's step it up. Here we've got a ride up Mont Ventoux, then back down a different size with more twisty roads and sharper cliffs. Again, at a high level, things look totally fine (this is compared to a Hammerhead Karoo 2, Forerunner 955, and Forerunner 255):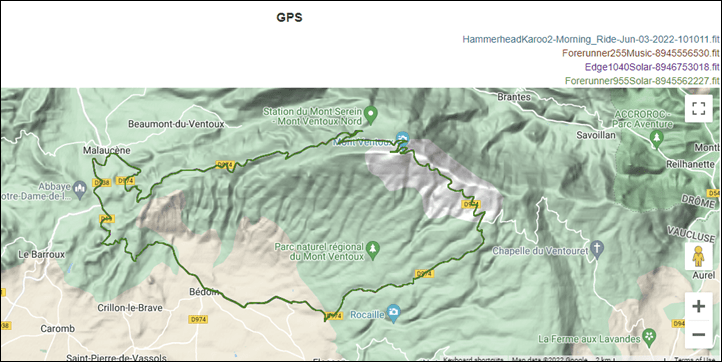 But the separation is in the detail. Check out this deep forested section and look at how perfect the Edge 1040 is – on the correct side of this tiny mountain road, where the Karoo 2 is on the other side.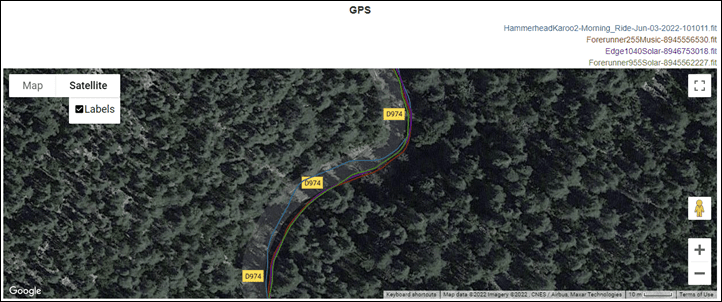 Or here during fast descents, where the Edge 1040 Solar correctly hugs the inside line of the road. The Karoo pulls a Lance Armstrong and cuts the corner, while the two watches are out in the middle of the road. I know this is trivial stuff, but it's fascinating to see.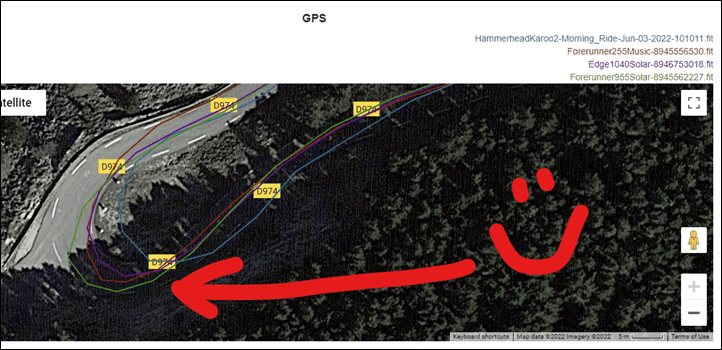 When you're looking at more generic sections of roadway on the mountain, they look closer, but you can still see the differences in track stability compared to the Karoo 2 and how that wobbles a bit.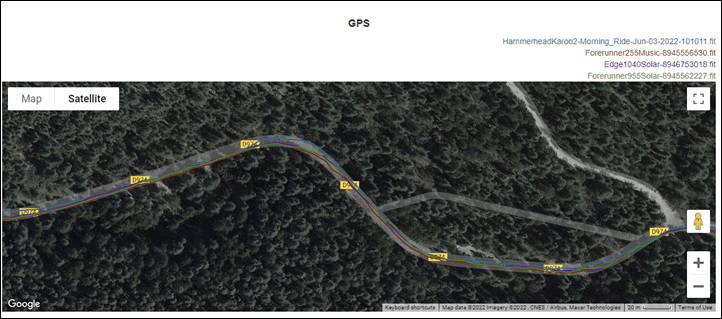 As far as elevation on this one, the Garmin 1040 and Forerunner 955 slowly drifted together, whereas the Karoo 2 and Forerunner 255 slowly drifted together. Which one was right? Well, the top elevation of Mont Ventoux is listed as 1,909m, and the Edge 1040/955 combo was 1,892 (vs 1,843 for the Karoo 2/FR255 combo). So the 1040 was the closest here.

Last up for now, we've got a ride including some tunnels/bridges and other goodness out into the countryside: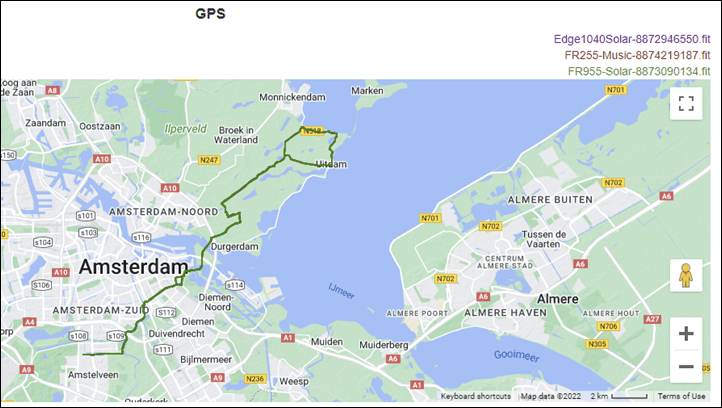 Check out this section over this bridge, where it puts me exactly on the edge of the bridge, within bike path. Not off the bridge in the water, not in traffic, but exactly on the bike path: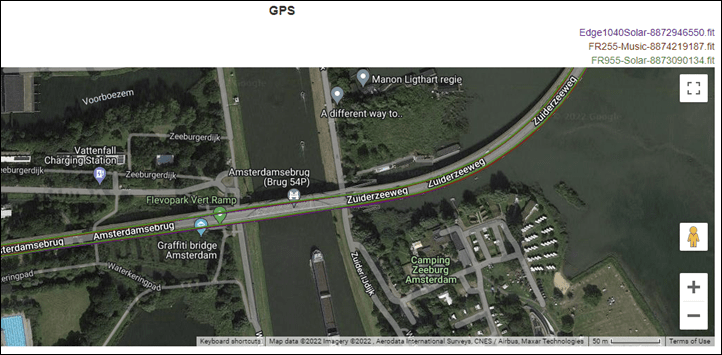 About the only tiny blip I could find was here, when I pass under a set of railroad tracks in a tunnel, and in one direction it's flawless, but in the other direction where I make a 90* turn right before the tunnel, once it loses GPS it seems to try and continue the turn angle for a few meters. But c'mon, this is really nitpicking.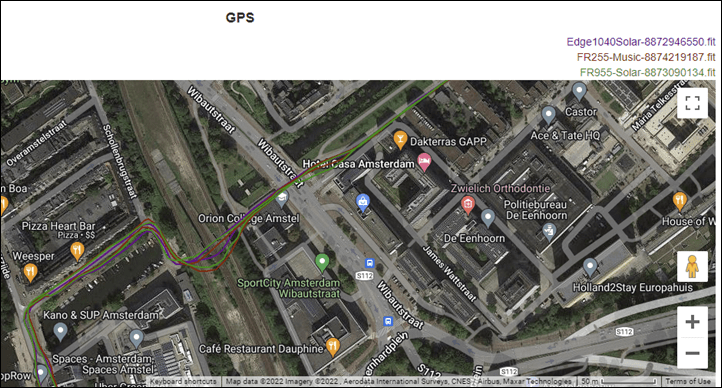 Additionally, while I wasn't able to get any mountain biking in this go around, my friend DesFit did include a bunch in his video review, which you can review here.
Ultimately, all of the data DesFit, GPLAMA, and Myself see across these units is astonishingly good, and inline with other multiband GPS efforts we've seen from Garmin, which lay down very impressive tracks – especially in harder situations.
(Note: All of the charts in these accuracy portions were created using the DCR Analyzer tool.  It allows you to compare power meters/trainers, heart rate, cadence, speed/pace, running power, GPS tracks and plenty more. You can use it as well for your own gadget comparisons, more details here.)
Wrap-Up: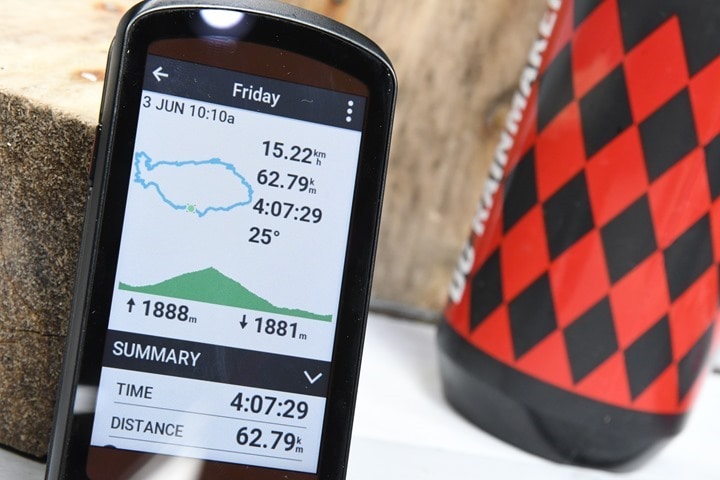 It's pretty easy to say the Edge 1040 Solar is the most advanced and accurate bike GPS we've seen to date, from any company. And I'm pretty sure it's also the longest-lasting bike GPS too battery-wise, with the potential to go well beyond its published battery specs. As I've seen and shown with stats above, it easily almost doubles their published official specs under the most 'demanding' power-draw scenarios, despite just half-hearted sun conditions. And if we look at the new multi-band GPS and accuracy, it continues to lead the way, even slightly edging out the newest Forerunner 955.
The new software features like Power Guide can potentially be super useful to the right groups of people (namely those that train or race individually). Personally, I find the Up Ahead feature more useful on longer rides to be able to figure out how far I have untill certain waypoints/locations at a quick glance. The same goes for Stamina, I find that's a good proxy for when I'll bonk, and perhaps change my pacing strategy to compensate for it.
Still, there are some quirks that show the lack of lockstep within the Garmin realm – especially when compared with the higher-end Forerunner 955 that was launched just last week. That includes WiFi map downloads (the Edge 1040 doesn't), and also has the newer training load/recovery terminology that the Edge 1040 lacks. Garmin says that the Edge 1040 will start to incorporate these newer metrics in Q3 later this year, but I just feel like this kind of stuff should be baseline matching for a company like Garmin on flagship releases.
As I noted in my video, I ran into a substantial number of mostly minor bugs during my testing period. However, the latest firmware update yesterday seems to have checked off and fixed each issue I've had, which included numerous sync issues, cases of the unit having amnesia, and forgetting what I did the day before (rides/PR's/etc…), as well as incorrect power guide data. At this point, only time will tell though, none of the issues I could easily repeat on-demand last week are happening now with this latest firmware. One issue I do want to revisit is slow gradient changes, for which I did see issues last week, but need to double-check it on a hill later today (I don't have many/any suitable hills near me, so that requires a bit of travel). I'll report back on that one. There's often a balance there between accuracy and responsiveness.
Ultimately though, if you're on an older Edge unit, or, looking for arguably the best bike computer in the market, the Edge 1040 or Edge 1040 Solar won't disappoint. I'm not sure it's worthwhile upgrading from an Edge 1030 Plus, but I think if you've got just about anything else, it'll feel like an entirely new device – both in capabilities, but also accuracy, and battery life.
With that, thanks for reading!