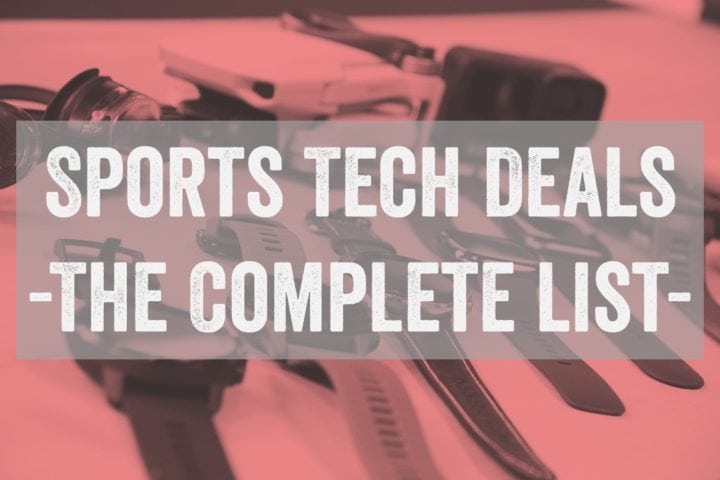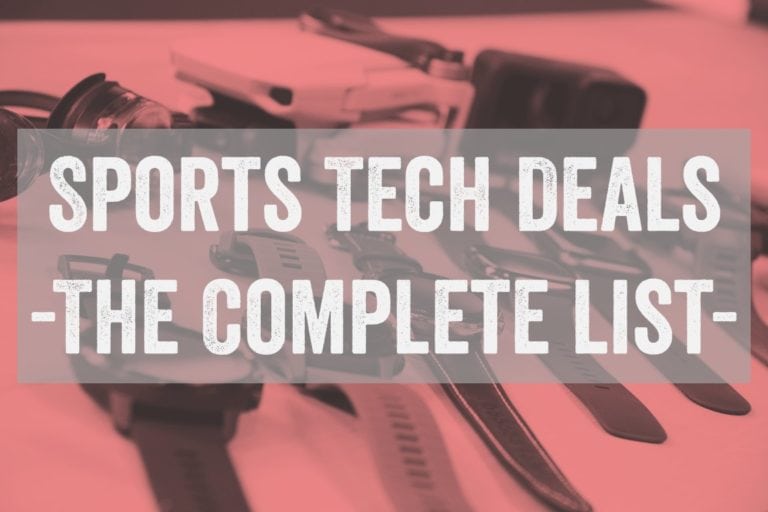 As you may have heard, Amazon is running a so-called "Early Access Sale" with Black Friday-like sale prices on October 11th and 12th. I've rounded up the best sports technology-related sales, or just sales on things that I like/use a fair bit. I'll keep adding to this over the course of the two days, so keep checking back.
Note that this sale does require Amazon Prime Membership. Also, more importantly, you can find far more non-sports tech deals here:

Thus far looking at the available items and prices, I'd say we're seeing prices pretty close to what we see on Black Friday (if not matching it), though, not quite the breadth of items we'd see on Black Friday. That makes some sense, given that companies know consumers are mostly on the lookout for big-ticket Black Friday deals, and may still wait till then.
If you know of a sports tech deal (gadget-focused), feel free to drop a note in the comments or in the contact form. As long as it's not spam-like, I'm more than happy to share it out! 🙂
Watches & Wearables:
This covers anything you can wear that's watch-like or activity band-like, including sensors.  Generally speaking, you'll mostly find deals here that are on things I've written about in the past.  So you won't find a deal on some random non-sports tech watch here, or on socks.  Unless the socks have some crazy sensor or something in them.
Product

Sale Price

Amazon

Sale Notes

Apple Airpods Pro (2nd Gen) – 10% off
$ 249
$ 223
Amazon
Apple Watch Series 8 – $ 50 off!
$ 399/$ 499 (cellular)
$ 349
Amazon
This is the first sale we've seen on the new Apple Watch Series 8, less than a month old!
Garmin Fenix 6 Pro Series – From $ 398
$ 549-$ 1,149
$ 398
Amazon
Obviously, the Fenix 6 isn't the latest anymore, but these are still very capable watches – and most recently got the new HRV Status as well as a smaller pile of features.
Garmin Venu SQ – 40% off
$ 199/$ 249 with Music
$ 149
Amazon
This is a pretty solid price on this watch, almost matching last year's Black Friday sale at $ 129. The Venu SQ 2 came out a few weeks back, hence the lower price here.
Garmin Vivoactive 4 – $ 120 off
$ 299
$ 189
Amazon
⚡ This is Garmin's general-purpose sports/fitness watch, alongside the Garmin Venu 2 series. The Vivoactive 4 is getting a bit old now, but this is also the lowest price we've seen it to date. I've set it as $ 120 off, while Amazon says $ 140 off, but practically speaking it usually hovers around $ 300-$ 320
Garmin Vivofit Jr. 2 – Incl Disney/Avengers/Star Wars variants – 15% off
$ 79
$ 59
Amazon
Peloton Heart Rate Band – 25% off
$ 89
$ 67
Amazon
Previously, I'd have said the Peloton Heart Rate Band wasn't really worth it at $ 90 compared to most other options. But at $ 67 it's basically the same as others, except has the integration with Peloton's Heart Rate Zone (if you have the Peloton app/gear).
Polar Grit X Pro – 32% off
$ 499/$ 599
$ 338
Amazon
This is the lowest we've seen the Polar Grit X Pro to date, which is essentially Polar's top-end GPS watch.
Polar H10 Chest Strap (Dual ANT+/Bluetooth Smart) – 25% off
$ 89
$ 75
Amazon
This is a great dual ANT+/Bluetooth Smart (with two Bluetooth Smart connections) chest strap that you'll often find me using as a reference strap in heart rate sensor testing. We only tend to see deals on it around Black Friday, always topping out around 20%. Note, the medium- size is the one on sale.
Polar Ignite 2 – 10% off
$ 229
$ 209
Amazon
Polar Ignite GPS 1 – 31% off
$ 229
$ 158
Amazon
Wahoo RIVAL GPS Watch – 25% off
$ 379
$ 247
Amazon
Cycling Gear & Trainers:
Got a bike? Then this section is for you.  Everything from bike computers to bike lights to trainers, it's all here.  I won't generally be adding things like brake cables or bike seats here, but if I find a good deal on a cassette to stack on that new direct drive trainer you just bought, I'll probably list it here.
| | Product | Sale Price | Amazon | Sale Notes |
| --- | --- | --- | --- | --- |
| | Peloton Bike – $ 215 off! | $ 1,230 | Amazon | I believe this is the lowest price we've ever seen on the original/base Peloton Bike model. Or if not the exact lowest, then certainly very close. This is still a solid bike, and actually one that I use at home (I have the newer Peloton Bike+ at the office). Both my wife and I use these bikes interchangeably, and while the Bike+ has a bigger screen and better accuracy, there's very little difference in the core Peloton experience. |
Action Cameras & Drones:
Wanna record it?  No better way than an action camera.  Anything that's action camera-related or drone-related you'll find here.  That's especially true of action camera mounts, which are often found for great deals around the holidays.  Same goes with drone and drone accessories.  Usually a great time to pick up an extra battery or extra props.
Product

Sale Price

Amazon

Sale Notes

GoPro Hero 11 Black – $ 50 off
$ 499
$ 449
Amazon
Amazon now has the Hero 11 Black for $ 50 off the retail price of $ 499. This does *NOT* require the GoPro subscription (previously called GoPro Plus). However, if you want to subscribe to that, then you can get the camera for $ 399 instead. Food for thought. Either way, the Hero 11 has become my daily action cam (well, actually, I bought two of them).
Other Sports & Fitness:
Anything else that's sports and fitness-related that I think is interesting will be here.  It may not be super techy – but it's stuff that most readers will be using in pursuit of their running/cycling/swimming/hiking/whatever.
| | Product | Sale Price | Amazon | Sale Notes |
| --- | --- | --- | --- | --- |
| | Apple TV 4K (32GB) for Zwift – $ 70 off | $ 109 | Amazon | ⚡⚡ I use this for almost all my Zwifting. This is a fantastic deal for the latest edition, which runs Zwift, RGT, FulGaz, Rouvy, and more. |
| | Peloton Guide – 15% off | $ 250 | Amazon | I've been using this on and off since spring, and I actually kind of like it. |
DCR Random Gadget List:
This is basically the mostly totally unrelated gadgets and things I think are cool deals that I've likely bought one or five of (you can never have too many, right)?  Some of it's probably photography stuff.  Some of it's random stuff like chargers and battery packs that I use daily, fun camera gear I use to make videos like sliders and turntables, and well…just random things you'll find around the DCR Cave.  It's all random…but it's all awesome randomness!
| | Product | Sale Price | Amazon | Sale Notes |
| --- | --- | --- | --- | --- |
| | Jackery Portable Power Station – $ 130 off | $ 209 | Amazon | This is something I use frequently when shooting out and about and I need to re-charge a crapton of drone batteries, action cameras, or just cameras and such. I also use it on trips to Eurobike and elsewhere to keep equipment charged. I've even bought a solar panel to hook up to it (surprisingly effective). Heck, I've even powered a KICKR trainer ride from it! |
| | Ooni Fyra 12 Wood Fired Outdoor Portable Pizza Oven – $ 70 off! | $ 279 | Amazon | ⚡ I know, I know, I still owe everyone a review. Nonetheess, more than a year later, I love this thing. We use it for more than pizza too, notably steaks (to get a really crispy sear). But a lot of pizza. It's completely portable, even easily fitting on our cargo bike. Note that I went with this model, the cheapest one they make, as I realized that buying the higher-end models that that support gas didn't make much sense for me. I have a gas grill already (and could easily just put a stone on it). Similarly, while a large 16″ is appealing, realistically I've found this 12″ more than enough for pretty substantial personal pizzas (and it makes it easier to handle). Full in-depth review pretty soon. (REI link at side seems to still have stock at the sale price) |
| | Samsung T7 Portable SSD 1-2TB – 21% off | $ 94 | Amazon | I use a small fleet of these T7 SSD's for various video projects, alongside the Sandisk SSD's. I literally have one of each color, just to keep things simple. They work great for quick storage. |
| | SanDisk 256GB Extreme PRO SD Cards – 34% off | $ 42 | Amazon | I use the SanDisk Extreme Pro SD Cards exclusively for all my video/photo shooting on my Panasonic GH5 and Nikon cameras (video and stills), including up to 6K recording with the GH5. I've mostly used 128's, but more and more lately I'm filling up cards faster with higher bitrates, so this sale is gonna have me pickup a bunch of the 256GB ones instead. The 128GB/512GB/1TB ones are also on sale too viathe same link. |
I'll continue to add deals as I find them.
With that – thanks for reading, and for supporting the site via the links above. As an Amazon Associate, I earn from qualifying purchases. Have a great weekend!